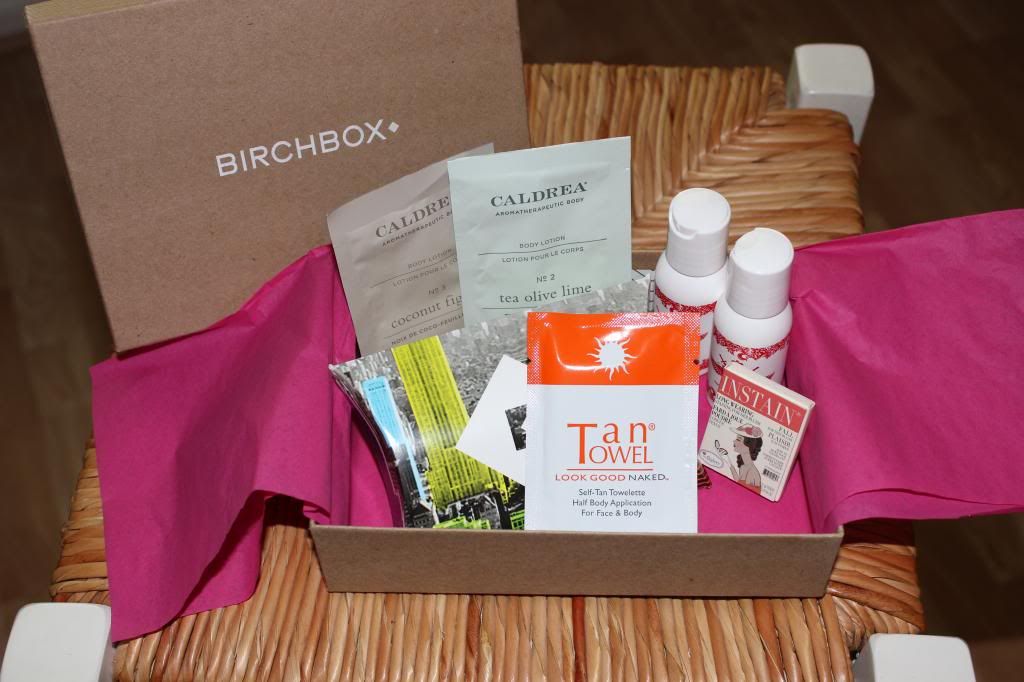 I can't believe July is almost over and I'm just now getting around to talking about my
Birchbox
. Well, actually I can believe that I haven't had time to talk about Birchbox (I might have something keeping me busy!), but I can't believe the month is almost over. And I have a one month old – how did that happen?!?!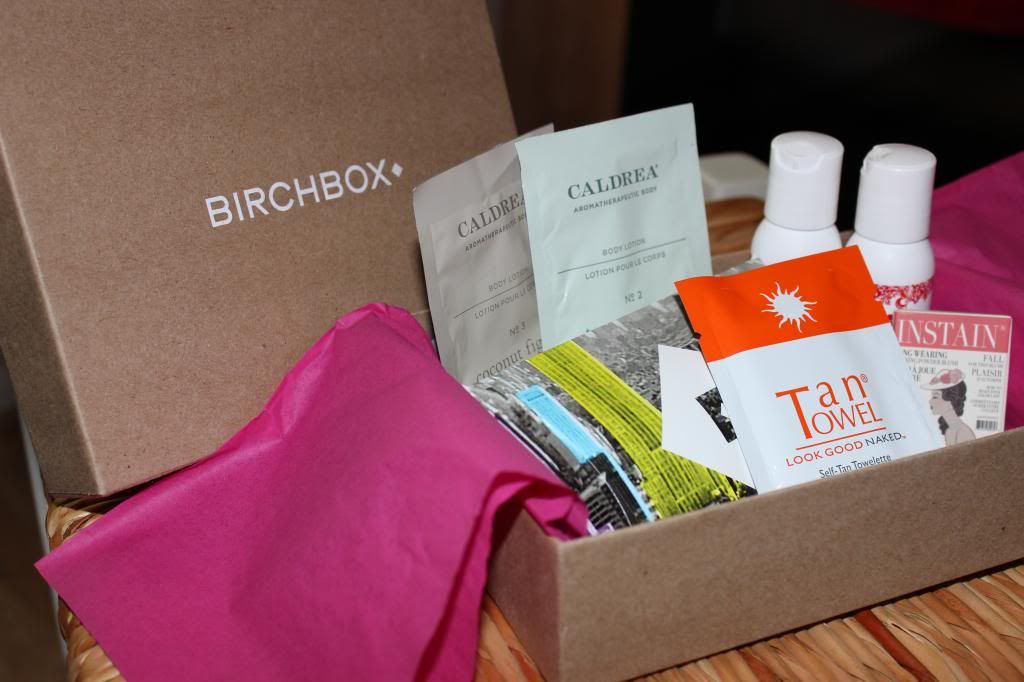 But you came here to read about what came in this month's Birchbox, so on with the show!!! First things first, if you are curious about
Birchbox
or want to start your own subscription, then
click this link
to check out their site. This month's box was terrific! Maybe because getting the mail these days is VERY exciting to me or because the box actually rocked. Either way, I'm happy with it.
Here is what was in my box:
1.) Caldrea Body Lotion – I received samples in two yummy flavors: tea olive lime and coconut fig leaf. Both smell amazing and the lotion is incredible. It absorbs fast into the skin so you don't feel all sticky waiting on your lotion to dry and I definitely had smooth hands and arms all day long. No need to reapply lotion on my cuticles (the driest part of my hands).
2.) Tan Towel Self-Tan Towelette – These babies are awesome. I received a similar sample (different brand) last summer and loved it. This brand is no different. I prefer the towelettes over a self-tanning lotion because they go on easier and more evenly. Also, with the lotions you still smell like self-tanner for days – the towelettes don't leave you smelling funny. And they really work. I definitely can tell a difference in the color on my legs.
3. and 4.) Beauty Protector Shampoo and Conditioner – First, I'm thrilled that I got a matching shampoo and conditioner. Very rarely do you receive a set. I will definitely be taking these with my whenever I travel. The shampoo and conditioner were nice, they weren't amazing, but they definitely got the job done. I actually preferred the conditioner over the shampoo as it left my hair feeling very silky while I didn't notice too much additional volume from the shampoo. Either way, I'm still happy with them both.
5.) theBalm cosmetics Long-Wearing Powder Staining Blush – This product means business! When it says that the blush lasts from sunup to sundown and that a little goes a long way, they aren't kidding. I appreciate the long lasting wear as my days don't leave me with as much primping time as I used to have. Wearing this product, I don't have to worry about reapplying blush at all.
Overall, I really liked this box. What did you get in your Birchbox? Do you enjoy your
Birchbox
subscription as much as I do?