Tuesday, December 31, 2013
Has anyone ever heard of
CardStore.com
? I have to say, its my new favorite place to order our Christmas cards and I am sure I will be using them for other purchases as well.
Tolar and I love sending personalized Christmas cards/pictures each year and recently discovered the "year in review" cards that are available on a few sites. We love this option because its a simple way to tell your loved ones the latest news with you in a cute and clever way. Plus it saves me time writing a huge letter and trying to remember everything that happened in the year.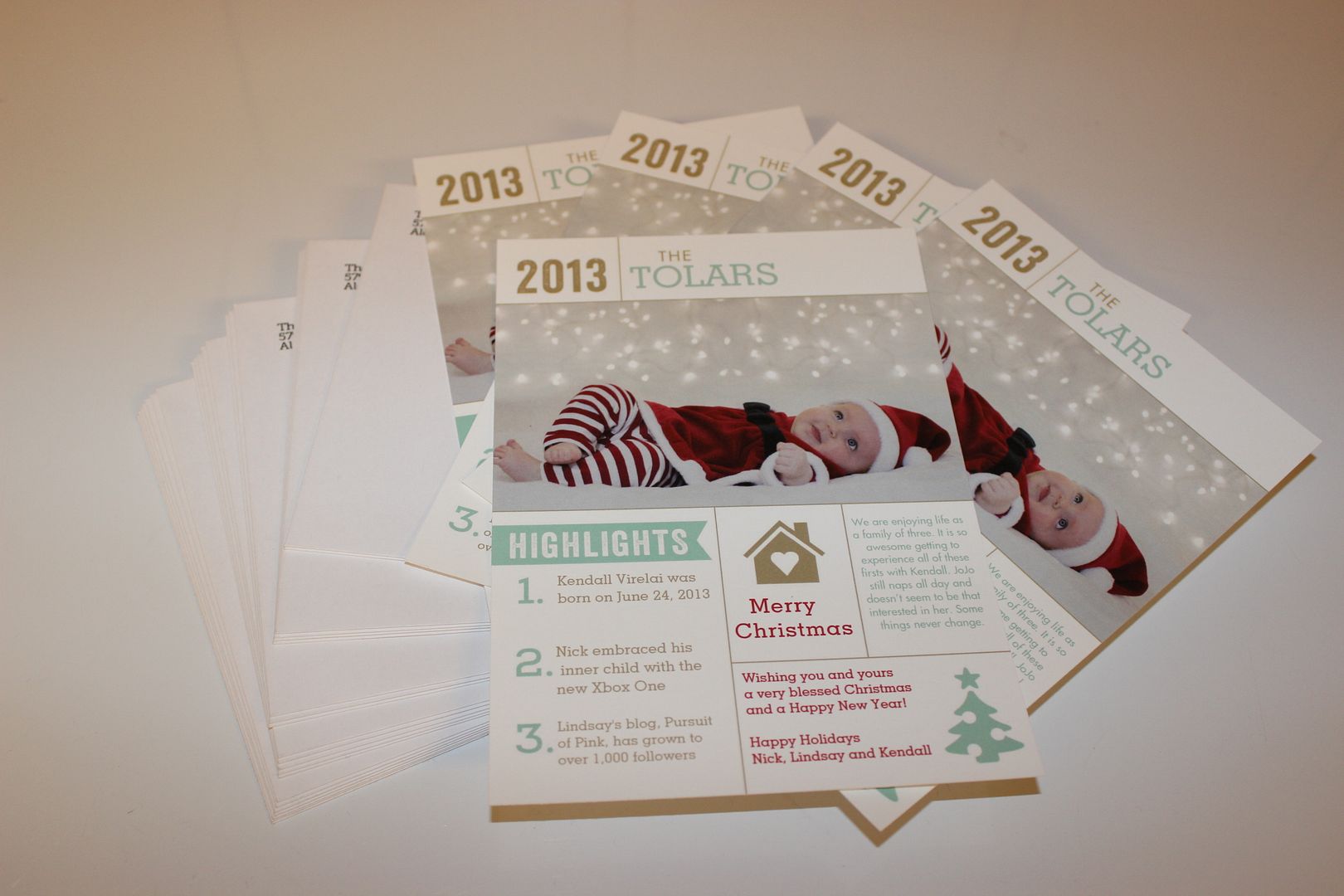 During our search for our Christmas card this year, we happened upon
CardStore.com
on Cyber Monday. I honestly didn't even realize it was Cyber Monday when we were looking, but I am extremely happy it was! They were having an incredible deal on their cards and one of their options just happened to be a year in review card. We were hooked! So around 10 p.m. on Cyber Monday we decided to order our cards. The only problem, a lot of other people were also trying to score the Cyber Monday deal and the site was really slow. We couldn't even upload our adorable photo of Baby K; the site just kept loading.
I sat there for a long time just waiting on everything to work and watched the clock creep closer and closer to midnight, when the Cyber Monday deal would be over. The cuteness of the cards had me hooked, but the amazing price made me crazy. I DID NOT want to miss this deal. So in an attempt to get some last minute help, I logged onto to CardStore.com's
facebook
page and saw that a lot of other people were having the same problem (everyone wanted that deal!). And the coolest thing about it, CardStore was responding to each and every comment about the site not working. So I entered in our problem and immediately got a response telling us to e-mail them our info and someone would contact us the next day. And they stuck to their word! They contacted us, apologized for the site malfunction and sent us a coupon code allowing us to cash in their Cyber Monday deal even after the day was over! Talk about amazing customer service!!! I was so impressed with their prompt social media response and completely amazed that they actually contacted us the next day like they said they would.
We saved a TON of money by scoring their Cyber Monday deal, in fact we ordered more cards this year and maybe only spent about 1/3 of what we spent last year. There was even an option to have our return address printed on the envelopes for free! That saved me a step - super score!
And the quality - one word, AMAZING! I love the paper that was used, very thick and sleek. The colors were great, very true to what I saw on my computer screen. I am extremely happy with our final product and know that I will absolutely be using CardStore again. Just go check out their site, there are so many cute products, I know you will love it too.
Please note, CardStore has no clue I am writing this post. These opinions are completely my own, they are just an amazing company that deserves to have their praises blasted all over the internet!
Featured Post
About Me
Welcome to Pursuit of Pink. I'm Lindsay and I'm so glad you are here. I believe a positive life is a happy life. Join me as I try to walk that out daily - in life, motherhood, style and more.
View my complete profile
Categories