I have had a lot of people ask me about our birth story so I thought I would share it. Even though all pregnancies, birth stories and children are different I sure hope my experience offers some help to the many mamas to be out there. Seriously, both in my real life and in my blog life I know so many pregnant women and I have LOVED having such a supportive community to turn to during this exciting time in my life. Also, I want to write this story out so I remember it, apologies in advance for the length! Just grab a glass of wine, hopefully that will make the story go by faster.
Disclaimer:
I might provide a little TMI at some points in the below story – so just be warned. Nothing too gruesome, but I just want to prepare you before you read too far.
J
On Sunday, June 23 Tolar and I went to church as normal and came home to take a Sunday afternoon nap (we get up at 5 a.m. on Sundays, so a nap is always needed – we just didn't know at the time how badly we would need that nap!). After our naps, I decided to check things off my to do list and finally got around to packing my bag for the hospital and taking care of a few other baby prep things. As I've told you all before, I had some sciatic nerve problems during my pregnancy and on Sunday night around 7 p.m. my back starting hurting very badly. Thinking it was my sciatic nerve and that maybe I had done too much around the house I decided to just go lay on the couch. I had to text Tolar who was downstairs because moving from the couch was just too painful for me. He came up and tried to help ease the pressure on my back by gathering every pillow we had in our house and making me a pillow fort in the living room where I could lay on my stomach without squishing the baby in my belly. Nothing seemed to work and my back continued to ache. I remember telling Tolar that I hoped our baby girl would come a bit early because I knew that I couldn't handle the back pain for 3 more weeks! God has quite the sense of humor I found out!!!!
The night continued on and around 10:45 p.m. I started noticing that I was having some cramps in my lower abdominals (if you even still have abdominals while pregnant!!!). The cramps weren't bad and were very inconsistent with timing, so I didn't think much of it. Except the cramps didn't stop and my back continued to ache. Tolar thought the cramps might be Braxton Hicks contractions as I had yet to feel any during my pregnancy. But when the cramps continued, I thought otherwise. I found the paperwork that my doctor had given me and read the sheet explaining what labor felt like and I was shocked at what I found. The paper said that labor starts in your lower abdominals and feels like menstrual cramps and you also experience back pains!!! OMG! I was in labor!!!! After finding that sheet, Tolar quickly jumped into action and started packing his hospital bag. He also loaded up our ipads with movies and tv shows to keep us entertained at the hospital in case my labor went long. Then around midnight Tolar went off to find a store that was open where he could buy snacks for us. (I had read a lot of forums that suggested having snacks at the hospital in case you delivered in the middle of the night and the café was closed.) Thankfully while Tolar was gone, the cramping was extremely bearable and I was able to make sure we were all packed just in case what I was experiencing was real labor.
Once Tolar returned, I tried to lay down and get some sleep, but I was too excited and nervous to really sleep. Then around 2 a.m. the real contractions started and I was unable to sleep because they were getting painful. We started timing my contractions, but they were extremely inconsistent. Sometimes they would be 6 minutes apart, sometimes 2, sometimes 12. We had been told that we should call the doctor when they were 5 minutes apart, lasting for 1 minute for 1 hour. But after an hour of intense contractions they never stabilized, so we called the doctor just to find out what was going on. She told me that they would even out and for me to call her back when that happened. She obviously knew I wasn't in active labor because I could talk to her on the phone just fine at this point.
So we stayed home and continued to labor. I had given up on sleep at this point and tried to distract myself (by typing a blog post!!!), but the contractions kept on. I walked around, I got down on my hands and knees and did A LOT of breathing. We moved from the living room couches up to our bed because I thought I might be more comfortable up there, but nothing seemed to work. Tolar was beside me the entire time. With every contraction that came he would make me concentrate on him and he helped me breathe when all I wanted to do was cry in pain. The contractions progressively got worse between 3 a.m. and 7 a.m., but they still never got consistent in timing. Around 5 a.m. I lost it and started crying because I was in so much pain and I was incredibly sleepy and I just couldn't get comfortable. With each contraction I felt a need to do something different: either lay still, get up and walk around, march my feet, jump up and down or just cry. Tolar was right there with me, walking around with me, holding me when a contraction started and speaking such comforting words to me during the painful moments. I know I could not have done it without him.
My awesome support system!
At 7:45 a.m. I was exhausted! Tolar called the doctor again because the timing of my contractions still weren't evening out. Also, I was in so much pain that I was ready to go to the hospital. The doctor said that if the pain was too much for me then we should come in. And I told Tolar I was ready! So off to the hospital we went. Funny thing, I actually was most comfortable sitting in the car so the ride to the hospital wasn't as unbearable as I had thought! We got to the hospital, gave our car to the valet (thank you Alexandria Inova Hospital for providing that service!) and made our way slowly to the Labor and Delivery floor of the hospital. They gave me a bed to monitor my contractions and the baby and we had to wait for about 20 minutes before a doctor would even see me. It was a long twenty minutes because I was just so tired and in extreme pain. Finally one of the midwives from my doctor's office came over and checked me out and told me that I was already 80% effaced and dilated 3 centimeters. She said that she was on duty until 8 p.m. that night and was pretty certain that she would be catching our baby! I was so relieved; she was admitting us to the hospital! I was also pretty hopeful that we would have the baby that day, because June 24 would have been my Grandma's 93rd birthday – I so wanted my baby to be born on the same day to make it extra special.
We had to wait to get an actual room for awhile and by the time we got to the room I was ready for an epidural. My contractions were strong! I told our Labor and Delivery nurse, Daphne, that I was definitely getting an epidural because I knew I couldn't handle a lot of pain, but I did tell her that I was nervous about receiving it. Daphne was awesome. She tried to calm me down about the epidural and she also assisted Tolar in holding me still while the anesthesiologist did her thing. I prayed almost the entire time while I was receiving the epidural, I did scream out in pain because the pressure was pretty intense, but I remained as solid as a rock. I was scared of moving and potentially getting paralyzed from the shot so I prayed for God to help keep me still. And He did just that! As soon as the epidural was in, I felt amazing! I could no longer feel the contractions and I was able to just rest. I was proud of myself, because I had made it to 5 centimeters before needing the epidural (kudos to all of you natural birth ladies out there!!!).
So from around noon until 8 p.m., I felt pretty good. I was able to nap briefly here and there and watch some episodes of
Friends
. My Bestie
Erica
ended up coming to the hospital and hanging out with me and Tolar for the whole day. As soon as she heard that I was in labor she knew she wouldn't get any work done. So she went to her morning meeting and then came to the hospital. Thank you Erica for being there! Since I went into labor 3 weeks early, it was a little difficult for our families to get to town. Tolar's family hopped in the car around 10:30 a.m. and started the 13 hour drive to see us. My mom, who was coming to stay with us for a few weeks, wouldn't be able to arrive until the next day as she had tons of things to complete in order to stay with us for so long. So we were extremely happy to have Erica with us!
Once we got to 8 p.m., the midwife who admitted us to the hospital came to check on me one last time and told me that Jenna (another midwife) would be taking care of me for the next shift (we also got a new Labor and Delivery nurse). So our admitting midwife wouldn't "catch the baby," but Jenna would get to. And I was super excited because we had been seen by Jenna at the doctor's office and LOVED her. I must say, that God answered our prayers! We had prayed to feel comfortable with whoever would deliver our sweet girl and when I heard that Jenna would be the person to do the job, I knew God was all over that prayer request! Jenna checked me and told me that I was 100% effaced and fully dilated – it was almost go time! Pitocin was added to my IV to help speed things along. They also wanted to help get the baby to move down naturally instead of having me push for longer (which I was so thankful for), so they tilted my bed up so I was in a more vertical position. Jenna said they would keep me that way for about an hour unless I felt an intense need to poop (sorry all!!!). If I felt like I had to poop, I needed to call our nurse. Well during this time some of my epidural didn't take on the right side of my stomach. When they add pitocin it makes the contractions stronger and I started feeling VERY intense contractions. It was so painful!!!! I could only feel it in my stomach, nowhere else, but I was still in a lot of pain. Then just before 9:30 p.m. I told Tolar we needed to call the nurse, I was ready to push!!!
The midwife and nurse came in and we got things started. The contractions were intense and I just wanted to relieve the pain and get my precious baby out of me! I was nervous about the delivery process, but I had an incredible delivery team and I listened to everything they said. I highly recommend that you listen to every instruction that the doctor/midwife and nurse tell you, it helped me immensely. I didn't want to be in pain anymore so I followed everything they said. And it paid off – I only pushed for about 30 minutes! Tolar was there with me the whole time, coaching me, breathing with me and telling me how great I was doing! I so appreciated having my sweet honey beside me. Jenna had told me at one point that with 2 more contractions my baby would be here. So I "got in the zone" and pushed with everything I had. After one contraction I heard Jenna say to me "Lindsay, look down" and there was my baby! I was so overwhelmed with joy and relief for two reasons; one that my baby was finally here and two that the pain was over. I think I even said "thank goodness it's over!" Tolar and I cried (and cried) and were immediately in love with our sweet daughter.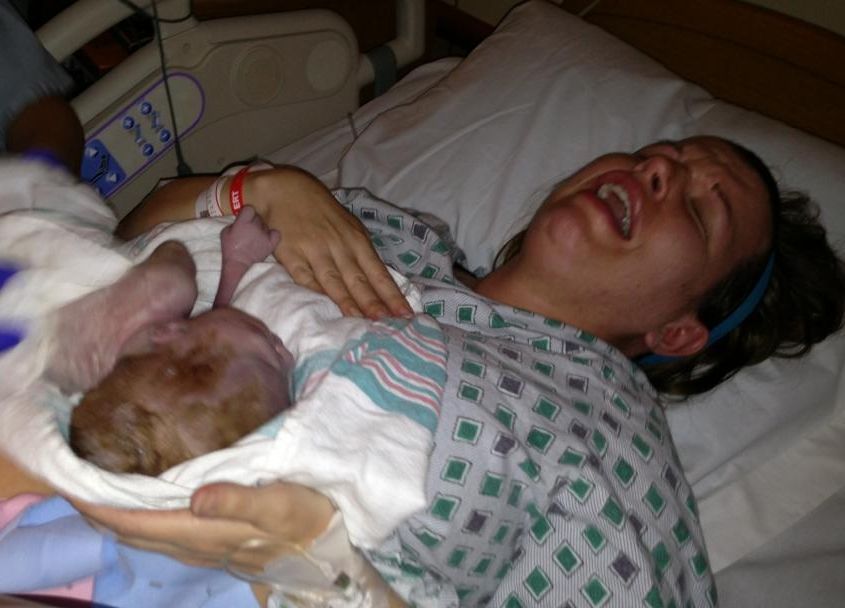 Overwhelmed and exhausted, but so in love! I'm a Mom!
Tolar stayed with the baby for all of the tests and cleaning while Jenna took care of stitching me up. I heard the nurse ask what type of laceration I had and Jenna told her I had a very small tear. The nurse was shocked and so was Jenna. Most first time moms tear quite a lot and even push for about two hours. They couldn't believe I did it in 30 minutes with minimal tearing. Jenna even compared my tear to a paper cut. I immediately gave all of the glory to God when I heard this. That is another thing we prayed for – for my tearing to not be bad. And again, He answered the prayer. The final prayer was that our baby would be healthy and not need any kind of medical intervention and God delivered!!!!
So I know this story has gotten rather long – sorry about that. But there are two things I just want to leave you with. God cares about everything in your life, even the small things. However nothing is too small for Him. He wants to give you the desires of your heart. That was evident in the fact that He answered all of our prayers for the birth. And two, having an incredible partner to support you through such a difficult moment in your life is amazing. Tolar has always been supportive and wonderful, but I realized his love for me even more during the 24 plus hours of labor. He never left my side during my time of need.
I'm thrilled that our birthing experience was a positive one – because I have wanted to be a mother my whole life and I have always wanted three children. I know I can do it again!!! But for now, we are just going to concentrate on our one child, Baby K, and cover with her so much love!!!