Wednesday, September 22, 2021
Our family just got back from an incredible cruise on the Disney Dream. This was the third Disney Cruise for Tolar and I (the first for the kids!) so I've got a solid understanding of everything you need to pack. I've compiled a list of helpful items that I think you will want to consider when packing. Any text in the below list that shows up in pink has a clickable link for you to make finding my recommendations easier.


It is important to note that Disney does not allow surge protectors or power strips onboard and the outlet situation in each stateroom is extremely limited. In our Deluxe Family Oceanview Stateroom there were only two regular outlets. The bathroom did have an additional outlet in the ceiling for shavers. For the full list of prohibited items for Disney Cruise Line, click here.


Technology:
-
Multiple Device Charging Station
-
Portable Charger
-
iPad/Tablet with favorite shows already downloaded AND sound machine app

-
Smartphone
(Disney relies heavily on their Disney Cruise Line app, so a smartphone is needed.)
Health/Beauty/Medicine:
-
Bandaids
-
Face Masks
-
Mask Lanyards
(We used these with our kids so I didn't have to keep up with their masks when walking around. When we were in an area that didn't require masks, they could take their masks off and wear them around their necks like a necklace.)
-
Seasickness Medication
(Can be purchased through a ship gift shop or the infirmary.)
-
Laxatives
(Can be purchased through a ship gift shop or the infirmary.)
-
Antacid Tablets
(Can be purchased through a ship gift shop or the infirmary. Pro Tip: you can also ask for some at Guest Services and they will give you a few free of charge.)
-
Antibacterial Hand Soap
(Disney does now provide a pump hand soap in the toilet bathroom of your stateroom, however, if you want to also have a pump hand soap by the other sink in the shower bathroom I recommend bringing an extra.)
-
Sunscreen!
Clothing:
In addition to the regular clothes that you would pack for an trip, here are my recommendations on items you will definitely want to include.
-
Multiple Swimsuits
-
Swim Coverup
(I wore this the majority of the time on our cruise and was so pleased with it. This coverup has over 14,000 reviews and 4 1/2 stars so it comes highly rated.)
-
Formal Attire
-
Light Jacket

-
Hat
(I love this
straw fedora
!)
Fun Items:
-Custom Refillable Cups
-Door Magnets (I ordered magnets from this Etsy shop and they were incredible quality. I HIGHLY recommend!)
-Pirate Costumes for Pirate Night (We purchased these eye patches and hats that worked well and were very affordable.)
-Halloween Costumes (If going on a Halloween On The High Seas Cruise.)
-Wine! Champagne! Beer! (Each adult guest is allowed to carry on a maximum of 2 bottles of wine or champagne OR 6 beers.)
-Mickey Ears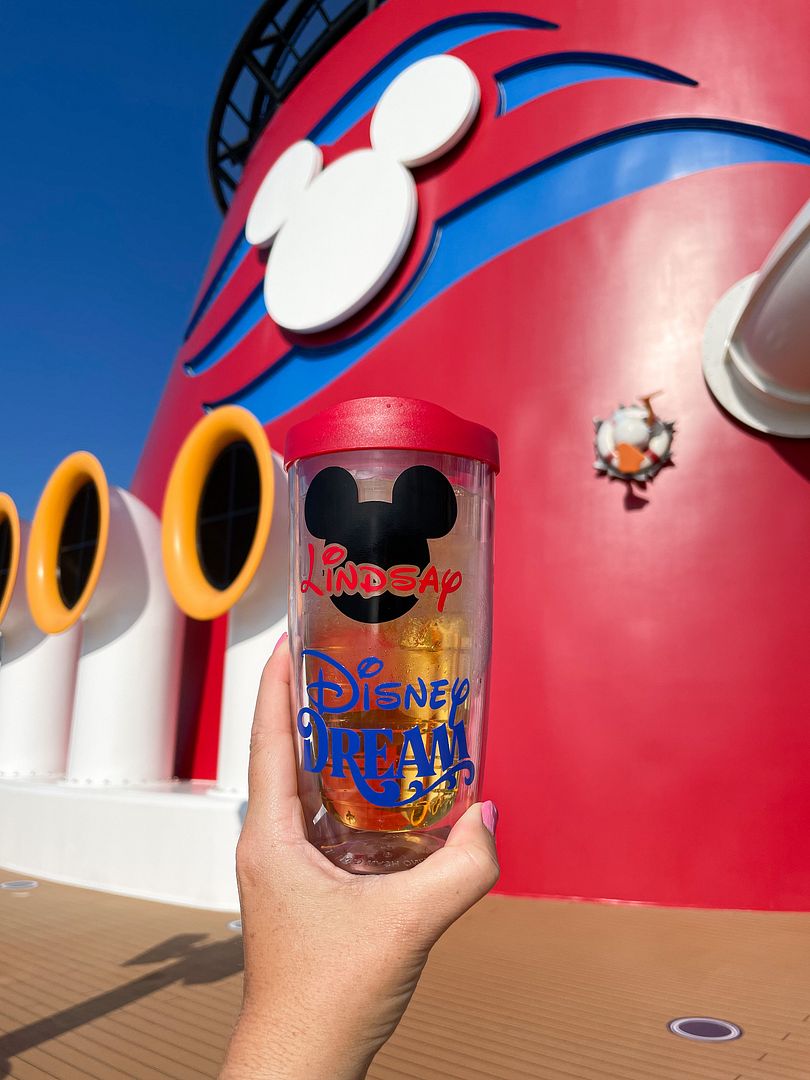 Documents:
-
Proof of Vaccination
-
Proof of Negative COVID test for children under 12
(This information is as of September 2021. Things might change depending on new vaccines).
-
Passport or Birth Certificate
-
Online Check In QR Code/Print Out

-
Travel Insurance Information

-
Disney Cruise Line Issued Luggage Tags
(They mail these to you prior to sailing.)
-
Folder to Keep Everything In
Miscellaneous:
-
Ziploc Bags
-
Small Bottle of Dish Soap
-Wrinkle Release Spray
-Cash For Room Service Tips and any additional tipping
(Disney has updated their app and you can now add a tip for room service, any bar drinks, Cove Cafe, etc. right on the app. However, we still brought cash because there were a few instances where we tipped employees and didn't have an official "transaction.")
-
Nightlight
-
Extra Hangers
(There is plenty of closet space, but never enough hangers!)
-Old Gift Card
(To turn the lights on in your stateroom, you need to use your room key. However, it was a pain to always have to take it out of our lanyard, so we brought an old gift card from home and kept it by the door to turn the lights on.)
-
Lanyard to hold your Key To The World Card/Room Key
(You only need to pack a lanyard if this is your first Disney Cruise. They provide you with lanyards anytime after when you become a Castaway Club member.)
If you have any questions about the items I have included in this packing list, feel free to reach out! You can easily send me a DM on
instagram
or leave me a comment below.
Monday, July 12, 2021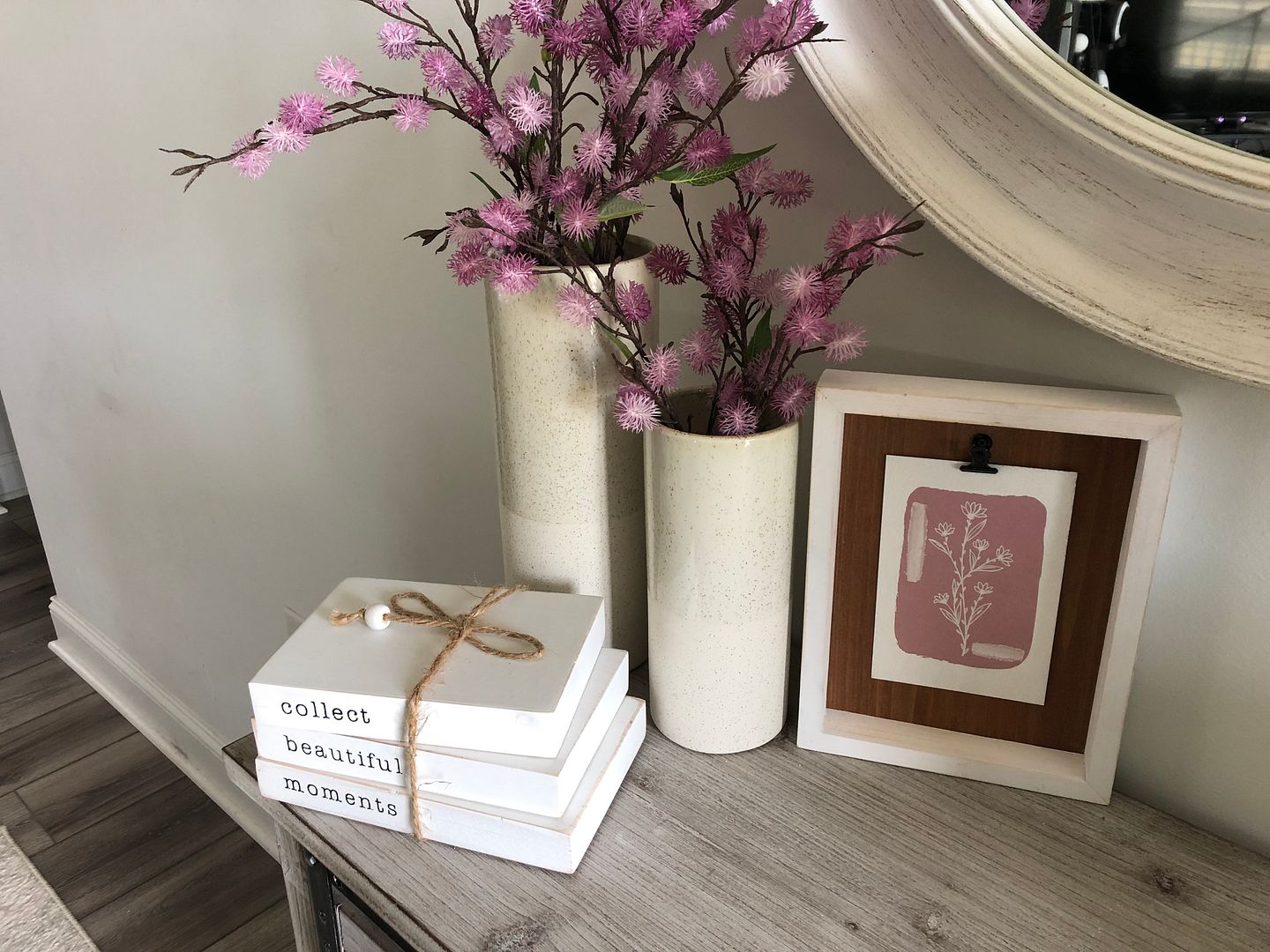 One of my favorite things to get shipped to my house is my
Decocrated Curated Home
seasonal subscription box. With every new season, Decocrated puts together a box containing 6-9 home décor items and ships them out to their subscribers. Home décor shipped straight to your door!!!! What's not to love?
Before I found
Decocrated
, I really only decorated my house for Fall/Halloween and Christmas. The rest of the year, I kept the same décor up without making any changes. However, Decocrated has inspired me to give spots in my home a refresh with each new season.
Many of the pieces included in each box have more than one use, with some pieces even having two sides so you can really stretch the use for each item. The pieces included do match the current season, but I've also found that I use a lot of the items around my house all year long. The team at
Decocrated
always does a terrific job in selecting items that can be paired together no matter the season.
The primary area that gets a seasonal refresh is my front entryway. It is always fun for me to see what comes in each
Decocrated
box and then work on styling my table to match the season. When I share photos of my new Decocrated box on
social media
, I normally stick to sharing my entryway table. But there are quite a lot of other places in my house that get the Decocrated treatment.
Besides not having to go to the store to buy home décor, a big reason I do love
Decocrated
so much is because I get a lot of use out of many of the items on an almost daily basis. I have Decocrated items in my Living Room, Kitchen, Coffee bar area, Master Bedroom, Guest Room and Knox's Bedroom.
Feast your eyes on the following pictures to see how I use
Decocrated
around my house. If you like what you see and want to start getting Decocrated shipped to your door,
click this link to start.
You can use code LINDSAY15 at check out to receive $15 off the Quarterly or Annual subscription.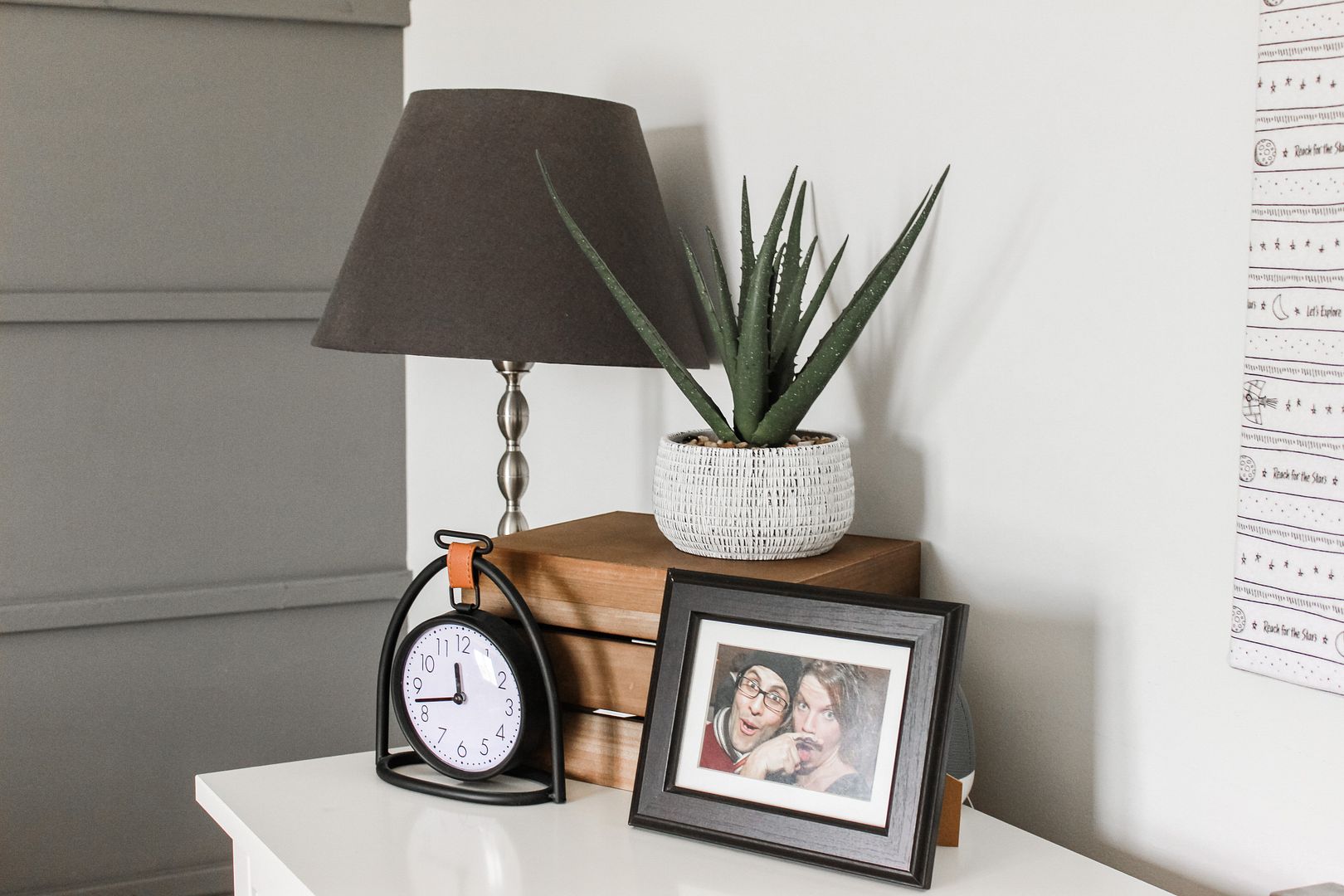 If you want to read more about Decocrated, you can click
here
and
here
.
Thursday, March 25, 2021
Thank you Decocrated for sponsoring this post. ALL opinions stated below are completely my own.
If you follow me over on instagram, it is no secret to you that I am a HUGE fan of Decocrated Curated Home. To catch you up, Decocrated is a quarterly/seasonal subscription box that ships 6-9 home decor items straight to your door.


One thing that makes Decocrated so great is that the items from each new season can be interchangeable with items from previous boxes. Receiving a new box every quarter helps me freshen up my house and get excited for the new season to arrive. I've been receiving boxes from Decocrated for 2 years now and I still get so giddy each time a new box arrives. The items included in the boxes are always so unique and quite useful! Oftentimes, items in each box will have dual purposes or two sides, helping me to really get my money's worth!
I probably say this every time I receive a new box, but I REALLY mean it this time. The Spring 2021 box is SO GOOD!!!! I've got places to use every piece all over my house. The color palette for the Spring box includes pinks, pale blues and turquoise. That color palette lends itself to allowing you to add florals all throughout your house so you can usher in Spring.


In the Spring 2021 box you will receive:
-a beautiful art print
-planter
-collection of wooden books
-long tray
-picture frame with a clip to easily change out artwork/pictures
-reversible pillowcase
-floral wall art (2)
Now that we've been staying home more often, it is important for me to LOVE the items I use to decorate. Decocrated boxes have helped since the pieces in each box are so beautiful and fun to use when decorating. I love moving all of the different pieces around my house each season and coming up with new ways to incorporate them into my decor. If you ever get stuck with how to use a piece, the geniuses at Decocrated have your back! Each box comes with a design booklet to give you inspiration for how to use the pieces in your home. So if you like home decor, but you feel lost, I highly suggest that you check out Decocrated. They do the shopping for you, deliver it to your house each season and then tell you how to use each piece. That sounds like a no brainer for me!


If you like what you see here and want to sign up for Decocrated, be sure to use my discount code to score a good deal.
CLICK HERE to order.

Use code
LINDSAY15
for $15 off quarterly or annual subscription.
The annual subscription gives you 4 boxes of home decor at a super deep discount.
One question I get asked a lot is if you can pick out the items that come in your Decocrated Box. You don't pick them out yourself, but I think that is what truly makes this such a unique home decor experience. To get an idea if Decocrated is right for you, below you will find a series of pictures that include the sets of items from previous boxes.
Featured Post
About Me
Welcome to Pursuit of Pink. I'm Lindsay and I'm so glad you are here. I believe a positive life is a happy life. Join me as I try to walk that out daily - in life, motherhood, style and more.
View my complete profile
Categories