Monday, October 25, 2021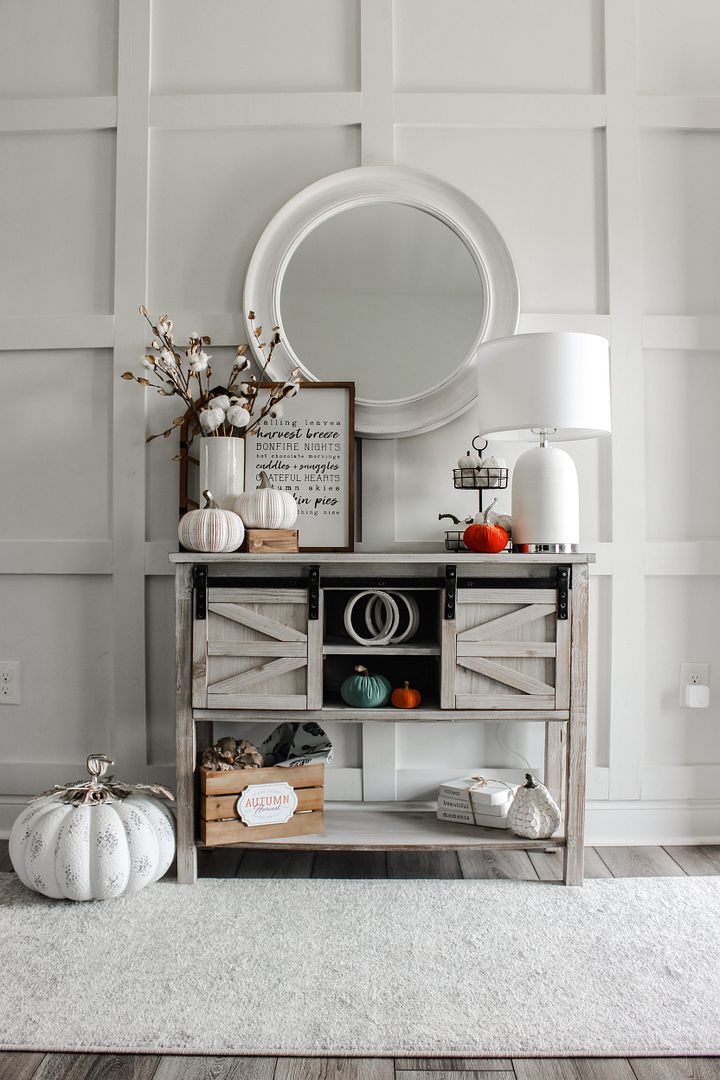 Scroll back through some of my recent blog posts and you will see that I have a deep love for Decocrated. In case you don't know what it is, Decocrated is a home decor subscription box that gets shipped straight to your door each season. Every seasonal box has 6-9 home decor items that you can use to turn your house into a home.

I love to use my Decocrated box to update the entryway of our home. I like having a designated space that I know will get a decor facelift each season to help brighten things up. On the other side of our entryway is Tolar's mancave which needs some serious attention and dedication (which I'm working on right now - a designer is helping me!). In the months prior to now, when Tolar's room lacked design appeal, it was important to me to give the entryway a nice welcoming feel. And Decocrated came to my rescue.

Decocrated sends out a box for every season, so a subscription gets you four boxes full of home decor each year. You can buy annually to get the four boxes or just buy per season. No need to go shopping at all, everything ships straight to you house! One thing you might not be aware of is that Decocrated has also started offering Holiday boxes. Check out the photo below to see some of the items that came in the most recent Halloween box. I love the Holiday boxes because they offer different items and holiday specific items, separate from the seasonal boxes.
The Holiday boxes are very popular though and often sell out fast. In the past, Decocrated has offered a Christmas box, an Americana box (4th of July) and an Easter box, in addition to the Halloween box. They currently have the Christmas box on sale for 2021. You can grab it by
clicking this link
and signing up to become a Decocrated member. Once you are a member then you can order the Holiday box. The Christmas box promises to be spectacular!
If you are interested in starting a
Decocrated subscription
, be sure to use code LINDSAY15 for $15 off your subscription.
I'm sharing an assortment of photos below to show you how I have used Decocrated items in my entryway over the years. It is always so fun for me to get a new box and then create a new entryway tablescape each season. Do you have a dedicated space in your home that gets updated regularly throughout the year?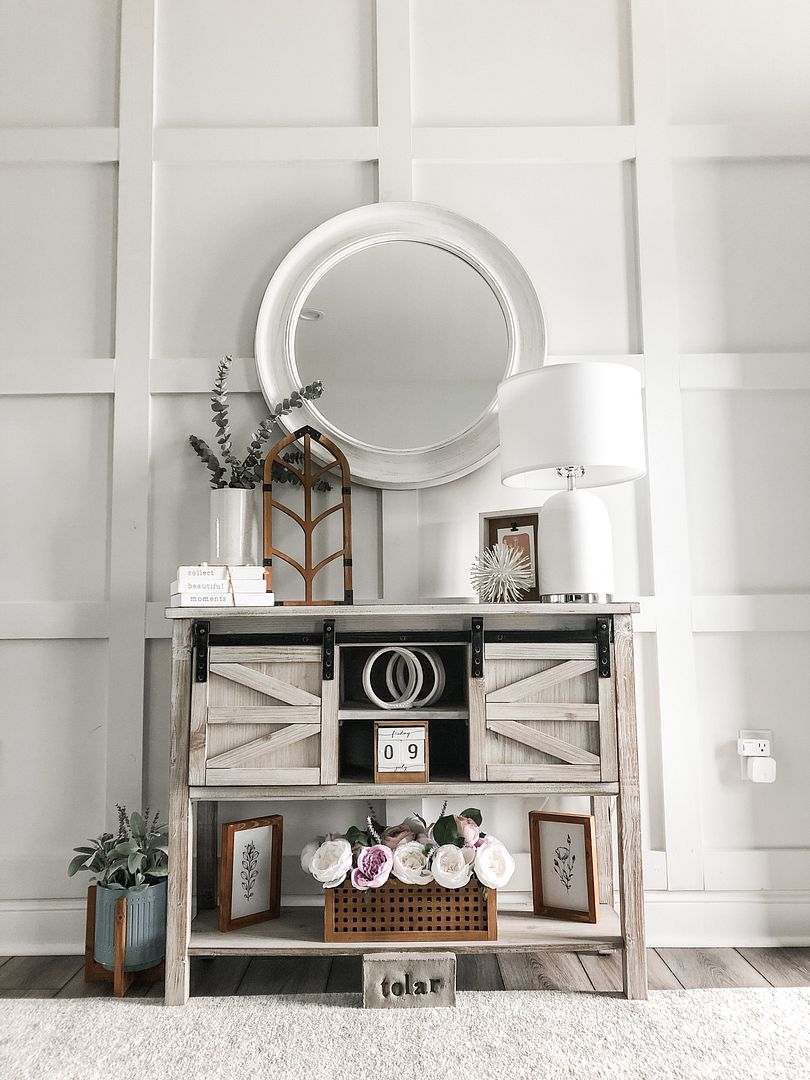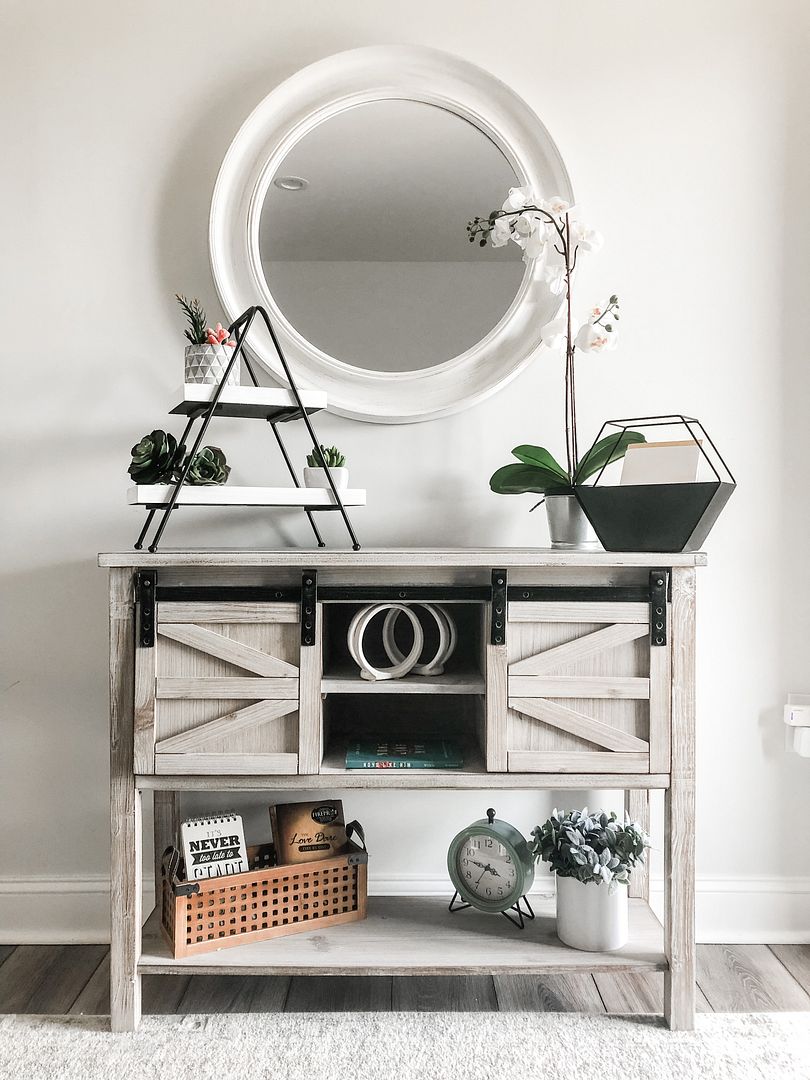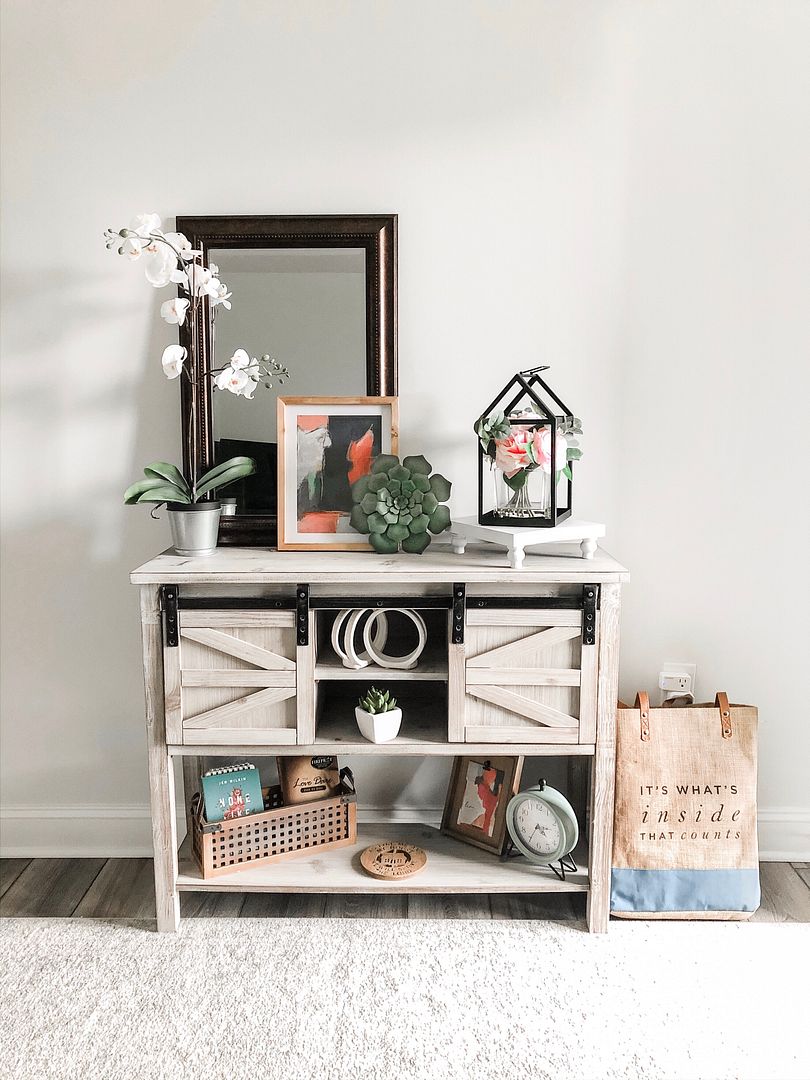 Thank you Decocrated for sponsoring this post. ALL opinions stated below are completely my own.
Friday, October 22, 2021
Did you know that Fall is a perfect time to clean and declutter around the house? Most people think of cleaning out their homes during the Spring or decluttering at the start of the new year, but Fall should definitely be added to the list as a time to clear things out.
Why might you ask? It is a great time to get organized before the hustle and bustle of the holiday season begins. Fall brings lots of change for many people and offers a chance to purge the old before you add all sorts of new items to the mix.
But where should you start? Keep reading for my tips!
1.) Designate an area or a room as your "get rid of space."
When I get in a decluttering mood, I can sometimes get pretty serious, which means I get rid of a lot of stuff. Therefore I need an area to store all of the stuff until I can get it out of my house. I usually grab some big boxes and place them in our guest room, and anytime I find an item that I no longer want, I will put it there. Find an area that works for you: dining room, mudroom, etc., just somewhere that you can store stuff temporarily while you gather everything you no longer need. The important thing to remember is to get rid of the items that you no longer want and make sure they leave your house.
2.) Pull out all of your Fall decor and decide what you will keep and what needs to go.
I'm sure you are just like me and bought plenty of decor thinking it was "cute" but haven't found the right place for it. So year after year, it sits in your Fall decor box and never gets put on display. If that is the case - get rid of it. If you haven't used a Fall decor item in recent years, don't hang on to it and let it take up precious storage space. Also, your tastes might have changed over the years, so if you find items that no longer speak to you, it is also time to get rid of them. Consider donating your items to a local thrift store or even sell them on Facebook marketplace.
3.) Go room by room in your house, clearing out what you no longer need.
If you have time, go through your house a room at a time to determine what you can clear out and get rid of. Go through everything: dressers, cabinets, nightstands, closets, etc. IF you don't have a ton of time to go through every room, concentrate on your children's rooms and your guest room. With the holidays approaching, you want to make sure that your guest room is decluttered so you can welcome guests into your house comfortably. Also, children will get a ton of stuff between Fall and the New Year, so clearing out their rooms will be beneficial.
4.) Purge toys.
I do recommend that you get your children involved in this activity to save yourself any tears in the end. Gather the toy bins, the boxes, the crates, the stuffed animals, everything into one place so you can see what you are working with. Have your children go through and select their absolute favorite toys to keep. This will help your children relax, knowing that their favorite toys are safe. Next, go through the toys one by one. If anything is broken beyond repair (or might take too long to fix, making it a hassle), it must be trashed. As you go through each item, have your child tell you the last time they played with the item. Then ask them if they want to keep it or give it away. You do have veto power, but it is a good idea to let your child make some decisions with their belongings. Children are likely to get a bunch of new toys during the holidays, so cleaning out what they already have now is a GREAT idea.
5.) Clear out the school art work and other paper items like magazines and catalogs.
Here is another place where your children can help. Have them go through any artwork they have already brought home from school and have them pick out their absolute favorite pieces to keep. The rest needs to go! A helpful tip if you have very sentimental children is to take pictures of each artwork piece and create a photo book for them to keep.
I'm sure you've got a pile of mail or magazines that need to find their way to a different home or the trash can. Flip through your magazines and tear out the pages that really interest you, then throw the magazines away or recycle them. If you need to keep magazines, only keep the three most recent issues. Go through your mail, throw out the junk and assign a home to everything else.
6.) Don't forget your front porch.
Give your front porch the Fall cleaning treatment. Sweep or blow away any bugs, leaves, sticks, etc., that have accumulated. Check your front door, lights, windows, and shutters for cobwebs and give them a good wipe down. This is a great time to take inventory of what you currently have on your front porch. If any decor is old or extremely dirty, get rid of it. If you need new cushions or pillows, there are always plenty of terrific Fall and holiday-themed options to purchase.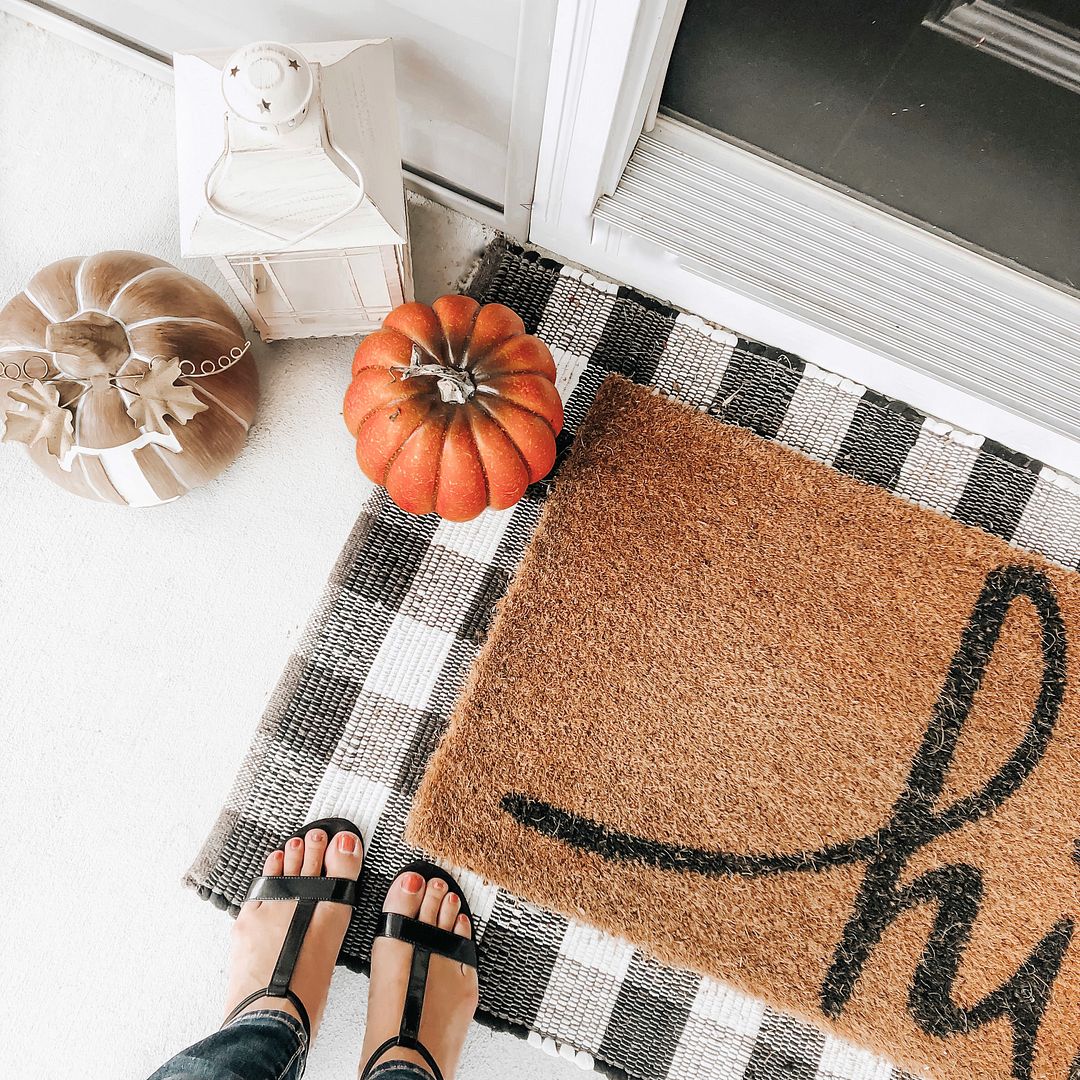 7.) Get your pantry ready for all of the Fall cooking and baking you will do.
When looking through your pantry, first throw out anything that is expired or that your family does not eat. If you have unopened items that your family won't use, consider donating it to a local food bank. Pair items together (pastas, canned goods, cereals, beverages, baking supplies, etc.) and arrange them back in your pantry. I personally like to have all labels facing forward to clearly see everything when I open my pantry door. I also like to store the snack items on a lower shelf so my children can easily reach them.
I hope these tips help you get your house ready for all the fun that Fall brings. The above list doesn't need to be done in a day. Allow yourself time to clean and declutter, but also enjoy all of the Fall festivities.
I originally wrote this blog post for the
Decocrated blog
. Decocrated is home decor delivered straight to your door each season. I'm a huge fan of theirs and recommend a subscription to anyone I know who is interested in home decor. To get started on a subscription,
click here
. Use code LINDSAY15 to save $15!
Thursday, October 21, 2021
Last fall, Tolar and I took a mini trip to Highlands, North Carolina and it was pure bliss! The leaves were beautiful, the scenery was incredible, the restaurants were yummy and we enjoyed ourselves immensely. Highlands is a quaint town in the mountains of North Carolina - the perfect retreat.
My grandparents actually retired to Highlands and I grew up visiting them there every summer. To be honest, as a child (and even as an early 20-something), I didn't really enjoy Highlands because I didn't allow myself to truly soak in and appreciate the beauty. As a mom with two young children, Highlands was a wonderful mini vacation. We visited several water falls, we hiked, we walked around downtown, we ate like kings and we relaxed.
Where we ate
1.)
Ugly Dog Public House
This was our first dinner and it did not disappoint. There was a little bit of a wait, so we gave the hostess our name and walked around downtown while we waited. The hostess called us when a spot opened up at the bar, so we could wait there before moving to a table. Just as the name suggests, this was a casual restaurant offering pub food. The food was absolutely delicious! We ordered the fried green tomatoes, burgers and their house made chips. Everything was melt in your mouth YUMMY.
2.)
Julep Kitchen at Julep Farms
This restaurant is actually in Georgia, but it's just over the line and only a short drive down the mountain from Highlands. Be sure to check their hours as they do close between lunch and dinner. Julep Kitchen is a bit more upscale than Ugly Dog Public House and worth the price for sure. Everything was so fresh and delicious. I ordered the salmon and Tolar order their pasta dish and we split a cheesecake for dessert. The restaurant itself was trendy and offered a relaxing vibe. I highly recommend you walk around the property while you visit, it is such a beautiful location.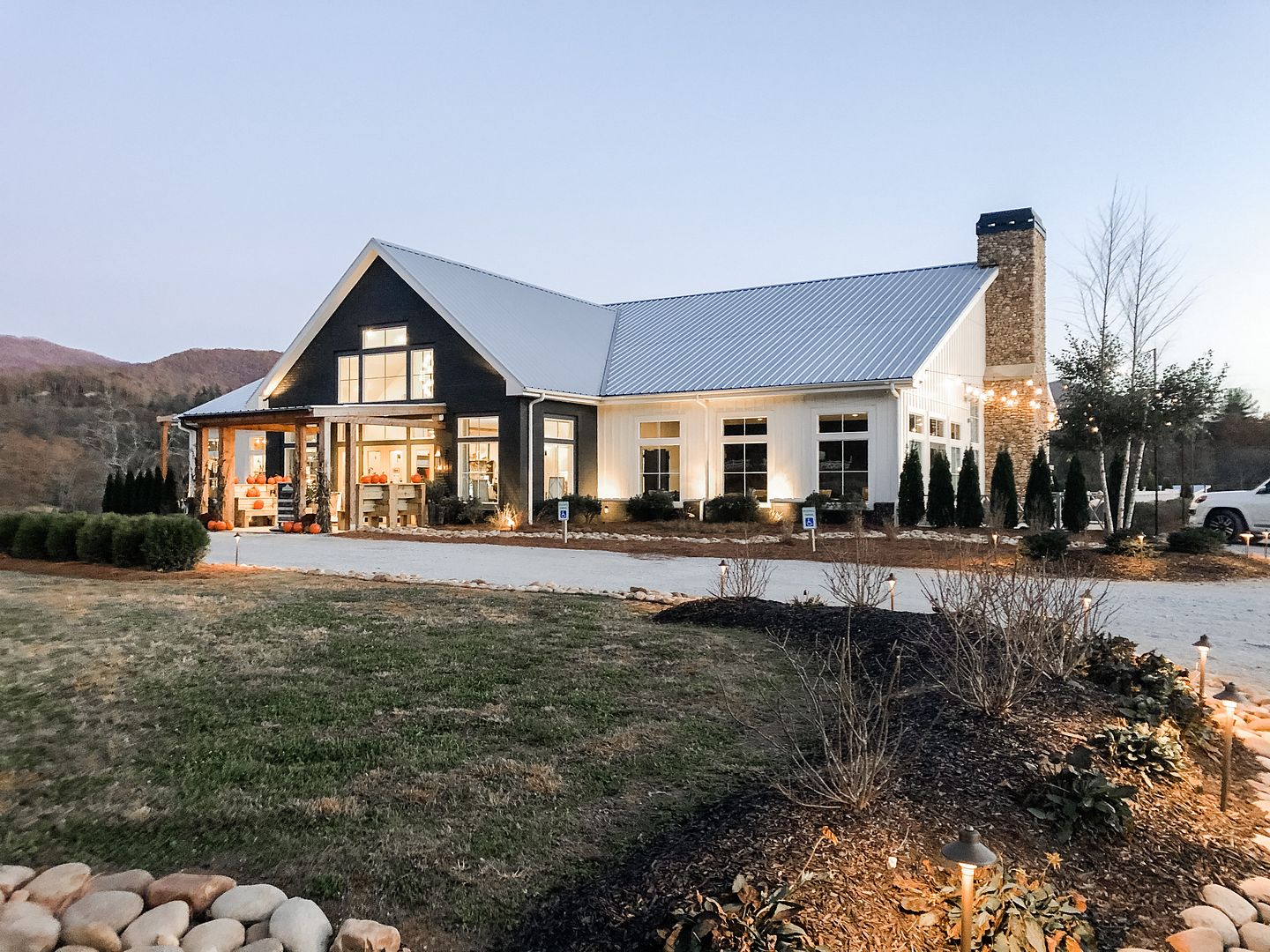 3.)
Wild Thyme Gourmet
This was a recommendation I found on Pinterest, but I would probably tell you to tread lightly with this restaurant and maybe try something else. The food wasn't memorable and the atmosphere of the restaurant was a little lacking. Nothing was particularly bad about it, just not my favorite.
4.)
Blue Bike Cafe
A very popular breakfast location that delivered on tastiness. Every review I read mentioned how the place fills up and can have a long wait, so we arrived as soon as they opened. By doing that, we didn't have to wait at all. Their menu is full of mouth watering breakfast items, it was hard to decide what to choose. I ordered biscuits and gravy and Tolar got pancakes. My only complaint is that our server was a little stingy with the coffee creamer (I use a good amount), but I saw other servers offering an appropriate amount to other patrons. I won't hold that against them.
5.)
Calders Coffee
Instead of coffee, we stopped in and ordered hot apple cider. The coffee shop was cute and definitely worth checking out if you visit. We didn't sit inside, instead we opted to take our drinks to go and walk around downtown.


Waterfalls We Saw
1.)
Dry Falls
Just like the name suggests, you can actually walk behind this waterfall and stay (mostly) dry. You do get a little mist from the waterfall, but it is quite the sight to see. There is a nice sized parking lot and it was actually pretty crowded the day we visited. The trail that leads behind the waterfall is paved.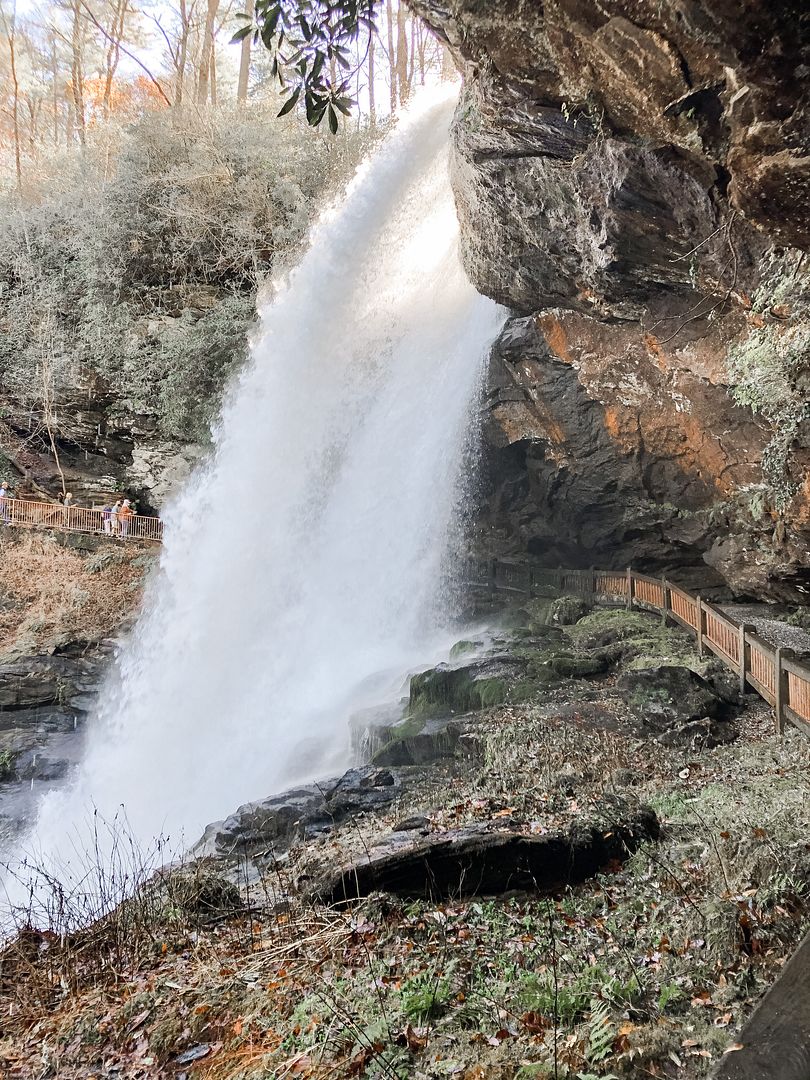 2.)
Bridal Veil Falls
This waterfall is on the side of the road and I remember seeing it on my summer visits as a child. There is a little area where you can pull off to see the waterfall, but not a huge parking area like there is at Dry Falls. You can walk under this waterfall and don't really get wet either.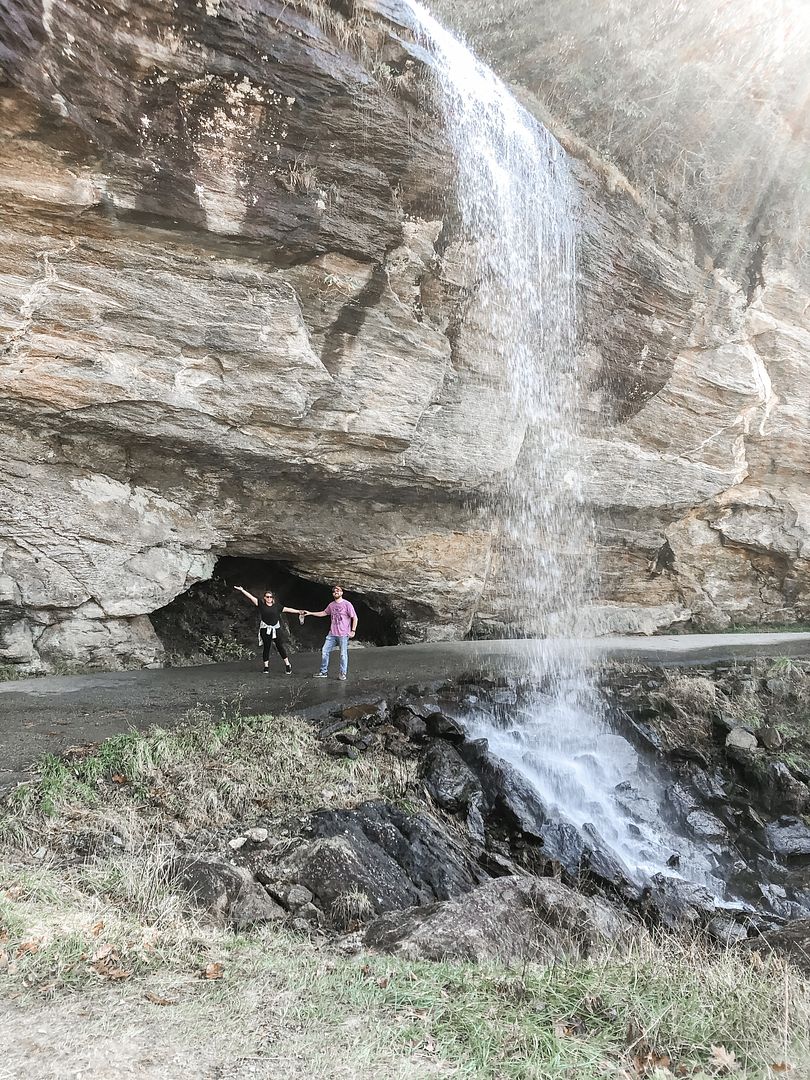 3.)
Glen Falls
My grandparents house is actually just up the mountain from Glen Falls, but I honestly don't remember ever visiting Glen Falls as a child. I found out why I likely never visited it, the hike is quite difficult. Most of the websites I visited said the hike wasn't too steep, but for my very short legs, I found it quite steep and difficult. But the views were breathtaking. You actually get to see the falls at several different points of the hike. There is a nice big parking lot and ample space for lots of visitors.


Other Places We Visited
1.)
Whiteside Mountain
During our venture over to Cashiers, we decided to hike Whiteside Mountain. Another quick google search revealed that it can get pretty crowded, so we decided to hike in the morning. We took the inside trail up the mountain and the outside trail down. The inside trail is a bit more narrow and treacherous, but completely manageable. Unfortunately on the day we hiked, there was a ton of fog at the top of the mountain, so we weren't able to get any pictures of the amazing views. But it was still a neat hike and quite a unique experience to be surround completely by white fog.
2.)
Will Henry Stevens Covered Bridge
We saw this bridge while driving around and decided to pull over. The detail of the bridge was so pretty. After taking a picture,
I found this link
with a fascinating story about the origin of the bridge.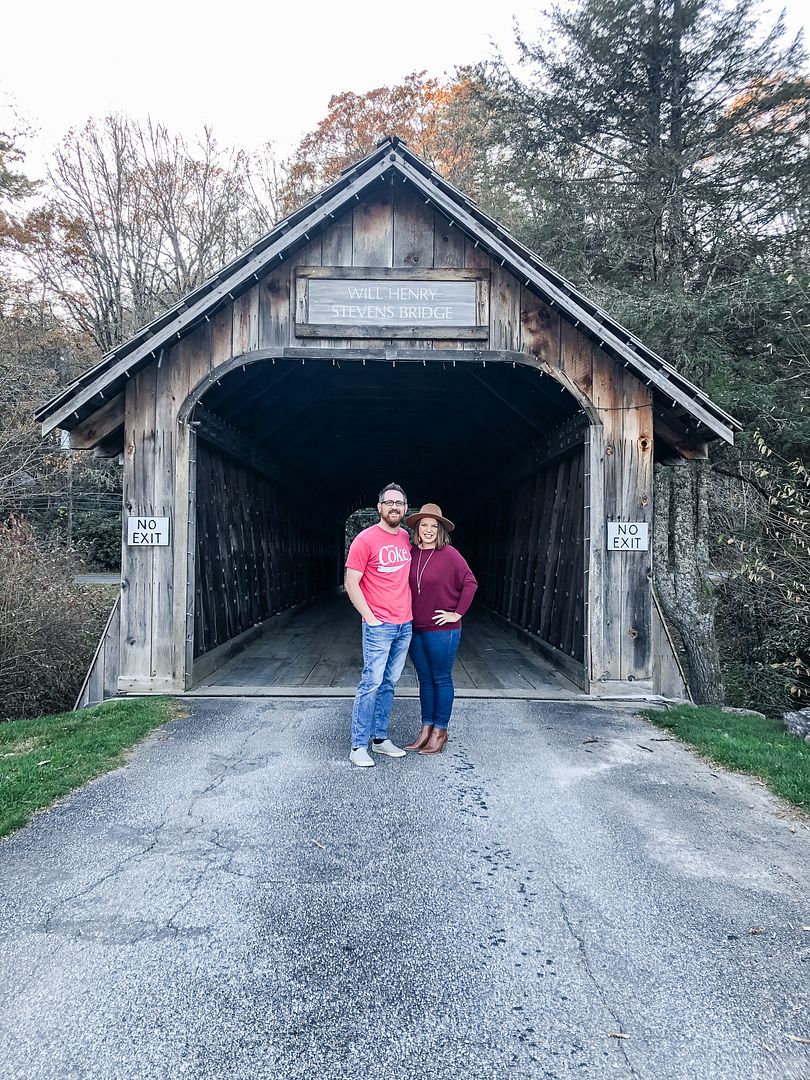 3.) The drive to Cashiers, NC

If you have time, venture to the town next to Highlands. Cashiers is another quaint town with cute restaurants and shops but the drive between Highlands and Cashiers is full of breathtaking scenery. There are several pull off areas where we stopped to take in all of the changing leaves. I was overwhelmed by just how beautiful the views were.


Worth Checking Out
1.)
Highlands Playhouse
I can't type a post about Highlands, NC without mentioning Highlands Playhouse. My love for musical theatre started by attending a play or musical here every summer. Highlands Playhouse is a professional summer stock theatre and I looked forward to going every year. Since they are a summer stock theatre, they turn the inside into a movie theatre during the rest of the year. It is definitely a place to check out!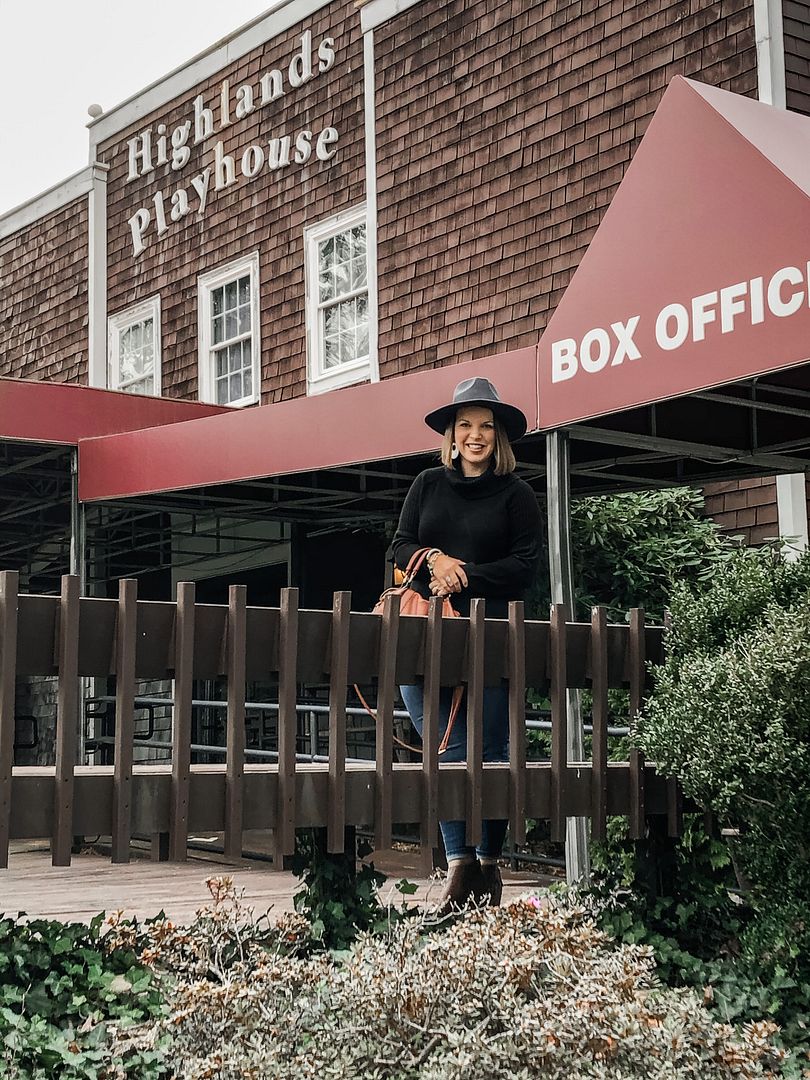 Featured Post
About Me
Welcome to Pursuit of Pink. I'm Lindsay and I'm so glad you are here. I believe a positive life is a happy life. Join me as I try to walk that out daily - in life, motherhood, style and more.
View my complete profile
Categories