Friday, November 20, 2015
I received a complimentary cosmetic bag from London Soho New York for review purposes, all opinions are completely my own.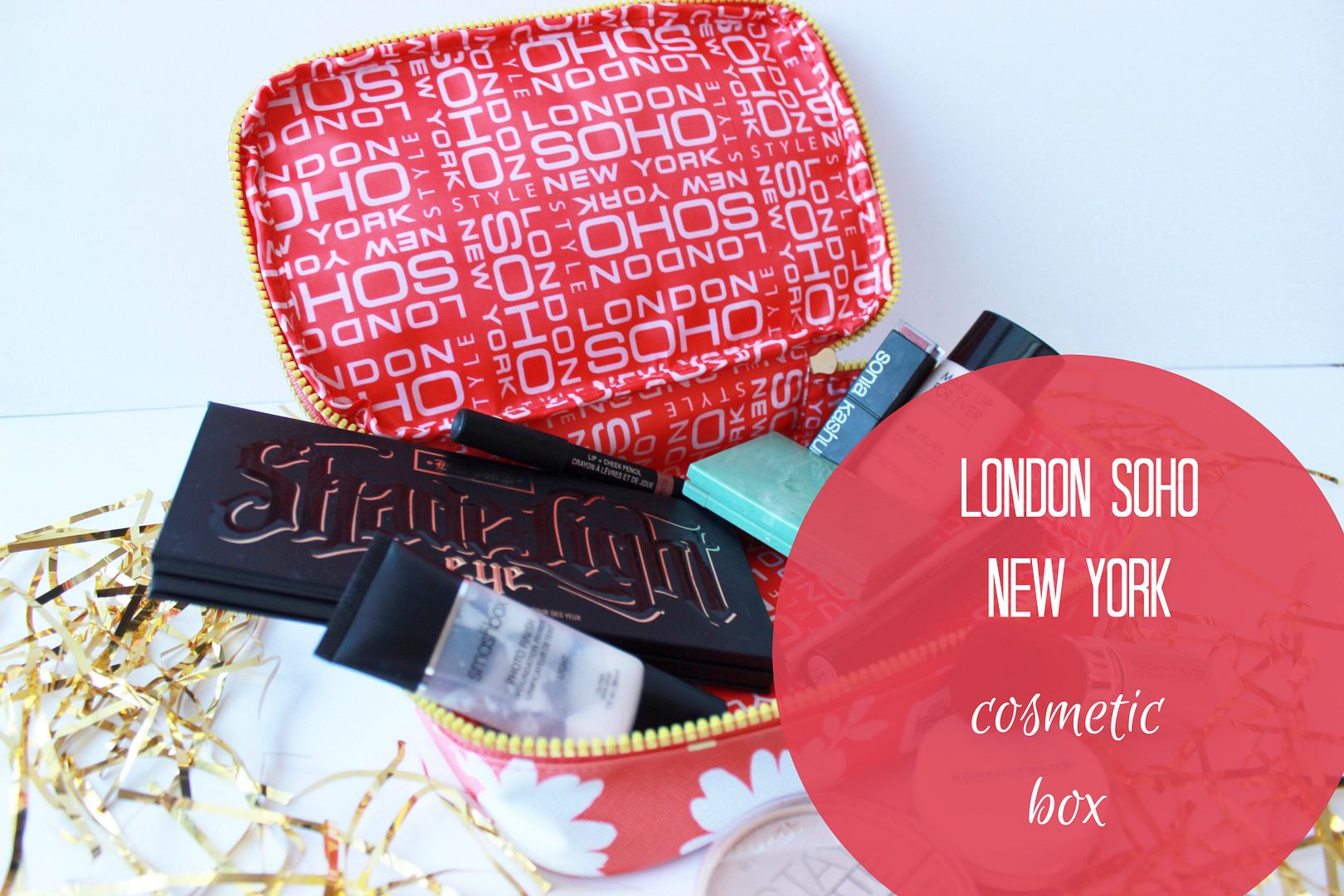 Are you traveling for the holidays this year? Have I got the perfect cosmetic/makeup travel bag to share with you! Perfect is a pretty bold word, but I can honestly say that
London Soho New York
has nailed it with this bag.
Before I get into why I love the
London Soho New York cosmetic box
, allow me to give you some back story. For a long time (at least five years) I carried all of my makeup in a giant bag that I got for free from a department store. I loved that bag, but after throwing so much makeup into it for 5 years it got quite dirty. Sadly, I decided to throw my beloved bag away and went on a quest to find an identical one but I could not find anything that came close to it. I've had to settle for mediocre bags since then. Yes it sounds silly that I just spent an entire paragraph explaining my saga about a makeup bag, but when you love makeup like I do this is important.
I've been looking for a bag that holds all of my makeup at once so it needs to be a pretty good size. However, I don't want it to be
too
large with a lot of extra space. When there is extra space, your powders can come open and spill all over the place. No one wants that! The
London Soho New York cosmetic box
is the perfect size. But why I really love the cosmetic box is the awesome brush holder in a separate zippered section. You are able to keep everything neatly organized in the brush slots. I hate just tossing my brushes into my bag and pulling them out later to see that the brushes have completely lost their shape. This way your brushes stay neat and tidy and will look how you expect them to look when you pull them out after traveling. Plus there is a mesh pouch which allows you to carry any extra brushes or miscellaneous items (lipsticks) you might have.
And one final note for all of you neat freaks like me out there. The inside is made of easy-wipe vinyl, so you don't have to worry about makeup staining your cosmetic box. I may never have to buy another cosmetic bag again! With a super affordable price point, this is THE cosmetic bag to own. It would also make a great Christmas present. You can pick one of these awesome bags up at
Target
.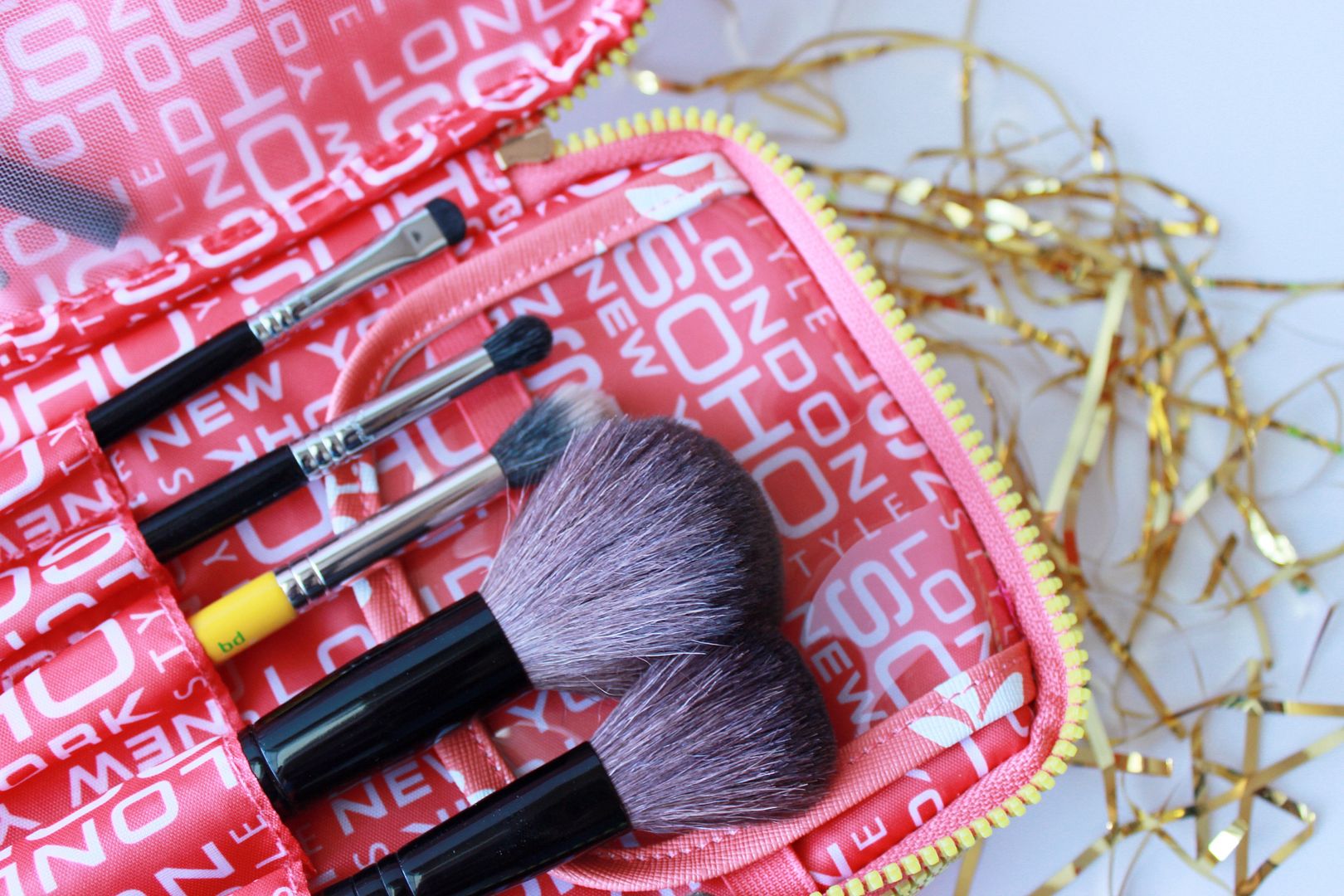 Wednesday, November 18, 2015
Tolar informed me that this outfit makes me look like a lumberjack. Of course, I responded with "No way, check out my bling," putting him in his place!
I love taking something casual or plain and pairing it with some "fancy" items. This buffalo check button up shirt
might
look like something that a lumberjack would wear, but throw on a gorgeous necklace from Stella & Dot and a
slouchy beret
from Scala Pronto and you transform into an instant trendsetter.*
This slouchy beret is everything I have looked for in a Fall/Winter hat and never found until now. I love the neutral oatmeal color coupled with the pop of silver bling woven through - the color allows this hat to be worn with just about anything. The knit is soft and extremely comfortable; no scratching my head and wishing I could just take it off. And it is the perfect thickness, not too thick and not too thin. So you can rest assured that your head will be kept warm during the cold months, but you won't be sweating underneath (and ruining your hairstyle). Because the beret is the perfect thickness, it is great to wear indoors as a fashion accessory or outside for warmth and functionality.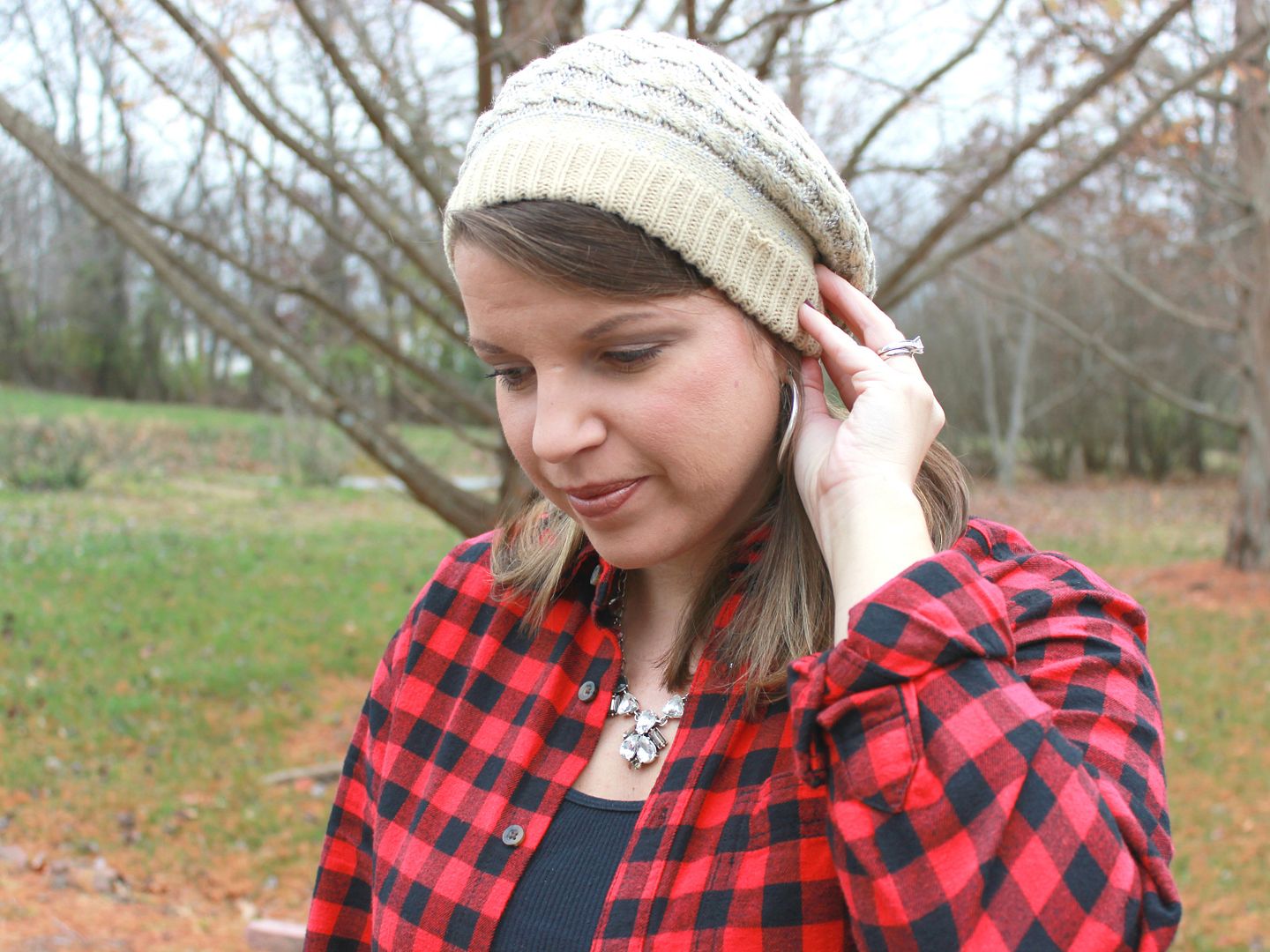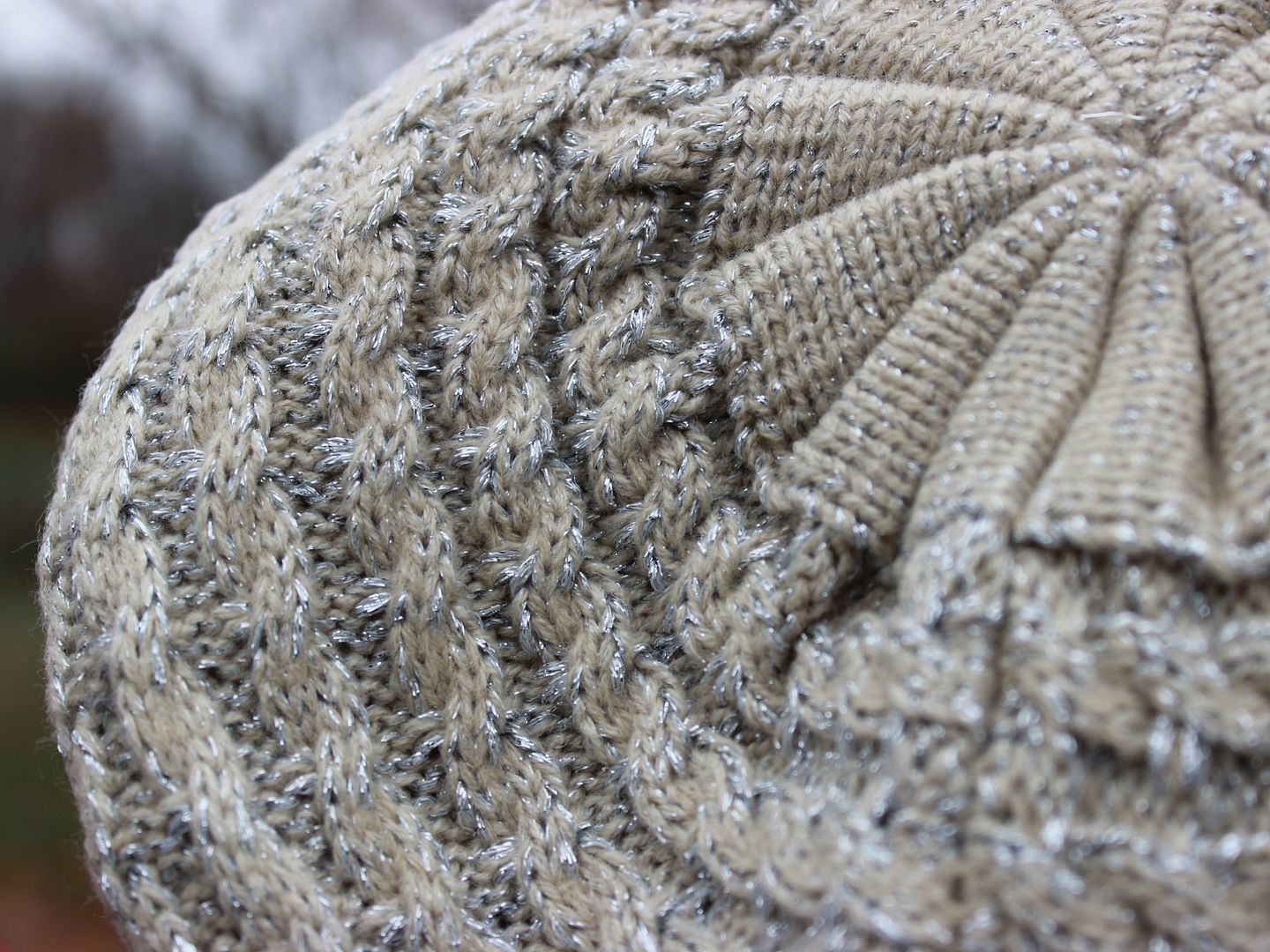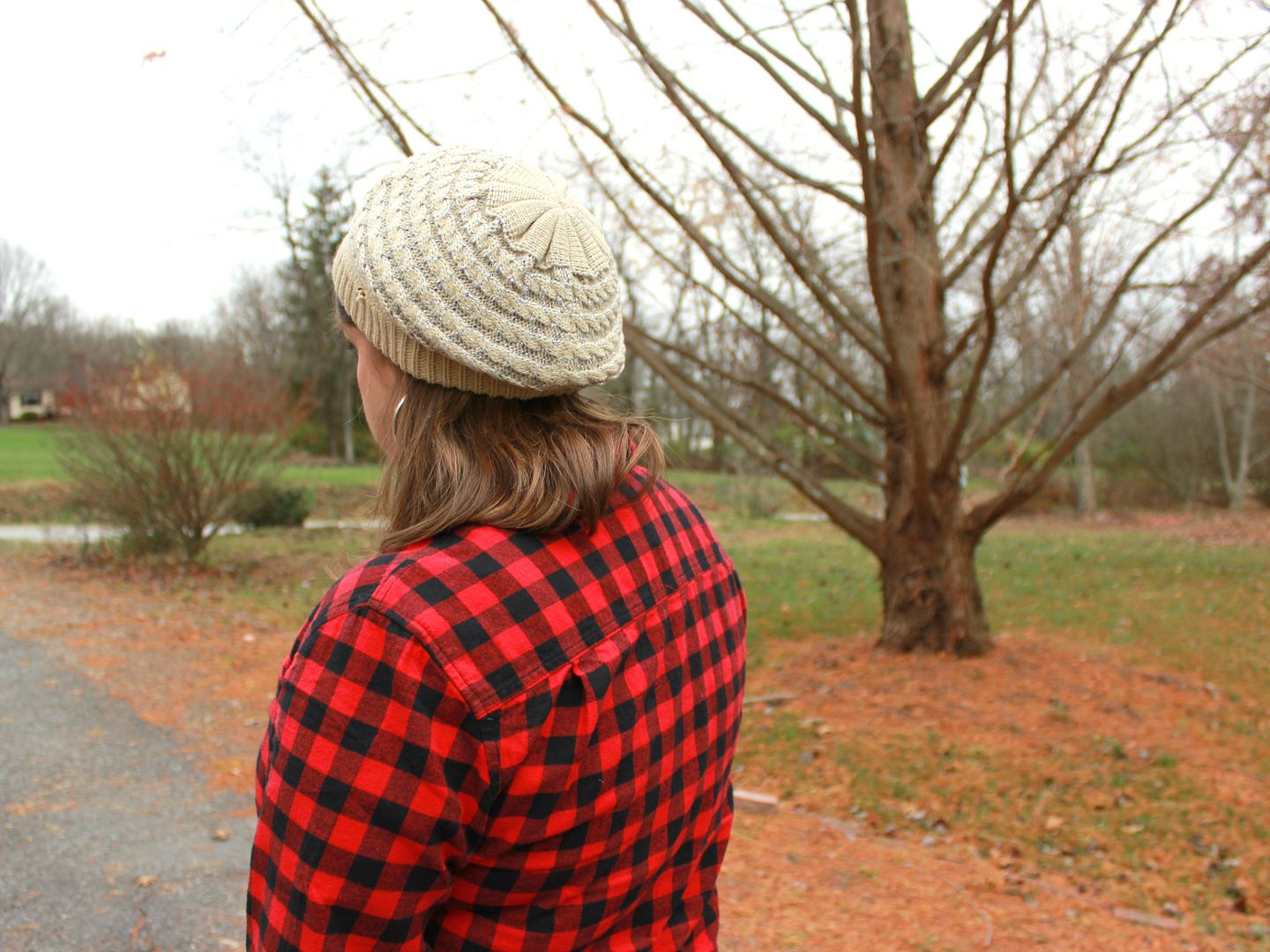 Buffalo Check shirt:
Walmart
(!!!!)
Slouchy Beret: Scala Pronto (c/o).
Necklace: Stella & Dot.
Earrings: Target.
*trendsetter status more likely to be achieved by you than me
I'm linking up this post with
The Pleated Poppy
.
Tuesday, November 17, 2015
My sweet friend Marcy sent me a text message yesterday wondering what was up with me and why Pursuit of Pink seemed to be trapped in October. And of course I am sure that all of you are probably wondering the same thing!
First things first, I'm alive and have absolutely no plans of halting the happenings at Pursuit of Pink. I just needed a little time off. I've been a little busy with entertaining some house guests, planning a baby shower, Christmas shopping for a Thanksgiving gift exchange, keeping up with church and MOPS stuff, enjoying my fabulous family and suffering from a cold that knocked me down hard! Everything but the cold has been full of enjoyment for me and just kept me a little too busy to sit down at my computer each night.
But I'm back. And figured I'd show you some shots of life straight from the ol' iphone because honestly I don't do anything with out that cellular device.
-We took family photos during my hiatus and I cannot wait to get those back and share with you. The leaves at the park where we shot the photos were insanely huge and gorgeous!
-My dear friend Rebekah and her sweet family came to visit us for a couple days. Bek is the type of friend that you
need
to have in your life. She is so positive, such a wise woman constantly pouring into me and she is the type of friend who even if you don't talk every day it always feels like you just spoke with each other. While Bek was here we went to a trampoline park with the ladies from my church and had a blast - seriously it was the most fun I've had in a long time!
-Sesame Street Live came to Roanoke and my sweet friend Shelly (a former co-worker from D.C.) hooked us up with tickets. We all had a blast meeting Elmo and friends and enjoying the show. Thanks so much Shelly!
Featured Post
About Me
Welcome to Pursuit of Pink. I'm Lindsay and I'm so glad you are here. I believe a positive life is a happy life. Join me as I try to walk that out daily - in life, motherhood, style and more.
View my complete profile
Categories