This post is part of a social shopper marketing insight campaign with Pollinate Media Group® and DripDrop®, but all my opinions are my own. #pmedia #DrinkDripDrop #DripDropHydrates
http://my-disclosur.es/OBsstV
Ok, so Baby K is 19 months old...I NO LONGER have an excuse that I just had a baby and that's why I'm carrying around some extra poundage. My sister has totally inspired me by starting a regular workout regimen and she's achieved some amazing results. I too have started the workout regimen that my sister follows and Tolar and I just finished up a clean eating challenge last week. Good start, right?
The older I get the more I learn that you have to make lifestyle changes, not go on crash diets in order to change the way you look and feel. And one of those lifestyle changes that I am proud to have implemented is drinking tons of water to stay hydrated. I try to drink about 80 ounces of water each day. Most people probably wonder how do you drink that much or even
remember
to drink that much in a day? Well I'm going to give you a peek into one of my days so you can see what I do to drink that much water.
7 a.m.
My wake up call rings (aka Baby K wakes up and gets the whole house up and moving).
7:15 a.m.
Get Baby K settled with breakfast and I grab my first 24 ounce bottle of water. I try to drink the entire thing before I eat breakfast so that I don't overeat or feel hungry after breakfast.
And I recently found this cool product called
Drip Drop Hydration Powder
that I like to use in my morning water to make sure I start my day out fully hydrated. I had no clue, but when you are dehydrated, plain water doesn't cut it. You actually need to replace fluid
and
electrolytes. An awesome thing about Drip Drop is that it has 2-3 times the electrolytes and half the calories of sports drinks. Since I often wake up with cotton mouth and desperately need water, Drip Drop comes to my rescue, plus it tastes great!!!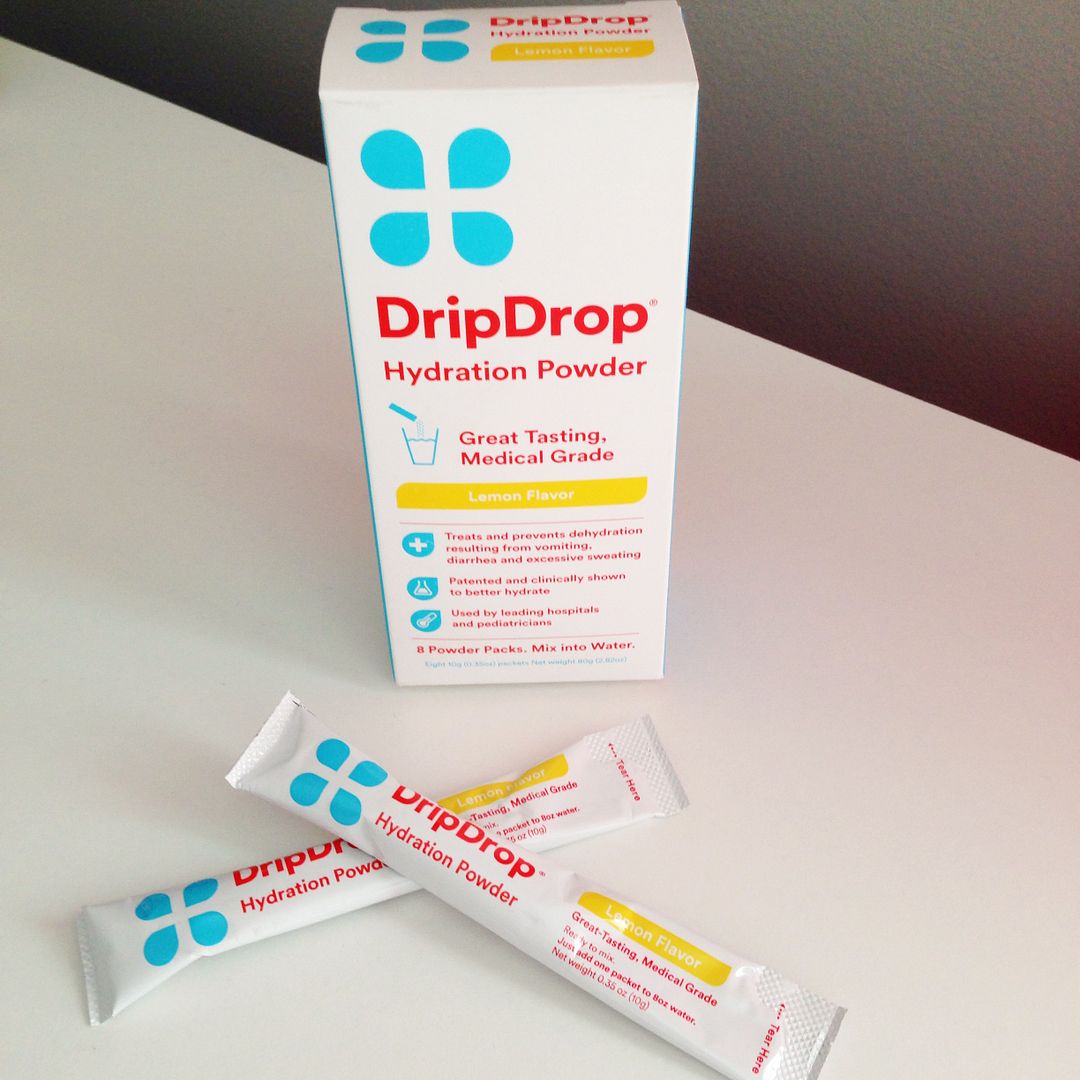 7:30 a.m.
Check my blog and amplify my daily blog post on my social media channels. (Psst, are you following me on
instagram
? That's where I have the most fun!)
8 a.m.
Breakfast time for me!!! I normally have oatmeal or cereal, but have recently been adding eggs and English muffins into the mix.
8:30 a.m.
We are staying at home today, so I don't need as much time to get ready. I've found I can take a quick shower in peace if I put Baby K in her crib with a few toys and lots of books. She will play quietly until I'm finished in the shower. Then she likes to come in the bathroom with me while I do my hair and makeup. Digging around in the cabinets is a favorite activity of hers and it is so funny to watch her try to use the hairspray (she knows it's one of my favorite products).
9 a.m.
Baby K and I start to fill our day with lots of fun activities. I posted last week about ways that I entertain my daughter now that I am a stay at home mom.
Click here to read more about that
.
10 a.m.
I hop on facebook to tackle a few things for my business and my blog, while I have some time since Baby K is occupied. I even like to check in with my followers on social media to see how they are doing with their water intake. My friend Shannon tries to drink a gallon of water a day - that is incredible!!!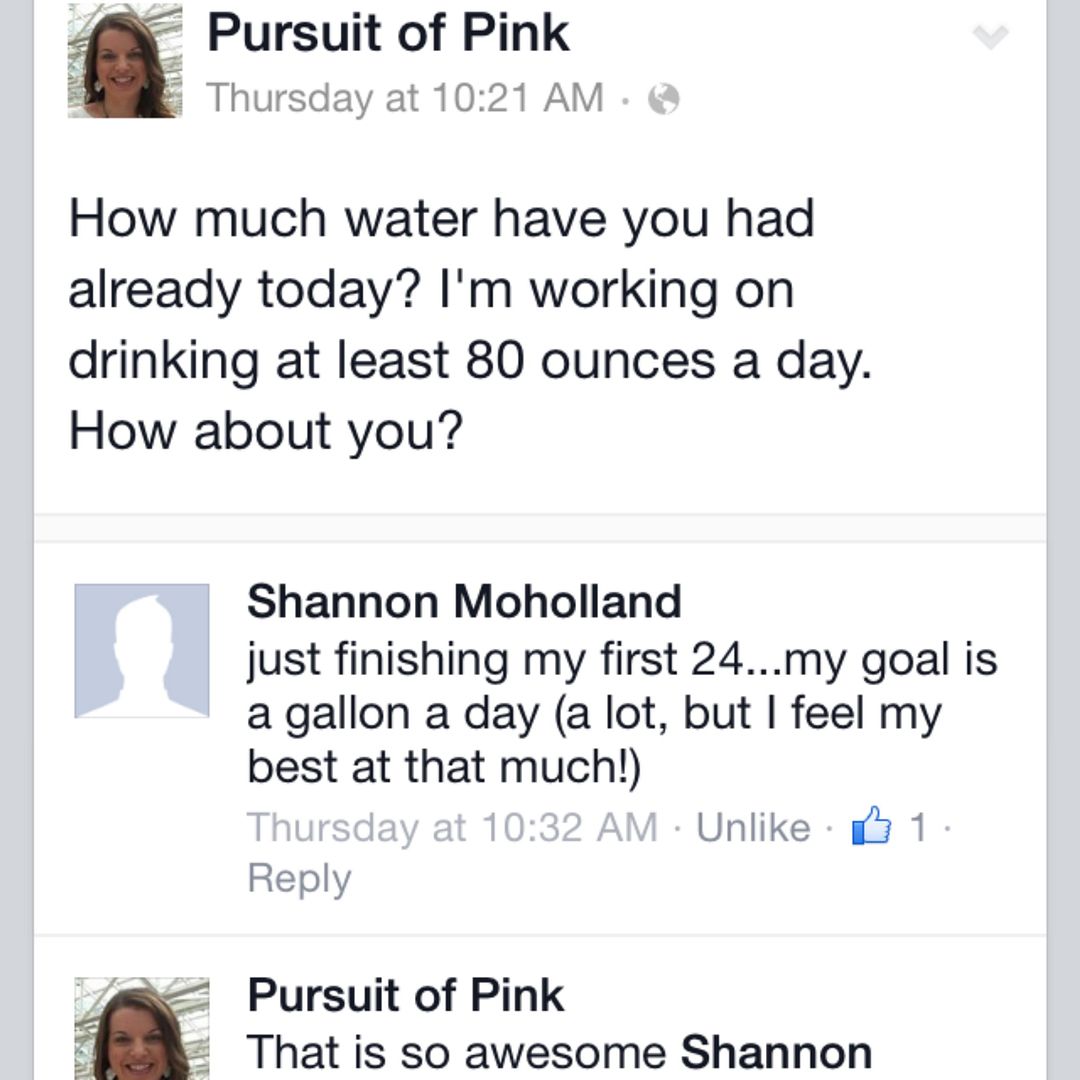 10:30 a.m.
Time to get some chores done around the house. Baby K is at an age where she is starting to mimic what we do and really gets excited when we ask her to "help." She loves to help me put the clothes in the dryer or pretend to mop while I'm sweeping. It is so much fun to get her involved in my household duties (train 'em up right!). I stick to a daily cleaning schedule where I do a little bit each day, you can find that
here
.
11 a.m.
We take a quick trip to the Post Office to mail off a couple thank you packages to my Rodan + Fields customers. Baby K loves going to the post office because she really likes to climb the stairs to get to the front door.
11:30 a.m.
Dance Party with Baby K! We often put Taylor Swift's Blank Space on repeat and have so much fun dancing around. (Side note: Tolar had Baby K by himself over the weekend and she started to get fussy in the car. Well he turned on some music and when Blank Space came on, she got happy!!! That's my girl.) Our dance party is always followed by grabbing some more water - I usually throw some lemons in a glass of water for myself and give Baby K a cup with water.
12 p.m.
Lunch time for Baby K. Toddler meals are always so fun to make, bite sized everything. Today it's corn, cheese, turkey and mandarin oranges.
12:30 p.m.
Nap time for Baby K.
12:45 p.m.
My lunch time. Lunch is always varied for me - depends on when I last went grocery shopping and what's in the fridge. Although today I'm having a caprese salad with whole wheat pasta, it is so good!!! Plus I have another 24 ounce bottle of water.
1:15 p.m.
Time to work on my blog while Baby K sleeps. During this time I will draft blog posts, respond to e-mails/comments, plan my editorial calendar, take photos for blog posts and check all of my social media channels. So happy to have my water to keep me full and hydrated after lunch, it helps to keep me from snacking too.
2:30 p.m.
Wakey wakey for Baby K. Normally she asks to watch Mickey and because she is so cute when she asks, I have to oblige. I like to sit on the couch with her while she watches Mickey Mouse Clubhouse and work on my Rodan + Fields business. It is so cute when she snuggles up against me.
Today I also set a reminder for myself to grab some more water around 4 p.m.
3:30 p.m.
I prep food for tonight's dinner, so it is ready to go when everyone is ready to eat. While I prep food, Baby K loves to play in her cabinet in the kitchen. I often spy her "pouring" with my measuring cups, it is adorable.
4 p.m.
Tolar comes home after school and work. He and Baby K play together and read books while I try to find some yummy new recipes to make. We are committed to finding healthier options of foods we love, so I am constantly searching cookbooks and
Pinterest
.
4:10 p.m.
While searching through an awesome new cookbook, my alarm goes off reminding me to drink more water. Depending on how I'm feeling, I might add some Drip Drop powder to my drink.
5 p.m.
Family play time. I simply adore hanging out in Baby K's room where we read, play musical instruments, feed her babies, work on her colors and quiz her on the location of all of her body parts. She even knows where her elbows are, and it is oh so cute to watch her point them out!
6 p.m.
Dinner time! Some nights Baby K eats first and I wait until Tolar gets home to eat with him. But on nights that Tolar doesn't have an evening class, we always try to eat together. With dinner I will have water in a glass with lemon.
6:30 p.m.
I clean up the dishes while Baby K and Tolar read more books. She definitely has some favorite books that she always asks us to read, but we have our favorites too.
7 p.m.
Bath time for Baby K. Tolar is the primary bath giver, which gives me a chance to answer some e-mails for my Rodan + Fields business and fold any laundry that we washed earlier in the day.
8 p.m.
Good night Baby K.
8:15 p.m.
My workout begins. I'm following along with Bikini Body Mommy and I love it! This workout was created by a Mom who gained weight with each of her pregnancies and she designed a workout specifically for busy Moms to help them shed the pounds. The workouts are no longer than 20 minutes, which is perfect! And I'm already seeing results. If you know my sister, then you have seen that the Bikini Body Mommy workout is a success because she looks incredible!
I add another 24 ounce bottle of water during my workout - it is always needed!
(No workout pictures - it ain't pretty)
9 p.m.
Relax. Tolar and I both collapse onto the couch to spend some time with each other. We will either watch one of our recorded shows or catch a game show, we love Family Feud and IdiotTest.
10:30 p.m.
Hop in bed. I wish I could tell you that I fall asleep as soon as my head hits the pillow, but this little social media site called instagram usually gets my attention.
Somewhere around
11 p.m.
I finally fall asleep.
So what about you? How many ounces of water do you drink in a day? Do you have any tips to making sure you drink it all?
A few notes about Drip Drop:
I bought Drip Drop at CVS in the baby aisle.
You can save $1.00 off with the purchase of any ONE (1) box of Drip Drop Hydration Powder (thru 2/21/15), while supplies last, at your local CVS. Just click this link to print a coupon.
Drip Drop does not contain caffeine or stimulants of any kind.
I think it would be a great product to use should you or your child get sick, a great way to get those electrolytes back in your system.
Featured Post
About Me
Welcome to Pursuit of Pink. I'm Lindsay and I'm so glad you are here. I believe a positive life is a happy life. Join me as I try to walk that out daily - in life, motherhood, style and more.
View my complete profile
Categories