Friday, October 27, 2017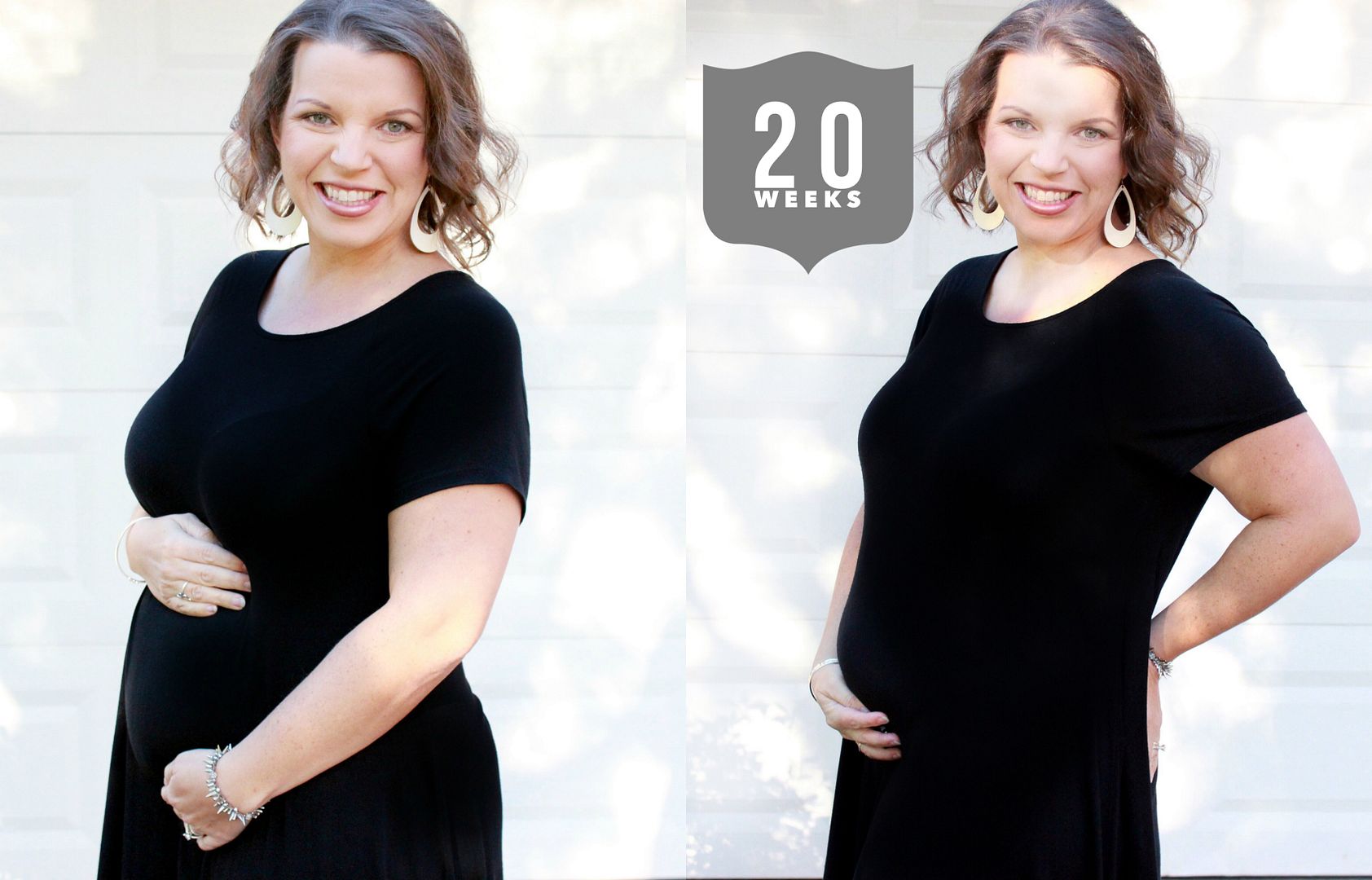 So many people have messaged and asked how I am doing with my pregnancy so I figured it was about time I shared an update! I have always heard that you show much earlier with your second than your first, but that has not been the case with me. I'm still wearing my regular clothes (though I think maternity jeans will be purchased soon) and only in the past week and a half did I really start showing. In case you didn't see
this post
, we are happily having a BOY!
How far along:
20 weeks and 1 day! My week always begins on Thursday.
Thoughts:
I am amazed that we are already at the halfway mark! Although, if this baby is anything like his sister and decides to come early, then we have already passed the halfway mark. I'm so excited for another baby, I've waited a long time on my second child. I can't wait to snuggle and cuddle with him when he is a newborn. My memories are a bit fuzzy from when Kendall was a newborn, but I'm excited to experience it all over again. Being completely transparent, I do sometimes get a bit overwhelmed when I look at Kendall and think of a lot of the milestones we have successfully completed (sleeping through the night, separation anxiety, potty training) and realize we have to do that all over again. But the thought of a precious little boy completing our family makes me not focus on the tough parenting things that lay ahead (and I know there are more to come once we get to the teenage years).
I've shared this with some of my friends, but I feel it bears repeating here. When we moved out of Northern Virginia to begin a brand new life and allow Tolar to go back to school, we knew that a second child would be put on hold for awhile. I did mourn the fact that my children would not be 2-3 years apart as my sister and I are 2 1/2 years apart and extremely close. However, God always knows the right plan and took care of us. You see, I'm a neat freak through and through. A clean house makes me feel in control. Well, when I imagined life and birthing my second child, I never imagined building a brand new house! But God knew! Can you imagine how out of control I would feel moving into a new house with a messy toddler AND a newborn? I would have gone crazy!!!! Luckily by the time we move, my Kendall will be just a few months shy of 5 years old and she is already able to help me out with lots of things around the house. And she is old enough to know that she too also likes things to be neat and tidy. God is so awesome; I love how He takes care of even the tiniest details in our lives.
Featured Post
About Me
Welcome to Pursuit of Pink. I'm Lindsay and I'm so glad you are here. I believe a positive life is a happy life. Join me as I try to walk that out daily - in life, motherhood, style and more.
View my complete profile
Categories