Monday, November 21, 2022
One of my favorite things to do is tour new model homes. I get so much design and organization inspiration for my own house from visiting. I love to see what new trends are being used and also find ways to enhance my home. I've actually loved visiting model homes for quite some time, even before I was a homeowner myself. The newness is peaceful to me.

Earlier this year, I had the incredible opportunity to visit Embrey Mill in Stafford, VA. Being a former Northern Virginia resident, I was very excited to return to check out this new-home community. Embrey Mill is simply put: a home owners dream! The property is huge; featuring single family home and townhome floor plans. From the moment we entered Embrey Mill, I couldn't stop saying "look at that." Everywhere I looked I saw beautiful homes and scenery.


The Property
Embrey Mill is an 819 acre community located very close to the Quantico Marine Corps Base, with easy access to Washington, D.C. The property includes so many amenities for its residents:
-walking trails (10 miles of paths and wooded trails to be exact)
-15 parks and playgrounds
-fitness center
-285 acres of open space
-a community garden
-doggy stations
-a racetrack park for scooters and tricycles
-a full-service café (that is DELCIOUS)
-luxury pools featuring beach entry shallow ends, lap lanes, water slides and splash zones
The Model Home
I had the opportunity to tour the newest model home at
Cascades at Embrey Mill
. The gorgeous home was built by
Miller & Smith
; I was blown away by the design and layout from the moment I set foot inside.
To see a video tour of the model home, click here.

The Cascades at Embrey Mill home features three levels: main level with a 2 car garage, upper level and lower level. I loved so much about the model home, every design element was perfectly curated. The tour allowed me the opportunity to discover plenty of features I want to add into our home (or even a future home!).
1.) Wallpaper accent in tray ceiling
I've never seen this done before, but what a beautiful statement it made. I am still looking for the perfect wallpaper to add to our tray ceiling. This project will be happening very soon in our house.

2.) Flooring used on the ceiling
The Great Room in the Cascades at Embrey Mill model home had a vaulted ceiling. The designer made a decision to use the same flooring on the ceiling and it made such a statement. The extra texture on the ceiling really made the space look high end.

3.) Built in seating with storage
Of course a common complaint I hear from all of my friends who are homeowners is that they wish they had more storage. In the lower level, this model home had bench seating with tons of storage underneath and next to it. Adding in bench seating is the perfect way to add additional storage to any home.

4.) HUGE linen closet
Again, storage is something a lot of people want and need in their home. Included in the upper level of the model home was a huge, double door linen closet. This is genius if I do say so myself. In our home we have a pretty good sized linen closet, but we could still use some more storage space. Having a double door linen closet gives a homeowner plenty of storage space. Yes, it is easier to add a closet when building a house, but this is something that can certainly be added later as well.

5.) Slide out spice cabinet
To make really good use of the space in your kitchen, I love the idea to have a slide out spice cabinet. This narrow cabinet can be really long, allowing you plenty of space to store all of your spices and herbs. Plus by having it included in your lower cabinet section, you can easily see everything you have at one glance.

To see all of these designs features in video form, check out the following three posts:
Design Elements for Your Home
Favorite Views while Touring Embrey Mill
Kitchen Features to Add In Your Next Kitchen

(Here come a lot of pictures of this beautiful model home, but keep scrolling at the end for even more good stuff!)


The Events
Embrey Mill hosts several events throughout the year to bring their residents together. They certainly have a focus on health and wellness, which is terrific.
Previous events include:
-Halloween 5K and Monster Mile
-Christmas in Stafford
-Embrey Mill Cornhole Tournament
-Star Party
-Summer Blowout
-and so much more!
For the this holiday season, Embrey Mill will host their Frosty 3 Miler and Reindeer Run. The event will be held Saturday, December 10. Participants can run the race in person or virtually - allowing anyone who wants to participate an opportunity. And costumes are encouraged! That just sounds so fun: to be running alongside Santa and perhaps his reindeer?!?! So neat.
Options to run the race include the Frosty 3 Miler, the 1 mile kids Reindeer Run and the Virtual 3 Miler.

If you want to sign up to run in person or virtually, you can do so by clicking this link.
My visit to Embrey Mill was phenomenal and left me wishing that we had a reason to move back to the Northern Virginia area. The property is beautiful, the houses are stunning and I love their commitment to bringing the residents together.
Monday, November 14, 2022
Winter is coming which means we will be spending a lot more time indoors. If you are anything like me, you want your home to be warm and cozy during the winter months. As you start to put up your winter and holiday
décor
, I want to give you some tips to create a nice inviting space.
When I think of winter, of course, I think of snow, so I tend to decorate with lots of winter whites during those colder months. Here are my top six items that I use to add a little bit of extra coziness to my house.
1.) A soft and plush throw blanket.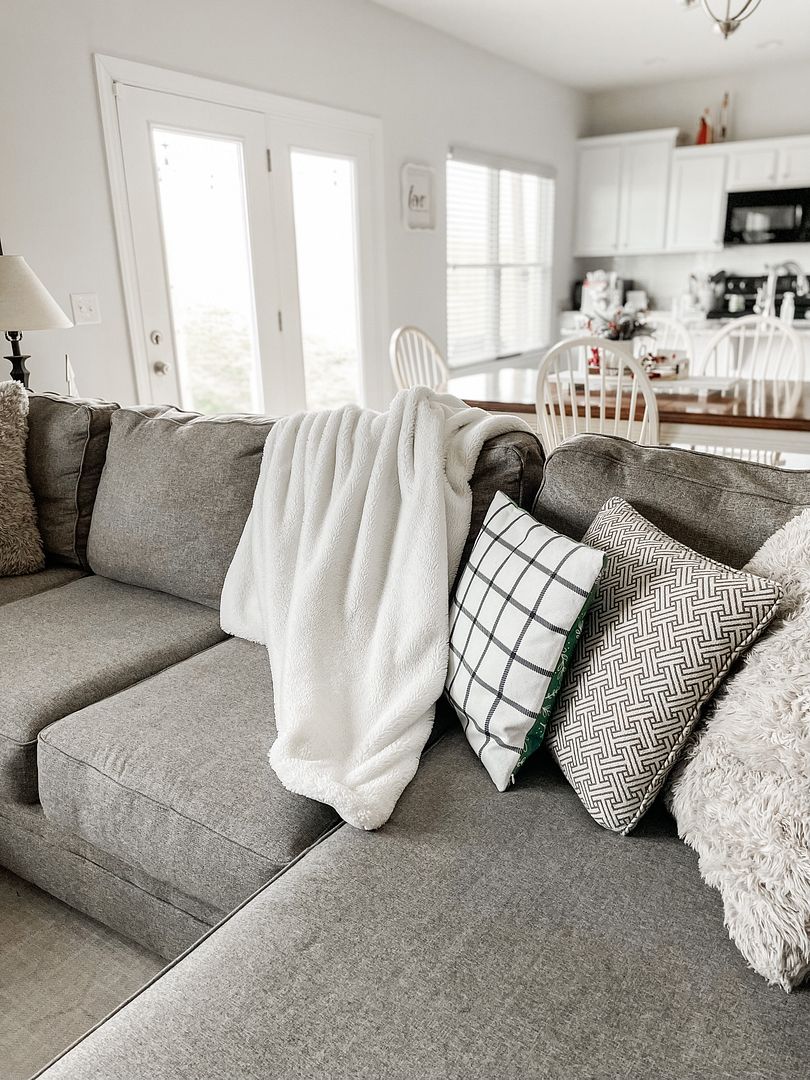 Blankets make everything cozier, am I right? I love to add a super plush and soft throw blanket to my couch. The blanket helps to add texture to the overall look and feel of the room. Plus, a blanket is functional decor that can be used to literally warm you up while you relax on the couch. For the winter, I think it is perfectly acceptable to go a tad overboard using throw blankets.
2.) Wood accented candles.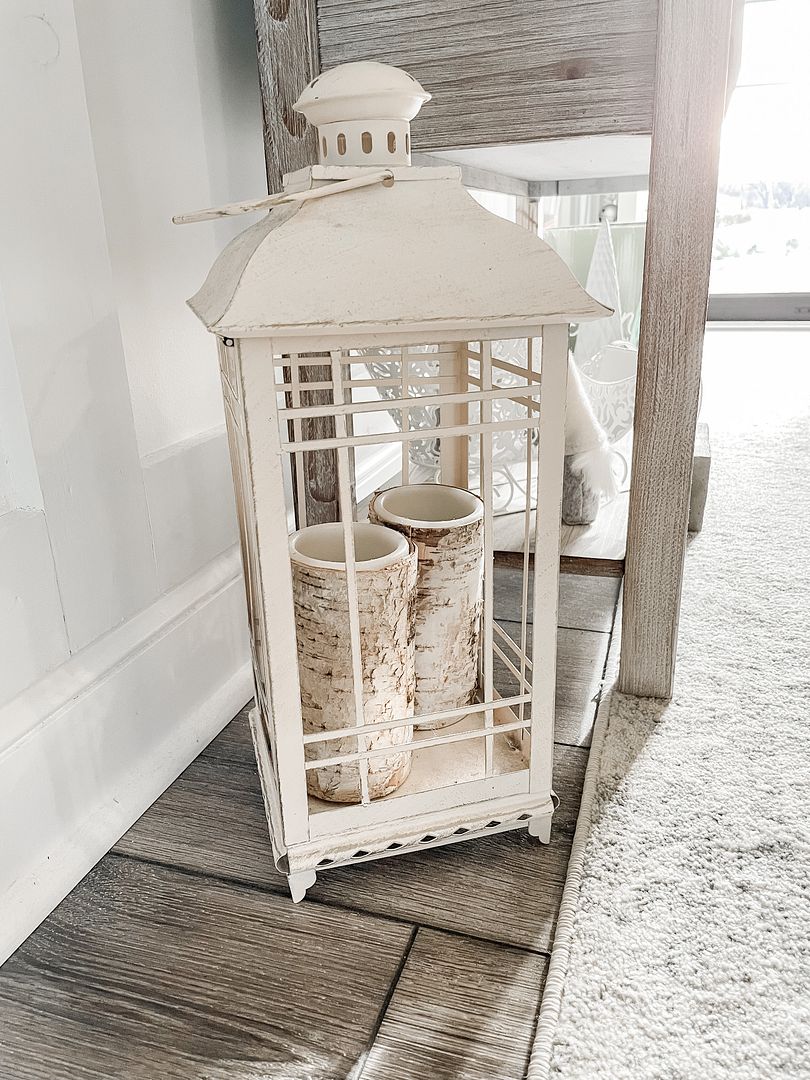 We don't have a fireplace in our house, but I often picture a cozy fire when thinking of the winter months. To add a bit of warmth, grab some wood accented candles to use with your décor.
Bonus cozy décor points: put the candles inside of a lantern.


3.) Pre-lit garland.
My absolute most favorite winter

décor

item is our pre-lit flocked garland. We don't have a mantle, but we do have a large entertainment center and I place the garland on top of it. Garlands are very versatile. You can use them on a mantle, wrapped around a banister, on a table, draped over a mirror, on top of an entertainment center, and more. I love to turn the garland on and then turn the lights off in our living room and watch a movie with just the pretty garland lights twinkling. That is the ultimate cozy feeling.



4.) Cozy pillows.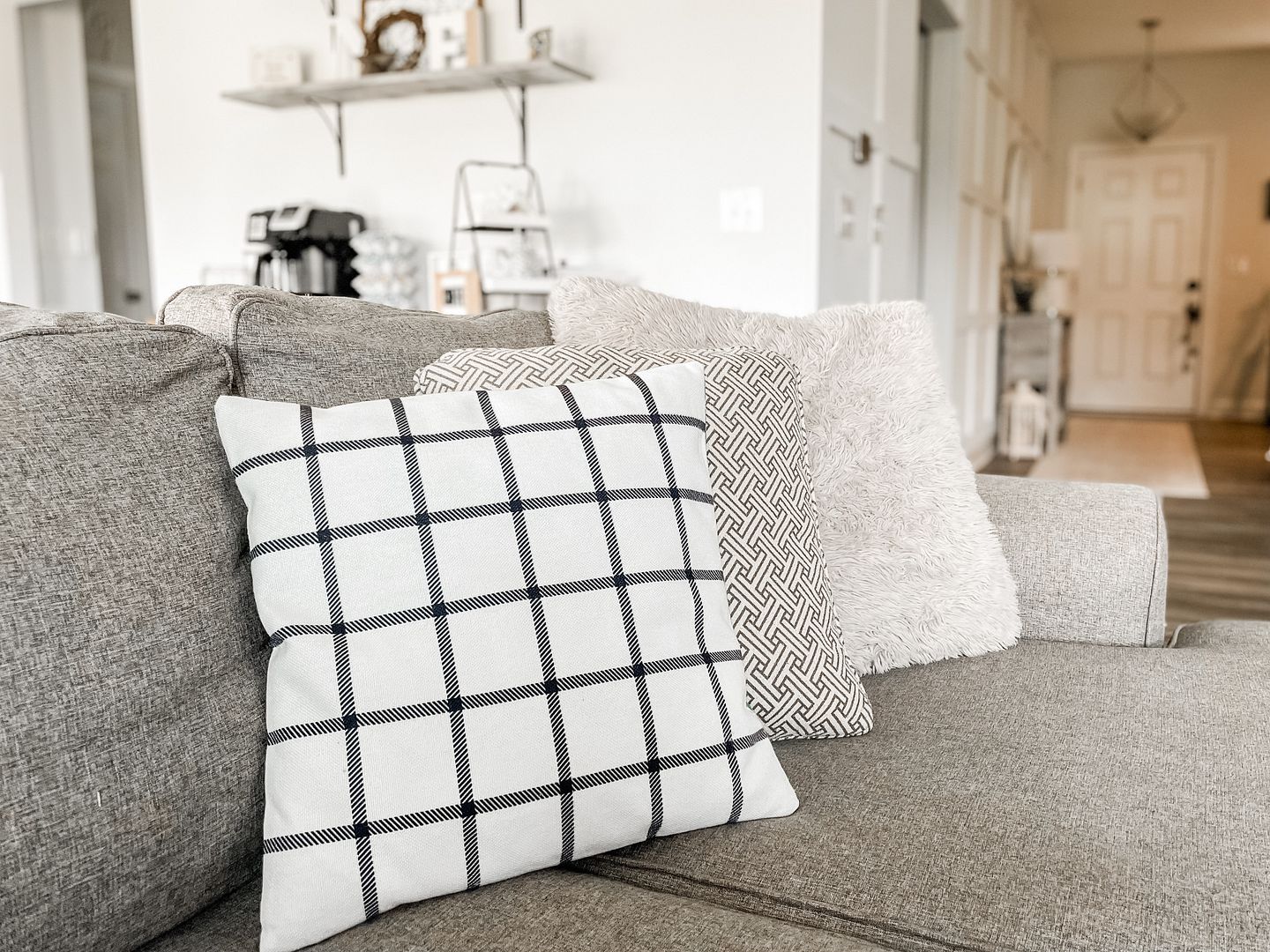 To relax and get cozy, you need nice pillows. Add some accent pillows to your couch for extra texture, comfortability, and a simple cozy feeling. This is an opportunity to add extra color to your room if you prefer, depending on what pillow cover you choose.
5.) Pinecones.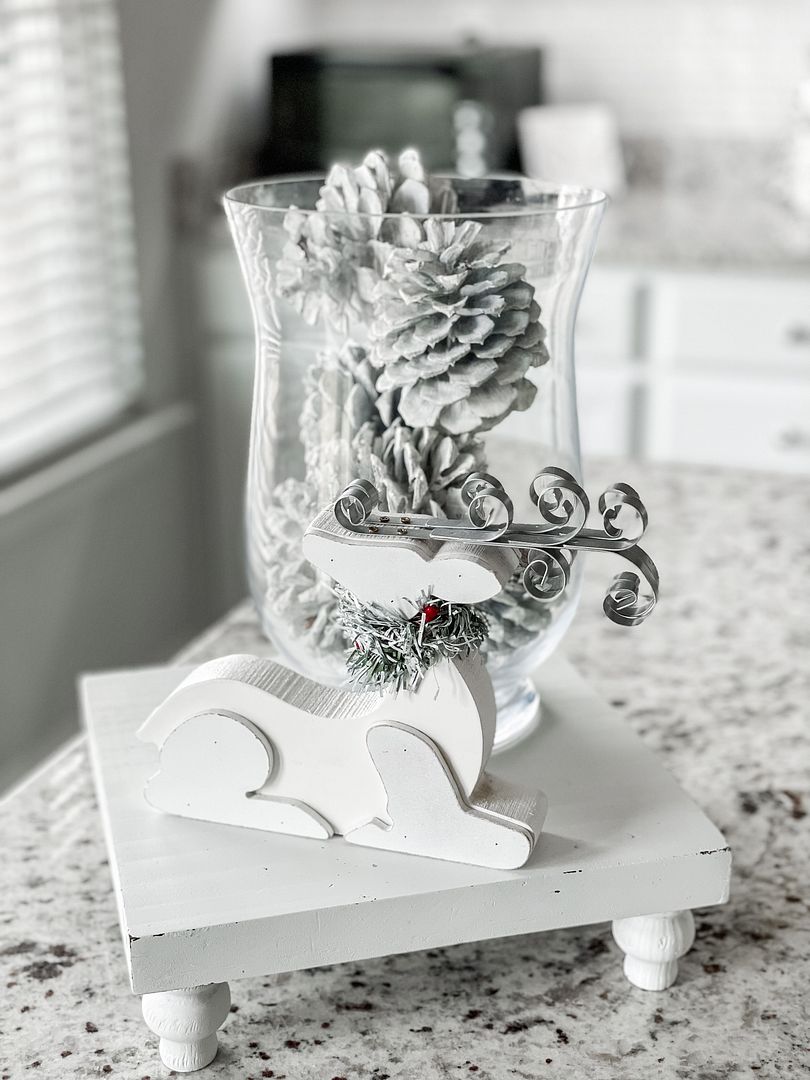 Add some pinecones to your

décor

to bring the winter inside. You can use natural colored pinecones to add some warmth to your space or buy some pinecones painted white to really bring the winter feeling indoors. Pinecones are a cheap (or free if you gather them from outside!) way to add some

décor

to any space.




6.) Wreath.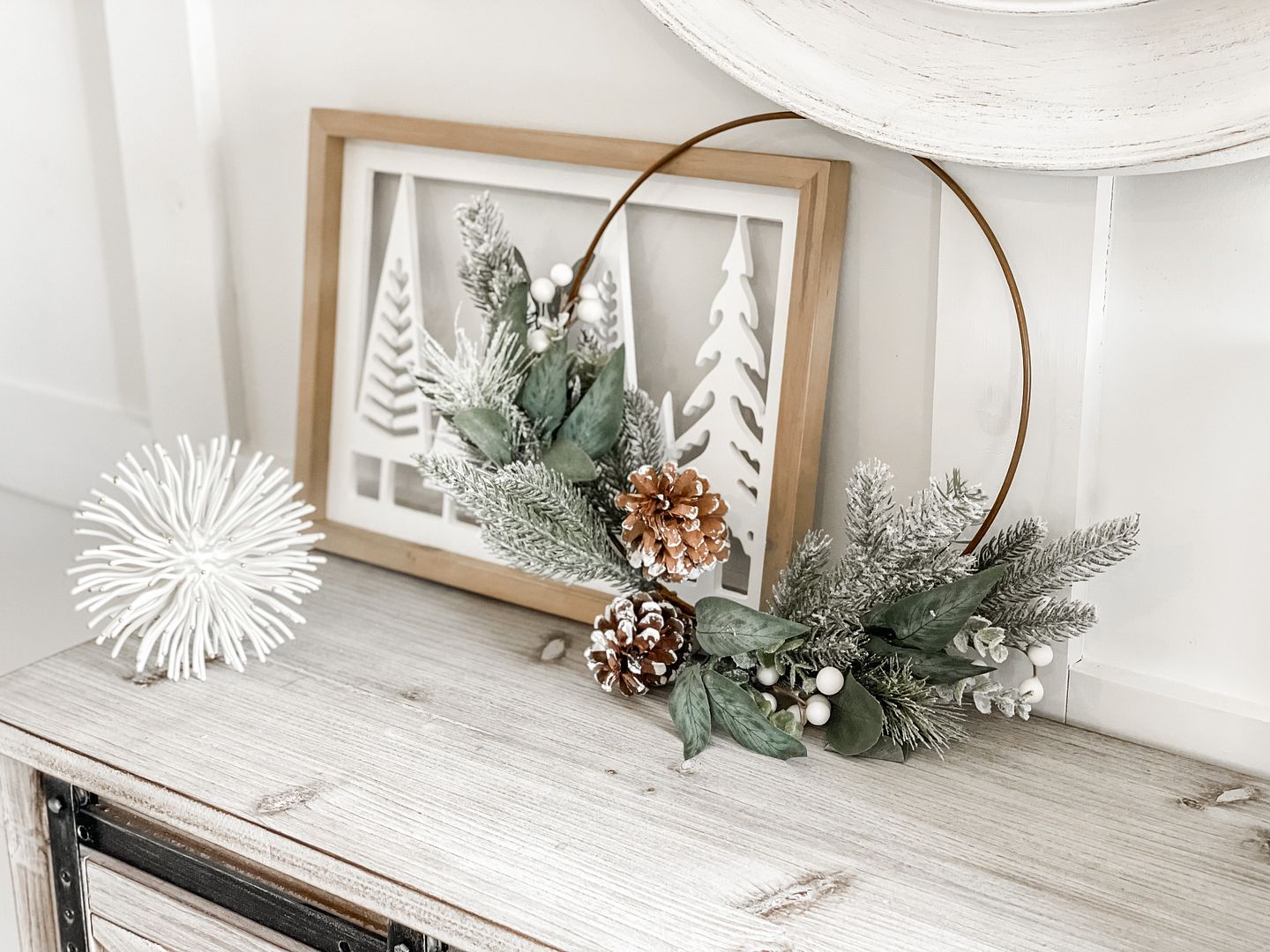 Add some faux greenery to your house with a wreath. I'm pretty sure lots of people think of wreaths when they think of winter

décor

. A wreath could be used to hang somewhere inside your house or placed on a table. Adding a touch of greenery against a white wall really warms things up.
To make your home a cozier space this winter, grab a few or more of the items listed and get to decorating.
Is there anything else that you would add to this list?
Featured Post
About Me
Welcome to Pursuit of Pink. I'm Lindsay and I'm so glad you are here. I believe a positive life is a happy life. Join me as I try to walk that out daily - in life, motherhood, style and more.
View my complete profile
Categories