I've been to my fair share of baby showers over the years and there always seemed to be a diaper cake of some sort around. I used to think they were incredibly hard and time consuming to make until I looked a bit closer and realized that they are super easy to make. Over the weekend, I had the privilege of throwing a baby shower for my dear friend Kristina and you better believe I made a diaper cake to go along with the décor.
For your viewing pleasure, here is how to make a diaper cake.
Items that you need:
-diapers (Obviously! You can use any size diaper, but I like to use size 2 diapers so the Mom can enjoy the diaper cake a bit longer before destroying it to actually use the diapers.)
-empty paper towel roll
-large rubber bands
-small rubber bands
-ribbon
-platter
-fun baby items in the color scheme of your choice (i.e. wash cloth, pacifier, baby shampoo, shoes, baby powder, fork and spoon, whatever you want)
1.) Roll the diapers up and secure with small rubber bands. To make the same size diaper cake that I made you will need 66 diapers to start with. The actual number of diapers will decrease once you start adding in the fun baby items.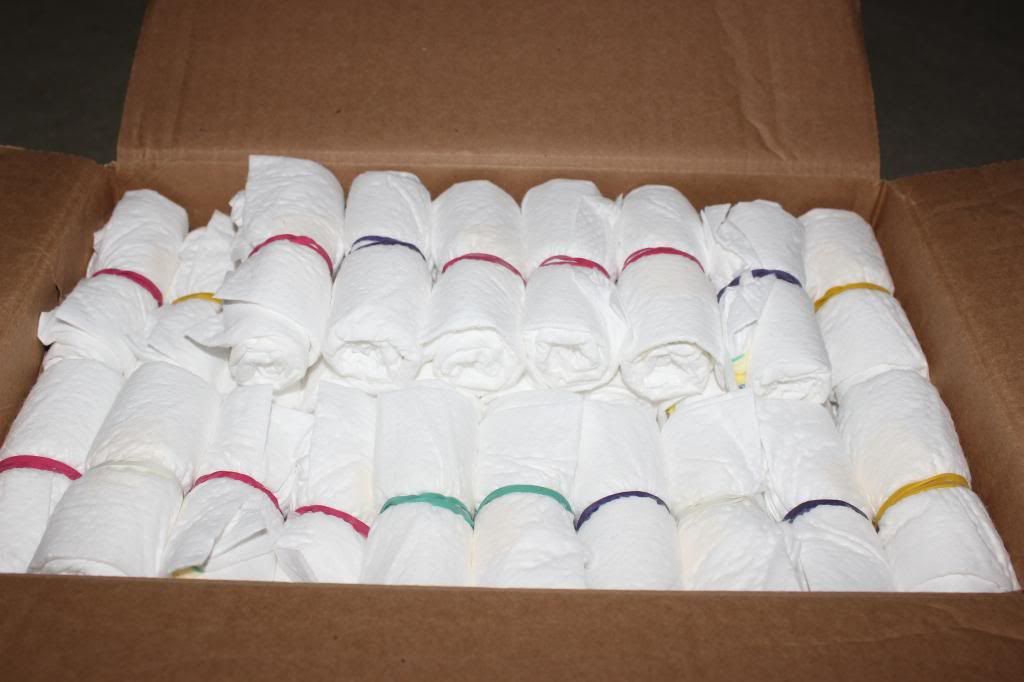 2.) Place the paper towel roll on the platter and start placing diapers for the first circle of the bottom cake layer (7 diapers) around the paper towel roll. Take a large rubber band and secure around the 7 diapers. (If you have someone available to assist you with this step, it will be helpful. One of you can hold the diapers in place and the other can secure the large rubber band around the circle.)
3.) Continue the same process with the second (13 diapers) and third (19 diapers) circles of the bottom cake layer.
4.) Repeat for the second cake layer, this time only using two circles (7 and 13 diapers).
5.) Repeat for the top cake layer, this time only use one circle (7 diapers).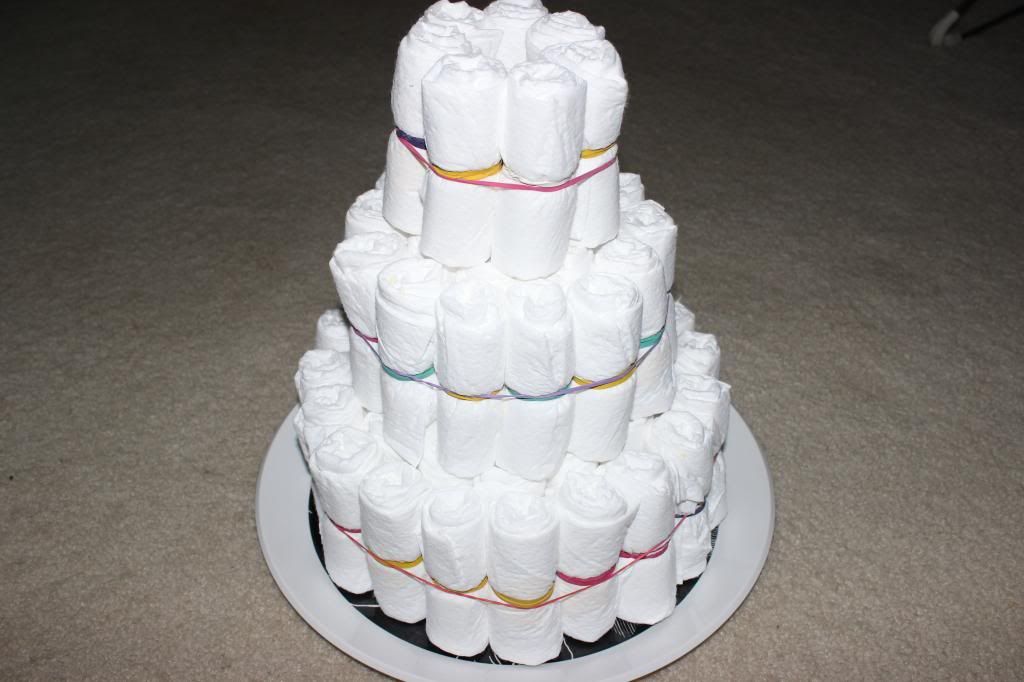 6.) Replace select diapers with fun baby items to add some color and pop to your cake.
7.) To hide the rubber bands and create a decoration on the cake, wrap large ribbon around each layer and secure with a safety pin in the back. You can use whatever kind of ribbon you want.
Aren't those shoes adorable?
8.) Add the cake topper. A rubber ducky or a small stuffed animal works great.
There you go – eight simple steps! If you have any questions, please leave them in the comments section below.