Tuesday, January 28, 2014
Have we really passed the half-way mark and now have a child who is closer to 1 year old than a newborn? We are having so much fun being the parents to miss Baby K. She brings us so much joy and happiness and we have a blast watching her develop and learn new things daily. I am constantly in awe of just how much love I have for this child - it grows every day. Just when I think I can't love her anymore, bam! my heart explodes.
Stats:
16.6 pounds (we don't go back to the doctor until she is 9 months old, so I weighed her on our home scale).
Development:
This girl finally likes to be on her belly, so we are hopeful/terrified that she will be crawling soon. She has sitting up on lock down and that is her preferred way to do things now. Not much laying down, as she would rather be sitting up and leaning forward, getting in on the action. Everything goes in her mouth - EVERYTHING. She is doing great with exchanging items between her hands and taking things out of our hands so she can hold them. And the girl has quite the grip, just ask my hair! We started giving her a sippy cup with water. She can hold it for a little bit, but then it falls. We will keep working on it. She is extremely interested in what is happening around her, always checking out her surroundings and taking everything in. She gets distracted a lot because she realizes there is something new to look at.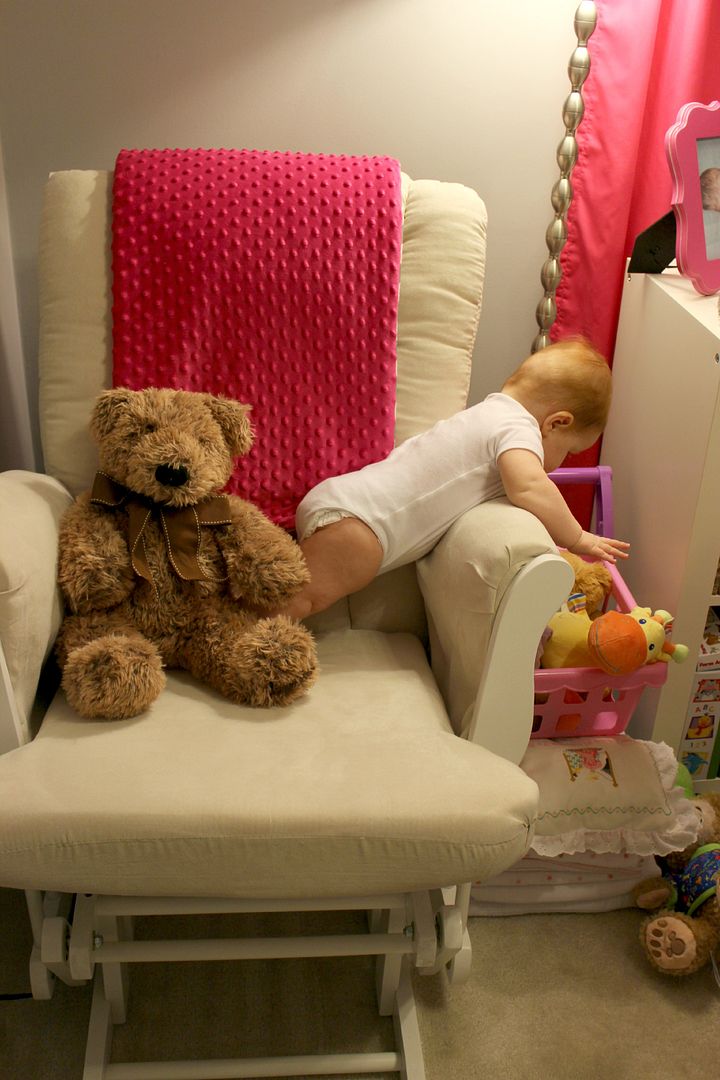 Distracted by her toys while I tried to take her picture.
Loves:
She loves to look at herself in the mirror. I'm not sure if she realizes it is herself, but she just smiles and giggles whenever she catches a glimpse. We've turned it into part of our morning routine for me to make a stop in the bathroom with her so she can see in the mirror. For Christmas, my sister and brother in law got her a dinosaur toy that shoots balls all around and she just loves to watch them fly and bounce. I love to see/hear her laugh and I think Baby K really likes to laugh too, because we get a lot of giggles. She loves to rough house with Daddy; her current favorite is for him to hold her upside down by her ankles. It scares me every. single. time, but she loves it. She also likes it when we put a blanket over her head and she has to pull it off, playing the "where are you" game. She thinks it is hilarious. And she recently really started enjoying playing with her Daddy's drum sticks. She will shake them and sometimes hit them together (pure accident whenever that happens). Tolar loves to see her so happy with drum sticks.
Dislikes:
She doesn't like to eat when she is full. I hope that this is a quality that she will keep and not overeat when she gets older. But if she is full and we are still trying to feed her, she will move her head all around and keep her lips as tight as possible. She also doesn't like to be bored. One Saturday this past month, we spent a lot of time at the house and had Baby K on the floor playing with her toys for most of the day. By the end of the night she had enough of her toys and just wasn't happy. So we realized that she was bored and decided to have a family dance party in the living room. All three of us danced and sang to Garth Brooks - it was awesome.
Sleeping:
We are very lucky, because Baby K is still an amazing sleeper. She sleeps between 10-12 hours a night. Recently she has started waking up around 6 a.m. and will just talk to herself in her crib. I'll go in after a little while and shush her or turn on her projector (so she has something to look at on the ceiling) and she will go right back to sleep (she normally gets up around 7:15 a.m.). And recently, I don't know what got into her, but she is napping better for us at home. She used to only take good naps for Miss Gina (the lady who keeps her during the day), but the past couple of weeks have yielded amazing naps at home. I'm talking 1 1/2 to 2 hours. Man, I wish I could sleep as much as this girl does. I sure miss her though when she is asleep. I often want to go pick her up and hold her because I miss her so much.
Diapers:
Still in size 2 Pampers Swaddlers and Baby Dry at night. We love Pampers, they have been amazing with no blow outs.
Eating:
We've introduced a lot of different foods to her because we really want to try and keep her from being picky. I have read that it could take a baby 10 times before they like a food; luckily it only has taken us about 2 or 3 tries to get her to like something new. She loves pears and carrots the most. She's like a baby bird when its time to eat, as soon as she gets in her highchair and sees me getting her bowl ready, she starts opening her mouth. It is seriously so cute. Her main source of food is still breastmilk and we are slowly adding more pureed food to her diet.
Clothing:
Baby K just started wearing 6-9 month clothes. A lot of her 6 month clothes still fit, though they are starting to get snug. Its been VERY cold around here lately, so I keep her in a fleece sleeper most days because I want her to stay warm and cozy. Although I do still dress her up a lot too, did you see my
baby fashion post
from last week? It is so fun to dress her. I always get sad whenever I have to pack up clothes that are too small for her, but then I get excited because there are new outfits to try on.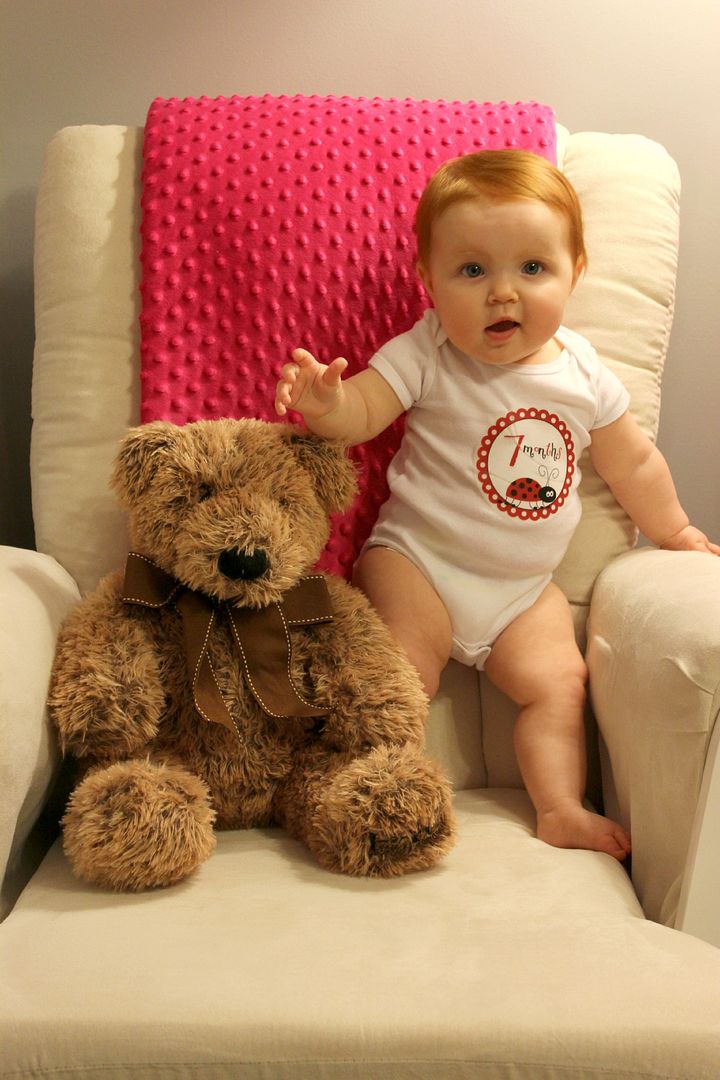 Featured Post
About Me
Welcome to Pursuit of Pink. I'm Lindsay and I'm so glad you are here. I believe a positive life is a happy life. Join me as I try to walk that out daily - in life, motherhood, style and more.
View my complete profile
Categories