Tuesday, September 29, 2020
I'm sure like most of you, I have found myself doing something during this pandemic that I never thought I would do in life. For me, it is schooling my child at home. Even though once upon a time I thought I wanted to be a teacher, I never wanted to homeschool. However, we decided to choose the virtual option through my daughter's school district this year, for a multitude of reasons, and here I am doing a version of homeschooling.

Our virtual option is very similar to homeschool except that the school system has chosen the curriculum and we submit work on a daily basis. Other than that, we are able to set our own hours and complete the work when it works best for us. Also, because my daughter is younger, I sit with her and serve as her "at-home" teacher just like homeschool. She does have two teachers from our county assigned to her through the virtual system.

I'll be honest, the first two weeks I was overwhelmed. My daughter has been marvelous through all of this and said she likes doing school at home (even though she would still like to return to school). But for me finding a balance of being a full time mom, a full time wife, working part time for the theatre, running my blog and social media channels, doing all of the home duties AND being a teacher has been tough. By nature, I'm a very organized person and still felt overwhelmed - change is tough. But we have finally found our groove and I thought it would be helpful to share the tips I have put in place to help things run smoothly.

Your schooling might look different than ours, but I think some of these tips could still be useful for different schooling options.

1.) Set regular school hours.
Children thrive on a schedule, as do I, so we know that school will start every day at 9 a.m. This gives me plenty of time to workout in the morning, shower, change clothes and get the kids fed and ready before we begin. I have it blocked out in my calendar and know exactly when school will happen every day. This helps me when planning the rest of our activities for the days/weeks. We also decided to start school in the morning because my daughter focuses better at that time. Yes, there would be less distractions if I chose to wait until my two year old takes his afternoon nap, but we felt it was the best decision to start when my daughter gave the most focus. For you, it might be better to do school later. It doesn't matter what time of day you do it, I just recommend setting regular school hours so it is easier to plan the rest of your life.

2.) Take breaks.
It is silly to expect any child to sit still for hours at a time doing school work so breaks are needed. We try to take short breaks between each subject, depending on the length of time it took to complete the subject. Sometimes a break will mean we play a song and dance around. Sometimes I might need to do some work myself and need a longer break, so I will send the kids upstairs or outside to play. Sometimes we take a quick snack break. The important thing to remember is that breaks are important to help your child get their wiggles out and to help them focus again.

3.) Have lots of snacks on hand.
ALL THE SNACKS. This is very helpful because in addition to schooling my daughter, I also have a two year old who wants to do everything his big sister does. So snacks are a good way to allow him to join us at the table, without him crawling up into his sister's chair. Also, apparently doing schoolwork at home makes you very hungry.

4.) Seek help when you can.
I have a special situation where I actually go into an office one day a week and then work specific hours from home on another day. Due to this, I certainly need help to keep school happening. Luckily my parents are nearby to generously watch my children and Tolar has been able to adjust his work schedule at times to also help. We are all having to make adjustments to our schedules to get everything completed. If you have someone in your life who is able to help out in any way, now is not the time to be polite and say no. Take them up on their offer to help. Let them take your small child to the park while you work on school with your older children. Let your mother in law come over and make dinner or do some laundry. Help is needed while we are all taking on more during this time.

5.) Don't give yourself a lot of separate work to do during school hours.
As a type A person who cannot sit idle, it was VERY hard for me to follow this rule. The first several days of school, I would sit at the table with my computer work ready to go. I quickly realized that I needed to be a teacher during school hours more than I needed to do my own work. Admittedly, I got overwhelmed by trying to get all of my work complete and finish school with my daughter at the same time. So I have now switched and I only allow myself to work on things that can be stopped and started a lot. So I do more housework duties during school (like laundry) and save my other work for later in the day. If there is some computer work that doesn't require constant focus, I will work on that as I can. There are plenty of instances where my daughter does independent work and I can do my own thing. But during school hours, she needs my focus as much as I need her to do the same thing.

6.) Allow for play time.
When school is over, I don't let my kids sit in front of the tv. Instead, immediately after school is designated as play time. It helps my daughter to unwind after all of her school work and it gives my son one on one time with his sister. It also allows me time to myself to get things finished!

7.) Get outside when you can.
Living and doing schoolwork in the same place all day, every day can get boring. So we try to get outside for some of the lessons when the weather allows. Science is the perfect subject to allow for some outdoor exploration, but you can also use things you find outside for Math (counting, sorting, patterns, adding), Art (drawing, shapes), Language Arts (creating a story, letters: t is for tree, etc.) and more. Get creative and get your kids outside. It always recharges us and puts everyone in a good mood.

8.) Give yourself and your children grace.
This is quite possibly the most important. If you suddenly found yourself schooling your children when you didn't plan on it, I KNOW it can be overwhelming. But give yourself grace. Remind yourself that you are doing everything you can for your children and trying your absolute best without any specific training in this area. Cut yourself some slack. As for your children, this time is very different for them as well. Give them grace when things don't go as you planned. We are all in this together and we all need a little bit more love and grace.

9.) Reach out.
When all else fails, if you need some extra encouragement, reach out to me. I'm happy to offer any encouragement, advice and smiles that I can! The easiest way to contact me is to find me on instagram and send me a DM. Here is a link to my instagram account. I'd love to hear from you!
Friday, September 25, 2020
(Thank you to oNecklace for helping sponsor this post. All opinions are my own. This post may also contain affiliate links.)
We all use lots of different products and items every single day. I thought I'd share with you 5 things that I am loving right now!
1.) The best insulated tumbler.
In an attempt to drink more water in a day, I went on a hunt to find the perfect cup to help keep my drinks ice cold. Little did I know that I would find just that - a perfect cup.
This tumbler is a favorite for so many reasons and it is a fraction of the price of a Yeti tumbler.
Here are the reasons I love it:
-keeps ice for at least six hours
-doesn't sweat
-comes in multiple sizes and colors (I have the 24 oz blush pink)
-kid cups are available, they even have Disney designs
-comes with two lids: a coffee lid and a straw lid (kid cups only come with the straw lid)
-ALL lids are interchangeable, even with the kid cups
-comes with two straws (kid cups have very flexible and bendy straws, you also get two)
-keeps your water ice cold all day long
To get your own, shop by clicking this link.
And if you want to see some of my tips to drinking more water, click here.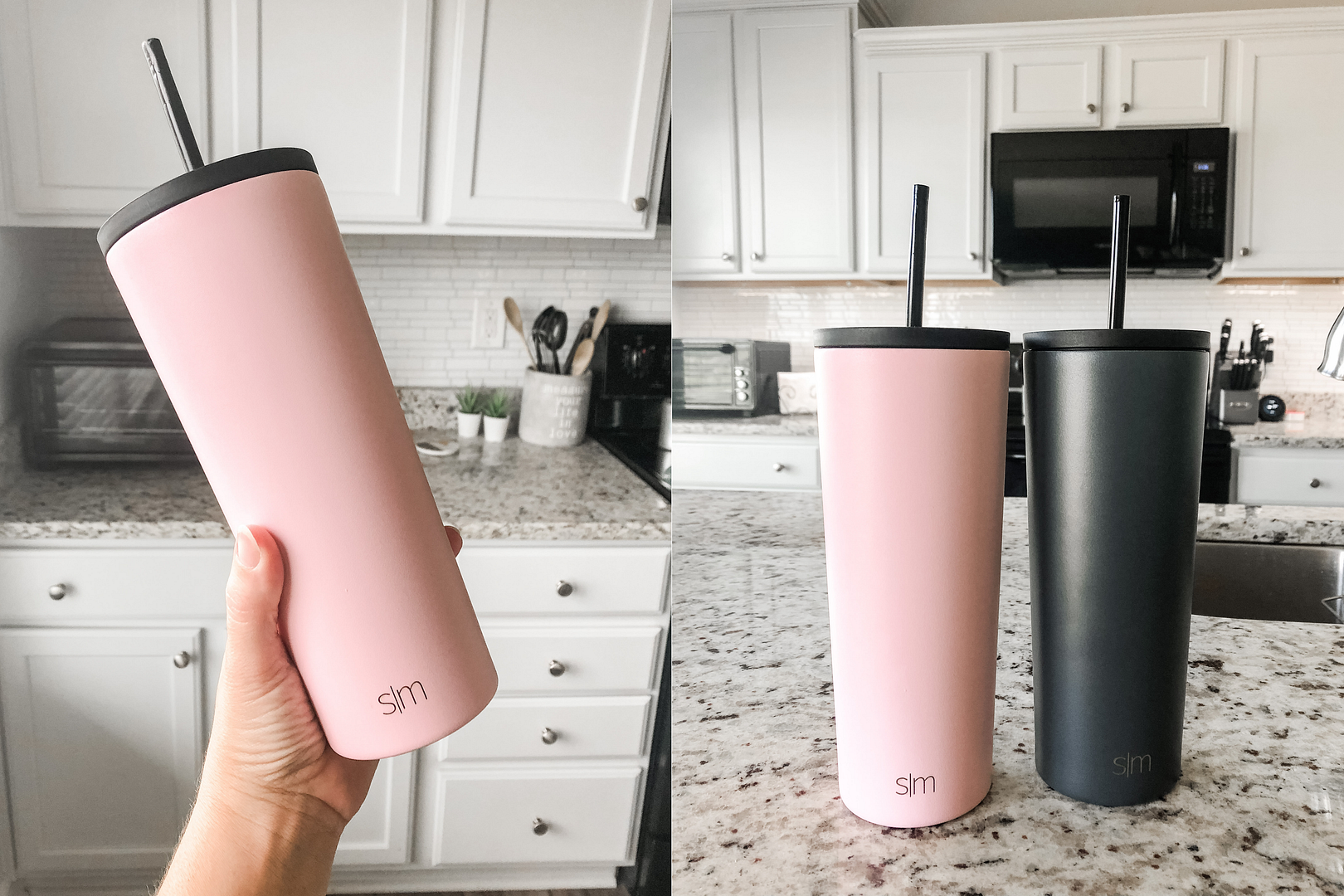 2.) Newest podcast obsession.
If you follow me on instagram, you might know that I am quite the podcast fan. And for some strange reason, I love true crime. Why a person with an overactive imagination like myself would love true crime is beyond anything I can understand. But I absolutely love it.
Anyways, my newest favorite podcast is True Crime Obsessed. The two hosts, Gillian and Patrick, watch all your favorite true crime documentaries and movies and then they recap everything. But it isn't a boring recap, they are incredibly funny. I seriously laugh out loud all the time while listening. And every single time they make me want to watch the documentary for myself even though they've told me everything that will happen. They have such a fun way of storytelling and they always bring plenty of sass. This is a less scary way to enjoy true crime!
If you want to check out some of my other favorite podcasts, see this blog post I wrote awhile ago. I also have a podcast highlight saved on my instagram profile that features more up to date info.

3.) Jewelry I'm wearing on repeat.
I've always been a statement jewelry girl, but in recent years I have really been loving the delicate pieces more and more. My current favorite necklace is a letter necklace from oNecklace. You can get any letter on your necklace and the letter tilts to the side just slightly. I love the necklace so much that I got one with an L (for Lindsay) and one with a K (for my children's names). I wear them often and they are such great quality. They still look brand new even after numerous times wearing them. I also found this beautiful cut out initial bracelet that can also be customized with any letter you choose. On both of these items, you select the letter and the chain length that you want. I love that each item is custom designed just for you! Also, you receive free personalization on all products and there is free shipping.
Plus the wonderful people at oNecklace gave me a discount code for you to use. When you order, use code lindsay15 to receive 15% off your order.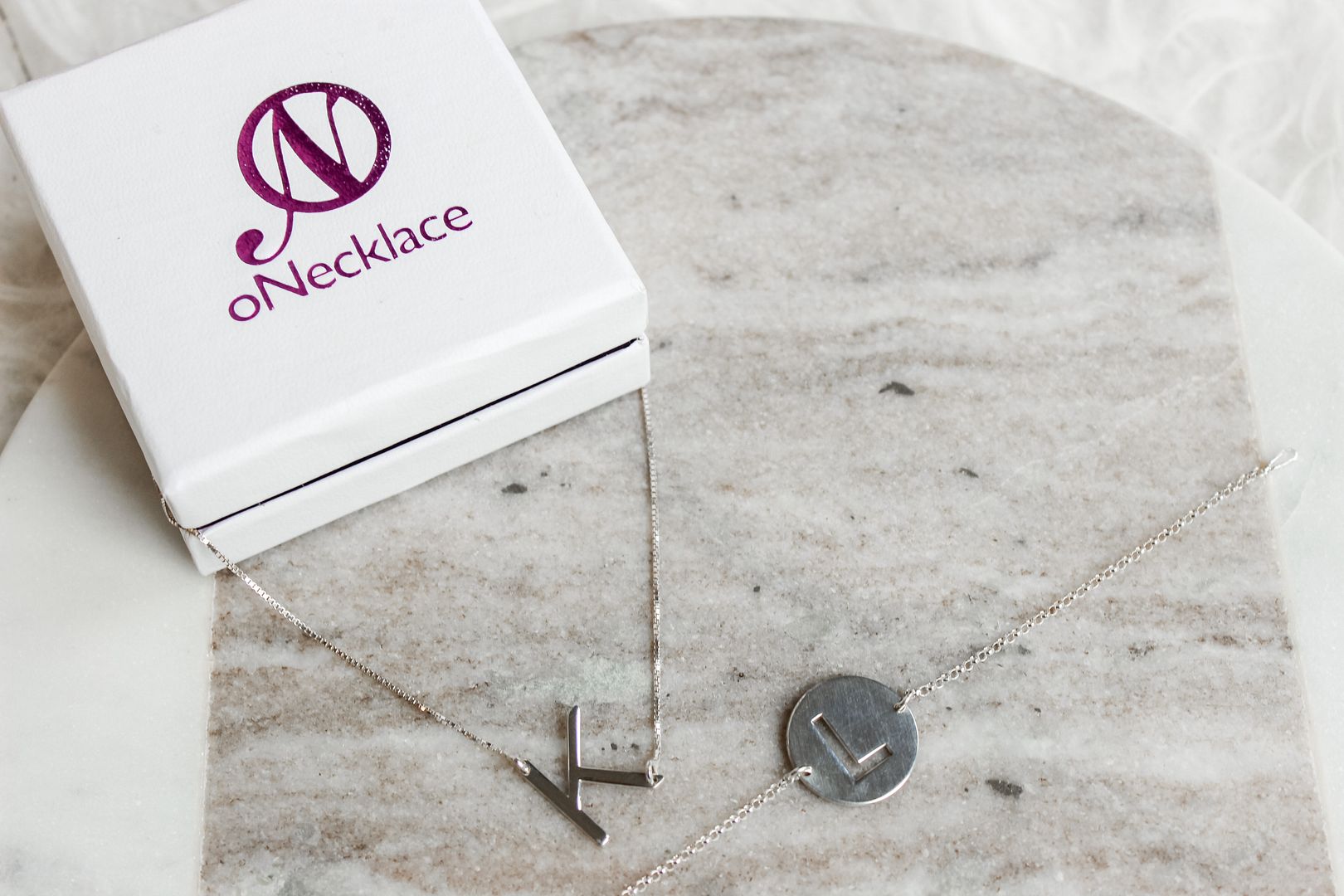 4.) The best beauty blender dupe.
I've been a beauty blender fan for years, ever since Kandee Johnson told me to start using one. I love the flawless finish that it gives your makeup and it makes things easier when putting on foundation. What I haven't ever loved was the price tag. Over the years, I've tried other beauty blenders to see if I could find anything that comes close, but I always returned to the real thing. However, the Aesthetica Cosmetics beauty sponge is a VERY close dupe. And it costs $4! The density is similar and it feels exactly the same as a real beauty blender. It is definitely worth buying.


5.) Fun conversation starters.
Tolar and I have been together for almost 11 years and if you can believe it we actually still have things to talk about. :) However, we discovered a fun little game called Our Moments that can help kickstart a conversation if you need it. The game is a deck of cards full of questions to help you get to know your spouse/partner even better. We don't have any trouble talking or coming up with topics when we are together, but we love to go over a few cards with each other when we can. Card topics range from "What would be our ideal life in 5, 10 and 20 years?" to "What do most people overestimate or underestimate about you?" to "Where and when do you get your best ideas?" and MORE. We both answer the same questions and it has been so fun to learn things I never knew about my husband. This would make an excellent stocking stuffer or Valentine's Day gift for your spouse.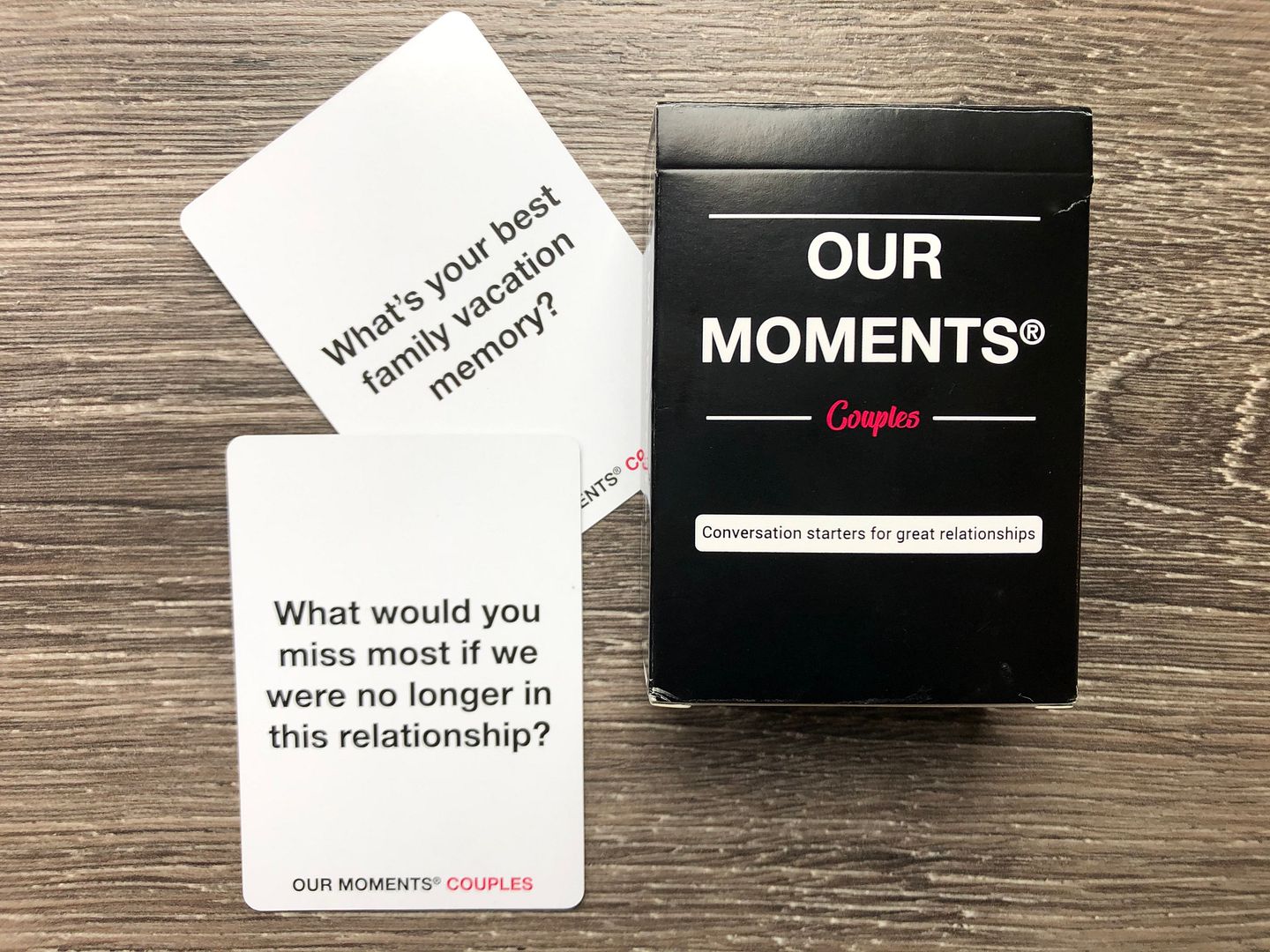 Wednesday, September 23, 2020
Hi friends! Meet Auggie, our new puppy!
Auggie is a Miniature Schnauzer male puppy who became a part of our family back at the beginning of July 2020.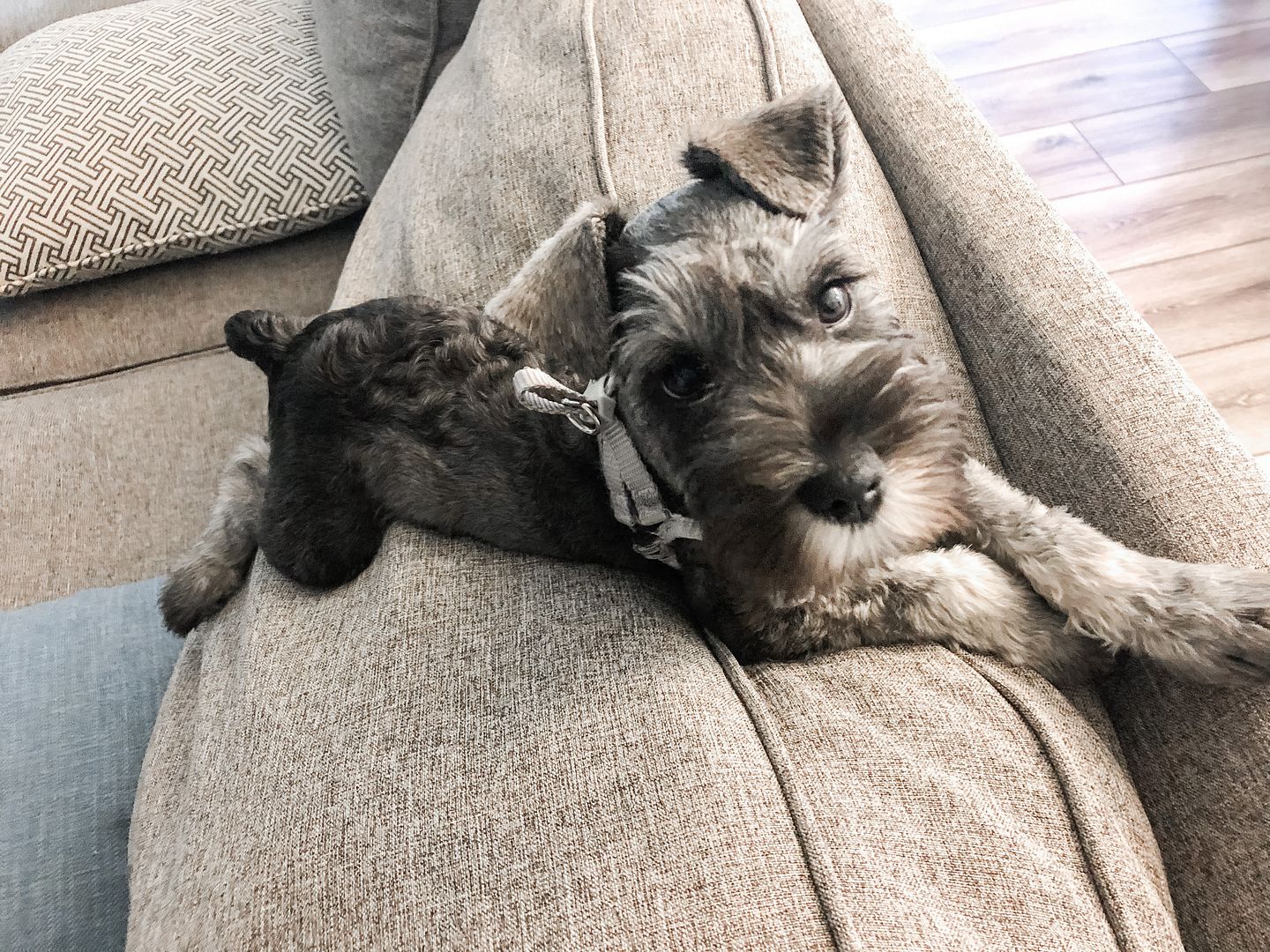 For several years, Kendall has been asking us if we could get a dog. We always knew we would get one someday and she never missed an opportunity to ask. Two years ago we had just moved into our new house and had a 4 month old baby, so I was NOT interested in adding a puppy to the mix. But when Tolar mentioned to me at the beginning of this summer that some good friends of ours were getting a schnauzer puppy and wondered if maybe it was time for us, I said yes!

Adding a puppy to our family has come with its own set of challenges, but he also brings us so much joy! The kids love to play with him and I love when he snuggles beside me on the couch at night. He started out like any newborn and wanted to sleep a lot during the day. But now that he has gotten older, he is awake longer and loves to run around and play.

Schnauzers by nature are protective of their homes and family. In the last month, Auggie has really come into his own and barks anytime someone enters our house. At first, it took him awhile to calm down when someone new was in the house. But now he is learning that we are not in danger when we allow people in and he doesn't bark as long. Don't get me wrong, he still barks anytime he hears the front door unlock, but he is learning to calm down faster.

Where did the name came from?
The first time I realized that Knox knew about dogs and what to call them was Thanksgiving 2019. Tolar's cousins had brought their two dogs with them and Knox bent down to pet one and said "auggie," which was his way of saying doggie. I thought it was adorable and said "I think Knox just named our first dog." So now we have Auggie, the Doggie.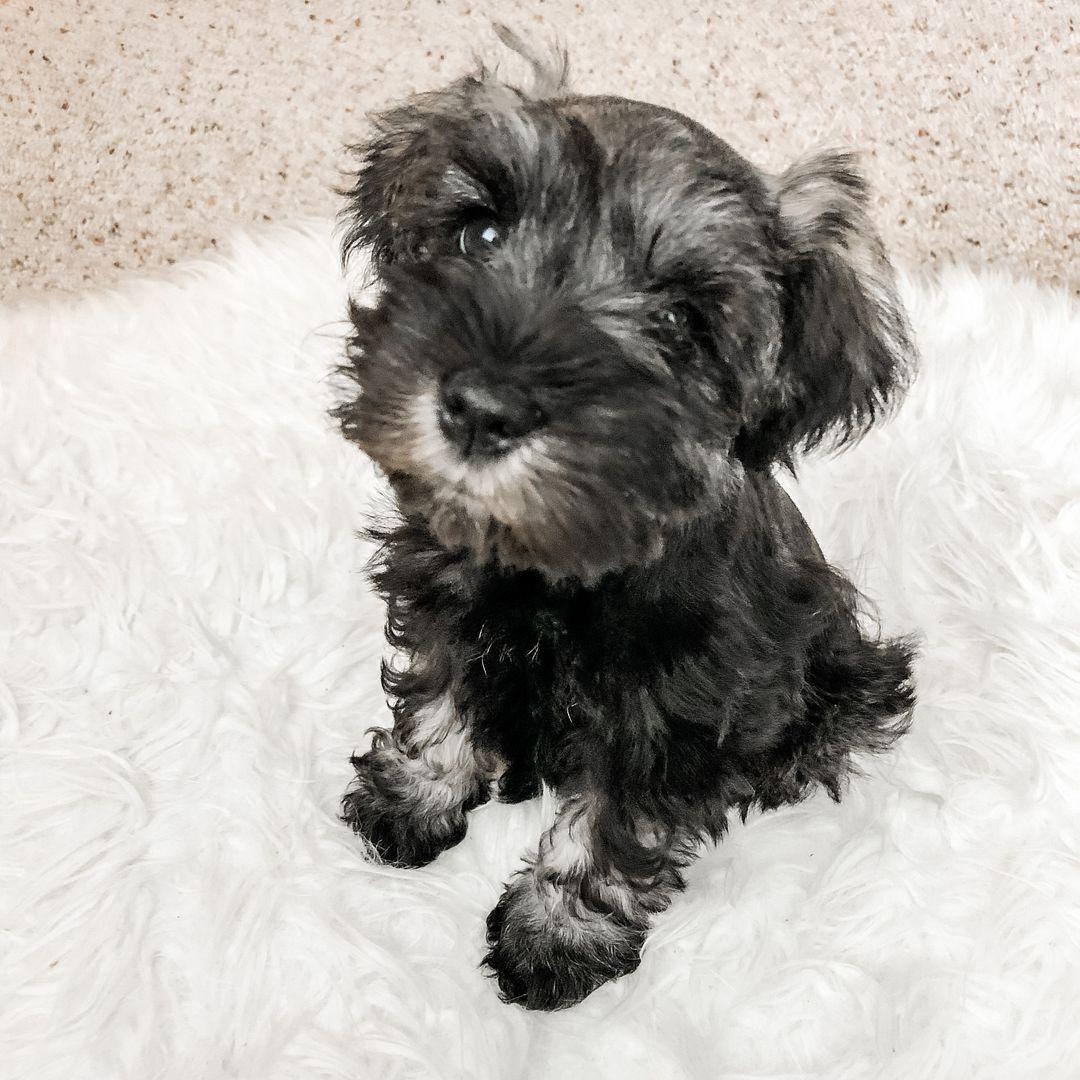 How much does he weigh/how big will he get?
Currently Auggie weighs 10 pounds. He was just 4 pounds when he first came to live with us! Miniature Schnauzers can weigh anywhere from 15-20 pounds.
How is potty training going?
I will be honest, potty training was the biggest reason I put off getting a dog. I've never had a puppy before and wasn't really gung-ho about potty training a puppy. Potty training started out ok, especially if we were diligent with taking Auggie outside every hour. However, there were plenty of days where he had many accidents in the house and I started to think he was never going to be potty trained. But in the past three weeks or so, he has really turned a corner and barely has any accidents in the house. Luckily our downstairs is hardwood floors, so we keep Auggie downstairs primarily to make for easy cleanup. We only let him upstairs when we go up with him, because I don't want him sneaking upstairs to use the bathroom on the carpet without my knowledge. Once he is fully potty trained we will let him go upstairs as he pleases.

Does he sleep through the night?
The first night that Auggie was with us was rough and we were prepared for that. Obviously he had been used to sleeping near his mother and brothers and sisters, so we expected him to be lonely. Tolar and I decided to sleep downstairs on the couch so that we could be near him (we are keeping his
crate
in the living room). He slept some, but around midnight he woke up howling and crying. It was tough to listen to, but we did make it through the night. He probably spent the first four nights waking up and howling, but eventually he quieted down and now he sleeps through the night just fine. He can sleep for at least 8 hours and sometimes wants to sleep longer. In fact, there are some mornings that I open his crate to let him out and he wants to stay inside and sleep.
What has his biting/chewing been like?
At the very beginning, Auggie would lightly bite when we were playing with him. Unfortunately the kids got more of this than anyone. His biting of us has subsided, however he has started biting/chewing on things around the house. We have figured out that he is a slightly aggressive chewer and likes to chew wood. He started chewing on the bottom corner of one of my kitchen cabinets and I quickly started looking for solutions. A friend on facebook suggested that he needed some
bully sticks
to satisfy his need to chew things. So I immediately went to a local pet store and found some. While there, the owner also suggested that I try some
bitter spray
to deter him from chewing his favorite spots. But the owner gave me a terrific tip: I needed to give him some of the bitter spray to taste as soon as I got home. Then once I determined that he didn't like the taste (and he definitely did NOT), I was to have him watch me spray the places I wanted him to stop chewing. Genius. Any time I've used the bitter spray, I make sure that Auggie is with me and sees me spray it on areas I don't want him chewing.
Useful tip:
Our friends who also got a schnauzer puppy told us about the app PUPFORD. It has been great! It is full of tutorial videos teaching you how to train your dog on all sorts of aspects: leave it, sit, biting, chewing, come when called and more. The first day that we tried the app, Auggie was able to pick up what we were teaching him in 15 minutes. I highly recommend this app if you have a new puppy!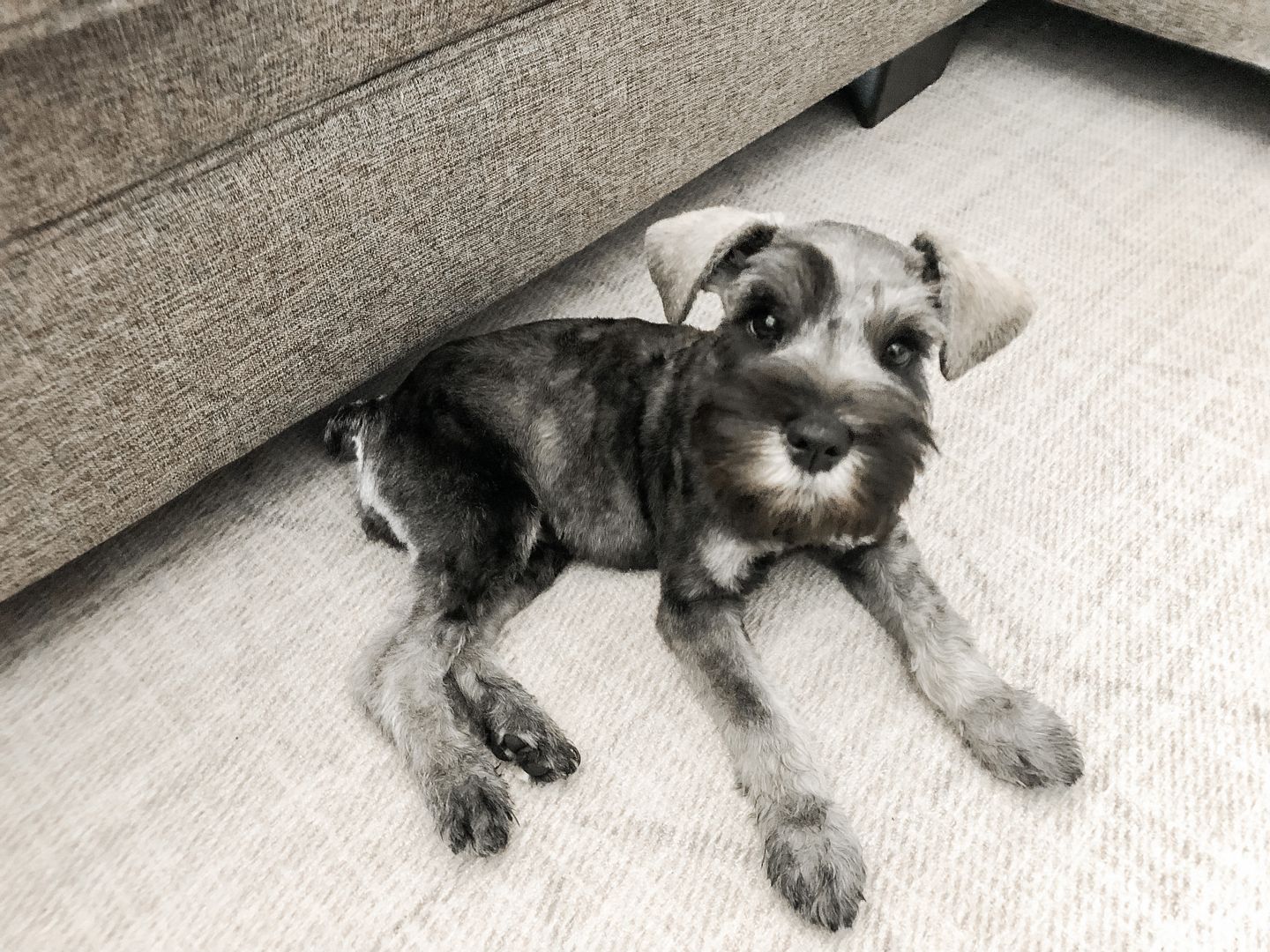 Featured Post
About Me
Welcome to Pursuit of Pink. I'm Lindsay and I'm so glad you are here. I believe a positive life is a happy life. Join me as I try to walk that out daily - in life, motherhood, style and more.
View my complete profile
Categories