I would like to thank Diane von Furstenberg (DVF) for introducing the world to the amazing design of a wrap dress and how it looks great on basically everyone. Seriously the cut is super flattering as it cinches in everyone's waist and even creates a waist on people who don't really have one. And secondly I would like to thank the maternity clothing makers for realizing that wrap dresses can also look good on pregnant women.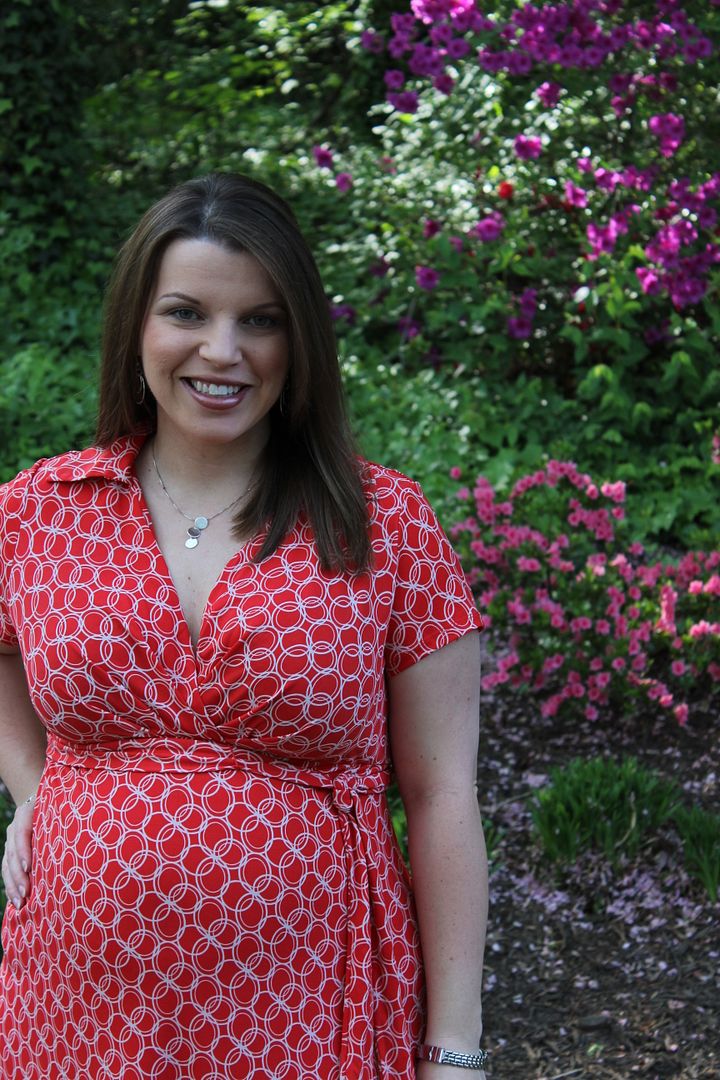 When I first bought this dress, I really only bought it because Tolar liked it. I was barely showing when it was purchased so I used the little stuffed bump that Motherhood Maternity has in their dressing room to try it on. Obviously the stuffed bump (it just velcros around your waist) is very different from an actual baby bump so I didn't think the dress looked that great on me. Fast forward three months to when my bump is out there for everyone to see and I adore this dress (yes Tolar, I can hear you saying "You're Welcome" right now).\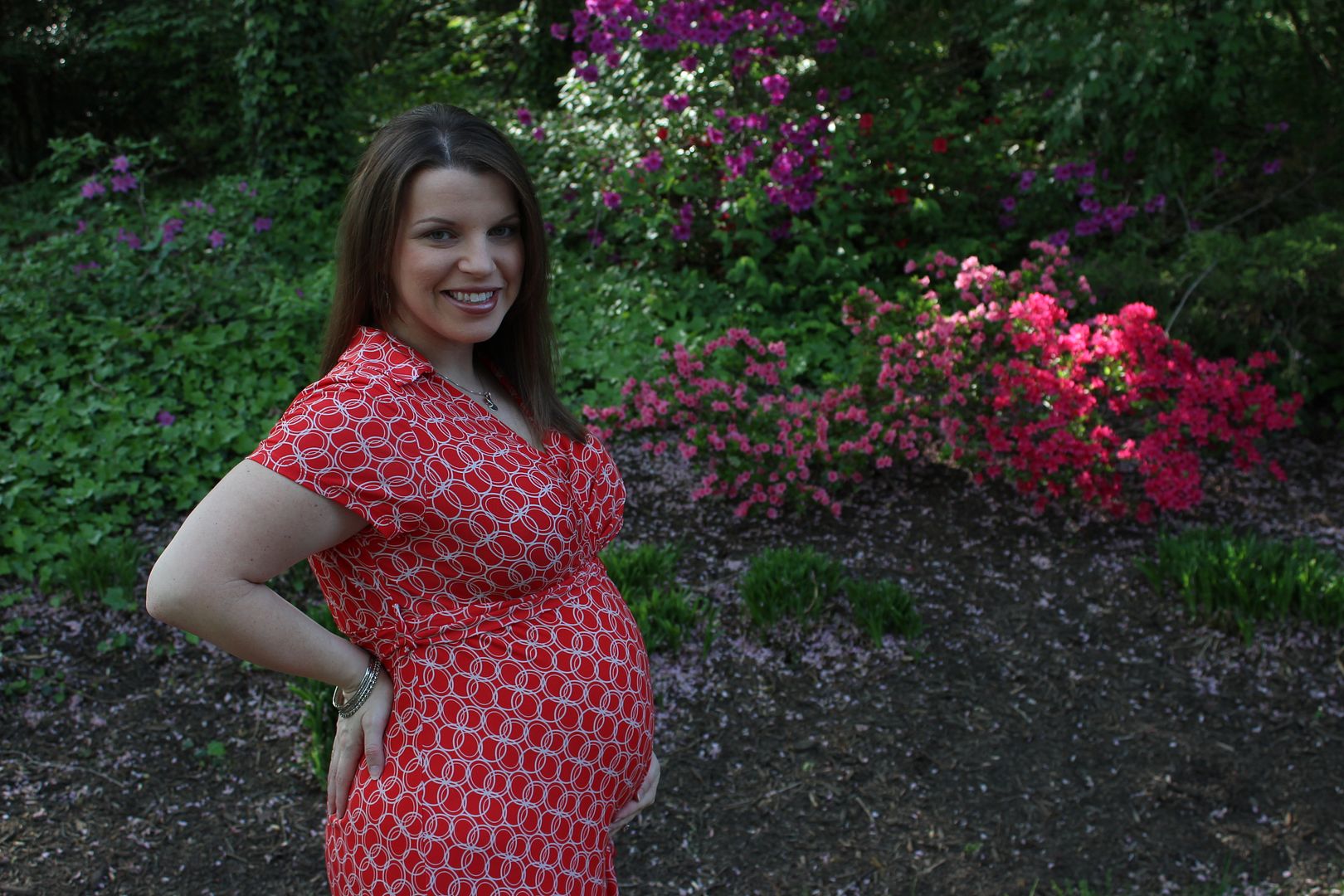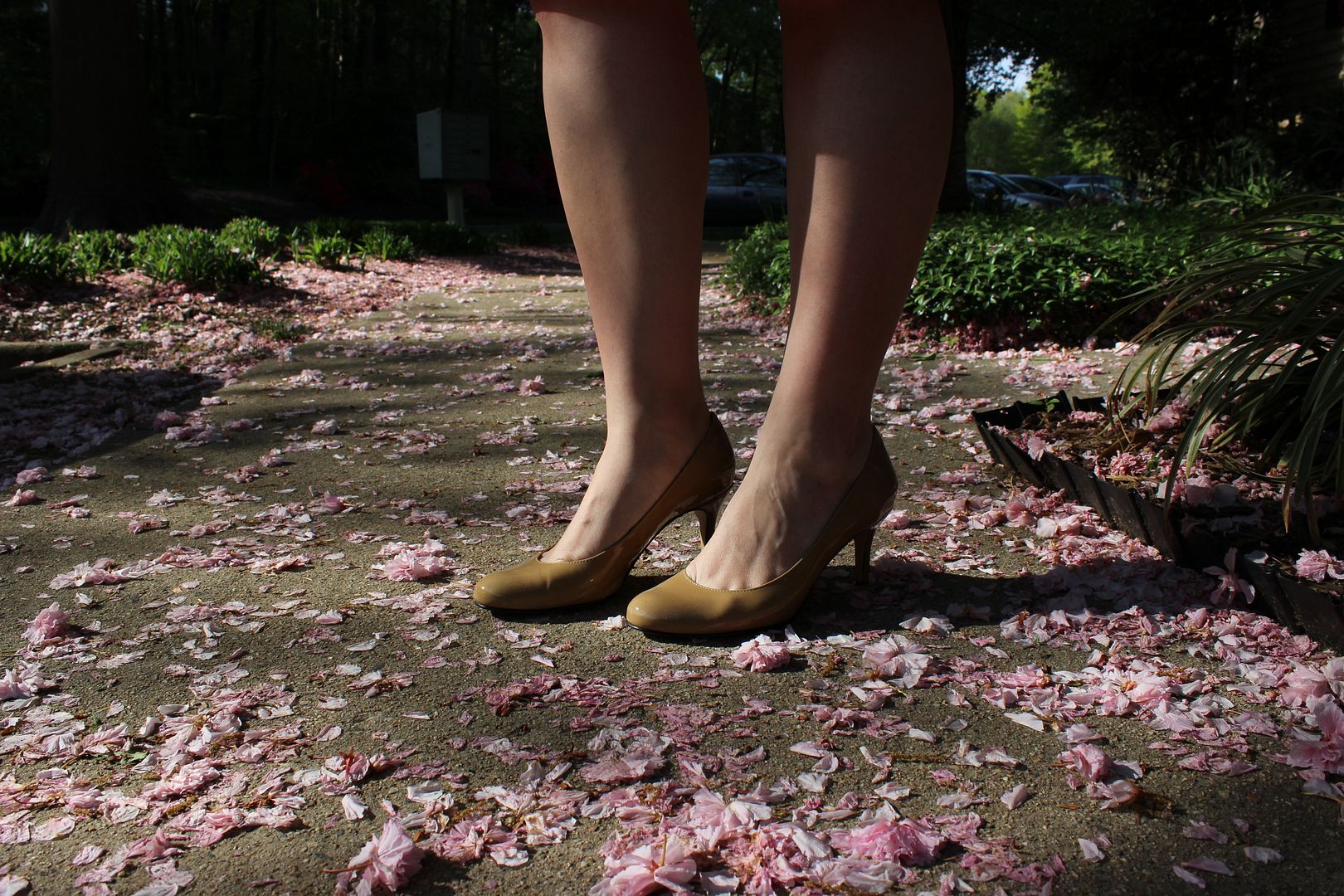 The dress flows so nicely over my bump and is extremely comfortable, which has become a huge factor in my clothing choices. Not my shoe choices mind you. And I love the wrap tie waist; it creates a high waist for me and accentuates the cuteness of the baby bump. And how fun is the print? I love all of the circles so I paired the dress with some hoop earrings and a circle necklace. As you can see from all of my What I Wore posts, it is extremely important to me to keep style in my wardrobe even while I'm pregnant. You don't have to lose style for comfort, especially with this dress. Also, quite a lot of wrap dresses are cut so perfectly that you really don't even need to buy a maternity dress, which is a bonus for when you lose the baby bump – you can still wear it!
Dress: Motherhood Maternity. Shoes: DSW. Bracelets: Target (old).
And again, I must ask you to forgive my extremely pale legs. I must get some self tanner asap!
********************
You all must meet Susannah who blogs over at
Simple Moments Stick
. Susannah is one of the sweetest people ever. Before she became a sponsor on Pursuit of Pink, Susannah would comment with the nicest things on so many of my blog posts. I quickly started to wonder who this fantastic Susannah was because I always enjoyed seeing her name on my comment list. Well everyone, here she is for all of you to enjoy as well.
When you visit her blog, you will find out that she is just as sweet as I thought she was. Her blog is a great positive place (I love positivity!!!) where she talks about her life and shares awesome stories of living with her hubby. I simply adore this post
about loving each other using the Five Love Languages
. We actually share the same love language and value some good ol fashioned quality time. Susannah and her husband are adorable and you can definitely tell how much they value each other. Just check out this post where Susannah created a whole
Thai inspired date night in
for them. I love the décor and the food looks delish!
One thing I love about Simple Moments Stick is that Susannah has opinions on things and always backs up her opinion with plenty of reasons why. Take
this post about chivalry
. She has such a great way of explaining her stance on ways that men can honor women and still be considered chivalrous. Such great insight there! So head over to
Simple Moments Stick
to read all about Susannah's adventures and simple, yet fun, moments.