Being a Southern girl, this should come as no surprise to everyone that I LOVE hairspray. I know my Bestie Erica is probably reading this and agreeing out loud, she knows hairspray is one of my favorites (side note: go check out
Erica's new blog design
, its gorgeous!).
I definitely have my favorite brand, so I thought I would compare some hairspray products that I have used in case you are looking for something similar.
Here are the brands: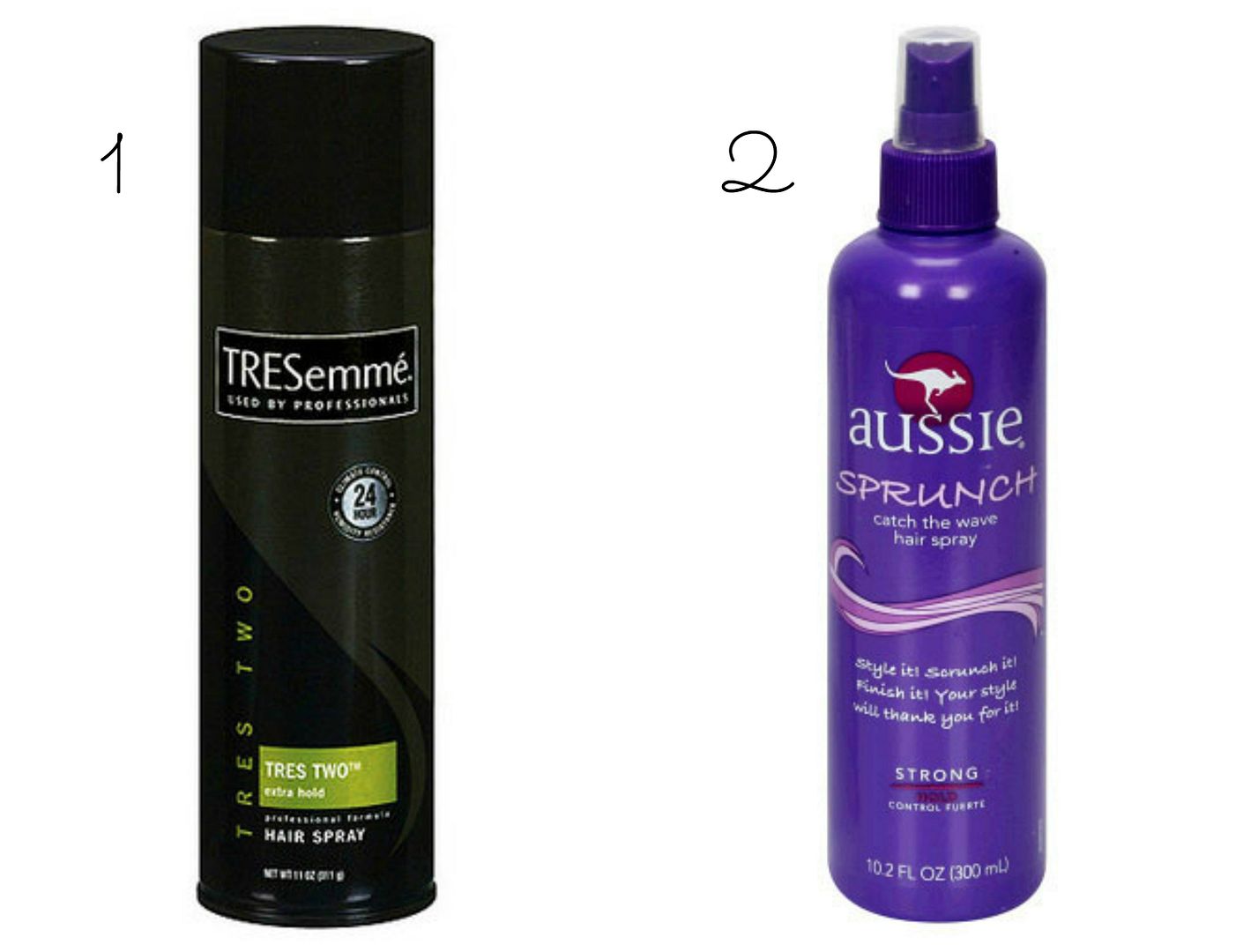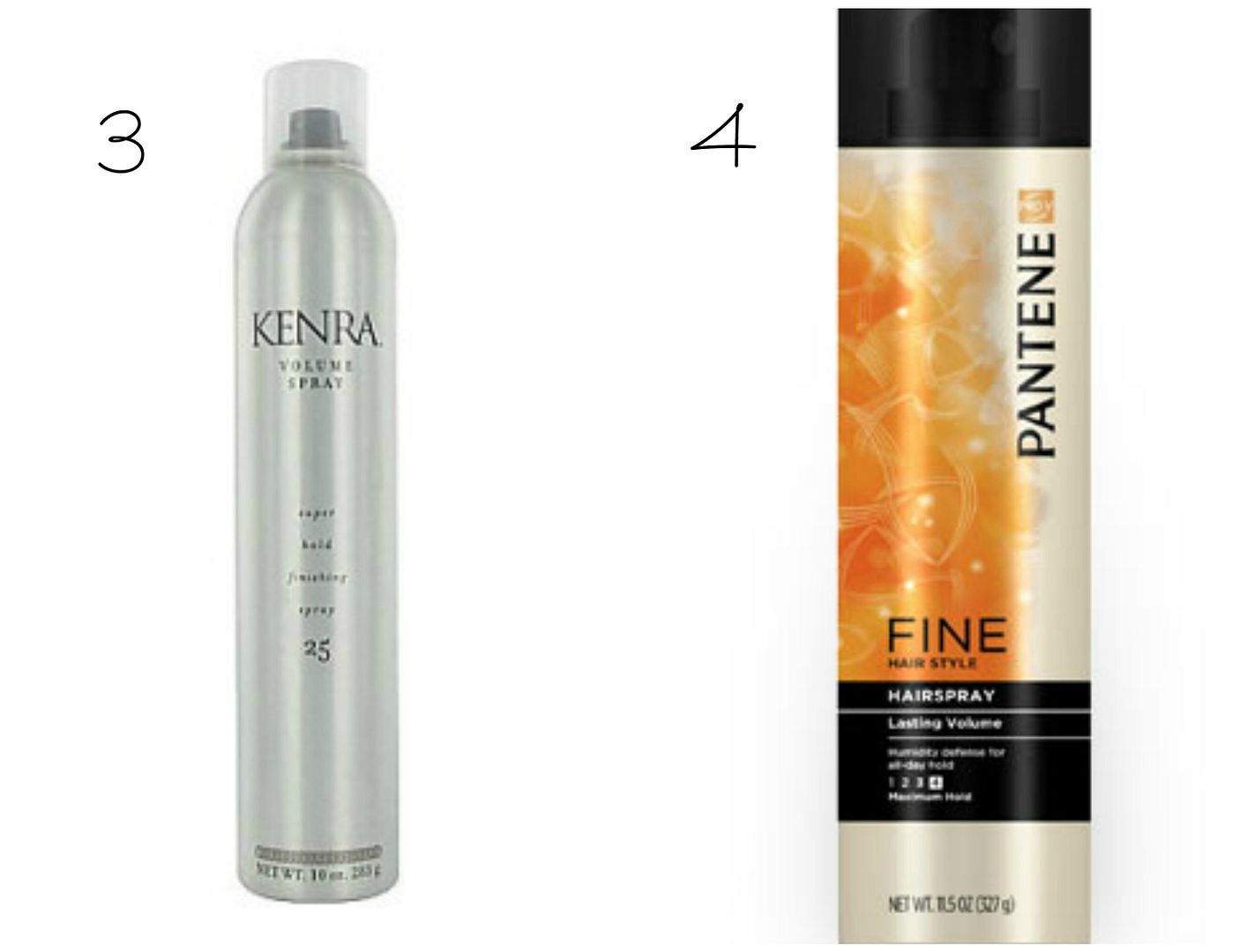 1.) TRESemmé TRES Two Extra Hold Hairspray (Aerosol):
This is by far my absolute favorite hairspray. I love the product for two main reasons; the hairspray provides amazing hold all while still allowing my hair to move. No helmet head here! I have used this hairspray for years, have tried others and keep coming back to it. Plus, the price is amazing! You can score a huge bottle at Target for a little less than $4. I use this hairspray on all of my hairstyles: curls, straight hair, updos, pony tails, everything (and Tolar may or may not be a fan of this too). I also love this one because I don't get a ton of buildup in my hair. Yes, I will touch up my curls by spraying a little hair spray multiple times a day and my hair still feels fresh and bouncy. I highly recommend this and give it 5 Pink Polka Dots!
2.) Aussie Sprunch Spray (Non-aerosol):
This brand has been in my beauty arsenal since freshman year of college, so going on 13 years! I get the best results when I "scrunch" my hair to create loose waves. There is definitely some magic in the formula because this hairspray will take my straight hair and add tons of waves. I do use this product very generously and I apply it to both wet and dry hair. This is another super affordable product, about $3. And the smell is amazing! I think it makes my hair smell like grapes and I always seem to get compliments on my scent whenever I wear it. I don't really prefer a non-aerosol hairspray unless I'm scrunching my hair because you don't get as much coverage and the spritz can weigh your hairstyle down. I would not use this product when I curl my hair or keep it straight; in addition to scrunching I would only use this if I pulled my hair into a pony tail. Because I can't use it on every hairstyle, this brand gets 4 Pink Polka Dots.
3.) Kenra Volume Spray 25 (Aerosol):
Whoa – it you are looking for something to give you some serious hold, this is your product! I was first introduced to this brand when my sister got married. The hairstylist used this on my updo and told me that my hair would not move in a hurricane and she was right. I have found that I prefer to use this brand only on updos because it almost provides too much hold. If I use this brand on my curled hair, I find that my hair is pretty hard and doesn't move as freely as I would like. This is a bit more pricey, you can purchase it at Ulta for around $24. Because of the price and the fact that I can't use it on all hairstyles, I give it 3 Pink Polka Dots.
4.) Pantene Fine Hair Lasting Volume Hairspray (Aerosol):
This is my back up hairspray if I ever run out of my TRESemmé. I like the product because it does provide some hold without weighing my hair down. However, I feel like I need to spray even more of this than normal on my hair when I use it. My hair does get some bounce with this product and also doesn't feel too much like helmet head. Because I have to use so much, my bathroom cabinets definitely get a good coating as well. This product rings up around $4 as well, so it is still very affordable. Because I use it as a back up, I give this one 4 Pink Polka Dots.
So there you go, my favorite hairsprays with multiple uses. Do you have a favorite hairspray that you can't live without? Tell me about it in the comments sections below.