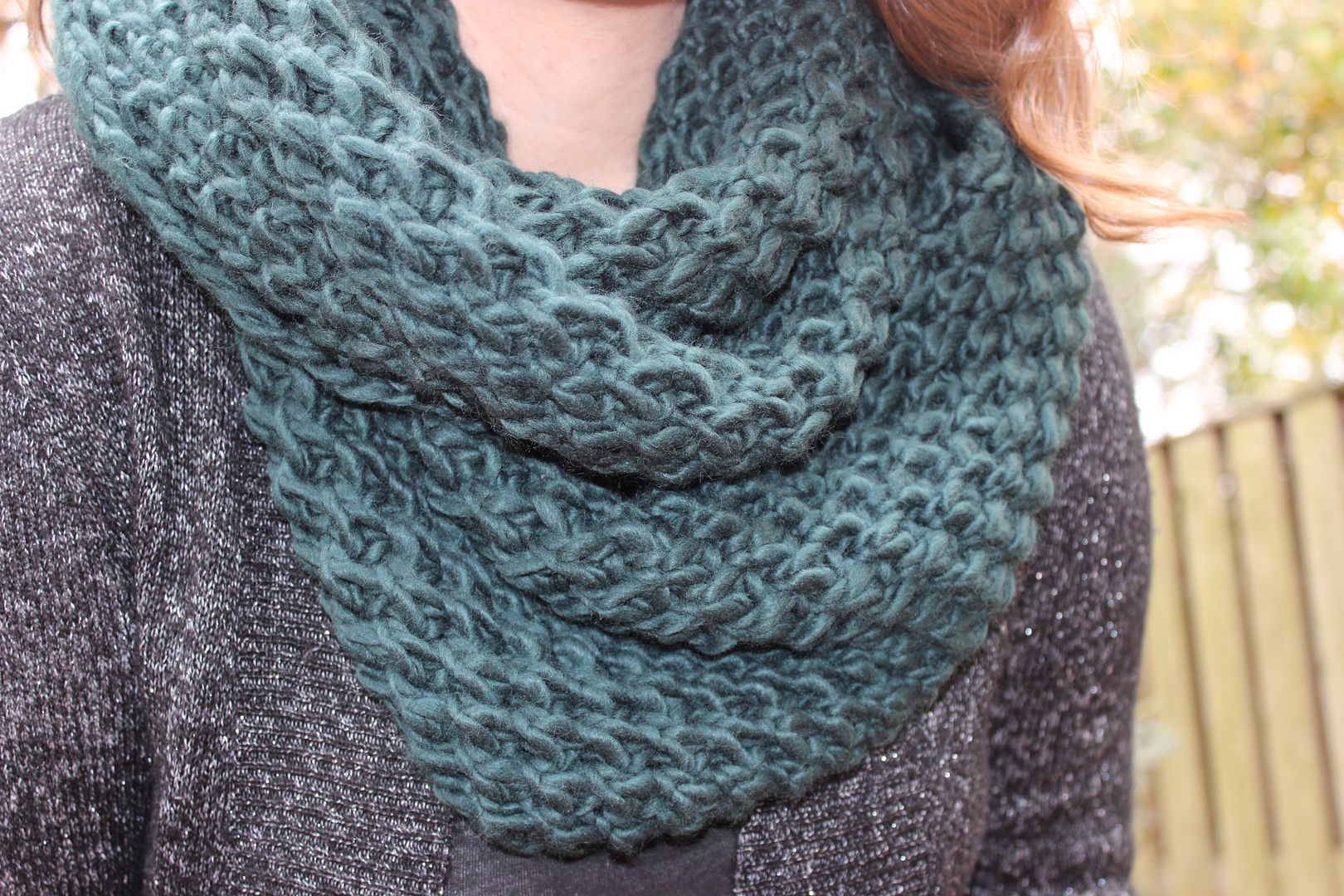 It's no secret I love scarves, I might even have a slight obsession with buying new ones. I just love scarves because I feel like they help increase my wardrobe options by changing an otherwise boring ensemble. And I love all kinds of scarves; silk, cotton, pashmina, infinity, fashion, functional, whatever the use if it's a scarf, I will wear it.
And I actually found a scarf that is both functional and fashionable. If you can believe it, I bought this gem at
Old Navy
! Besides being one of the softest scarves around, this is also the warmest scarf I have ever worn. Since it is oversized, it helps block wind, keeping me all warm and snuggly. I know once winter rolls around, I am going to be so happy I have on such a huge scarf along with my coat. This baby gets the job done!
But until winter arrives, I am enjoying wearing the scarf as part of my outfit selections too. The warmth of it adds just enough of an extra layer to keep me warm without needing a coat. And I love the honeycomb stitch; it's such an interesting pattern adding an extra bit of style to my ensemble.
I bought this scarf in both the green that you see pictured and in grey. I just know I will get a lot of mileage out of these babies this winter. You can wear scarves so many different ways with so many different clothing options. How do you like to wear scarves?
********************
I'm thrilled to be co-hosting the Funday Monday Linkup this week, with two of my favorite bloggers:
Carly
and
Molly
!
A few of our favs from last week:
/
Annie Jean Apparel
/
Cheesy Pigs in a Blanket with Honey Mustard
/
Cobalt
/
Vest Layers
/
The Rules for #FundayMonday Link-Ups:
1.
Follow your hosts Molly @ still being [molly] , Carly @ Lipgloss & Crayons , and your guest hosts for the week Stephanie from Mrs D's Corner and Lindsay from Pursuit of Pink!
2.
Grab a button and / or post a link back here in your BLOG POST (NOT your blog's main page) so your readers know what all the #fundaymonday-ness is about. We love you guys linking up and we do go through and read all your posts… so if you do not give credit, we will have to remove your link. That's no fun, right? Right. So be nice and share a link! Pretty please?
3.
Link your blog post up using the linky tool below! It can be ANYTHING! An outfit post, a giveaway, a story, a recipe, whatever. Why? Cause it's #fundaymonday!
4.
Visit a blog or four that you've never been to before and leave a #fundaymonday comment – you never know, you might "meet" someone new that you will lurve!
5.
Have fun! Cause it's Monday!
Want to cohost #Fundaymonday? We are currently accepting weekly cohosts..........please email us at carlybrydon@gmail.com for more info!