Today, I'm letting my gorgeous friend
Caitlin
take over the ol' blog to tell you about an awesome project that she is participating in. I'll leave the good stuff to her, but let me just say this - blessing someone else for no particular reason other than that you just want to be nice and pass love on, will bless you beyond belief. Trust me! And try it. I promise blessing someone else will brighten your day!
Hello Pursuit of Pink Readers!
Happy October 1st! Today is a special day because it kicks off a project I am conducting, with several other people, to perform 31 Random Acts in 31 days! Before I ask you to join us, let me tell you a little story.
Earlier this year, I experienced a type of seasonal depression. It wasn't the kind that comes from snow flurries or grey skies, but one full of movie theater violence, Sandy Hook catastrophes and a new, eerie perspective regarding pressure cookers. Did you experience it too? When tragedy strikes, I find it hard to overcome my grief. I close my blinds tighter, dead bolt my front door more often, stay indoors longer. I know I should change my outlook on life, but all too often, I don't know how.
Luckily, during the upswing of my seasonal depression, I stumbled upon
this video
; one that I'm sure most of you have seen. Zach and his family are truly a blessing. This video inspired me to change. Instead of viewing the world as a hapless place, I realized that my perspective on life starts with me. It begins with me choosing to do 'good' as opposed to succumbing to all the bad.
During the month of October, I will be performing 31 Random Acts of Kindness in 31 Days. It's a simple and hopeful project, and exactly what I need to awaken my heart.
Do you want to join us?
I know you are busy so please don't fret. You do not have to perform all 31 random acts! If you just want to pick one or perform a big one on your own or just stare at this blog post and encourage someone else to do something in October, that is great! We welcome all kinds of RAK love.
How can you join us?
If you are wondering, there is only one RULE, which is that if you decide to participate, please tell someone that you are conducting 31 Random Acts (or however many you choose) in October 2013! If we can get even one additional person to perform a random act in October, we will double our impact on the world!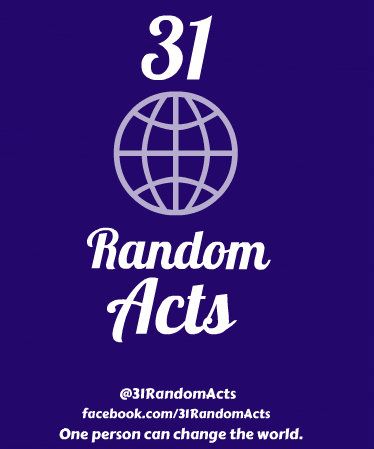 Thank you for hosting our thoughts, Lindsay - and for being a positive inspiration in the world! I often read your posts about married life and Baby K when I need
uplift.
J
XOXO,
"The great acts of love are done by those who are habitually performing small acts of kindness." ~Victor Hugo