You know that saying, it takes a village to raise a child? I 100% believe this saying to be a true statement. And I have learned that Tolar and I will continue to need said village to raise our beautiful baby girl.
For those who don't know, being a parent is hard work. It's MUCH harder than I thought it would be, but the reward of having Baby K smile at me whenever she sees me completely outweighs any feeling of being overwhelmed that I have. There are so many more things we have to worry about now that we are responsible for another life. And unfortunately all of the knowledge of how to raise a child isn't easily downloadable to our brains the moment your child is born (however, researchers get on that – I know plenty of people who would pay good money if this was a service provided by hospitals in the delivery room!).
Like most first time parents, we have had a ton of questions. When do you start a bedtime routine? At what age do you move your baby into their crib? How much milk does your baby need each day? How do you get your child to not be cranky in the afternoon and take a third nap? When does your child sleep through the night? Which baby products are the absolute necessities? Will my child remember me when I go back to work? How do you know that your child care provider is the right fit? How do you even find child care? And so many more – if I put all of our questions here for you to read this would become the longest blog post ever!
Lucky for Tolar and me, we are surrounded by people willing to help out and answer our many questions. Both of our mothers came for extended visits to take care of Baby K (and us!) and those visits were seriously such huge blessings to us. Having the support of our own mothers, to guide us, show us things we didn't know and support our parenting decisions has been amazing. My sister is my "go to Mom" with questions about EVERYTHING. You know, because she can't be embarrassed by anything I ask because well, she knows EVERYTHING about me. Also, I have so many girlfriends from church who are mommies and are just a text or a phone call away offering up all kinds of advice. My friend
Julie
has been amazing and she probably doesn't even know it. Julie had her third child about a month after I had Baby K. (She's Super Mom to me!) When I went to visit Julie to meet her new babe, the visit ended up being more of a therapy session for me and I was so thankful for it. Not to mention all of the questions she has answered and prayers she has sent up on my behalf – Julie I'm so thankful for you, your friendship and your mommy wisdom. Even brand new Moms are a great source of comfort for me. My girlfriend Kristina just had a baby a couple weeks ago and talking with her and comparing stories is so helpful to us both. I think just having someone go through the exact same thing as you is helpful.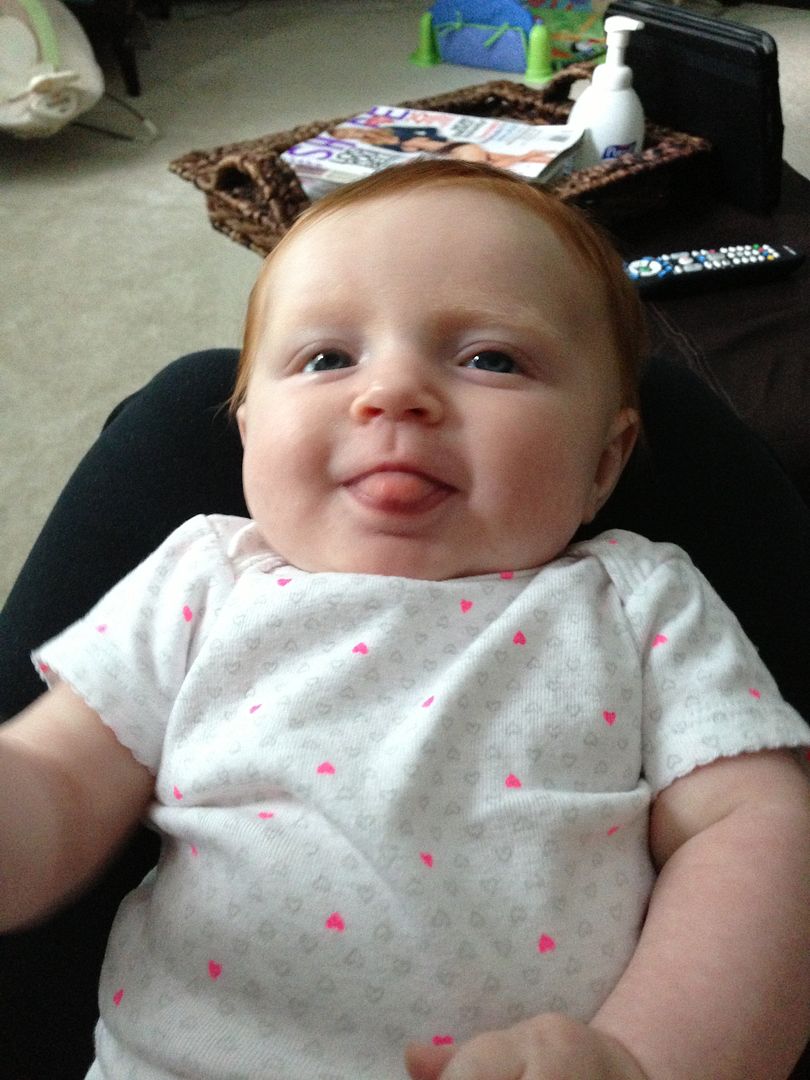 In addition to the people that I know in real life, I also belong to some online groups. I joined several private Mommy groups on facebook where you can pose questions to other Moms and get immediate answers from someone else going thru the exact same situation as you. Baby Center has excellent forums offering up advice, but I have found I enjoy the facebook groups even more. If you need some support for anything, just do a search on facebook, I'm sure someone created a group for it.
Yes, books are great and
this one here
actually helped us to get Baby K to sleep thru the night at 3 months, but I have found that supportive people in my life are way more helpful. I can ask questions of them instead of just receiving a few tips here and there and the mommies in my life are giving me practical advice on what worked for them. We could not have made it to where we are right now with raising Baby K if it wasn't for the amazing people in our lives who have answered any question we have. Yes, every baby is different and something that worked on one baby will not always work on another, but just knowing we have the awesome support system that we do truly helps.

My advice to new Moms, don't be scared to seek help. Ask questions of your pediatrician, your family members, other Mom friends, anyone that you trust. They can either offer up some practical tips on what worked for them or be there to hold your fussy baby when you need a five minute break. Surround yourself with people who can help, you will truly need them and be so happy once you realize that you are not alone in raising a child, because it truly does take a village.