Tolar, Baby K and I just flew down to South Carolina for my nephew's first birthday. We thought it would be easier to fly for an hour and half with a 2 month old than to drive the 7 plus hour trip (it took 7 hours BEFORE baby, so I'm sure driving now would be around 9 hours). I was nervous as could be about taking Baby K on a flight, but looking at my options, flying seemed to be easiest. I have had my share of flights where screaming kids have been present and admittedly I have gotten a little irritated. I didn't want Tolar and I to become "those people."
Waiting at the gate for Baby K's first flight!
When we first booked our flights, I felt more confident in flying than when it actually came time for our trip. Since Baby K got sick a couple weeks ago, she has been a little off and fussy so I was nervous. I wasn't sure how her little ears would handle the shift in cabin pressure and I really didn't want her to scream for the entire flight. So I gathered tons of tips from other mamas who have flown with infants and tried to be as prepared as we could be.
I've heard that flying with infants is easier than flying with toddlers, so that helped me relax a little bit. Toddlers are more aware of their surroundings and are extremely curious so they get very grabby and vocal about things, infants sleep a lot. Since I've only ever flown with a 2 month old, I will offer up my thoughts on what worked for us with said 2 month old.
I am so relieved that Baby K was a total rockstar on BOTH flights. She didn't make a peep. Flying with her was actually a dream. So here you go, my tips are below.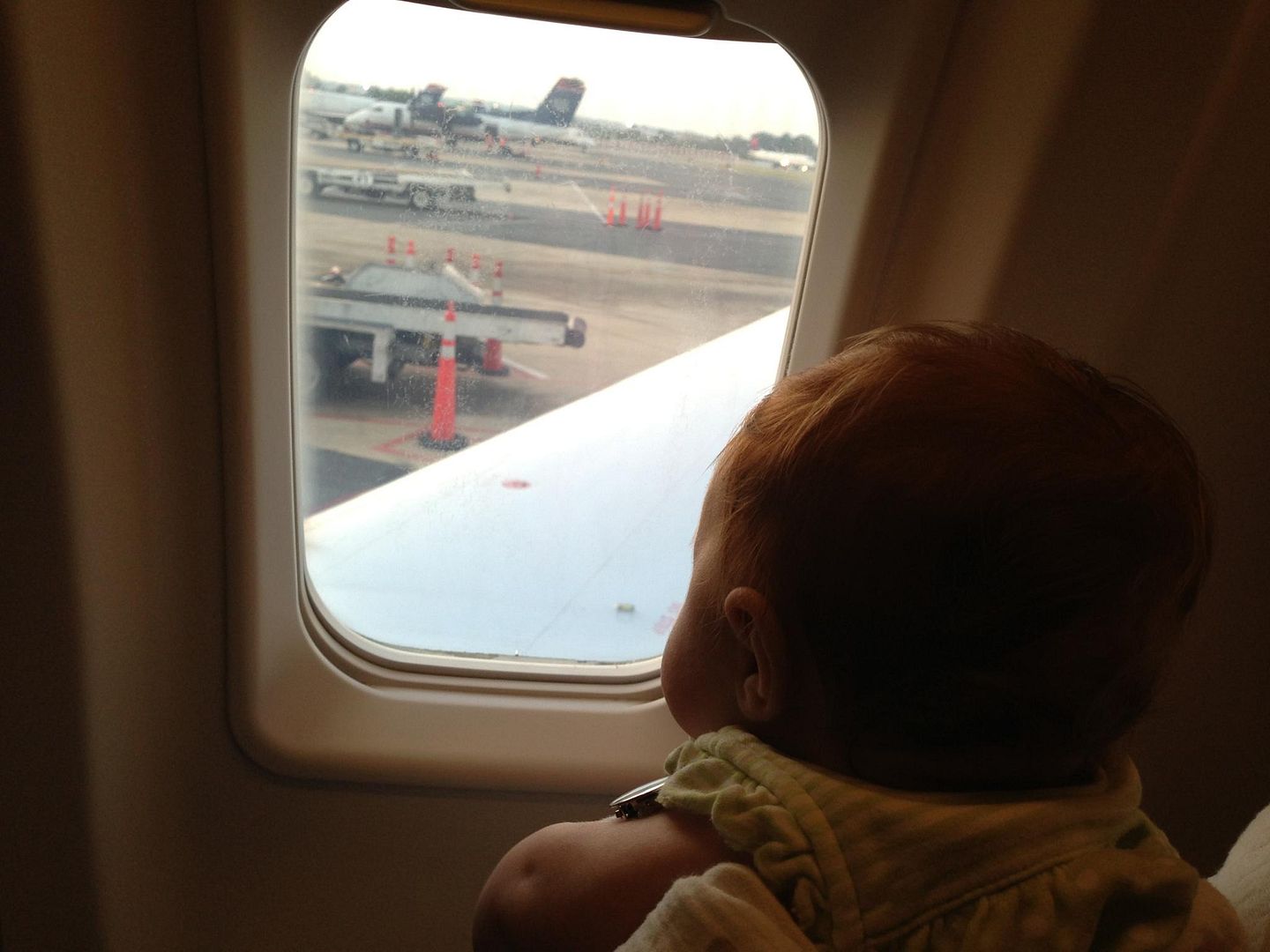 She's so excited to fly!
1.) Make sure you call your airline to let them know that you will be flying with an infant (baby in your lap). You will be given an infant boarding pass.
2.) Using a baby carrier is apparently the "pro way" to travel with kids. We saw several people wearing their babies/kids strapped to their bodies and even talked to one Mom who has flown from D.C. to New Zealand with a toddler and she was using the ErgoBaby carrier (side note, Tolar and I are now considering the ErgoBaby).We were lucky enough that my sister and brother in law still have the car seat, pack and play and stroller from when my nephew was an infant so we didn't have to worry about using/carrying those items with us. Since we didn't need our stroller with us, we popped Baby K into her carrier and off we went.
3.) You
can
take breastmilk with you through security. Just be sure to pull it out of your bag and tell them what it is. I packed several bottles with breastmilk in a small lunchbox with an ice pack and just had to pull the lunchbox out of my bag when we went through security. Knowing where everything is in your baggage helps when going through security.
4.) Take extra blankets with you. It often gets cold on flights, so having extra blankets will help keep baby nice and warm. Also, extra blankets are helpful to use to cover your baby's face to keep the bright plane lights from waking/startling your baby.
Out cold! Praise The Lord!
5.) Bottle feed or nurse during take off and landing. Since babies don't know how to pop their ears, you need to get them swallowing to help their ears adjust to the change in pressure. We were nervous about how Baby K would handle this since Tolar had bad ear problems as a child. I decided to bottle feed her and I used a slow release nipple on the bottle to make sure we would have plenty of milk to last us (in case Baby K got hungry before the plane actually took off). I started feeding her as soon as we pulled away from the gate and continued feeding her until I knew we had reached our cruising altitude. And she did great! No crying or showing any sign of discomfort.
6.) Be nice to your travel mates. Since we didn't know how Baby K would handle the trip, we decided to prepare little goodie bags for everyone seated around us. We filled little bags with ear plugs and Oreos and then created a cute little note (written by Baby K). We placed the goodie bags on everyone's seats so they would see the treats as soon as they boarded. Everyone loved them! It was actually a great way to introduce Baby K to the people on the plane and started great conversation. The goodie bags provided plenty of grace for us on the trip!
7.) If you can, have a supportive partner with you. Tolar knew how nervous I was about flying with Baby K, so he allowed me to be in control the entire time. In fact, I'm pretty sure he told me he "kept his mouth shut and let me do my thing." When we first took off and I was feeding Baby K, Tolar put his hand on my knee and prayed for our flight and our Baby girl. Heart melted! He also carried ALL of our carry on baggage so I could concentrate on taking care of Baby K.
8.) If you get nervous like me, check in with the gate attendant to make sure you can board first. On all of my other flights, I have always heard the announcement for passengers with children to board first. However, I wanted to be absolutely sure that we would have the opportunity to get on and get settled before the rest of the passengers hopped on. It turned out that the flight we were taking required us to board a shuttle from the gate to get to our plane, meaning the entire plane would be boarding at the same time (no priority). I am so glad I checked in with the gate attendant because she recommended that we go ahead and get in line for the bus so we could get on the bus first, thus making it likely we could get on the plane first. So don't second guess yourself, just go with your gut and ask as many questions as you want.
We had a successful flight!!!
Those are my tips, they seemed to work rather well for us. Have you ever flown with an infant or toddler? Do you have any tips to add? I'm sure I will need more tips once Baby K gets a bit older, so feel free to leave your thoughts in the comments section.