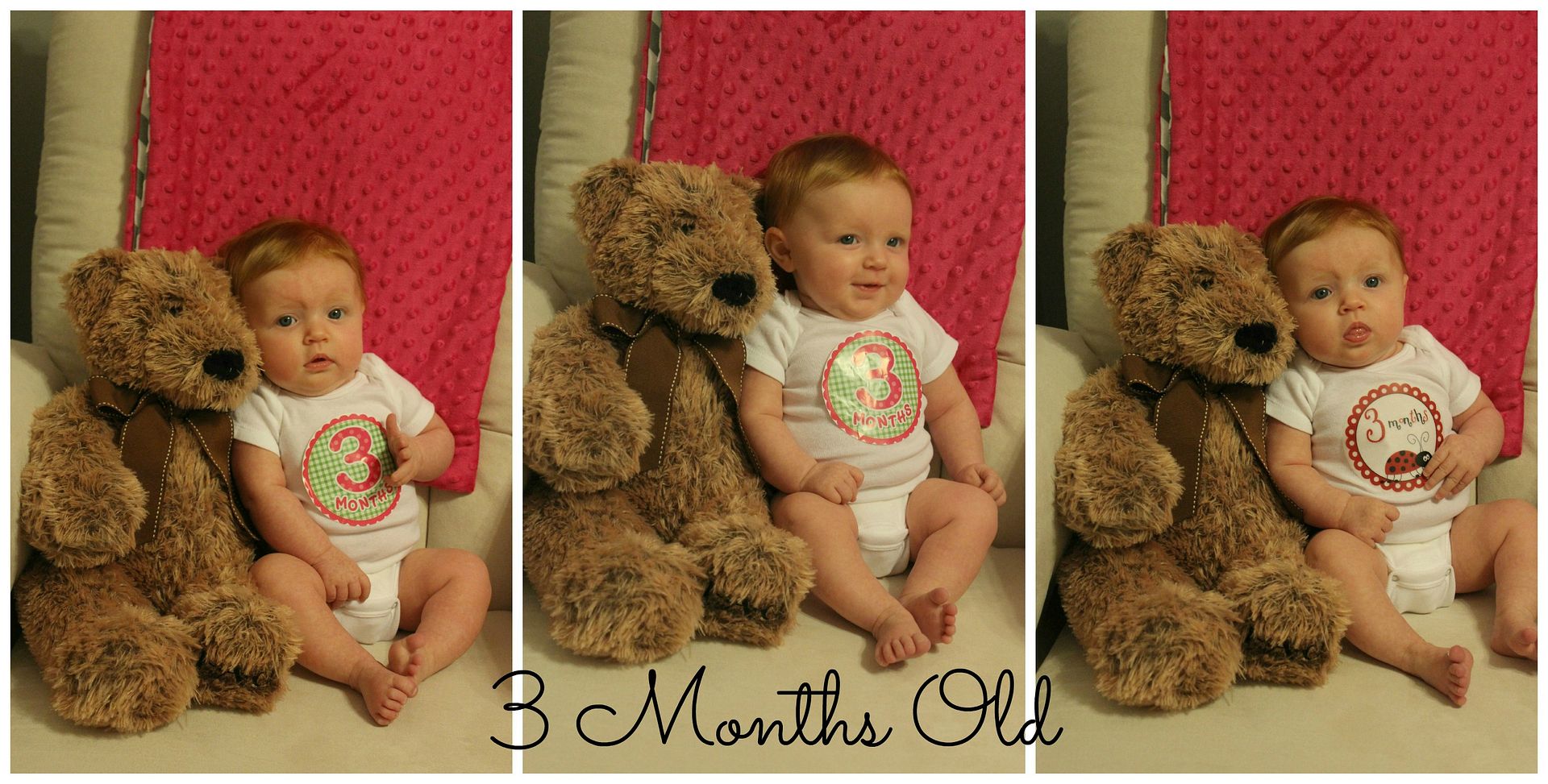 Suddenly I find myself the mother of a three month old. Um, I have no clue how that happened. I mean, I feel like I JUST found out I was pregnant and now my little munchkin is growing so rapidly!!!! Tolar and I are having an absolute blast with Baby K. She is smiling all the time, which just makes our hearts burst. I have been so fortunate to be able to stay home with her for the first three months of her life and it has been incredible to watch her change.
Stats: I don't have everything since she won't go back to the doctor until she is 4 months, but I weighed her on our scale at home and she weighed in at a solid 12 pounds!
Development: She is noticing EVERYTHING. I am so happy that she is actually looking at people when they talk to her instead of giving them the cold shoulder and looking elsewhere. Plus, she loves for me to hold her over my shoulder so she can look around the house at everything (I still say she has an early taste for home décor!). K has started cooing, especially when we are in the car, and it is adorable. Like I said above, she smiles all the time. I love to go into her nursery first thing in the morning and have her see me because she gets so happy which just makes me pick her up and kiss her all over. Seriously, I'm in love with this baby!
Loves:
To kick! Whether she is in her crib, lying on our bed or in her bouncy seat, the girl constantly has those legs moving. She also likes to stand, which makes trying to dress her very interesting. I will try to get her to sit up, but she immediately pulls her hips up so she is in a standing position. I love to see her stand up though; my girl is getting so big. She loves to cuddle too and I will NEVER complain about that. I could hold her all day long. Her Daddy likes to make her fly and she loves that too. I think we are still at a 100% success rate of no crying during her flying around the house with Daddy.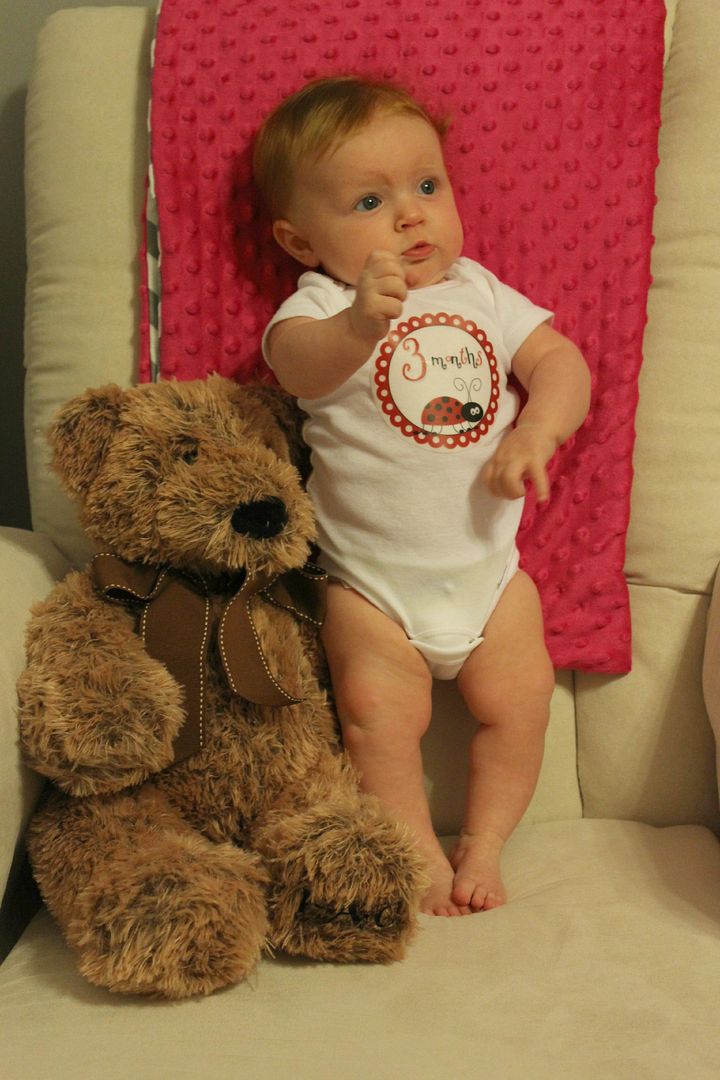 Dislikes: Being tired. She has started to fight sleep in the afternoon (anytime between 4 p.m. and 6 p.m.) which then makes her really fussy because she is super tired. Any mamas out there with advice on what to do to get her to take a nap longer than 20 minutes in the afternoon, please share your advice!
Sleeping: We actually just started applying techniques from The Baby Sleep Solution and so far, the nighttime sleeping is working. Thank you Jesus! We get a solid 9-10 hours out of her at night, which has been such a blessing to these very sleep deprived parents. Now if we could just master the naps.
Diapers: I recently discovered nighttime diapers. I cannot believe I didn't realize that they made these for infants. I thought that they only made nighttime diapers for older children that were potty training. These things have been awesome in keeping Baby K from waking thru the night. Of course, if her diaper is more than wet, we will change her, no question about that. I certainly don't want her to get another UTI!!! She is still holding steady in size 1 diapers and we are strictly a Pampers household. We had way too many blowouts with Huggies.
Eating:
Doing great, clearly. My girl doesn't miss a meal and she also doesn't let me even begin to forget when it's time to eat again.
J
Clothing: She is steadily in 3 month clothing at this point. A few things are still a little big on her, but for the most part 3 month clothing is where it's at. I actually thought she would have worn 3 month clothing earlier, so a lot of her clothes are for warmer weather. I need to buy her some more cool weather/fall outfits in the 3 month size. I'm heading to a consignment sale with my girlfriends Summer and Courtney this weekend, so I know I will come home with lots of goodies for my girl.