The past few days have been really hard around our house; poor Baby K got sick which gave us quite the scare. On Monday, Baby K slept A LOT. I thought she was just recovering from being over stimulated as she was kind of fussy on Sunday night, so I didn't think too much of it. However when Tolar got home from work and cuddled with her, he noticed that she was warm so we took her temperature. Using a pacifier thermometer it read 101.4. I didn't know much about fevers in babies so I googled it and then immediately called the pediatrician. She had me take her temperature again rectally (my poor baby!) while she was on the phone with me and it read pretty much the same thing (101.3 this time). Since Baby K is still super young and her immune system isn't fully developed, she had us go to the emergency room.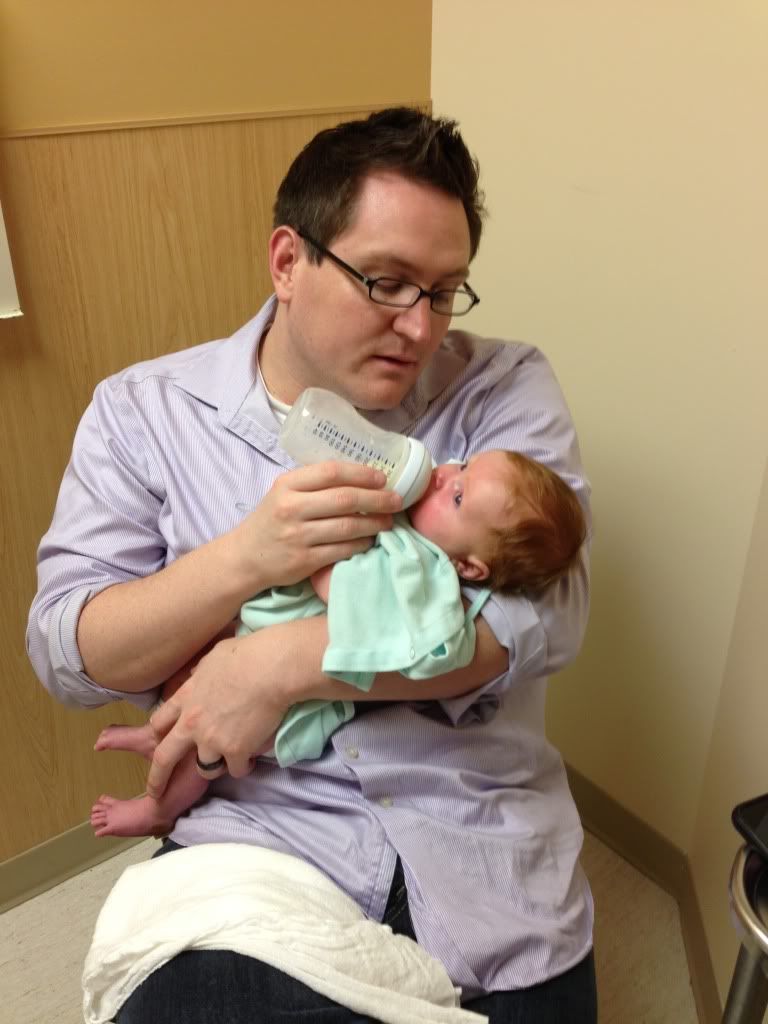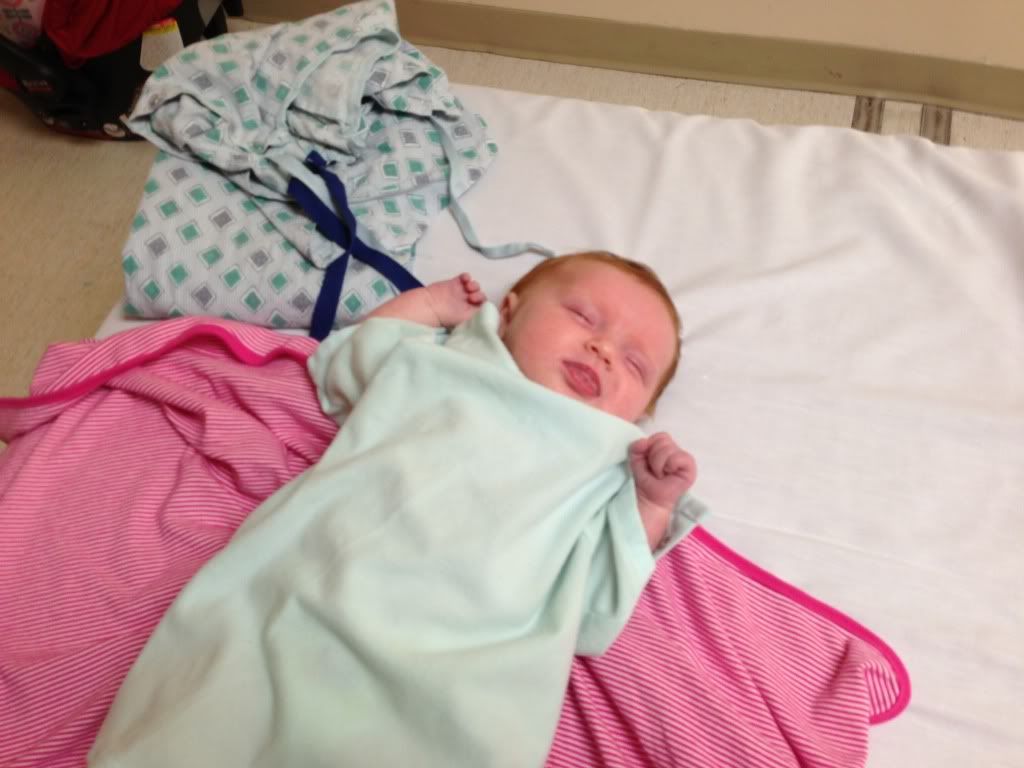 We got checked in at the ER and found out that her temperature had risen to 102.5, which was so scary for us. The ER doctor ordered blood and urine tests and told us depending on the outcome and Baby K's mood she might have to do a spinal tap (luckily we avoided that!!!!). The next hour was excruciating for us all! My poor sweetheart had to have a catheter put in so they could obtain her urine for a culture and then she got poked in three different places so they could draw blood and insert an IV. She screamed and cried the entire time. It was so hard to watch! I tried stroking her cheek and constantly telling her that she was ok and that I loved her, hoping my voice would calm her down. But that didn't work and I certainly can't blame her. She was being held down, had needles poking her and she had no clue where we were. It broke my heart to know that she had no clue why this was happening to her and to see her in such pain. I even started crying myself at some point because I HATED this for my child. I'm even tearing up as I write this because I don't ever want her to have to go through this again. I don't think there is a worse feeling in the world than having your child be in pain and know there is NOTHING you can do to help them. Just remembering the sound of her cries makes me so upset. Once they got everything they needed we were allowed to hold and cuddle her and just wait. I'm sure you know how the emergency room goes, we waited a long time. But my sweet angel was a trooper and slept for a large portion of it and even cracked a smile while her Daddy was playing with her. We were thrilled about that!
Unfortunately, they didn't obtain enough blood for all of the tests the first time so they had to poke her AGAIN and it started her crying all over again. By this point, I was getting anxious around the hospital staff because I wanted them to stop making my child scream. I had to pray through the entire thing and remind myself that these were medical professionals who knew what they were doing, even though I wanted to tell them to leave her alone! Once they got all of the blood and urine that they needed, they gave Baby K some antibiotics through her IV and some Tylenol to help her fever. By the time we left the ER her fever had dropped to 99.6 – Praise The Lord. We were sent home not knowing exactly what was wrong with our child, only that it might be a virus.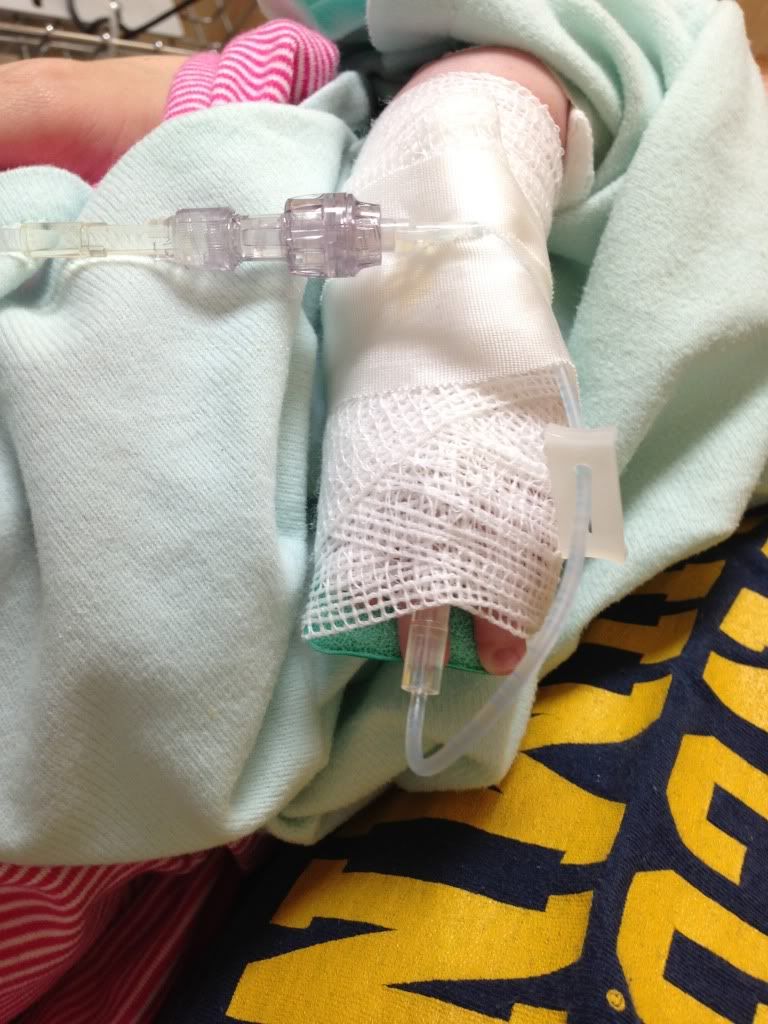 We had to take Baby K to the pediatrician the next day and they had to insert another catheter, cue the screaming baby and anxious Mama. Tolar was so awesome through it all (both at the ER and the pediatrician), just like me he was constantly telling Baby K how much we loved her and that we were right there. I talked to my Mom once we left the pediatrician's office and I started crying as we said goodbye. I was incredibly exhausted after getting maybe 4 hours of sleep the night before and I was just so tired of seeing my baby in so much pain. It was tough being strong for my own daughter and as soon as I heard my own Mom's voice, I got upset. I don't care how old I get, I will always need my own Mom.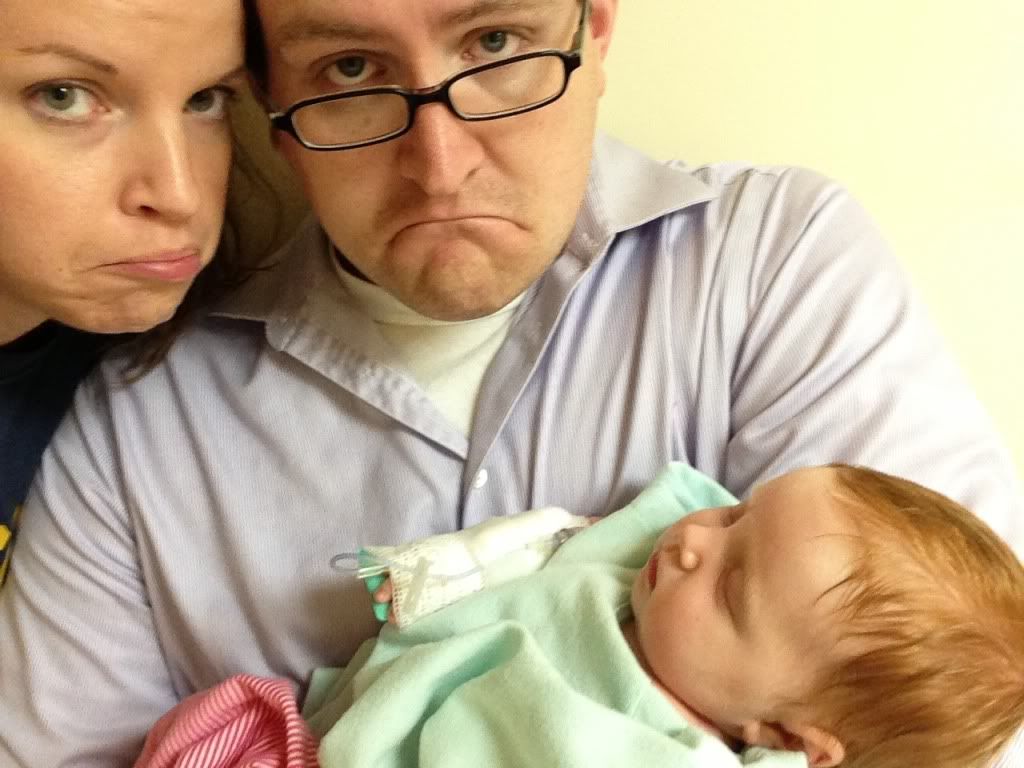 We still don't fully know what is wrong, we have to wait until the cultures have enough time to grow. And that is frustrating! The good news is that Baby K hasn't had a temperature in about 24 hours and that she is acting more like herself. I can tell she still doesn't feel well, but I'm glad she's getting back to the happy baby that I know her to be.
Now on to the reason for the title of this post. Tolar posted to Facebook a picture of Baby K in her little hospital gown while we were waiting to start all of the tests. Immediately after that, people started texting us asking how Baby K was, how we were and if we needed them to stop by our house to let JoJo out. Sadly, my phone died so I really couldn't update my friends with any news (so sorry to everyone for the lag in updates). When we got home and I could charge my phone I was overwhelmed to see the amount of text messages from people who had seen Tolar's picture. Everyone was praying for us!

And the text messages and status comments continue! I posted an update on my personal account and got so many people letting us know they were praying for us. God is so good to surround us with so many supportive and praying family and friends. I know people sometimes have a love/hate relationship with Facebook, but I am so thankful for it because it connected me with people and their prayers when my family really needed it.