Welcome to my weekly post,
Two Tips Tuesday
. I hope you are enjoying the tips; I'm certainly loving all of your comments and your own tips.
Tip #1:
Remember
this post
where I told you about
Caroline G
? Well this is your friendly reminder to go check out the online shop if you haven't already. Also remember that if you enter code
lindsay
at checkout you will receive 15% off your order. While you are at it, I recommend checking out the Caroline G facebook page because there are all sorts of awesome deals available there. An amazing deal started yesterday where you can score a FREE 3-stone necklace. So get your cute self over to facebook and see for yourself. And be sure to mention that Lindsay from Pursuit of Pink sent you over there.
Tip #2: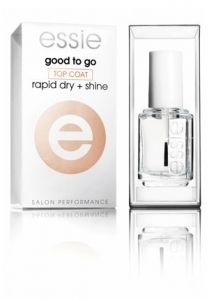 [via]
Looking for a quick dry solution to your nail polish? I have found an excellent quick dry top coat:
Essie Good to Go Fast Dry Top Coat
. This polish finish does just what it says, it dries super fast. One of the main reasons I don't paint my nails as much as I would like to is because I don't have time to sit around and wait to let my nails completely dry for 20 minutes. But I have discovered my new secret weapon in this magic fast dry top coat from Essie. I paint my nails, apply the top coat and about 3 minutes later I can touch my nails and no smudges happen, they feel as smooth as can be because they are completely dry. I highly recommend you try this product if you are looking for a quick fix manicure.
And to give you a little bonus for this tip, check out another awesome fast drying nail product
here
.
I linked up this post with
Northern Belle Diaries
for her Just Because link up!