Hi everyone - who is REALLY over this snow? We got yet another snow storm here in the D.C. area and I am completely over it!!! My family was visiting over the weekend for Baby K's dedication and luckily everyone was able to get home before the snow came.
We had a great weekend! My mom, dad, aunt, sister and nephew all came to visit to help us celebrate Baby K's dedication to God at our church. Prior to going to church, we had lots of play time with the kiddos! My nephew and Baby K really love each other, it is so cute to see them interact. So we played around the house lots and then took them to the park before the weather decided to turn cold.
I'm thrilled to report that Baby K didn't suffer from too much separation anxiety over the weekend. She let everyone hold her and play with her and didn't cry if Tolar and I weren't around! This is such a huge win! She let my aunt feed her some food in her high chair and several people took turns giving her a bottle (which she can hold all on her own now).
And during her dedication, she was awesome! We got to go up on stage and have one of our Pastors pray over Baby K as we publicly declared that we will be raising our child a Christian - following God's word and God's ways. Baby K was so good while we were on stage. She look around and smiled and even touched Pastor Jeremy's hand while he was praying for her. It was so cute.
Here are a ton of pictures from our weekend with family. I seriously wish time would stand still longer during family visits - the visits always go by way too fast. And I'm so sad to report that the only picture my aunt made it into was the family photo of us all at church. Candy, you better get in more photos next time!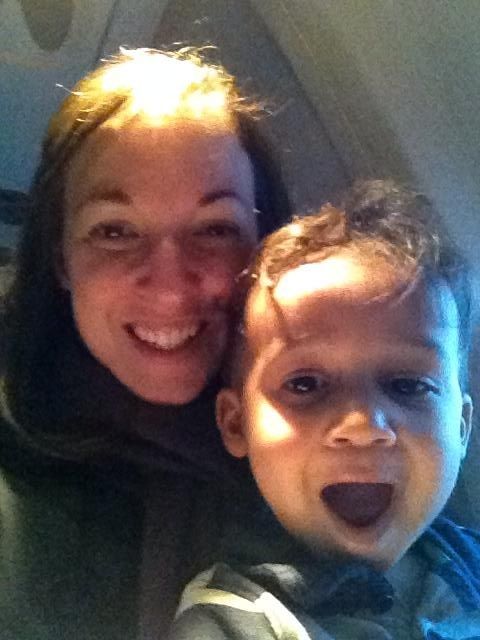 Someone had their first plane ride this weekend!