I have a different High Five For Friday for you this week. And it starts with a story... apologies in advance if I use a lot of exclamation points. :)
As you know, we were visiting Tolar's family in Illinois last week and we were supposed to head home on Sunday night. Well the crazy weather brought some snow to the D.C. area which prevented us from flying home that night, so we booked a flight for Tuesday night. Well Tuesday's flight got delayed until Wednesday night, causing us to stay in Illinois one more night and invade my in laws' space until Wednesday afternoon.
All snuggled up in the Ergo.
We finally get to the airport on Wednesday, get through security and make it to our gate (all with a very tired Baby K) only to wait and wait and wait at the gate. We were supposed to leave at 5 p.m., around 5:15 we are still sitting there and are told they will start boarding us at 5:30. 5:30 comes and goes and we are stuck just waiting. They finally board us and by this time Baby K is cranky, but thankfully not that fussy. We pull away from the gate, I think "This is it, we are finally leaving. Once we get up in the air Baby K will hopefully fall right to sleep." WRONG. The pilot comes on to tell us that we have to wait our turn to take off and it will probably be another 20 minutes before that happens. The only problem...while backing away from the gate Baby K poops in her diaper (sorry for the TMI!!!). And now that we aren't at the gate, we are not allowed to get up from our seats!!!! We can't leave Baby K just sitting in a dirty diaper for that long, so Tolar and I decide that we
have
to change her in our laps.
Luckily Tolar places the changing pad down across our legs and I start to change her and then I realize - there is A LOT!!!! It is all up her back and all over her onesie (seriously, did this
have
to happen on the flight?). I start freaking out, because it is a lot of poop and we are stuck on a hot plane with tons of people around us. And it doesn't smell like fresh tulips either. All while changing Baby K she is screaming and squirming because she is so exhausted and for some reason no one on the plane is talking and the white noise that I usually look forward to is non existent. It is completely silent on the plane except for our screaming child (who I should add has been an absolute doll on her other FIVE plane rides - so Tolar and I are not prepared for this).
We finally get her changed (clothes and diaper) and the plane takes off. Once we are up in the air, Baby K starts to get fussy again because the poor thing hasn't napped that well and is completely exhausted. Tolar tries to calm her down first, but she just keeps screaming. I take her into my arms since I am by the window and hope that I can contain her crying - yeah right - but she keeps screeching. I know she is just tired and is fighting sleep, so I keep trying to rock and pat and shh and soothe her. Nothing seems to work so I just begin praying. I pray for God to give her peace, to help her sleep and for God to also give us grace because I am sure the rest of the very quiet passengers are not very thrilled with us.
Baby K finally quits fighting sleep and passes out across both of our laps and during her nap, is where I discovered this week's High Five For Friday. I was so thankful that our sweet girl was able to get the rest she needed and so relieved to not have to go through the stress that we just endured that I started listing off my five reasons to be thankful:
1.) I'm thankful that Tolar and I have this child - screaming, pooping and all - to love and to care for. I can't imagine life without her.
2.) I'm thankful for the women seated next to us who loudly declared for the rest of the plane to hear that they thought she was doing "just fine."
3.) I'm so thankful Tolar put the changing pad down or else we would have poo all over our pants too.
4.) I'm thankful that Tolar was on the flight with me and has been on every other flight too. Hats off to the parents who travel with infants alone. You are my heroes.
5.) I'm thankful that a screaming, pooping child was all the stress we had to deal with in that moment. I know there are a lot worse things happening to people all over this world and if that is what we had to be stressed out about, I consider us extremely lucky.
We survived, Baby K napped most of the flight and then woke up to play and bounce around. We made it home and put our little angel right to bed. Whew! So glad that flight is behind us.
I'm linking up this High Five For Friday post with
Lauren Elizabeth
.
******************************
Have I got a treat for you! Everyone must go check out
The Pinspired Mama
right now. Jill has a great blog where she tries tons of different recipes that she finds on Pinterest (you read that right - Jill
actually
creates the things she pins! She's my hero.). Check out her recent recipe for
Skinny Chocolate Chip Banana Muffins
- she had me at skinny. Reading Jill's
About Me
page makes me think I am reading my own blog - we have so many things in common. She is a new Mama to an adorable son born only a few weeks after Baby K. I mean, just looking at the pictures of her cute little Cole is reason enough to visit her blog.
The Pinspired Mama
is so inviting and I really feel like I have spent the afternoon with her after reading through some posts. I would seriously love to hang with Jill and have her make me these
stuffed bell peppers
- to die for!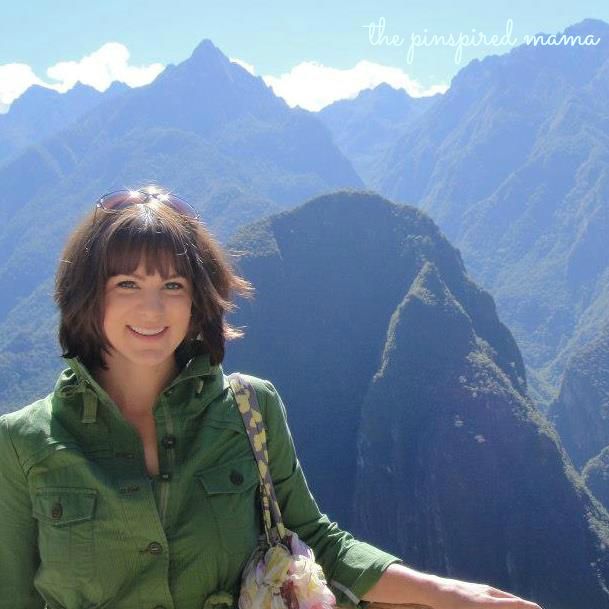 If you are looking for a great new blog, look no further than
The Pinspired Mama
. You will not be sorry you checked her out!