Hey everyone! Since there are a lot of new people hanging out around these parts (so happy to have you all!!!), I thought now was the perfect time to do another Girl Behind the Blog type of post. You know, just giving me another chance to talk about myself. Kidding. Well, maybe.
Before I kick things off, there are already a few places to find out some random info about me. Just check out my
About Me page
or click
here
or
here
. And if that stuff isn't enough, I've got you covered below!
1.) I grew up in Southern Virginia, went to college in North Carolina and now I live in Northern Virginia. So I haven't strayed too far, however Northern Virginia is an entirely different state from Southern Virginia. Tolar and I would really like to end up in North Carolina (the people are just so nice down there and the mortgages are a whole lot cheaper!), but for now we feel really called to this area and to serve in our incredible church.
2.) Forgive me while I get a tiny bit sentimental, but my sister is one of the closest people in my life. We were lucky to grow up so close in age (she probably hated having her little sister around all the time), but now that we are older I am over the moon that we get to go through the same things in life at the same time. She has been a HUGE support system for me during my pregnancy.
(This is one of my favorite pictures of us from my wedding day.)
3.) Which brings me to my next point – if you didn't know, I'm pregnant!!! Ha! Well, I'm sure you all know, but if not now you do. I'm due July 12 which is just under 3 weeks from now. Oh my gosh, when did I become a grownup and stuff?
4.) I love a good list. Especially a to do list. I make one every. single. week. It just helps me get everything done and I always feel a slight sense of accomplishment when I can check something off. (I may or may not add extra items just to check them off because I know I can easily complete them)
5.) I watch every dance show that comes on tv. My favorite is always So You Think You Can Dance because those kids are so freaking amazing and I'm totally jealous of what they can do!!! Back in the day I used to dance and all of these dance shows just help me relive my past. Props to my friend Suzanne who even took me a So You Think You Can Dance tour several years ago – we had the absolute best time!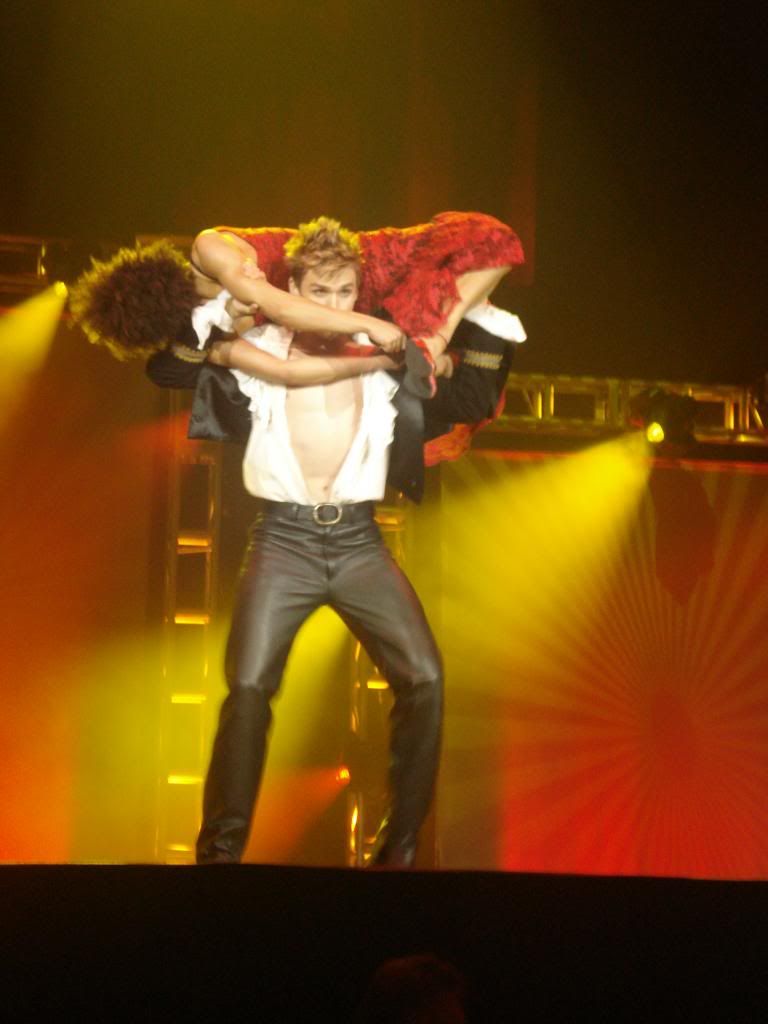 (Anyone remember this awesome Paso from Sabra and Neil in Season 3?)
6.) I don't really know how to write in cursive. In fact, you can read every single letter in my signature because the majority of the letters are in print. Any time I try to write in cursive if looks exactly like it looked when I was taught in the third grade!
7.) If I start a book, I must finish it. That doesn't mean I still have to read the entire thing (just ask my book club how I skipped large portions of The Blind Assassin), but I must make it to the end. Very rarely do I skim a book, but I just have a problem not finishing a book no matter how boring.
8.) I could spend all day on social media. In fact, I spend a large portion of my day doing just that (thank goodness its part of my job!). Which reminds me, let's stay connected: follow me on
instagram
and
twitter
, like me on
facebook
and check out my pins on
pinterest
(is that what you say?).
9.) I love to laugh. Especially laugh until you cry and your mascara runs down you face. It just isn't worth it unless you ruin your makeup right? And Tolar does a pretty darn good job of making me laugh all the time.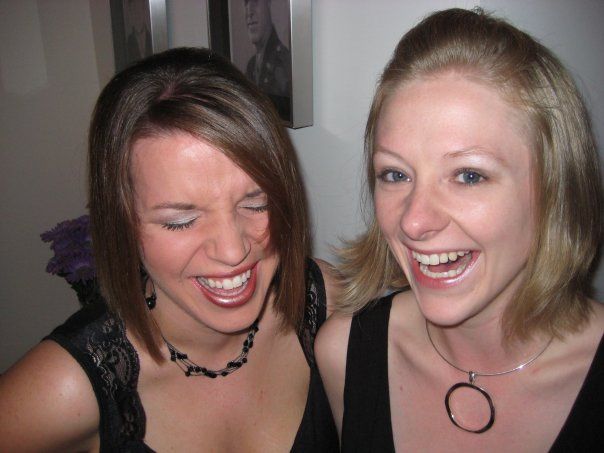 (That's me and my girl Jessy from several years ago, before we were both married and mamas - but still hot mamas then!)
10.) I'm obsessed with eating peanut butter. I seriously could eat an entire jar in one sitting if people didn't think it was weird or that I might have an eating disorder. But I just love peanut butter! With my ice cream, on a banana, in a Reese's cup, on vanilla wafers, as a sandwich, however. Just give me the peanut butter. Which reminds me, Tolar and I went to the Cheesecake Factory and I got a Peanut Butter Cheesecake to go which is calling my name from the refrigerator.
So with that, I'm wrapping this list up! And there you have it – even more random facts about me. I look forward to getting to know you all, thanks for hanging out around
Pursuit of Pink
.