So I've been talking about our bathroom renovation for awhile and I am finally ready to show you the complete transformation! And it's a beauty!!!
Let me just start off by saying that I simply love our new master bathroom. I love things clean and tidy and having a brand new bathroom with all new, well, everything just makes me happy and content. Our old bathroom had white tiles on the floor and in the shower which means that our bathroom constantly looked dirty. Every other day I would freak out and think I was losing control of life our house was a disaster all because I would start and end my day in the white bathroom that showed hair and dirt so easily. It wasn't really dirty by normal people's standards, but my crazy OCD always took charge and kept me constantly cleaning. Now that our bathroom is brand new, clean and not so white I feel so much more in control.
Let's take a look at the before.
Gross right? When we first bought our house, I thought I could live with the white bathroom, but I quickly changed my mind. Enter my awesome friend Katie who just so happens to run her very own Interior Design firm,
Olios Design
, and we were well on our way to redoing the master bathroom.
Katie took us to the tile store to start and we were completely blown away by how many options there were. Did you know that there are different colors of grout? I had zero clue!!! As you can see in the photos, we selected dark grey tiles for the floor and beige for the shower. It was really important to me to have large tiles because I didn't want to worry about having all sorts of tiny nooks and crannies to clean like the old bathroom floor had. Katie told me I was very bold for selecting such large tiles in a tiny space. Sure, that was exactly what I was trying to do – take a design risk.
J
The tile store was a little overwhelming because there were a lot more decisions to make than I had planned for, but that is the beauty of taking your interior designer along with you. She can guide you to make the decisions that you want.
In addition to new tiles, we also updated pretty much everything else. We installed a new vanity, shower and sink faucets, toilet, towel racks and mirror. I decided to keep the white cabinet we had over the toilet and I think it fits in pretty well with everything else.
My favorite part of the entire bathroom is the shower niche. This is the little nook that is installed in the shower that we are using to hold our shower gels and shampoos. It's quite the space saver and definitely looks prettier than the suction cup holders we had in the old shower. I also love the accent tiles we selected for the shower – that was all Katie's idea. I didn't even consider accents until Katie suggested it. She's got quite the eye!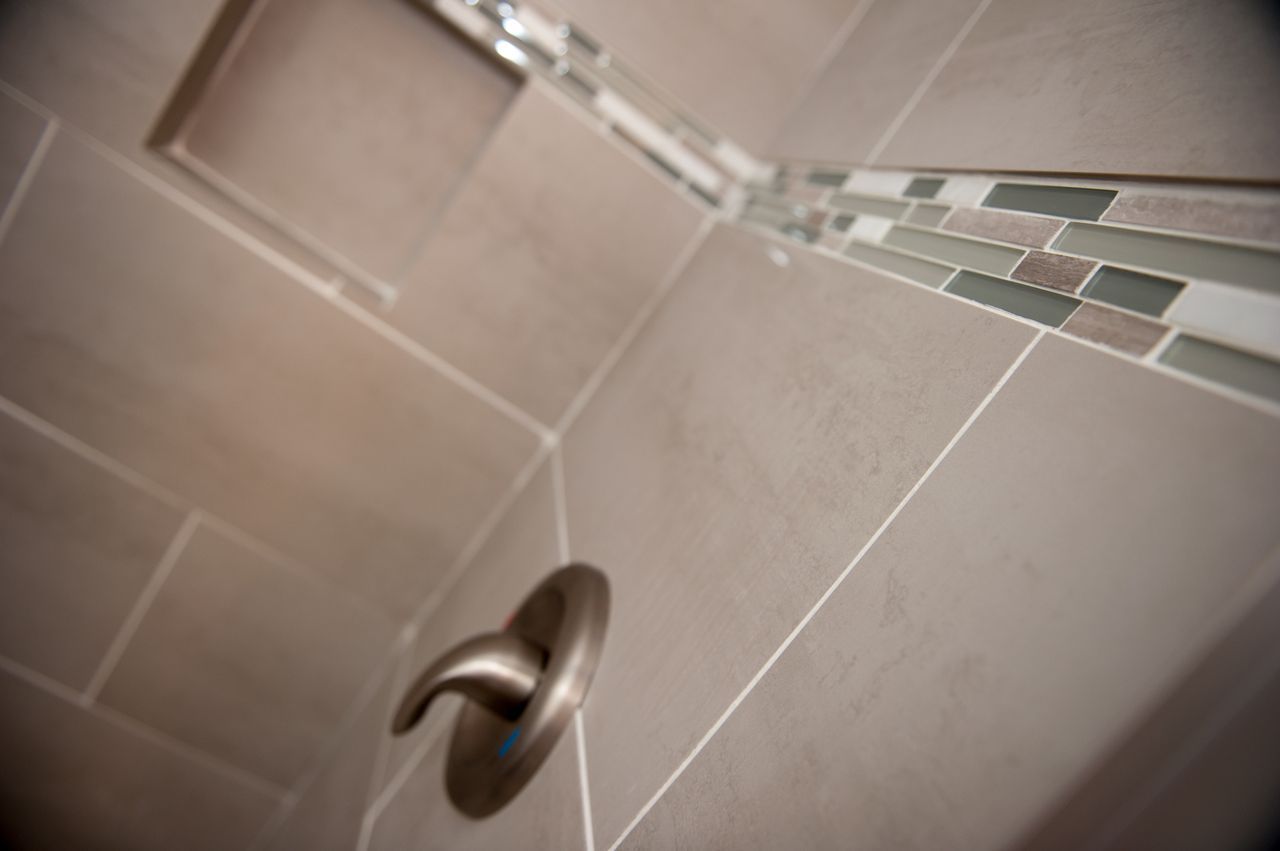 I'm in love with the new bathroom, it makes me so happy. I'm incredibly thankful to Katie for working with us to select everything that we wanted. I highly suggest working with an interior designer anytime you are taking on a major project or even for small projects where you just aren't sure which direction you want to go. If you live in or near the Northern Virginia / D.C. area, definitely check out
Olios Design
. You will not be disappointed! And for those of you who don't live close by, check out
Katie's blog
for Olios Design. Her blog is filled with all sorts of home décor inspiration and tips.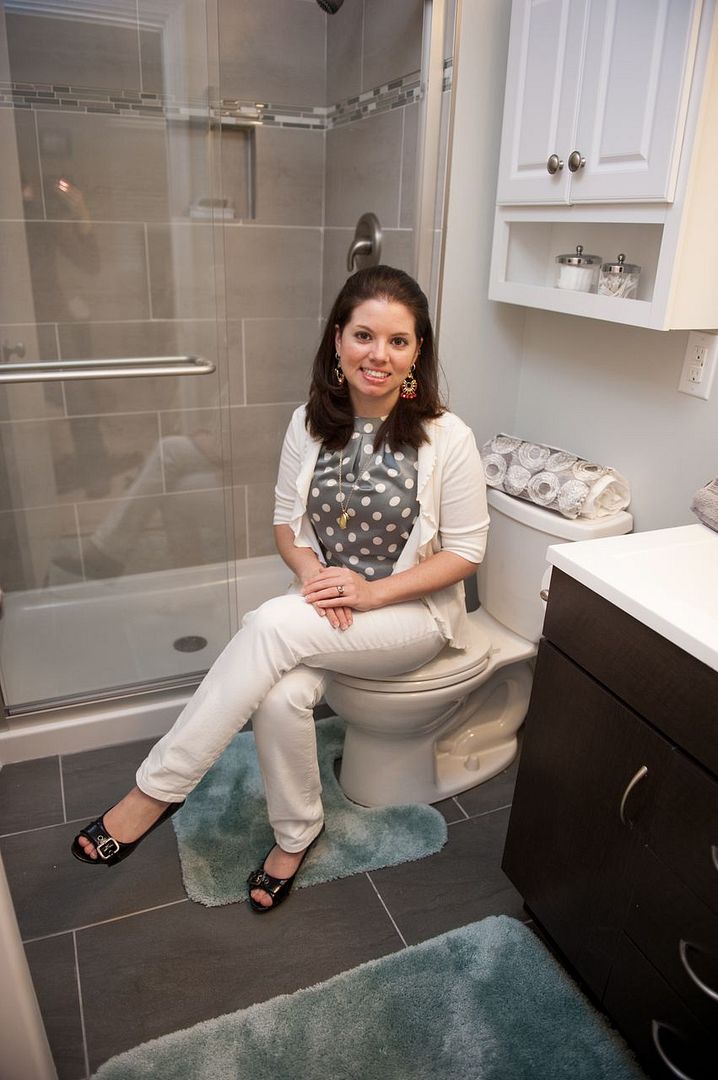 Let's take a final side by side look at the before and after - its quite amazing!