On Friday I posted a quote from Christine Caine that really resonated with me.
"God is preparing you for the thing that He has prepared for you. Don't give up."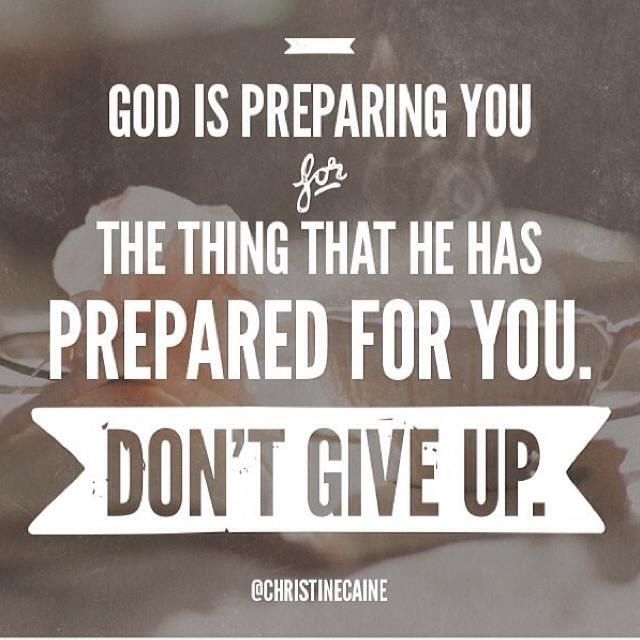 After going through everything we have experienced this year, I have found this quote to be extremely true! You can read more about the beginning of our story by clicking here and here, but today I want to share with you what has happened next!
We moved to Dublin, VA at the very end of June and officially called it home on July 9, 2014. I never imagined that I would live in Dublin; it is quite different from Northern Virginia and any life I ever imagined for myself. In fact, during some sad times I worried how my life would end up by us living here. I heard Darius Rucker's song "It Won't Be Like This For Long" and replayed that song a lot; trying to remind myself that the sadness and loneliness that I was feeling wouldn't last long. And you know what – it didn't!!!!
Tolar and I decided that the first thing we needed to do was find a church. Getting planted in a church is extremely important to us: church is where we met each other, it's where a lot of our D.C. friends were made and it is the place where our souls get fed. So we set out searching for a church, looking online, getting recommendations from people and decided to try a community church not far from my parent's house. The service started out with lots of promise; people were friendly, the worship set was good and it seemed like it would be similar to our beloved DC Metro Church. But sadly, we just didn't get much out of the Pastor's message and didn't feel like we had found a match. We came home that first Sunday and seemed kind of defeated. We NEEDED church in our lives. I was so scared of leaving Northern Virginia and DC Metro Church because it was there that my relationship with Jesus really came to life. Through DC Metro Church, I understood and experienced what it meant to have a relationship with Jesus, to be in love with Jesus, to talk to Him and see His blessings daily and my prayer life increased drastically. I was scared of losing all I had gained.
So we prayed and we searched some more. Tolar ended up checking out the website of the Association of Related Churches (ARC - the organization that DC Metro Church belonged to) and found that there was a brand new church launching in our area on September 7, called Lifeline Church. We couldn't believe it!!! God answered our prayers immediately! The funny thing is Tolar had looked at the ARC website when we made the decision to move to Dublin and didn't see any churches in our area. God was planting Lifeline Church at the EXACT time that we needed it most.
After finding out about Lifeline Church I e-mailed the Pastor immediately and told Him all about our involvement with DC Metro Church, including launching campuses there. And the Pastor called me back within hours! We found out that they had weekly meetings leading up to the launch date, so we made plans to attend the very next meeting. We were excited about the possibility of this church, but nervous and certainly didn't want to get our hopes up.
I am here to tell you that God showed up in our lives the night we joined Lifeline Church for their meeting. We were instantly greeted by this awesome couple (our amazing friends – and first New River Valley friends – Brad and Jessi) who knew nothing about us, but they welcomed us with open arms and told us all about Lifeline. In fact, that night it was so easy for me to talk with Jessi, it was like we had known each other for years. Once the meeting started, we realized that Lifeline was VERY similar to DC Metro Church and I was so excited to get started. Lifeline's mission is to meet the needs of people; spiritually, emotionally and inspirationally – which is exactly what we found in D.C. The icing on the cake was when we got to join the worship team for their rehearsal. Tolar is a musician and LOVES to play and was really hopeful that he would join the worship team wherever we landed. Well this worship team blew us away. They were amazing!!!! Tolar even got a chance to step in and play with everyone for a little bit and felt like a kid on Christmas morning. He meshed so well with the band, we were so excited.
We both walked away from that meeting knowing we had found our church home. Knowing that God had never once forgotten about us. Knowing that even though we often questioned what was next for us since everything happened back in March, God WAS and IS in control. God had a plan for us, we just couldn't see it at first! Just like he says in my favorite verse that I have clung to so many times in life and really clung to it during times when I wasn't sure what was next for us. (Jeremiah 29:11 – "For I know the plans I have for you," declares the Lord. "Plans to prosper you and not to harm you, plans to give you hope and a future.")
And things keep getting better and better. We helped the church launch at the beginning of September and have been blown away by how giving and wonderful God has been to us. We are making some great friends through the church, I have the amazing opportunity to love on children during service and Tolar gets to play with the worship team.
Finding Lifeline Church has made it so clear to me that we were MEANT to move away from Northern Virginia and DC Metro Church. We are supposed to be here in Dublin. We are supposed to partner with Lifeline and help other people find the Jesus that we know so well. I'm so excited to see what God has in store for our family, and I know it is something amazing. Because He has already done something great by starting Lifeline Church. I remember J.B. (our Pastor) even said to me on the phone that he truly felt like God had sent us to Lifeline Church, but I believe that God sent Lifeline Church to us. He sent Lifeline Church when we needed it most. And I pray that the same rings true for so many people here in the New River Valley.
(If you are in the New River Valley, please join us on Sundays at the Regal Movie Theatre in Christiansburg. Service starts at 10 a.m.)