If you are looking for me on this early morning, head over to
Heart Shaped Sweat
. My sweet blog friend Kristine invited me to share some of my beauty
wisdom
thoughts :) on her blog.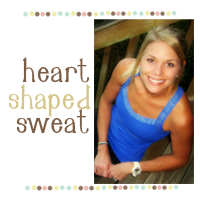 Be sure to check it out as I'll be sharing my thoughts on a foundation makeup primer. Don't worry, I've still got some eyelid primer thoughts left for Pursuit of Pink, but you won't want to miss this.
So head over to
Heart Shaped Sweat
now and please stay awhile, because I know you will find plenty of other inspiration on her blog. Kristine is amazing!!! Enjoy.
(And I'll be back in a little while with Two Tips Tuesday)