Beauty Box 5 has provided me with a complimentary subscription for review purposes. All opinions in this post are my own.
I have made no secret of it; I simply adore
Beauty Box 5
. I love that the products fit perfectly into my current beauty care routine. This is my third Beauty Box 5 that I have received and I simply adore everything that has been included.
Before I talk about the great products that were in my December box, let's talk about how you can get your own.
Beauty Box 5
is a beauty subscription service that sends a box with five different beauty samples to your mailbox each month for just $12. All you have to do is
click this link
, sign up and your box will be on its way to your mailbox. Any last minute shoppers out there? Why not send a Beauty Box 5 subscription to someone, I KNOW it will make their day each month when they see the cute little box arrive in the mail.
The December box was called naughty and nice, because the modern woman is many things. Here are the great products that I received: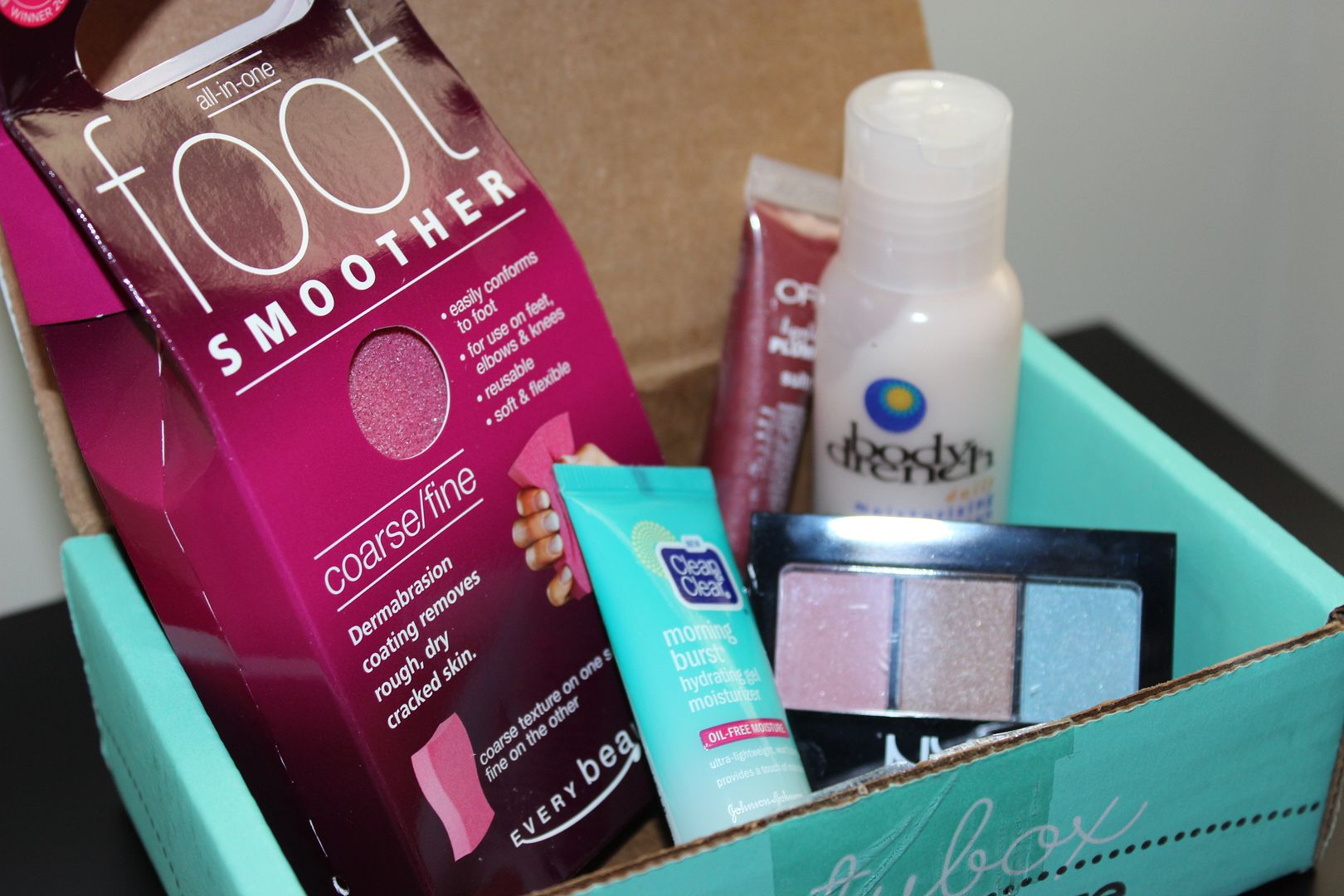 1.) NYX Cosmetics, Love in Rio Eyeshadow Palette – I was just thinking the other day that I wanted to add some more colors to my eyeshadows, it's always fun experimenting. And this palette gives me an opportunity to play around and try out some new eyeshadow looks. One thing I love about this brand is that their shadows are very matte, with just the slightest bit of shimmer. That is a little different than the other types I have in my makeup bag, so I'm excited to break out of my normal beauty routine and try something different.
2.)
Body Drench Daily Moisturizing Lotion
– During the winter, a girl can never have too much lotion (its one of my
winter must haves
!). This lotion absorbs in the skin fast letting me know that it is working as soon as I rub it on.
3.) Ofra Cosmetics Sultry Lipgloss Plumper – I love the darker color of this lipgloss as a lot of glosses tend to come in hot pinks and reds - this is the perfect shade for winter. And this one has a touch of plumper built in, so anyone needing to add a little bit of oompf to their lips, then this product is for you!
4.) Clean & Clear Morning Burst Hydrating Gel Moisturizer – Oh this is a great face product! It is perfect for all skin types (how often do you find that?), it feels very light yet keeps your skin from drying out. Just like with moisturizing body lotion, your face needs a good moisturizer during the winter too. I love the size of this sample, its perfect for travel (and the screw top lid keeps everything from leaking out in my suitcase).
5.) Every Beauty Flexible Foot Smoother – Even though its winter, our feet still need some pampering. This is a great foot smoother that you can use either dry or wet. You can rub away rough spots on your feet in just a few seconds. I might have to do an in home pedicure tonight!
So there you go, great beauty products delivered right to my door. And I can use every single one of them! That's an awesome thing. To sign up for your own
Beauty Box 5
, just
click this link
. And if you have any questions about the products or the subscription, let me know in the comments section below.