Just in time for the holidays and all of your family gatherings, I bring you my absolute favorite food…lasagna. And not just any lasagna, but my Mimi's lasagna. When I was a child, anytime we would visit my Mimi's house she would always let my sister and I select what we wanted for one of our dinners. And I ALWAYS asked for lasagna. I can't even think of a time when I didn't ask for it, because I absolutely LOVE it (in case you are wondering, my sister always requested fried chicken).
Just thinking about the holidays makes me think of my Mimi and how I wish I got to spend more time with her. So I decided to whip up her yummy lasagna the other night so I could feel close to her. And with Tolar and I being the only two people eating it, we got to have lasagna for a more than one dinner – super score!
To make this fab meal, I ran to Safeway to grab all of my necessary ingredients. I know that there are lots of recipes out there for lasagna that have varying ingredients, but there are two ingredients that are constant: sauce and noodles. I have come to love Barilla Lasagna Noodles and Barilla Sauce, so those two items were the first to make it into my cart. One thing that I love about my Mimi's recipe is the cheese. She would use cottage cheese instead of ricotta cheese because she knew I thought ricotta was just too rich. And also, instead of using shredded mozzarella cheese on top, she would use huge pieces of mozzarella cheese that would melt into a piece of cheesy heaven. In my opinion you can never have too much cheese. I do still use shredded mozzarella cheese within the layers, but topping the lasagna with sheets of mozzarella cheese is what really makes this meal.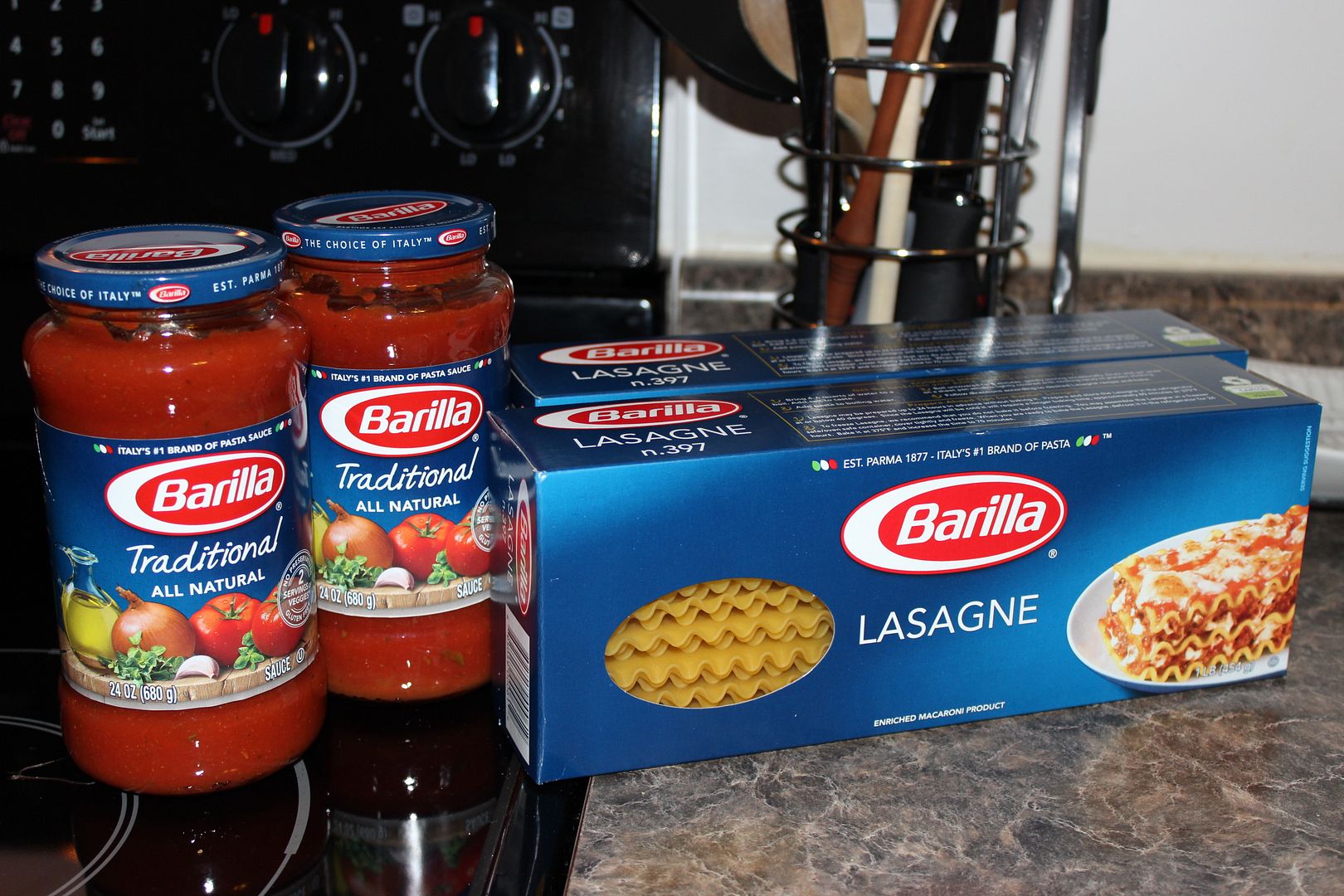 And ohhh the sauce!!! I'm a huge sauce girl and Barilla Sauce is where it's at. I honestly don't remember if my Mimi made her own sauce or if she purchased sauce, but if she did purchase it I am sure she would love Barilla Sauce. It's so flavorful and yummy.
Just making this meal has me very excited for the holidays because it means I will be surrounded by my family and we will even get to visit my Mimi. I'll have to tell her that I am carrying on her recipe, she'll love that.

So here is everything I used to make the lasagna:
1 package of Barilla Lasagna Noodles
2 jars of Barilla Sauce (I used the traditional flavor, you can use whatever you prefer)
1 pound of ground beef
1 16 oz. container of cottage cheese
1 16 oz bag of shredded mozzarella cheese
1 package of sliced mozzarella cheese


First you start by boiling your Barilla Lasagna Noodles. In the past, I have tried to boil my noodles in a small pot and ended up not getting the entire noodle cooked. So I didn't even give myself a chance to fail and boiled my noodles in the biggest pot I have.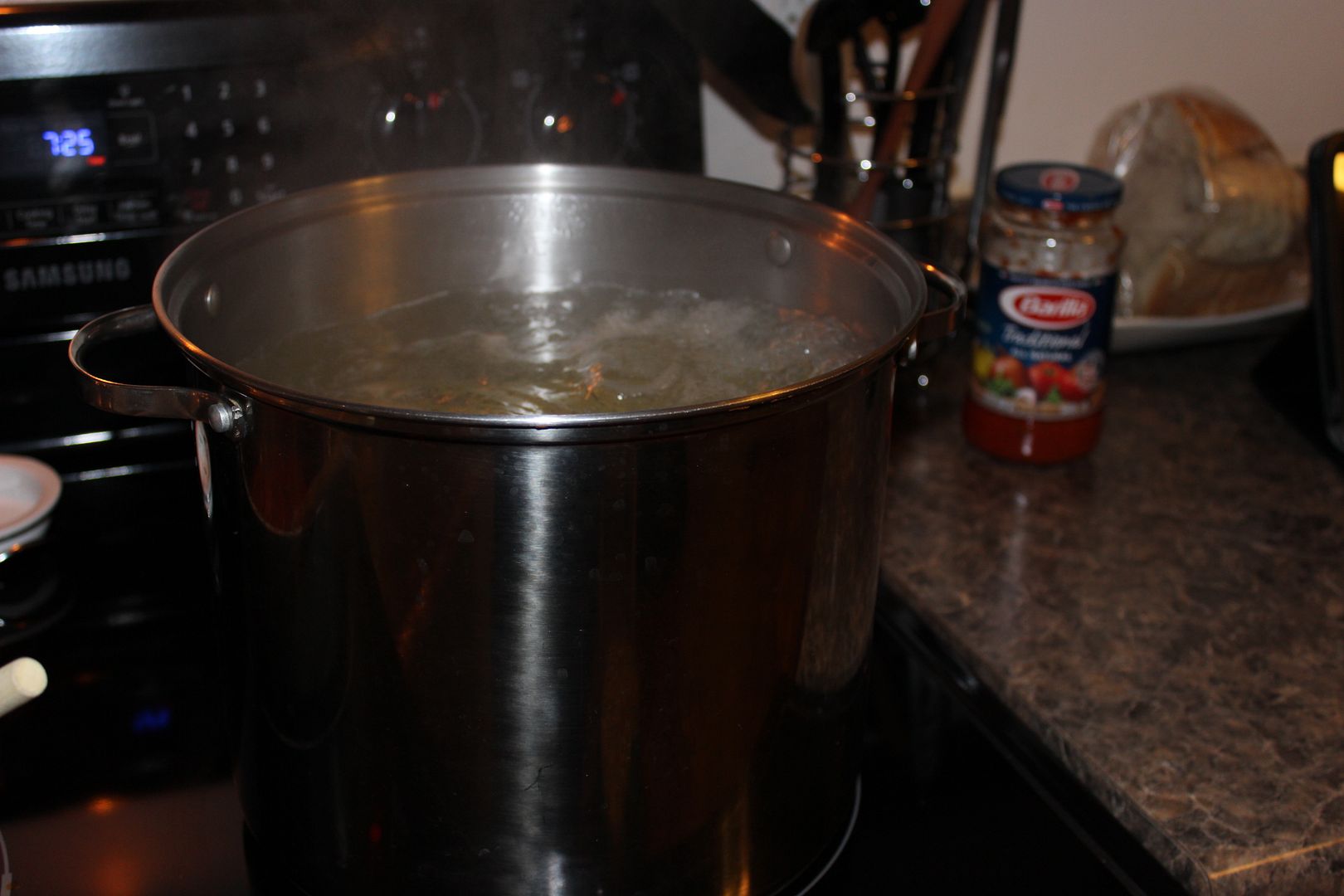 While your noodles boil, go ahead and brown your ground beef. I like to doctor up my beef by adding spices and garlic to it. You can add whatever you prefer. Once the meat is brown, stir in the Barilla Sauce. Since I love sauce, I used two jars.
In a greased glass dish, spread some of your meat sauce onto the bottom. Then top with sheets of cooked lasagna noodles.
Next, scoop out some cottage cheese and spread a thin layer over the noodles. Top the cottage cheese with a layer of meat sauce.
Then sprinkle with shredded mozzarella cheese. Repeat until you reach the top of your baking dish. Once you place your last layer on, top with sheets of sliced mozzarella cheese. I then finish by sprinkling just a bit more shredded mozz over the top. You can never have too much cheese (sorry for those that are lactose intolerant!).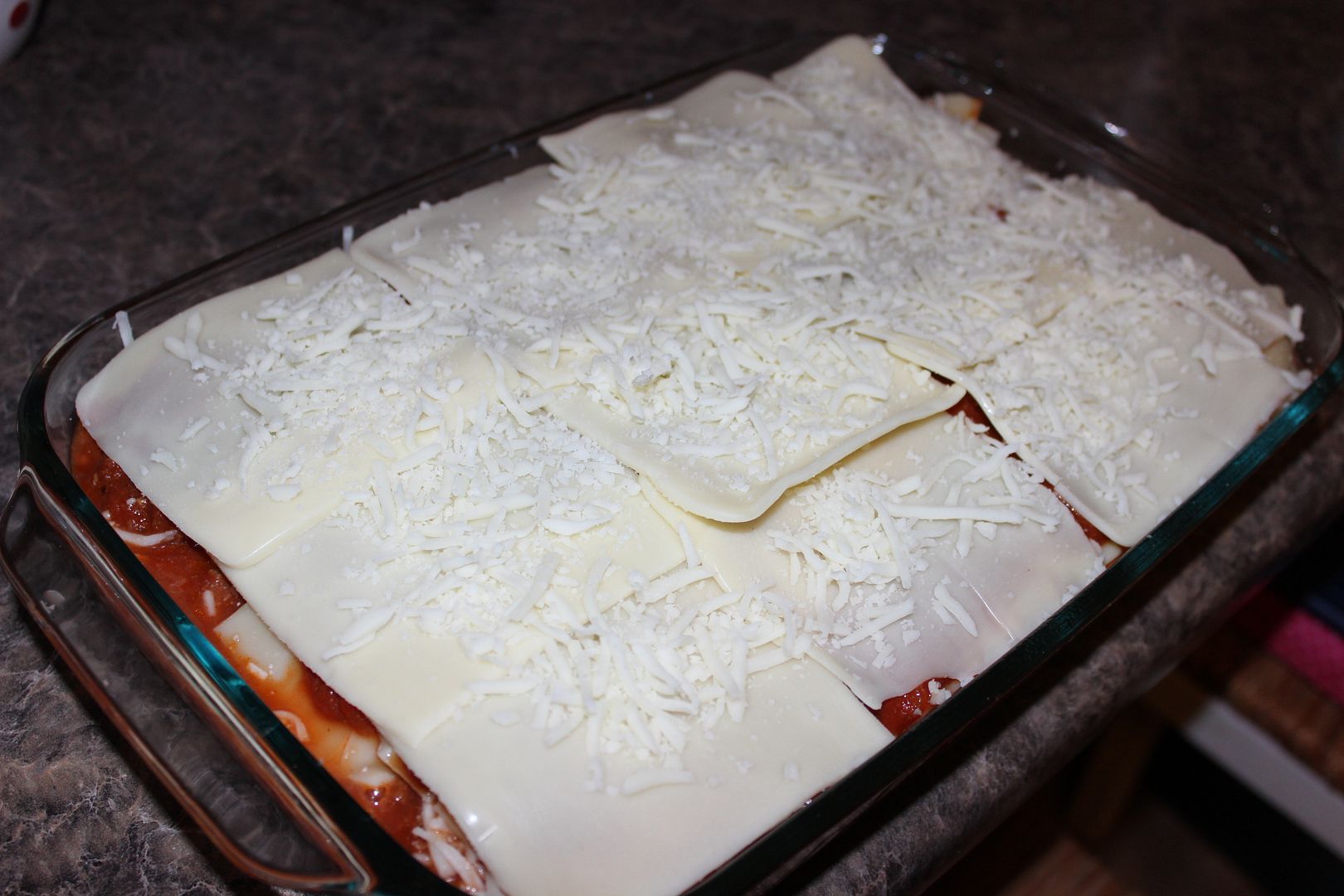 The beauty of this recipe is that you can make it the night before and bake it whenever you like, no need to bake it immediately. I call that time saving! I like to make this meal after I put Baby K down for the night then bake it the next day while I play with her. That way I get all of the quality time with her that I want instead of having to be away from her while I cook. And don't be intimidated by lasagna, this is seriously one super easy recipe that shouldn't take you long to make at all.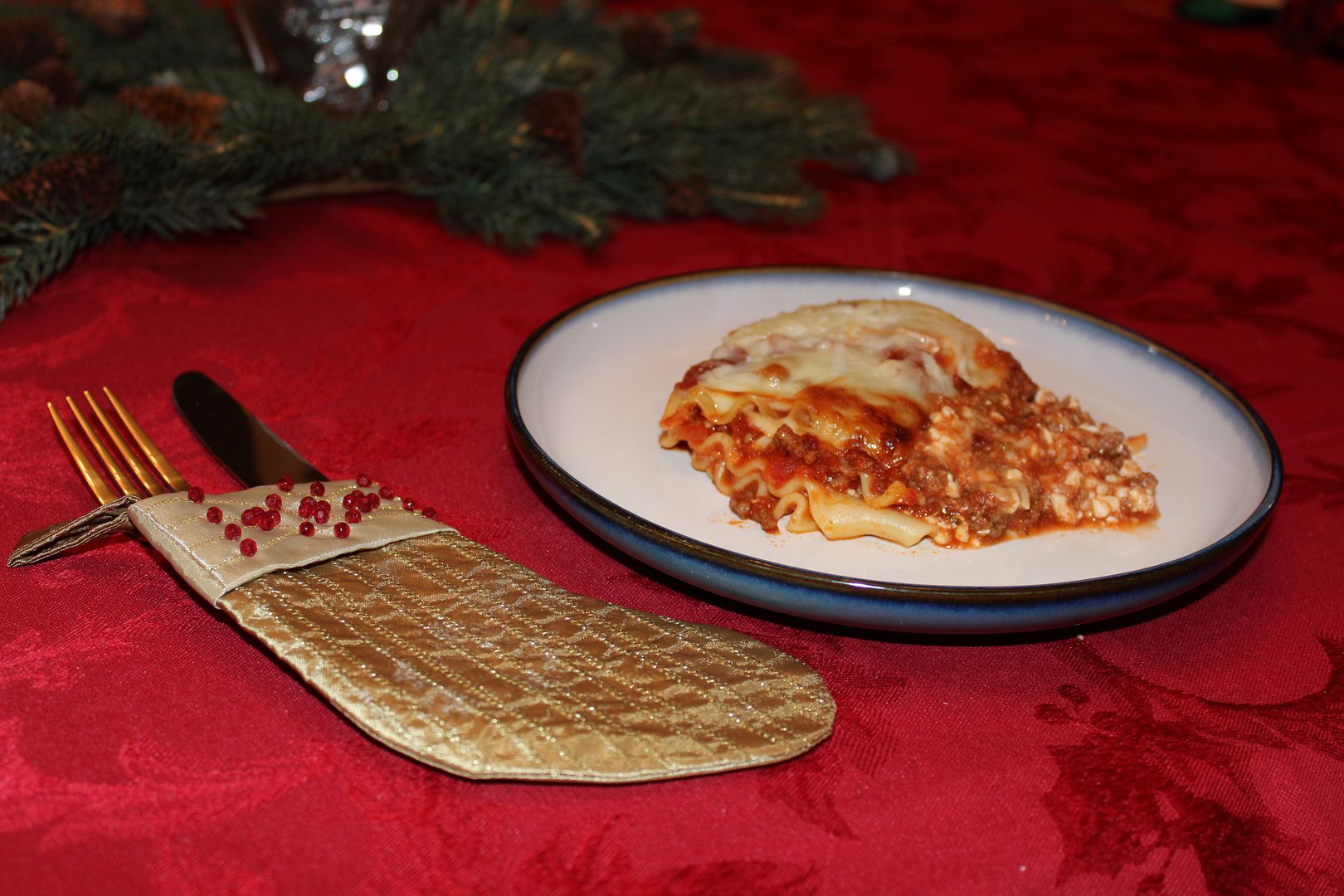 For those of you who want to make this yummy dish and have a Safeway brand store nearby, they are running a promotion right now: $1 off the purchase of ONE (1) box of Barilla® Lasagne and ONE (1) Barilla® Sauce. And if you are like me and love to find all the deals you can, be sure to visit Barilla's facebook page for deals, recipes and coupons.
Happy comfort food eating! I'll be sure to tell my Mimi that you love her recipe.