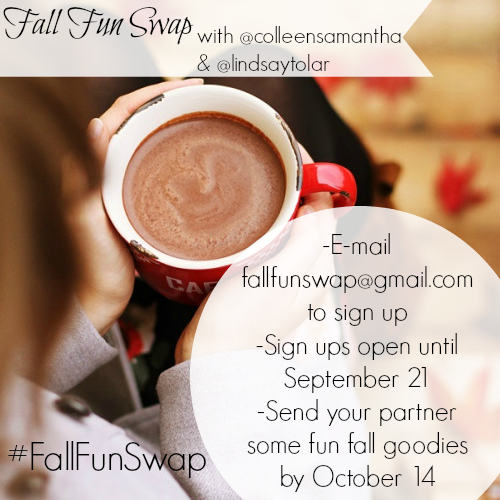 Ah Fall...it is almost here. And judging by all of the photos I have seen on facebook recently, I know A LOT of you are really excited about pumpkin spice, cooler temps, hot apple cider, fire pits and more. Well what about making new friends and receiving packages in the mail? Do you like those things too?
If you do like all of those things, then you should join me and my friend
Colleen Samantha
for our 2nd Annual Fall Fun Swap. We started this on our
instagram
accounts, but we want to open up the swap to everyone. We would love for you to join us - ANYONE (in the U.S.) can participate.
Here are the details:
1.) To sign up, send an e-mail with your name and instagram profile name to fallfunswap@gmail.com
2.) Sign ups will be open until September 21. We will match everyone and e-mail out the partners by September 25.
3.) Once you get your assigned partner, spend a couple weeks getting to know them via e-mail and find out what their favorite fall must haves are.
4.) By October 14, send your partner some fun fall goodies in the mail. You can send them anything: candy, coffee, stationery, gloves, candles, whatever! And don't break the bank, there is a $15 spend limit. Make it fun!
5.) When you receive your package in the mail, show off your goodies on instagram by using the hashtag #FallFunSwap. You can also use that hashtag on twitter and facebook! Spread the word!
***Invite your friend to join in the swap too, the more the merrier. Just send them here to this blog post for the full details.
We are so excited for this! Happy swapping.
(Open to U.S. residents only)