Who loves RO*TEL?? I am a huge fan and have been since the first time I ever cracked open a can. Tomato, chilies, yumminess, genius! Just add a can to virtually anything and it tastes amazing. I have yet to try anything with RO*TEL that I didn't like.
Today, I have a very quick and easy recipe for you to try whenever you are in a pinch for dinner. Seriously, this recipe is so easy and it takes just one pan! Dicing the chicken is probably what takes the longest. This dinner is a real winner in our house, I've made it countless times for just Tolar and I or when we have guests over. It is always a crowd pleaser.
Ingredients:
4 chicken breasts
1 can RO*TEL
1 small can tomato sauce
2 packages Uncle Ben's Ready Rice (I use the Whole Grain Brown Rice)
1 cup water
Shredded cheese (however much you prefer)
Instructions:
1.) Dice the chicken breasts into small bite size pieces and cook in skillet until completely white.
2.) Pour RO*TEL and tomato sauce over the cooked chicken.
3.) Add the rice and water. Stir
4.) Bring to a boil.
5.) Cover, reduce heat to medium and cook for about 15 minutes (until the mixture has thickened and isn't so soupy).
6.) After 15 minutes, top off the mixture with shredded cheese. Allow cheese to melt.
7.) Serve and Enjoy!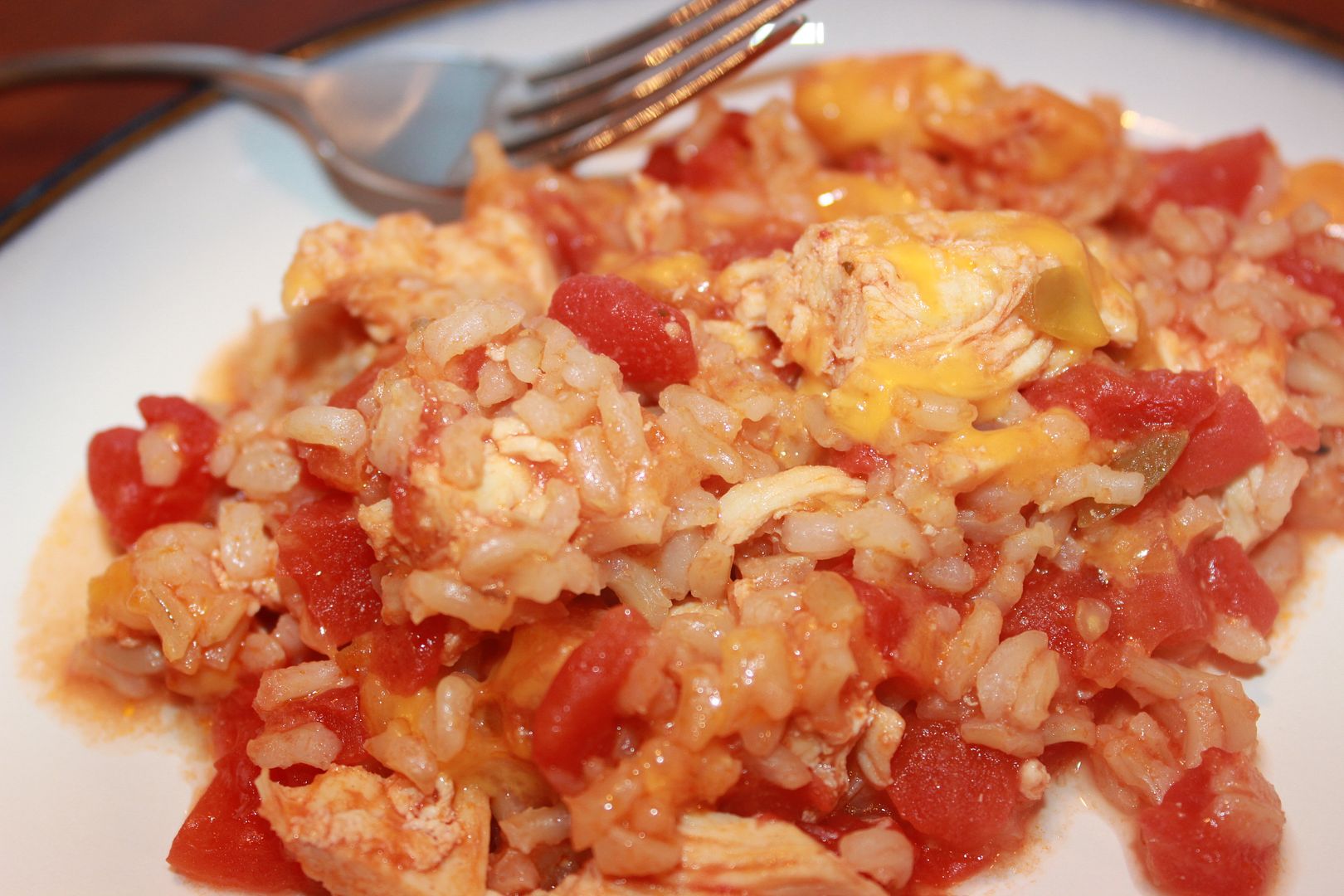 See, easy peasy!
And be sure to check out yesterday's post if you haven't already because I shared a coupon for RO*TEL. The coupon makes this recipe not only quick to make, but easy on the budget too.
Here is a link to yesterday's post
to print out your own RO*TEL coupon.
If you have any questions, be sure to leave those in the comments below.