I've been a consultant with Rodan and Fields for several months now and I am in LOVE with these skin care products. The products are created by the same doctors who developed Proactiv and have received all kinds of awards and media attention because they really are changing skin and changing lives.
Some of you have reached out to me with your skin concerns and are finding out for yourself just how fab these products are - thank you for that! So I thought I would take the time to tell you about our core four regimens if anyone else in interested in solving your skin issues and getting the skin you have always wanted.
But before I do that - I need to tell you about the awesome product guarantee that Rodan and Fields offers. There is a 60 day money back guarantee. Once you start using the products, if within 60 days you don't see the results you were hoping for, you can return the products for your money back EVEN if your bottles are empty. How is that for an awesome guarantee? Why 60 days? Because just like working out, you certainly aren't going to see drastic results after working out for just one day or one week...well the same is true for achieving awesome results with skin care. You need to give your skin time to acclimate to the products and for them to truly work. So why not go ahead and try them...you've got nothing to lose.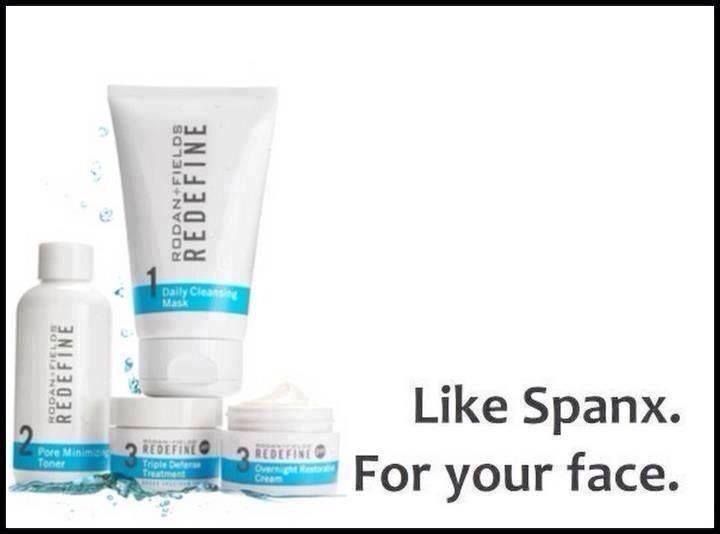 This is for the appearance of lines, enlarged pores and loss of firmness. A great all around regimen! We are all aging all the time, but what that looks like is up to you. Decide today how you are going to look tomorrow with our REDEFINE Regimen.
REDEFINE is a comprehensive skincare regimen that layers cosmetic ingredients and proven peptide technology to help defend against and reduce the visible signs of aging for noticeably firmer, smoother, flawless-looking skin. The REDEFINE Regimen features four full-size products: Daily Cleansing Mask, Pore Minimizing Toner, Triple Defense Treatment SPF 30 and Overnight Restorative Cream.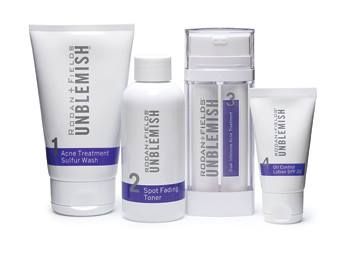 This is for anyone who has Acne and Post-Acne Marks. Breakouts? Unpredictable? Unreasonable? Unfair? Take control with our UNBLEMISH Regimen. Clinically proven to combat the entire acne cycle, this sophisticated regimen helps unclog pores, clears breakouts and calms your complexion to keep pimples, blackheads and post-acne marks from making an unwelcome appearance on your face—and in your life.
Since many acne sufferers have post-inflammatory hyperpigmentation (PIH), the remnant red/brown marks following a healed blemish, we offer UNBLEMISH Spot Fading Toner. However, if you are one of the lucky few who does not experience PIH, use our UNBLEMISH Clarifying Toner as an alternative.
The UNBLEMISH Regimen features 4 full-size products: Acne Treatment Sulfur Wash, Spot Fading Toner OR Clarifying Toner, Dual Intensive Acne Treatment and Oil Control Lotion SPF 20.
This is for anyone who has Brown Spots, Dullness or Sun Damage. It's not what you see ... It's what you don't see. Exposure to the sun and the environment can leave you with less-than-youthful skin. Erase the signs of premature aging, including brown spots, dullness, and sun damage with REVERSE. REVERSE Regimen exfoliates, lightens, brightens and protects your skin for a more even tone and texture. Recognized on Allure Magazine's A List, the REVERSE Regimen features 4 full-size products: Deep Exfoliating Wash, Skin Lightening Toner, Skin Lightening Treatment and REVERSE Broad Spectrum.
This is for anyone who suffers from Sensitive, Irritated Skin and Facial Redness.
Where do you turn when your face can't take it anymore? Calm the flush-blush reaction of a hyper-sensitive complexion with SOOTHE. Clinically proven to reduce redness and irritation in as little as 5 minutes, SOOTHE shields against the biological and environmental aggressors that can trigger inflammation, helps fortify skin's natural moisture barrier, calms visible redness, and reduces irritation so that you can take comfort in having a healthy-looking complexion every day. The SOOTHE Regimen features 4 full-size products: Gentle Cream Wash.; Sensitive Skin Treatment.; Moisture Replenishing Cream; and Mineral Sunscreen.
If you are interested in ordering or learning more about these awesome products, feel free to e-mail me at lindsay@pursuitofpink.com or leave a comment below with some way for me to contact you. I promise to respond ASAP. Let's get you the skin you have always wanted!