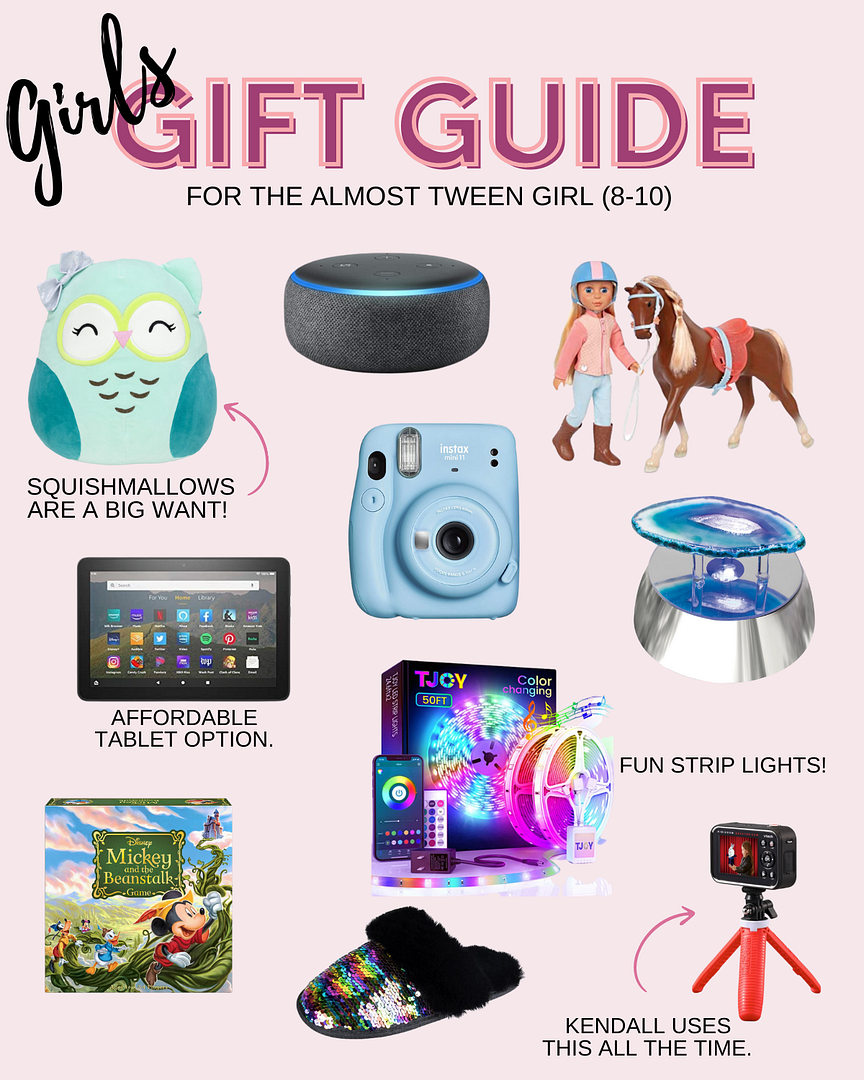 For this gift guide, I enlisted the help of my 8 year old daughter. She is very much into electronics and video games right now, but still has a taste for a few toys and other fun things. This gift guide would be perfect for girls between 8-10 years.
1.)
Squishmallow Plush Toys
More than a stuffed animal, a squishmallow serves as a squishy pillow and is available as all sorts of different animals. The owl comes recommended from my 8 year old.
2.)
Echo Dot
If you allow your kids to have electronics in their room, an echo dot is a great item. My daughter will use this at night to play Audible books so she can listen to stories as she falls asleep. We use echo dots as a family all over our house for our intercom system and it is very convenient to "drop in" from another room to ask a question or chat. There are so many uses, we love them in our house.
3.)
Glitter Girls Horse Set
I feel like horses are a toy that most girls love playing with. My daughter has always loved horses ever since she was 2 years old. This set comes with a posable riding doll, the horse, clothing and some accessories.
4.)
Kindle Fire Tablet
The perfect first tablet for your child. With a Kindle Fire your child can stream tv/movies, listen to Audible books, play games, listen to music and more - all for an extremely reasonable price.
5.)
Instax Mini Camera
This camera was a gift that my daughter received for her birthday, but it is something that she loves to use, especially when her friends come over. It is the polaroid camera for the current generation. The link I provided for you here not only comes with the camera, but a twin pack of instant film, frame stickers and hanging frames.
6.)
Light Up Rock and Gem Collection
Comes with 29 different, beautiful rocks and gems. You can use the agate slice that comes with it to make an LED display lamp.
7.)
Strip Lights
Turn your daughter's room into the coolest place in the house. These strip lights can sync with music and you can change the color with a remote. Available in 25 or 50 feet.
8.)
Mickey and the Beanstalk Game
For the girl who still loves Mickey and loves to play games. My daughter (and our family!) is game obsessed and this is a different game that she's never played before. This game brings the animated film to life.
9.)
Rainbow Sequined Slippers
How cute are these slippers? With rainbow sequins and faux fur, the girl in your life will feel so fancy wearing these. This brand does have the slippers available in several styles and colors.
10.)
VTech Kidizoom Creator Cam
The perfect camera for your wannabe YouTube star. :) Kendall received this last year and plays with it all the time. It comes with a green screen and animated backgrounds so your child can create fun videos.