This year, my 3 year old has already given me LOTS of ideas for gifts for him. He is very excited about Christmas and playing with all sorts of new toys. If you are at a loss for what to get a younger boy for a gift this year, let this gift guide be your helper.
1.)
Excavator
or other construction vehicles
My son has fallen into his gender role completely on his own and has a fascination with all things construction equipment. Also, watching Blippi has made him fall in love with excavators. This excavator is super affordable.
2.)
Work Bench
Another favorite of my son is anything having to do with tools (especially a drill!). This cute work bench is the perfect addition to any little boy's play room.
3.)
PJ Masks Headquarters Playset
If you have a young child, chances are they like PJ Masks. This HQ playset will bring all of their PJ Masks dreams to life!
4.)
PJ Masks Vehicle Set
To accompany the headquarters, your little one will love the PJ Masks vehicle set. It comes with all three characters, a car for each, removable hero vests, traffic cones and a stoplight.
5.)
Grill
We actually bought this grill for our little guy last year and he has loved playing with it. It comes with plates, utensils, lots of grilling items, a toy lighter and charcoal that actually "lights" and "crackles" when touched with the lighter. Such a cute gift!
6.)
Toy Sink
This is such a cute gift idea and I'm sure will be hit as young kids love to "help" around the house. This toy sink actually has a working water pump and plenty of sounds to mimic cooking and cleaning in the kitchen.
7.)
Inflatable Dome
If your children love building blanket forts, this might be the perfect gift for them. It inflates in under 30 seconds and no assembly is required. We actually bought this for our children this year and currently it is on MEGA sale. So hurry, I'm not sure how long the sale will last. Clean up time is much easier than folding tons of blankets, so this might be the best gift ever!
8.)
Scooter
Kids love playing outdoors and this 3 wheeled scooter is perfect for little ones who can't quite ride a bike yet. The 3 wheels help them to balance and my son absolutely loves his!
9.)
Magna Tiles
The gift that will keep them entertained for years! My kids have played with magna tiles so many times over the years, I love watching their creativity come to life. Magna tiles are durable and have lasted countless play times with both of my children. These are perfect to keep them entertained for more than 5 minutes.
10.)
Marshall Fire Truck
My son likes Paw Patrol as well and went crazy when he saw a commercial for this fire truck. Shhh don't tell him, he is getting it. :) It features a really tall rescue ladder (apparently taller than any other Paw Patrol vehicles with ladders), has a water cannon launcher, lots of realistic sounds and tons of lights.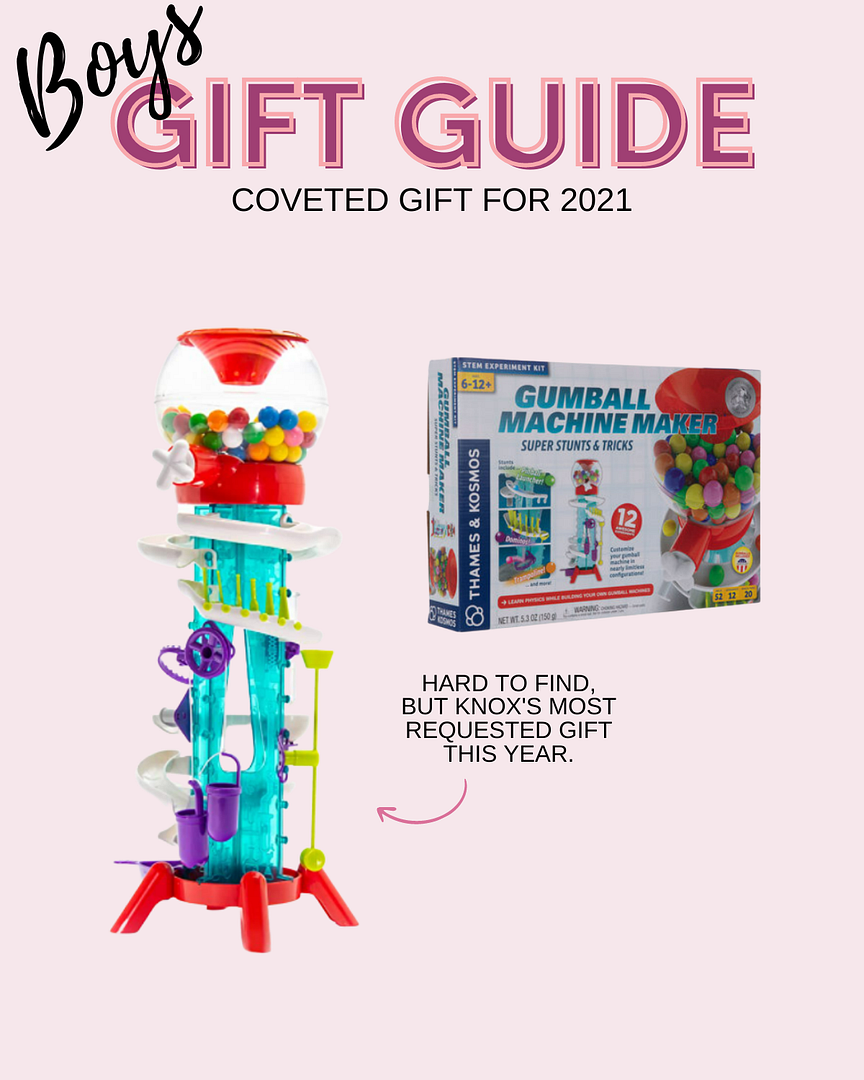 I have a bonus gift idea that I wanted to share. For some reason not known to me, Knox has decided that this
bubble gum machine maker
is THE gift he has to have this year. He has told everyone that this is what he wants! When he saw a picture of it, he saw it assembled and loved it. The toy is actually a maker that you put together yourself, so do not be fooled by the picture of the gumball machine itself.
I wanted to share though because it is slightly hard to find. With shipping delays being an issue this year, I figured I better find it sooner rather than later. It sells out often on
Amazon
, but keep checking as they constantly restock. I found it on
Hobby Lobby's
website, but then I went into my local store and found it there as well.