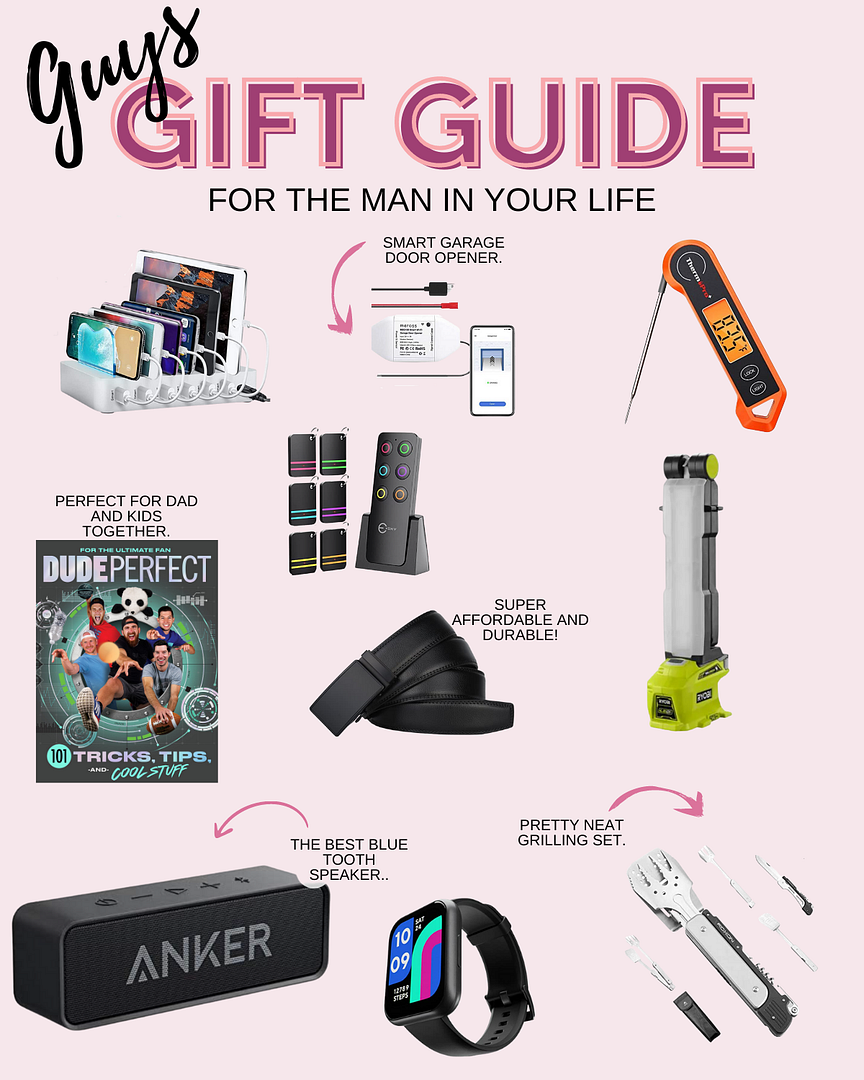 Ladies, today I've got you covered with a gift guide for the man in your life. All but one item included is something that Tolar (my husband) personally owns. The one item that he doesn't already own is something on his wish list, so rest assured that these are man approved. :) To shop any of these, just click the links in pink.
1.)
Multiple Device Charging Station
The perfect gift for the tech guy in your life. This device charges six devices at one time and keeps everything neat and tidy (so maybe this is a gift for you too!). It is compatible with both Apple products and Androids. We use ours to charge tablets, phones, portable chargers, smart watches and more.
2.)
Smart Garage Door Opener
This garage door opener is Alexa and Google Assistant compatible (meaning: you can control it with your voice!) plus very easy to install. There is an app that you can use which sends you alerts when your garage has been opened or closed. You can open and close your garage even when you aren't home.
3.)
Meat Thermometer
If you have a man in your life who loves to grill or smoke meat, this is a great thermometer for him to have. It has a rotating display making it easy to use for those hard to reach angles and it is also great for left or right handed people. It has motion sensing and powers on when the probe is opened, giving a fast and accurate reading.
4.)
Key Finder
My husband is likely rolling his eyes as he reads this, but this key finder is great for anyone who might have a tendency to lose things. It comes with six different fobs to attach to keys or other items you might misplace and it also includes a remote to help you locate the missing item. Just be sure you don't misplace the remote. :)
5.)
Dude Perfect Trick Book
For everyone who loves to watch Dude Perfect YouTube videos, here is a book that teaches you how to achieve the trick shots they perform. This is a terrific book for Dad and kids to work on tricks together.
6.)
Ratchet Dress Belt
This is my husband's favorite belt, he wears it daily. He bought it in Summer 2020 and it is still in perfect condition because it is so durable. No more adjusting his belt with holes, the ratchet provides 38 different adjustments for a comfortable fit. It has such a sleek look and goes with everything.
7.)
Cordless LED Workbench Light
Here is the one item that my husband doesn't own, but has on his wish list! This work light offers bright and powerful light to help see better when working on a project or in the garage. Providing up to nine hours of light, you can adjust the arm to be able to see virtually anywhere.
8.)
Anker Bluetooth Speaker
A speaker so nice, we bought three! Tolar is a musician and an audio/visual technician so quality sound is important to him and this Anker Bluetooth Speaker gets his seal of approval. It is waterproof, offers stereo sound and can work with your phone/tablet/smart device to provide exceptional clarity and zero distortion. Plus it is very reasonably priced and available in multiple colors.
9.)
Wyze Watch
Our family has many of the Wyze products and we have loved everything we've bought from Wyze. Wyze offers smart devices with tons of features at a price that is accessible to all. Does the guy in your life want a smart watch with all the bells and whistles but doesn't want to pay the high price tag? Get him this watch and he won't be disappointed. Tolar knows a lot about tech gadgets and this watch gives him everything he needs.
10.)
6 in 1 Grilling Utensil
This is the swiss army knife of grilling utensils! This compact utensil features a fork, spatula, knife, tongs, bottle opener and wine corkscrew. He will have everything he needs right at his fingertips while grilling up dinner for everyone.