Hey lovelies! I am so excited to share today's wore post with you. The lovely, amazing, hilarious and #1 blogger in all of the land, Sarah from
Venus Trapped in Mars
, is collaborating with me today.
We both dug into our closets and selected outfits to wear on Valentine's Day for a hot date. And your version of a hot date can be whatever you want it to be! It's all about looking good for whomever you want.
I decided to show everyone how you can dress up for Valentine's Day by using items you already own and accessorizing - no need to break the bank. I selected one of my favorite black wrap dresses (thank you DVF for coming up with this amazing wrap dress creation) and paired it with pink accessories. Everyone has a little black dress, right? So you can certainly achieve this look. In addition to the little black dress, I grabbed some of my favorite heels and made the outfit pop by adding some pink tights. Then I found a hot pink belt to add some extra color to my outfit and finished the look with a pink bracelet and pink necklace.
I think the black dress and grey shoes help keep the outfit from looking too overly pink. And seriously, everything I'm wearing I already had. Just shop your closet, look at accessories as ways to dress up an outfit (or completely change an outfit) and mix and match. It's so easy to achieve so many looks with just some basic pieces. If you have questions about pieces from your closet and how you can pair them with other items, I'd love to help. Feel free to leave a comment or e-mail me.
My outfit details:
Dress: JCPenney.
Shoes: Payless! (old)
Bracelet: Caesar's Palace.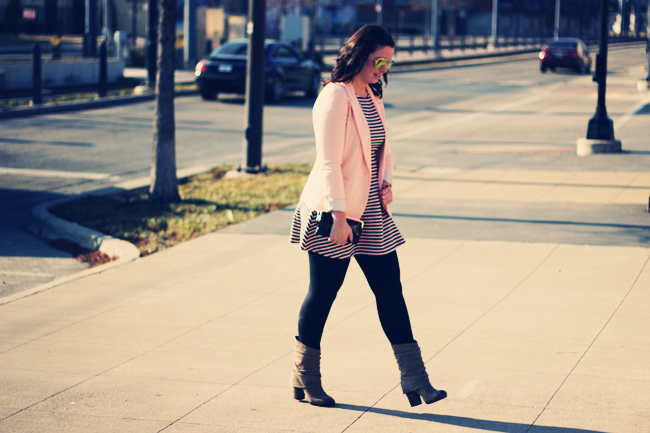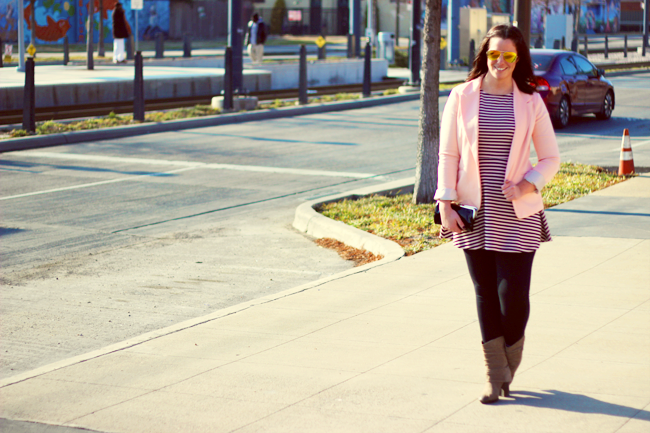 Now, let's talk about Sarah's fab outfit. I love that she took this absolutely adorable dress (or tunic as she called it if you are over 5'7) and made it extra flirty. Adding the fitted blush pink blazer gave it just the right amount of feminineness that it needed without looking too girly. And those boots she is wearing? To die for! I'm so jealous of them and need to find me some. They look like they could go with a lot of items, so you would definitely get your money's worth out of them. And her leggings are so smart, because this country is getting ready to get slapped with some serious snow storms, so wearing leggings helps keep your legs warm all while looking super cute. Her final touch by adding the clutch pulls the whole look together, making her ready for a night out.
Sarah's Outfit Details:
Blazer and Dress: Forever 21.
Leggings: Yummie Brand.
Boots: Vince Camuto.
Now, if you don't already know about Sarah's fab blog,
Venus Trapped in Mars
, I wish I could shake you and say "why the heck not?" Because this lady blew up the blog world with her amazing content, hilarious sense of humor and super awesome design skills. I love everything about her blog. Sarah is the perfect girl in my opinion: she's into fashion, LOVES sports (and even breaks it down for us girls who know nothing about sports and makes it look - should I even say it - fun!), she's super friendly and totally awesome. I wish I lived near her so I could meet her in real life and hang out with her just once. I'm sure I would be laughing all night long. Go check out her blog now! And I must say, if you are a blogger, consider placing your button on her
sidebar
. I can guarantee that your blog will grow! The traffic I received from her blog in just one day was incredible. You won't be disappointed.
And to show one of you lucky readers just how fab her blog is, Sarah is giving away some free ad space! Use the rafflecopter below to enter to win a free ESPN ad space on
Venus Trapped in Mars
. If I wasn't hosting the giveaway on my blog, I'd be all over entering. So get on it!
a Rafflecopter giveaway
Linking up with
The Pleated Poppy
for What I Wore Wednesday,
Because Shanna Said So
for Random Wednesday,
Walking in Memphis in High Heels
for Trend Spin and
Style Elixir
for Style Sessions.