Ok ladies, I know that Valentine's Day is THIS Friday and time is of the essence, but I have found something that you MUST tell your men about. This will help you out in the long run and keep you happy. For those married ladies out there, I'm sure you've all heard the term "Happy Wife, Happy Life?" Well what I'm going to share with you will secure a happy wife.
Meet
Romeo Delivers
! It's a subscription service that your husband/boyfriend can sign up for to romance YOU all year long. Remember those days when you were first dating and your boyfriend would write you cute little notes or texts telling you that he was thinking of you? Do you remember the exciting dates you used to go on before you had kids or settled into the routine of married life? Or maybe if you never experienced that stuff, you'd like to? Well tell your man to hop on over to Romeo Delivers'
website
right now.
All he has to do is sign up for the subscription then each month he will receive a box full of products, tips and ideas to make you smile. He will then follow their easy instructions to personalize the products and let the romantification (their amazing word!) begin. All you have to do is smile and totally enjoy your man showing you ways that he is thinking of you even when you think he isn't. Check out this
great article here
to read more about the company.
Romeo Delivers
sent me a box to check out and I'm excited to share it with all of you.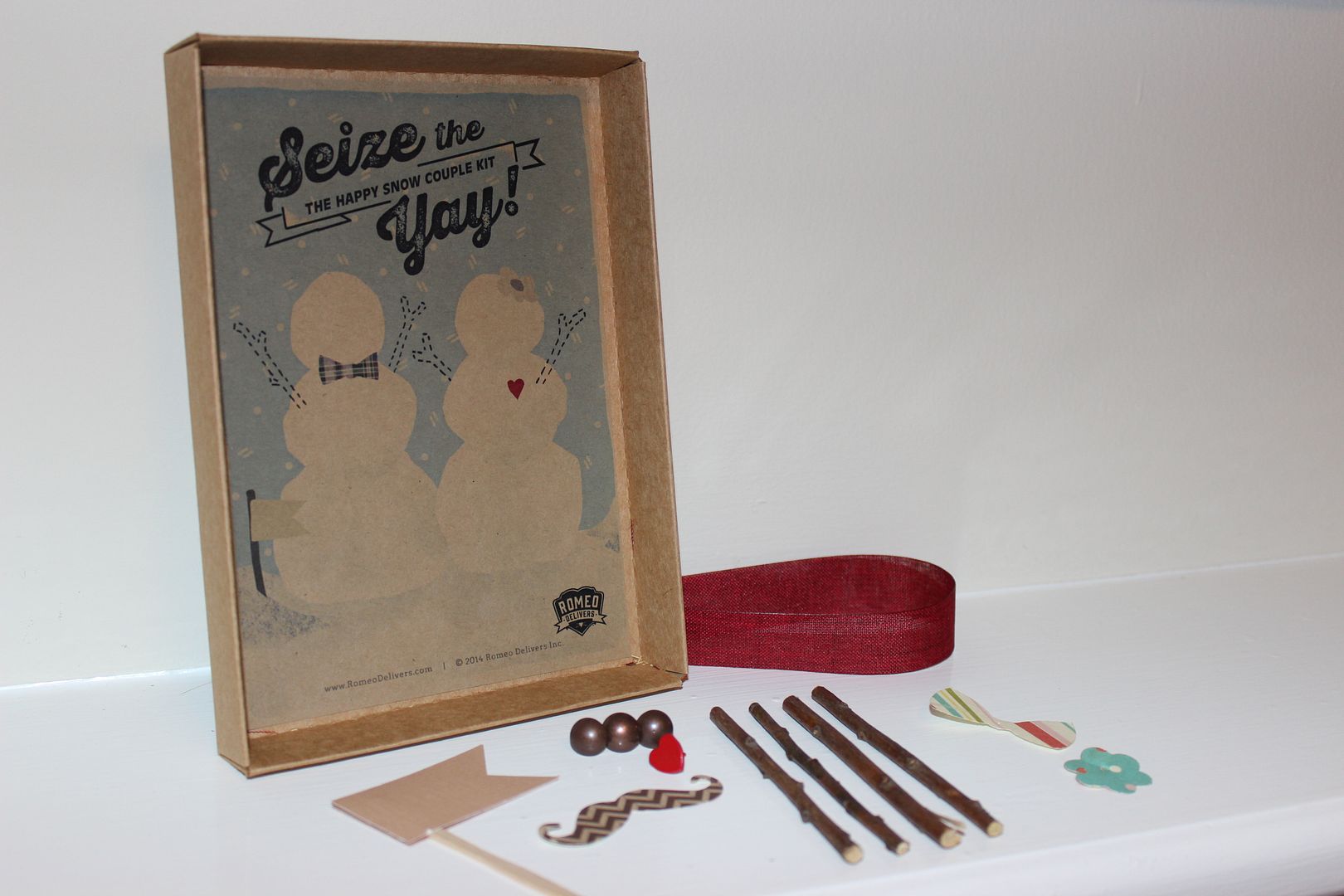 The first treat was titled "Seize The Yay!" This was a cute little box where your man could create his version of his and her snowmen. The kit comes complete with fab accessories to make the snow couple look absolutely adorable. Then once you get a lot of snow, your man is encouraged to go outside and build the same snow couple just for you out of snow (and with all of the snow this country has been receiving lately, there are plenty of opportunities). The kit even comes with ideas on how to make the snow couple if you live in an area not accustomed to snow. They thought of everything!
Picture it with me: The snow is falling, looking so pretty as it collects on the tree branches. You are snuggled up on the couch with a blanket and hot chocolate and suddenly you look outside and see that your man has created the cutest little snow couple around - modeled after the two of you. How could you not swoon?
The second treat is my favorite, its called "12 Months, 12 Delightful Deeds."
Your man is given 12 cards, one for each month, where he gets to write 12 different deeds that he will do for you during the year. Romeo Delivers even helps your guy out by giving him an exhaustive list of ideas like A candlelit dinner for two, 20 minute massage, No Phone/Electronics for a Day. Or your man can come up with his own. Then each month you get to redeem your card whenever you like.
I absolutely love this idea because it lasts all year long. If you are having a bad day and just want your honey to pamper you - then turn in a card! Its so simple. And I'm sure that being able to put that big smile on your face will totally make your guy feel awesome.
So hurry, tell your guy to sign up for
Romeo Delivers
. I mean, let's admit it. All guys want a little help figuring out us crazy, complicated women, don't they?
Romeo Delivers
is the answer they are looking for.