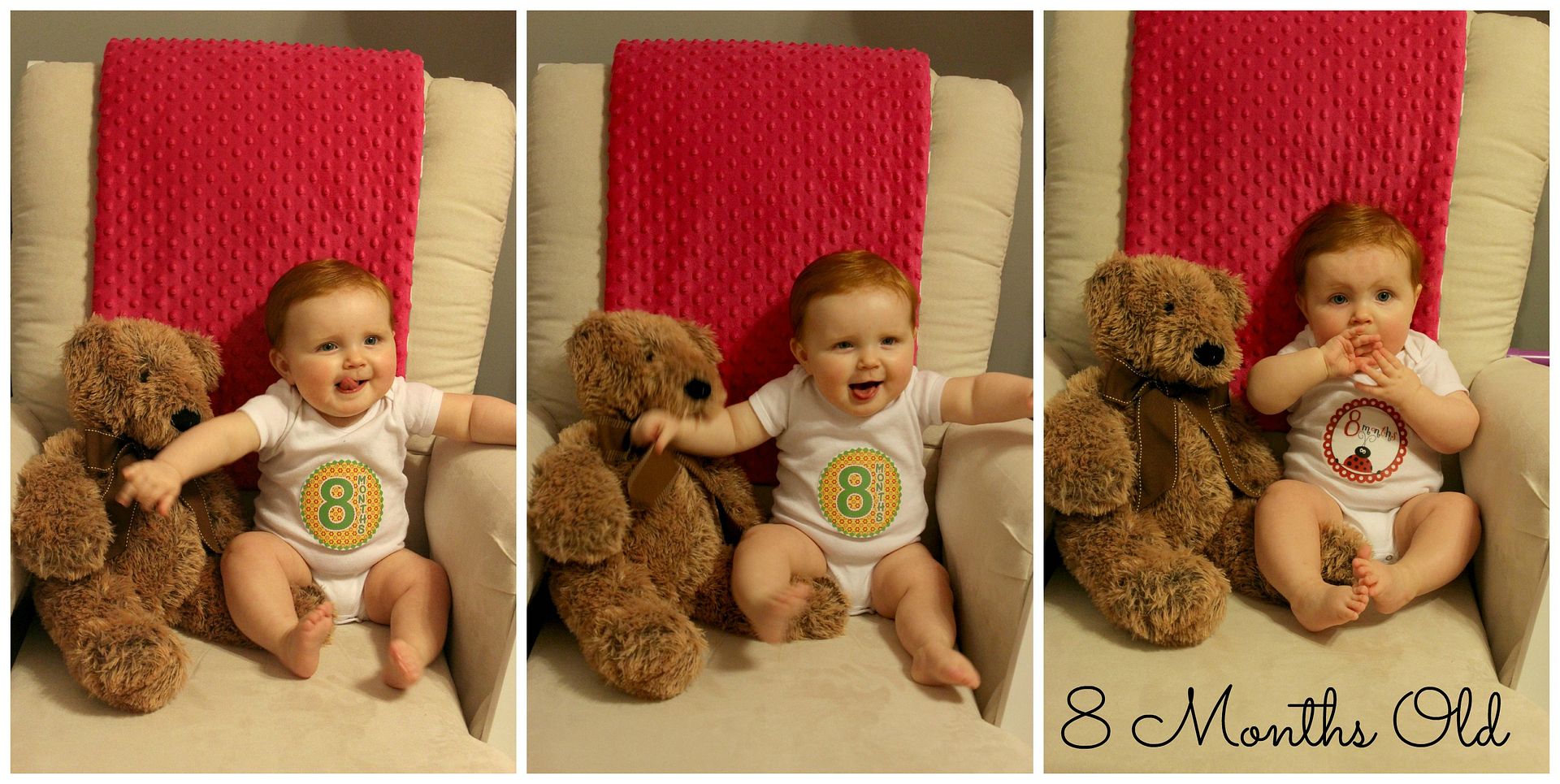 We are having so much fun with Baby K. I thought that she learned and changed a lot around month 6, but this last month she has discovered so much more. It's awesome to watch her develop and learn new things. Tolar and I get so excited with each new activity and our little girl sure loves the affirmation she receives.
Stats: 17.8 pounds (we will go back to the doctor for her 9 month check up, so for now we only have her weight on our home scale).
Development: She is rolling everywhere! Tolar and I have waited so long for Baby K to roll without us prompting/enticing her and now she is rolling all over the place. Just last night she rolled across the width of our living room - it was so fun to watch! She also is really enjoying time on her stomach, which means that crawling is just around the corner. She does really well passing items back and forth between both of her hands. Daddy is super proud because she does this a lot with some drum sticks. Baby K is so interested in everything around her, if something is within arms reach of her - she grabs for it. Nothing is safe! We have now reached the time in her life where going out to eat at a restaurant requires a clear space in front of her - no cups, no napkins, no menus, nothing (except her toys, though she would rather have anything but HER toys). She still loves putting everything in her mouth, and I mean everything!
Loves: This little cutie loves to be praised. She gets so excited when we cheer for her whenever she does something new. I just love her proud little smile. She loves to play, in fact my friend Kirstin lent us a musical toy that she can sit in front of and press different instruments and she L-O-V-E-S it. She seriously could sit and play that thing for hours if we let her. Our girl is still quite the talker, she thinks its funny when we mimic her coos and talk back to her. We have a lot of fun with our conversations first thing in the morning; I like to think that she is giving Tolar and I some pep talks to start our days. And her favorite thing of all? Bouncing!!! She just adores it - bouncing in her jumperoo, in our arms, on our laps - it doesn't matter as long as she is bouncing, she is in heaven. It's the quickest way to get her to stop crying and put a smile on her face.
Dislikes: Nothing new here, she still dislikes being tired. We luckily can read her sleep cues very well and are able to put her down for a nap before she totally freaks out.
Sleeping: We have quite the excellent sleeper on our hands. Not only does she give us a solid 10-12 hours of sleep at night, but recently she started napping REALLY well at home. She always seems to nap well at Miss Gina's during the day and rarely naps that well at home. But in the last few weeks she took solid naps for us too. Until this past weekend when we decided to rock the boat. Tolar and I decided to try putting her down for a nap without her sleep suit on and the outcome was interesting. Since she is rolling a lot, she decided to spend her nap time exploring her crib and rolling all over it. Luckily she didn't cry during nap time, just talked to herself a lot. Her actual asleep time during her nap was minimal, but she wasn't as cranky as we thought she would be. We will try next weekend and see what type of results we get.
Diapers: Still in Pampers Swaddlers Size 2, though we think we will switch to Size 3 Baby Dry at night. It's weird, the Size 2 Baby Dry diapers are smaller than the Swaddlers.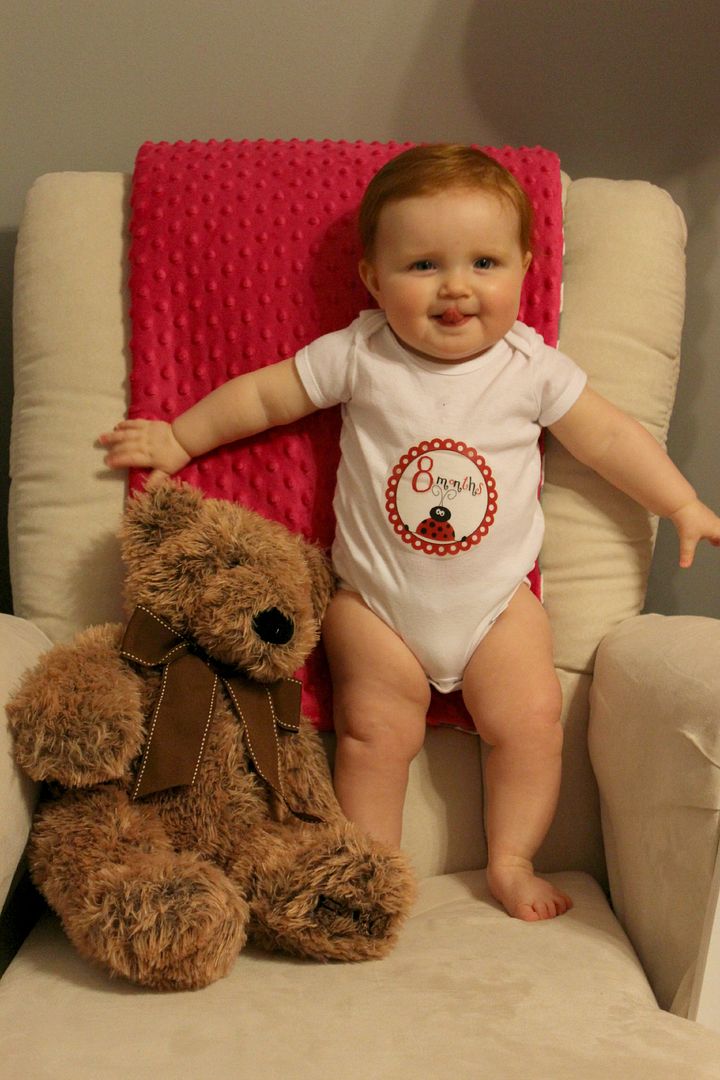 Eating: Baby K loves to eat and luckily will eat anything we give her. Her new favorite food is peaches. We try to give her more vegetables than fruits and she happily opens her mouth for whatever is on her spoon. Tolar was feeding her some Rice Cereal last week and she decided that she wanted to feed herself. So he filled up the spoon and handed it to her and she guided the spoon right to her mouth. She's getting so big!!! Baby K also holds her bottle herself when eating her milk. And this past month we gave her some of the Gerber puffs. She likes them (and so do we!), but since they are so light she sometimes forgets that they are in her hand. We will keep working on getting her to pick those up and feed herself.
Clothing: I just packed up a lot of her 6 month clothes. I always get so sad when packing up her clothes because I can't handle how fast time is moving. Baby K is wearing 6-9 month clothes or just size 9 months. Its like she had a growth spurt over night. Some outfits that fit her last week are way to snug or short on her now. We bought her some dresses for Easter and for her Dedication at church, I hope they still fit when its time to wear them.
Miscellaneous: We started baby proofing the house. Tolar installed baby gates on our stairs because we know it is just a matter of time before we need them (plus my nephew is coming this weekend, so we need some proofing to protect him). She also is ALWAYS kicking. Even if she is sitting up, her legs are still going. Whether we are holding her, if she's laying down, sitting up, whatever - she's kicking. Tolar says that she has "Kevin Bacon syndrome - because she's always Footloose."