Grandparents. For most people, their grandparents mean the world to them. Grandparents start out as caregivers, become amusing people who offer a retreat from your own parents/life and then later they hold a special place in your heart that no one can replace. I had such special relationships with all four of my grandparents and consider my life so much better because they were a part of it. The memories that I shared and created with my grandparents fill me with so many warm fuzzies - I would have done anything for them. I hope there are many other people out there who feel the same way about their grandparents.
Both of my grandmothers outlived their husbands and during their later years in life, they needed around-the-clock care. For the most part, that care fell to my uncle, my aunt and both of my incredible parents. Because of his experience caring for his own parents, I am so proud of my
Dad
for joining the Board of the
Pulaski Adult Day Service & Fall Prevention Center
.
The Pulaski Adult Day Service & Fall Prevention Center is exactly what it sounds like: a daycare for adults. They don't just specialize in elderly day care, they also have care available for any adult, age 18 and older, who might have mental or physical disabilities and cannot be left alone. As part of the adult day care, they will offer:
-Therapeutic programs and activities
-Health monitoring and medication management, all by health care professionals
-Nutritious meals, socialization, exercise and activities
-Education and support programs for family caregivers
They also plan to offer Fall Prevention training where they assess any problem areas in a client's house, provide bone densitometer scans and offer classes, activities and programs to reduce the risk of falls.
Put yourself in a situation that numerous people face in today's world. Your elderly parent can no longer stay by themselves, yet you are unable to uproot your career to provide around-the-clock care. And in-home care is too expensive for your budget. Enter the
Pulaski Adult Day Service
. Their services are more economical, fitting into a tighter budget, and still provide the quality care that your family member will need - giving you peace of mind. Not to mention, your family member will be around other people, getting the interaction that they need instead of sitting at home like a vegetable.
This center is set to open in Pulaski County, Viriginia in the Spring of 2016. As a nonprofit organization, they are currently raising the funds to open the center and to be able to provide the excellent care that so many people in our community need. If you feel so compelled,
click this link
to learn how you can donate to the cause.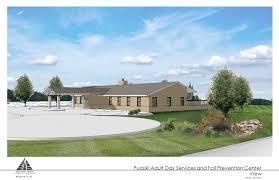 I certainly hope more centers like this open up nationwide. This is something that I know could serve the population as a whole and offer peace and stability to so many.