Raise your hand if you are a hair spray addict or product junkie like I am.
Come on.
No one is looking, don't lie to yourself.
There. Now don't you feel better? Being a hair spray addict is
nothing
to be ashamed of. I mean, a girl's gotta look good, right? And looking your best can sometimes take the assistance of some products. If you use a lot of products during the day, it is important to cleanse and condition your hair properly.
And yes, even people with fine, thin hair like me need to condition regularly. It's all about staying away from the roots and massaging the conditioner into the end of the hair, where the damage in hair can occur. If you are a product and hair spray junkie like me, you should also look into a deep conditioner to use a few times a month. A good deep conditioner will help to maintain smoothness and shine.
So you are probably wondering, which deep conditioner should I use? Well, I have used three very different deep conditioners to give you my opinions on how they work. Read on for more details.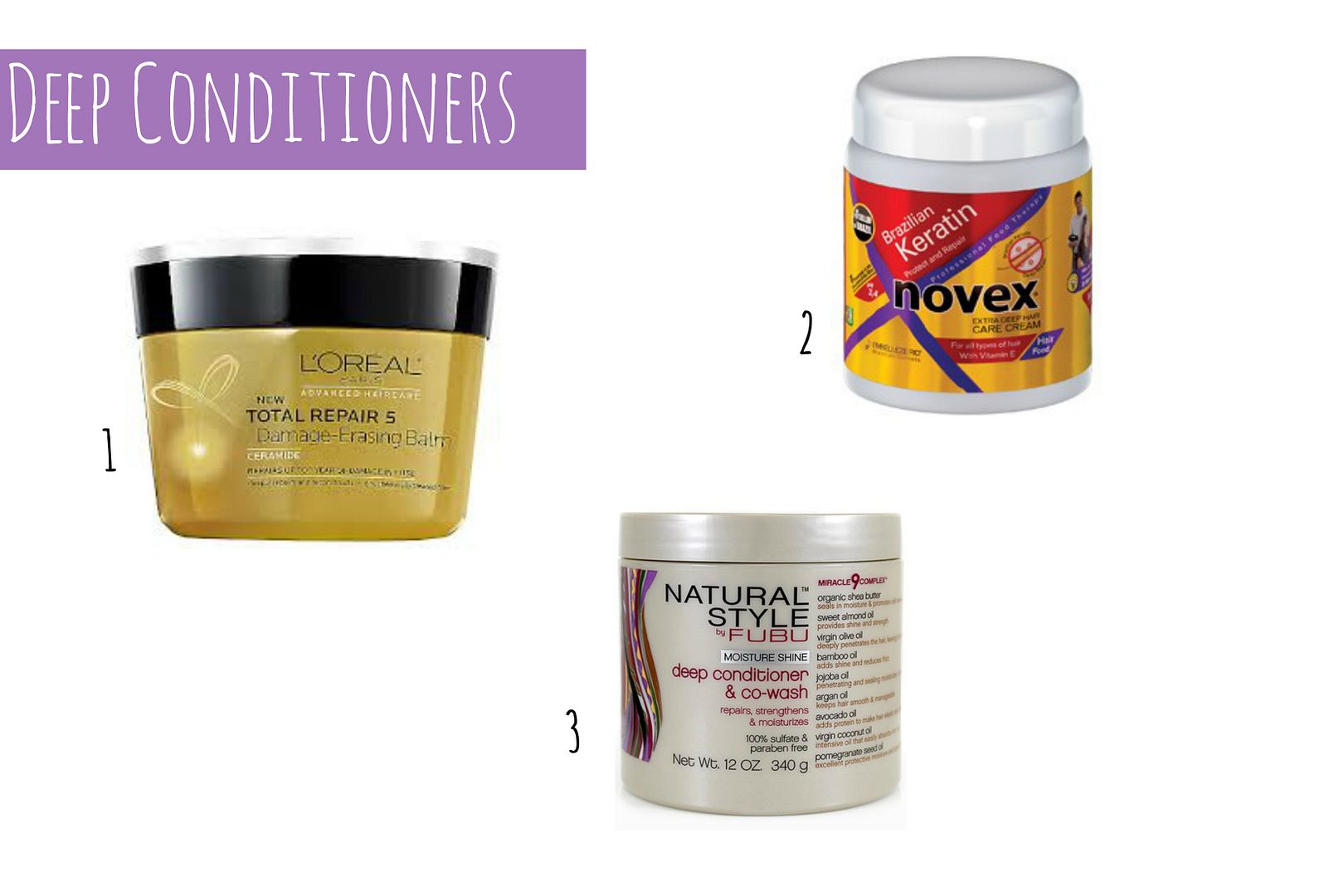 1.)
L'Oreal Total Repair 5 Damage Erasing Balm
Seriously long name, seriously low price! This conditioner smells amazing, feels great going on and really gives a great conditioning. My hair feels pretty smooth after I use it and does not feel weighed down at all. With my fine, thin hair I was concerned that a deep conditioner would be too heavy for me. But if I don't concentrate on the roots, then I am just fine. When I blow dry my hair, it doesn't feel waxy at all after using this conditioner; in fact, I feel like I could use this conditioner daily and not just once a week. You can get this at Target, Walgreens or any drug store for cheap ($6 for 8.5 oz)
2.)
Novex Brazilian Keratin Hair Care Treatment Cream
For those of you with a lot of time and who want a really deep conditioning/keratin treatment then this is for you. To really get the benefits out of this treatment you need to leave it on your hair for at least 25 minutes, I wish I had that kind of time!!! I put this on my hair at the start of my shower and then popped a shower cap on and went about my shower routine (trying to stretch everything out as long as I could). I probably had the treatment on about 10-12 minutes and could tell a difference, but not a "oh my gosh I will never use anything else" kind of difference. I could take it or leave it with this conditioner. You can use the Novex as just your daily conditioner if you don't want to leave it on for 25 minutes, but honestly I've used better conditioners. While my hair was easy to comb through after my shower, it didn't give me more smoothness or shine than any other conditioner. I found this one on
Glossy Box
($5 for 3.5 oz.)
3.)
Natural Style by FUBU Deep Conditioner and Co-Wash
This deep conditioner is technically for African American women, but it worked like magic on my hair!!! I figured why not give it a shot and I was so impressed by the results; this is hands down, my favorite conditioner that I tried. It isn't too thick and is very easy to apply. My hair felt the smoothest and looked the shiniest after using this one, I could tell a real difference after washing my hair once. My hair felt amazing. No waxy residue either, just super smooth hair. You can order this from
Beauty Box 5
($12 for 12 oz).
Quick tip on application:
Shampoo and rinse your hair as normal. Apply the deep conditioner generously to your hair (avoiding the roots if you have thin/flat hair) and leave on for about 5 minutes. I like to clip my hair up when I use the deep conditioner in the shower.