My December
Birchbox
arrived awhile ago, but this month has been so crazy that I didn't have much time to really go through all of the great products. So apologies for the delay. Here it is! Isn't the box so festive? I just love all of the decorations everywhere for Christmas and I love that Birchbox got into the spirit.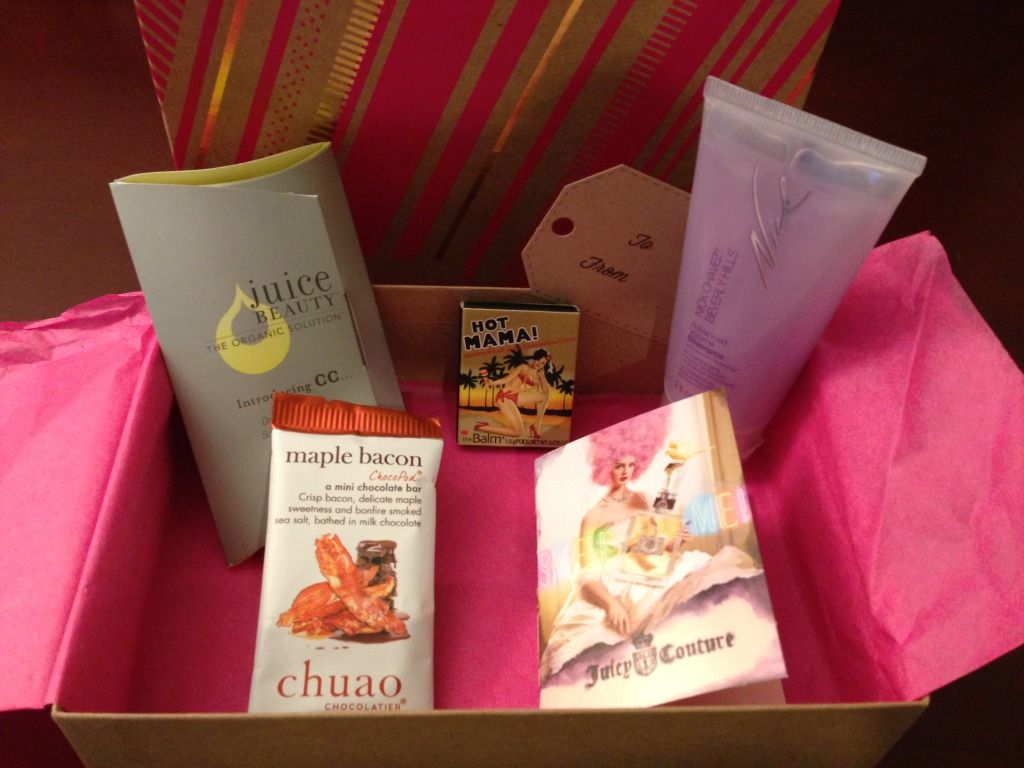 This was a pretty good box (which I normally love all of the boxes because I'm such a beauty junkie). Here is everything I got:
1.) Nick Chavez Advanced Volume Shampoo - I have incredibly fine and thin hair, so I always need more volume. The shampoo smells great, is purple (!!!!) and has helped add some more bounce to my otherwise lifeless hair (curling irons help too!).
2.)theBalm cosmetics Hot Mama! - This is a peachy blush that adds a bit of golden shimmer to my face. I love that; shimmer is always good - especially during the holidays.
3.) A cute tag for a gift - A maybe I'll use this on a New Year's gift since all of my Christmas packages have been opened. :)
4.) Juicy Couture fragrance - A sweet and floral fragrance, very feminine smelling.
5.) Chuao Chocolatier ChocoPod - I think its so funny that Birchbox includes snacks in a beauty box, but hey, I'll take it, especially if it is chocolate.
6.) Juice Beauty Stem Cellular Repair Cream - This is a cream that improves skin tone with Vitamin C and grape-derived resveratrol (I'll need to look up what that means). But I always love a new skin cream, so I'll take it!
And as an extra bonus, Birchbox included a gift certificate to
Rent the Runway
good for $50 off an order. I don't know if you have ever heard for Rent the Runway before, but its an awesome site where you can rent designer gowns for a special event, at a really affordable price. And with this coupon, the dress will be extremely friendly to my wallet. I hope there is no expiration date so I can use this coupon for my company's Gala next October (which means another blog post will come after that)!
Have you ordered your
Birchbox
yet? If not,
click this link
and order your Birchbox NOW.