I am so thrilled to tell everyone that I have been asked to be a part of Shabby Apple's Affiliate program! What is
Shabby Apple
you ask? It's an awesome online shop filled with so many beautiful and feminine clothes for women. They have very classic pieces that flatter a woman's shape and make her feel simply beautiful. From dresses to skirts to tops and jewelry, they have so many wonderful pieces. Just go check out
the website
, I'm sure you will be drooling over all of the pretty designs and fabulous outfits.
Here is the exact wording about
Shabby Apple
from the website:
"At Shabby Apple, we believe in both femininity and feminism. As feminine women, we create clothing that is artful in design and crafted with a vintage-style flare. Each piece is carefully constructed to both flatter a women's figure and maintain her mystery. As feminists, we created a company that is women-owned and operated and that donates to help other women start their own businesses. With our old-fashioned style and modern ideals, we believe the best is yet to come!
"
Anytime you are visiting Pursuit of Pink
and get the itch to check out Shabby Apple, just click the ad that is in my right side bar under "Grab a Button" (isn't the ad so gorgeous too?). That will take you directly to the Shabby Apple site where you can peruse their fabulous collection.
Here are a few of my favorite pieces right now: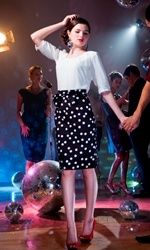 Hully Gully skirt [via]
Animalia Tie Neck dress [via]
The Red Queen dress [via]
Enjoy! And tell them I sent ya!