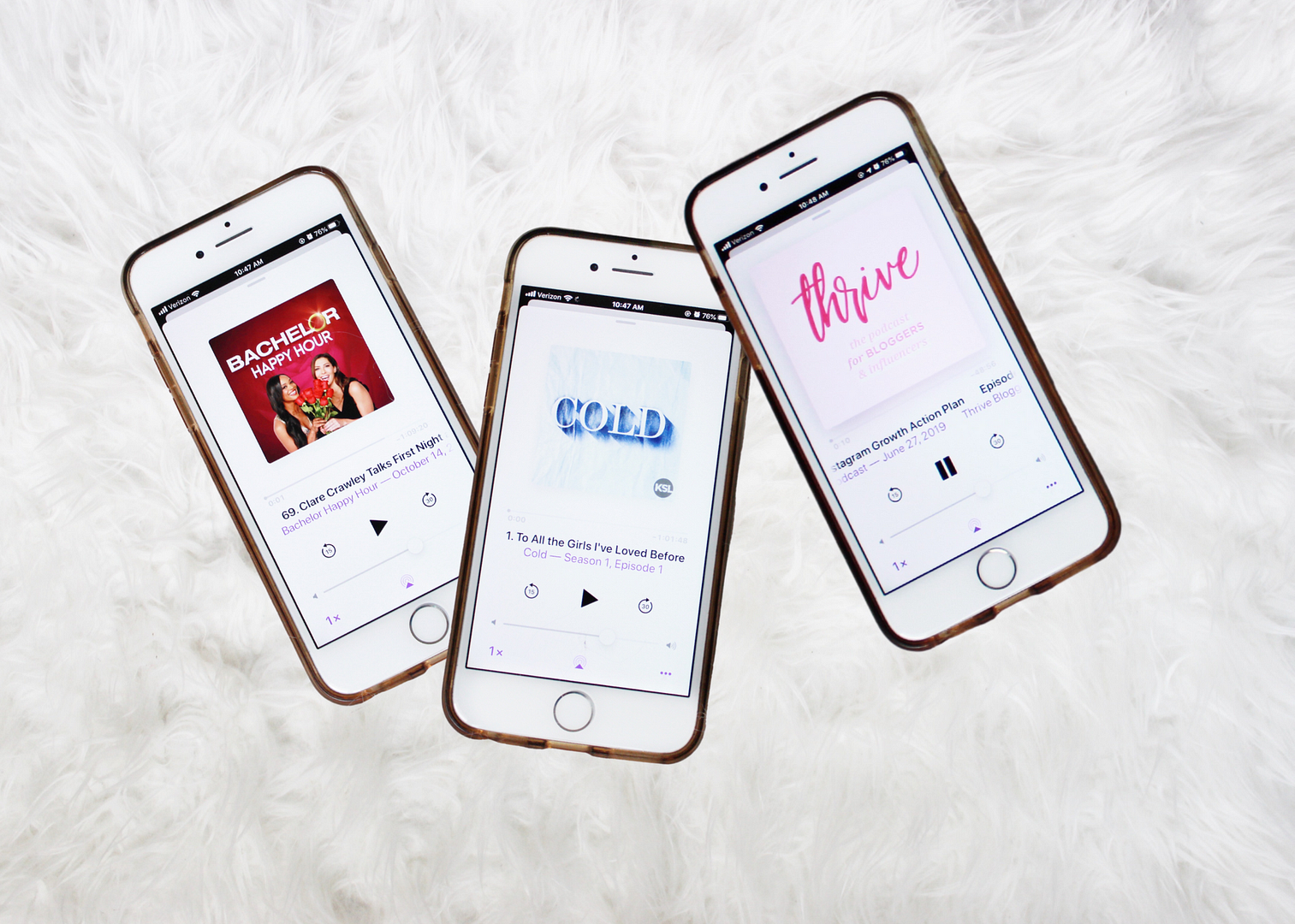 I'm a huge fan of podcasts and have listened to them for several years. When driving in the car by myself, listening to podcasts is a favorite way to help pass the time. A couple of years ago, I shared a blog post with my favorite podcasts at the time...you can read that post here. Since I wrote that post, I've obviously listened to quite a lot more and I wanted to give you an updated list of my current favorite podcasts.

This list does include some podcasts from my previous post, but they are so good that they are worth mentioning again.
Favorite Podcasts
True Crime
Cold
- Possibly the best podcast I've ever listened to as the storytelling is phenomenal. It dives into the story of Susan Powell and is extremely captivating. I binged this podcast while I did chores around the house. I remember this story being covered in the news, but the podcast goes deeper. There are some creepy moments, so tread lightly.
Dirty John
- What a crazy story this one is! John Meehan is quite the con artist and I'm shocked that people have fallen for his lies over the years. This was also made into a tv mini series.
Dr. Death
- Another crazy podcast, I can't believe that people get away the stuff that they do! Note: don't listen to this if you or a loved one are getting ready to have any kind of surgery.
Up & Vanished
- There are two seasons of Up & Vanished. I personally enjoyed Season 1 more than Season 2, but I do still think that Season 2 is worth a listen. Up & Vanished is hosted by a filmmaker and he does an excellent job investigating and creating a story that holds your attention.
True Crime Obsessed
- A different take on true crime, hosts Patrick and Gillian watch tons of documentaries and then recap everything for us. Their recaps are HILARIOUS and sometimes a bit snarky and that makes this podcast one of my favorites. Even though their episodes cover the full documentaries that they watch, I often want to check out the documentary because they described it so well.

Who the Hell is Hamish
- Another "how did they get away with it" podcast. Hamish is a true con artist who fooled many.
The Bachelor
Bachelor Happy Hour
- Hosted by former Bachelorettes Rachel Lindsay and Becca Kufrin, this is usually my first stop for all things Bachelor related. They have tons of guests including many Bachelor alumni.
Mouthing Off
- This podcast isn't strictly devoted to Bachelor content, but those are usually the episodes that I listen to. It is hosted by Olivia Caridi (from Ben Higgins' season) and she is such an engaging host. I hate that she was displayed as a villain on her season because this podcast made me absolutely fall in love with her. She does talk about her time on the Bachelor and how being a villain shaped her life.
Off The Vine
- Another fun Bachelor podcast that also features other content as well. Hosted by Kaitlyn Bristowe, it is fun to hear her take on all things Bachelor and pop culture.
Reality Steve - If you want spoilers on the Bachelor and other popular reality tv shows, this is for you. Reality Steve has a popular website where he has inside information into what goes down on the Bachelor and he has spoiled the ending for virtually ever season. He interviews past Bachelor alumni and also covers other shows including Big Brother.

The Betchelor - Maybe this is my second favorite Bachelor podcast (after Bachelor Happy Hour) as they often have the inside scoop of what is happening each season without spoiling anything. You can find recaps of episodes as they air on tv and they frequently have fun guests on to chat all things Bachelor related.

Boss Babes
On Purpose
- The instagram story queen herself, Alex Beadon, has created a podcast designed to help fellow entrepreneurs navigate the social media world. Her episodes are chockfull of really good tips and tricks.
Thrive Blogger Podcast - I cannot get enough of this podcast. Hosted by a blogger FOR bloggers, Thrive features SO MANY tips and in depth chats about all things blogging and social media.



Entertainment
Absolutely Not
- I discovered Heather McMahan on
instagram
and she is a RIOT. She is a comedian by trade and her podcast is very funny and features tons of fun guests, including celebrities.
Swiping Up
- Consider this the ENews for all things influencers. The three hosts are huge influencer fans and also love calling influencers out when they are being extra basic (
B
asic
I
nsta
B
loggers). This podcast sometimes is perceived as the hosts being mean, but they really are three fun girls who also accept that they are just as basic as the next girl.

The Morning Toast
- Another ENews type of podcast, but they cover ALL pop culture. Every episode includes the top five pop culture items happening at the moment.