Holiday shopping is upon us and this year I'm going to help you with your shopping! I will be rounding up some of the best Christmas gifts for the people on your list and sharing my gift guides all month long. Be sure to check back regularly as I scour the internet and stores for you to share what I think would make terrific presents.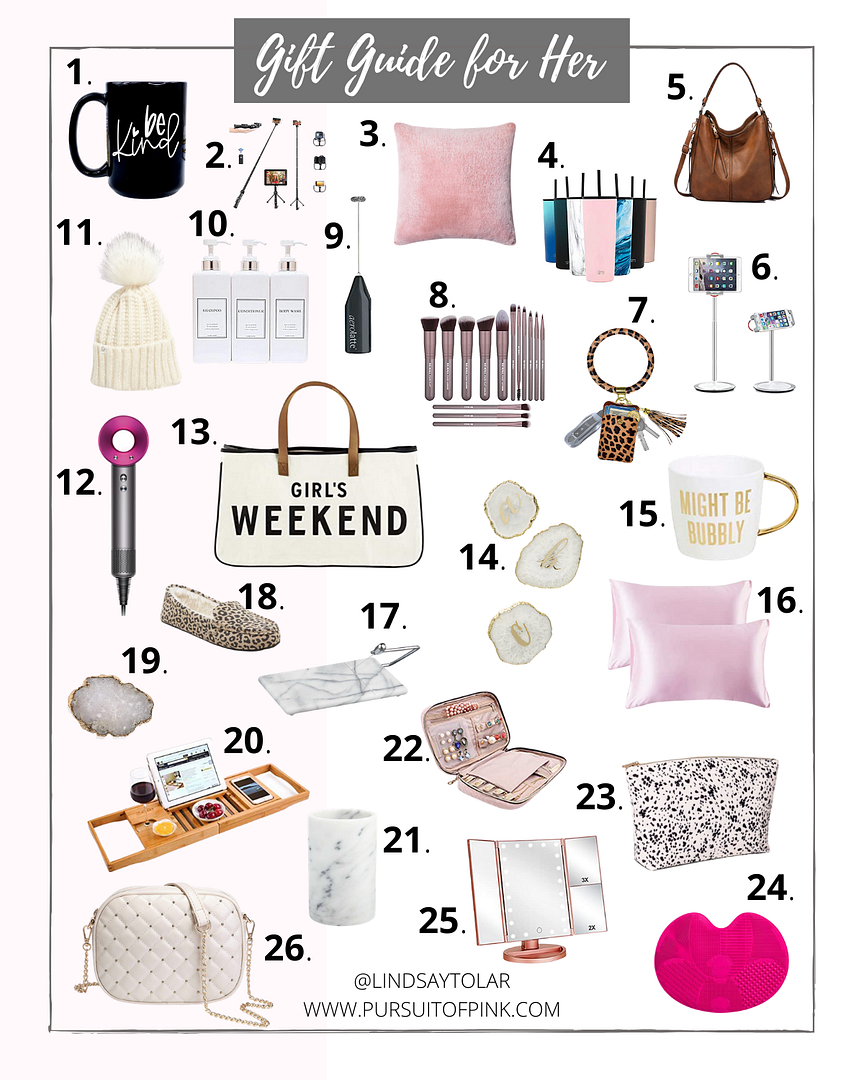 Today I'm starting with Gift Ideas for Her. The gifts included in this list are for the woman who likes pretty, girly things and who enjoys spending a little extra time on herself. Some of the items included are also on my Christmas wish list and several of them I already own and LOVE so I know the lady in your life will love them too.
1.)
Be Kind coffee mug
- My friend Kim started the cutest shop full of coffee mugs, t shirts and other fun items all designed to make you have a Happy Day.
Check out her shop
! And while you are there definitely grab that black Be Kind coffee mug.
2.)
Phone Tripod with Blue Tooth Remote
- For the girl who loves to take pictures wherever she goes! I just purchased this tripod and have already put it to good use taking photos of our family. The bluetooth remote is so handy too.
3.)
Faux Rabbit Fur Pillow
- Trust me on this one, this pillow is the softest thing you will ever touch. The pillow comes in several colors and is the perfect addition to a bed or couch.
4.)
Tumbler
- Dare I say this is the best tumbler I've ever tried. I've shared this before because I love it so much. A couple reasons it is so wonderful: comes in lots of different colors and sizes, comes with a straw lid and a coffee lid and keeps your ice for at least 6 hours.
5.)
Handbag
- Every girl needs a cute new bag that is big enough to hold all of her essentials.
6.)
Tablet and Phone holder
- This stand has an adjustable height and is compatible with lots of different brands of tablets and phones. It is perfect for when you want to go hands free or need to prop your tablet up higher than a case allows.
7.)
Keyring
- I'm definitely adding this to my wish list as I am ALWAYS juggling my purse and phone and keys and bags and kids and everything else when I walk in the house. At least this will help get one thing out of my hands! You can put the keyring on your wrist and wear it as a bracelet.
8.)
Makeup Brushes
- I've never seen so many makeup brushes in a set at such a great price! This set is available in a couple different colors. A girl always likes a new set of makeup brushes.
9.)
Frother
- For the girl who likes her coffee extra frothy! This also comes with a travel case so you never have to settle for boring, plain coffee again.
10.)
Refillable Bottles for Hand Soap, Shampoo, Etc
- These bottles are perfect for anyone who likes a sleek and uniform look to the products they use. The bottles are perfect to use in the shower, at the bathroom vanity, by the kitchen sink and more.

11.) Pom Beanie - The pom on top of this hat makes it so cheery and festive. The beanie is available in several different colors.

12.) Dyson Hair Dryer - While this gift is definitely a splurge, I've heard so many amazing things about this hair dryer. This is a practical gift that will get used almost daily.

13.) Weekend Bag - A fun bag is necessary for traveling over the weekend. The canvas tote is available with other fun sayings, perfect to give your girlfriends for a girl's trip!

14.) Monogram Agate Coaster - Such a pretty addition to your kitchen or living room! I guarantee this is a gift that a girl in your life has eyed, but she doesn't want to buy it for herself.

15.) Bubbly Coffee Mug - I'm a sucker for a cute coffee mug and I bet the lovely lady in your life is too.

16.) Silk Pillowcases - Such an amazing price for a set of 2! Silk pillowcases are wonderful for your skin and hair and they just feel so luxurious.

17.) Cheese Board - The perfect addition to a dinner party or girl's night in! This cheese board also has a slicer, making it easy to use and display everything.

18.) Leopard Slippers - These are also on my Christmas list! I love moccasin slippers to wear around the house and when I saw they came in a leopard print, I knew I needed them. She wants them too!

19.) Crystal Popsocket - I absolutely love my popsocket and hardly ever pick up my phone without using it. The crystal gives your phone such a pretty, chic look.

20.) Bath Tray - For the girl who needs a little time to relax in the tub with all of her favorite things.
21.)
Marble Wine Cooler
- Another great item to have for a fun girl's night in. The perfect thing to keep your ros
é chilled.
22.) Travel Jewelry Case - This case keeps your jewelry neat and tidy and organized while traveling. I love that there is a place to secure your necklaces so they don't get all tangled up.
23.) Travel Cosmetic Pouch - I just purchased this and love it! The pouch is huge and can hold full size bottles. There is a zipper portion in the middle, giving this three different compartments.
24.) Makeup Brush Cleaning Mat - If a girl likes makeup, she needs to have something to help clean her makeup brushes. This cleaning mat is hands down one of my favorite things ever. It makes cleaning so easy and helps to get ALL of the makeup out of the brushes.
25.) Lighted Makeup Mirror - Such a great price - definitely snatch this up! The mirror has magnified portions and can be easily adjusted to the perfect angle.
26.) Quilted Purse - Another addition to my Christmas list! This purse is so on trend at such a great price. It comes in multiple colors.
SHOP THIS POST