With Amazon Prime Day coming up, I want to arm you with lots of good products that I personally use and love. Today's post is full of items that I use almost daily and they just happen to all be pink. Pretty fitting! You can order all of these straight from Amazon.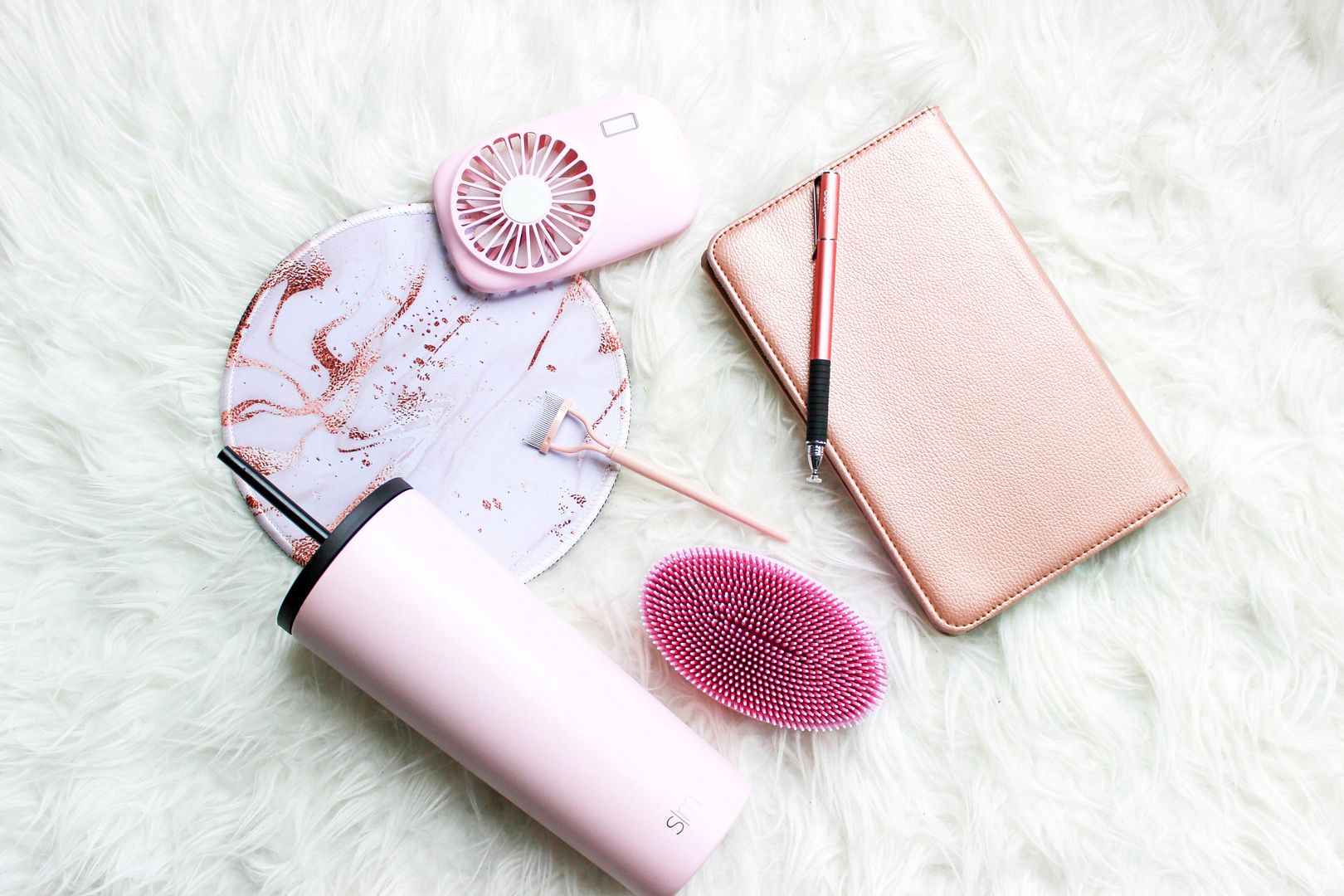 While I have a pretty good idea of most of the products that will be on sale during Amazon Prime Day, I imagine there will also be plenty of surprises thrown in. So fingers crossed some of these items are part of the sale. However they are all extremely affordable, so even if they aren't part of the sale you won't break the bank when purchasing.

1.) Silicone Body Scrubber - This thing is incredible. Earlier in the year, I stopped using loofahs because they carry so much bacteria. This silicone body scrubber is incredibly easy to clean and is way more hygienic than loofahs. It lathers up really well and feels amazing on your skin. I purchased one for my best friend because I love it so much and she has mentioned on more than one occasion how much she loves it.

2.) Stylus - I started using Procreate to make my own instragram story stickers and backgrounds and I needed a stylus to make it easier to draw on the ipad. This stylus is awesome! It comes with multiple tips, has a gripper to make it easy to hold and is available in multiple colors.

3.) Fire Tablet Case - I've actually owned this case for over two years and it has held up really well, even with my kids using the tablet. I love the metallic look of the case and I'm impressed that it hasn't taken on any scratches since I've owned it. It allows you to prop up your tablet at multiple angles and easily allows you to rotate the orientation of your device.

4.) Mouse Pad - I love having pretty desk and office accessories, they make sitting at a computer easier because I have nice things to look at. This mouse pad comes in multiple designs and is EXTREMELY affordable.

5.) Tumbler - I have talked about this tumbler a lot, but it is so good! I've got plenty of reasons why I love it:
-available in multiple sizes (I have the 24 oz myself and the 16 oz for my kids)
-the 24 oz size comes with both a coffee lid and a straw lid
-all cups come with two straws
-the kids straws are super flexible so you don't have to worry about them hurting their mouth
-all lids fit all cups, so you don't have to remember which lid belongs on your kid's cup and which belongs on yours
-keeps ice for at least 6 hours
-the cup doesn't sweat and make a mess
-it is a fraction of the price of a yeti
-it keeps your water or beverage ice cold all day

6.) Eyelash Comb - I love this comb because it is curved just like an eyelash curler, making it very easy to come your eyelashes after applying mascara. It also comes with a cap to cover it when you aren't using it. Plus it is such a low price point.

7.) Handheld Fan - Even though the colder months are upon us, this is still one of my smartest purchases ever. I tend to run hot most of the time and I hate to sweat, so this fan has saved me multiple times. The fan is about the size of your phone and is very light. It has two speeds and it cools you off really well. You just charge it with a USB cord. I like to keep the fan in my purse to cool me off whenever I need it.