In case you haven't heard, a small little sale called AMAZON PRIME DAY is coming up next week. Because it is so popular, they are actually giving us two days to shop: October 13 and 14. To help get us ready for Prime Day, I rounded up some of my favorite Amazon Home Items. Everything pictured I either already own or have it on my wish list to purchase soon.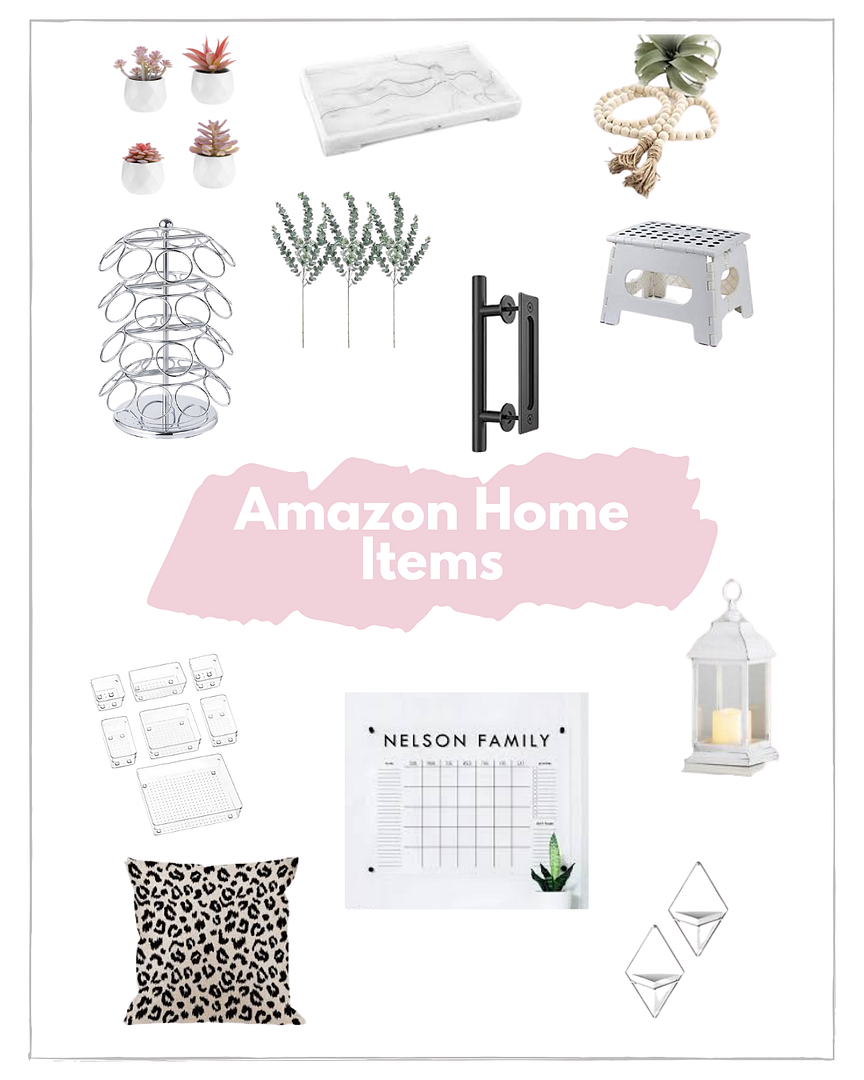 Wood Bead Garland - These are so cute to decorate with. You can drape them over a tiered tray, place them on a mantle, hang them from a basket and more. The options for decorating with them are endless.

Clear Drawer Tray Dividers - As an organization junkie, I'm all about the drawer tray dividers. And bonus points if they are clear because that creates clean lines and keeps everything neat and tidy. These are a terrific price for quite a lot of trays.

Faux Eucalyptus Spray - Eucalyptus is very popular to decorate with and these have good reviews. You get three sprays for a great price. I plan to buy several of these to use on my entryway table.

Leopard Print Pillow Cover - This pillow case was 100% made for me. Besides the fact that leopard is my favorite print, I cannot get over the quality. The fabric is thick and extremely durable. Plus it is only $10, quite the steal in my opinion. I already think I need to buy another one.

Marble Tray - Pretty trays keep items organized and make everything look even prettier. These trays are good for entertaining or containing your items. I like to display my perfumes on trays or you could also use this for keeping all of your remotes handy (in our house we have a lot).

Black Sliding Barn Door Handle - If you have a sliding door and need a handle, I highly recommend this. I wanted something sleek, black and durable and this handle fits the bill. I'm very impressed with the weight of it for the price.

K Cup Carousel - When I created my coffee bar earlier this year, I needed somewhere to keep our K cups. This carousel is very easy to spin, it holds quite a lot of K cups and it looks fabulous out on display.

Hanging Wall Planter - First, make sure you read the description and you will find out that faux plants do not come with the planter...that was my mistake (and why I included a picture without them)! However, I love these planters and cannot wait to fill them with some plants and get them hung. They are terrific quality for such a low price point.

White Lantern - I use lanterns often in my decor, both inside and outside. I appreciate that this one comes with its own light.

Folding Step Stool - For all of my short girls, get this step stool! I keep it in our pantry to reach things up on the top shelf. It gets a lot of daily use.

Acrylic Calendar - I'm considering buying one of these acrylic calendars for my office. Sometimes these custom calendars can be $200-$300. This one is custom printed so it will last forever and is only $100.

Pink Faux Succulents - I'm a huge succulent fan (remember my DIY succulent wall?) and when I saw these pink succulents I knew I needed them for my office. You get four for $20.


SHOP THIS POST