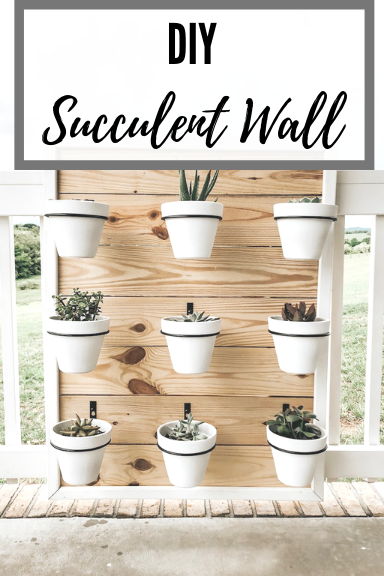 If there is one thing that is true about me it is that I have a black thumb. I have successfully killed every plant I've ever had. HA! Which is why it was quite crazy for me to suggest to my husband that we should build a succulent wall to hold NINE plants. He looked at me like I was crazy. But when I showed him how cool the
planter
was that Holly from Our Faux Farmhouse made, he jumped on board. He's so good to me.
This tutorial is very similar to the one that Holly (and her husband Brad) posted on her
instagram page.
We used their tutorial and expertise as inspiration for our own, but we decided to make ours extremely budget friendly.
The total cost for this project from start to finish was just under $150.
This was our first real DIY project and we both had a lot of fun working on this together. Our planter, once complete, was
31 inches x 41 inches
and includes nine different succulents. You can always adjust measurements to make a larger one if you prefer.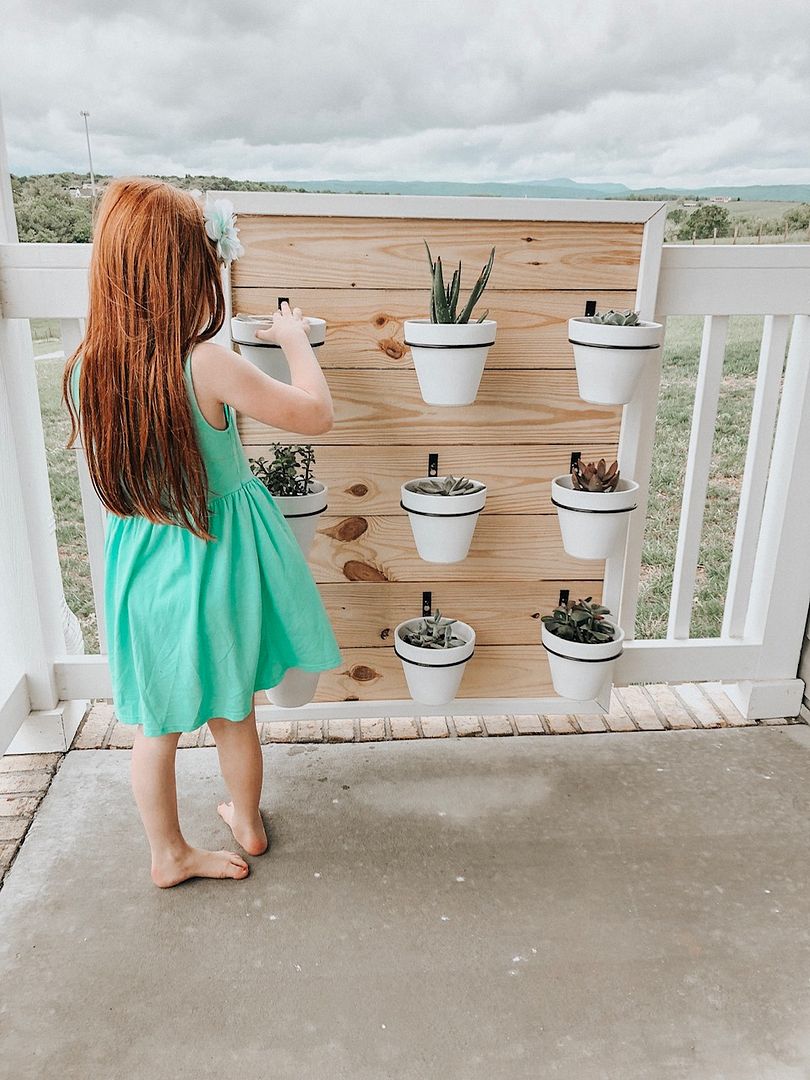 Supplies:
lumber
flower pot rings
terracotta pots
spray paint
trim
nails
sand paper/sander
planter bracket kit
plants
potting soil
How to:
1.) We used
dog ear wood fence boards
to really save on lumber costs. At just $1.48 a board, we got a heck of a deal! In comparison, if we would have bought a 1x6x8 piece of lumber, they cost $6.97 each. My father in-law had the brilliant idea to use the fence board and we are so thankful.
We decided to make the wall 7 boards high. There was no rhyme or reason to that number at first, it just looked good when we laid them out. But in the end, I'm glad we went with 7 because it made everything symmetrical when it was time to place the plants.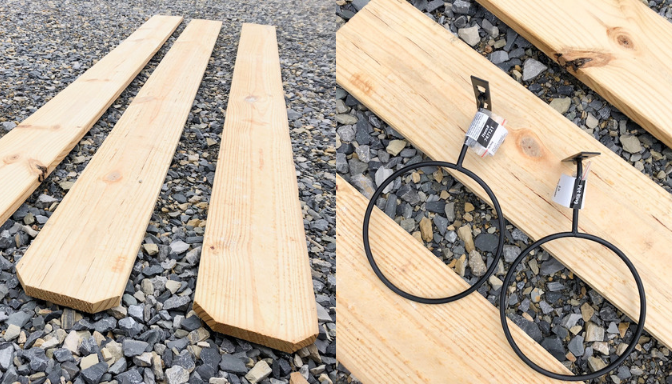 2.) We decided to cut the boards to 31 inches each for the width. Before we cut each piece, we did a
quick swipe with a belt sander to make sure everything was smooth. Then we measured and cut each board.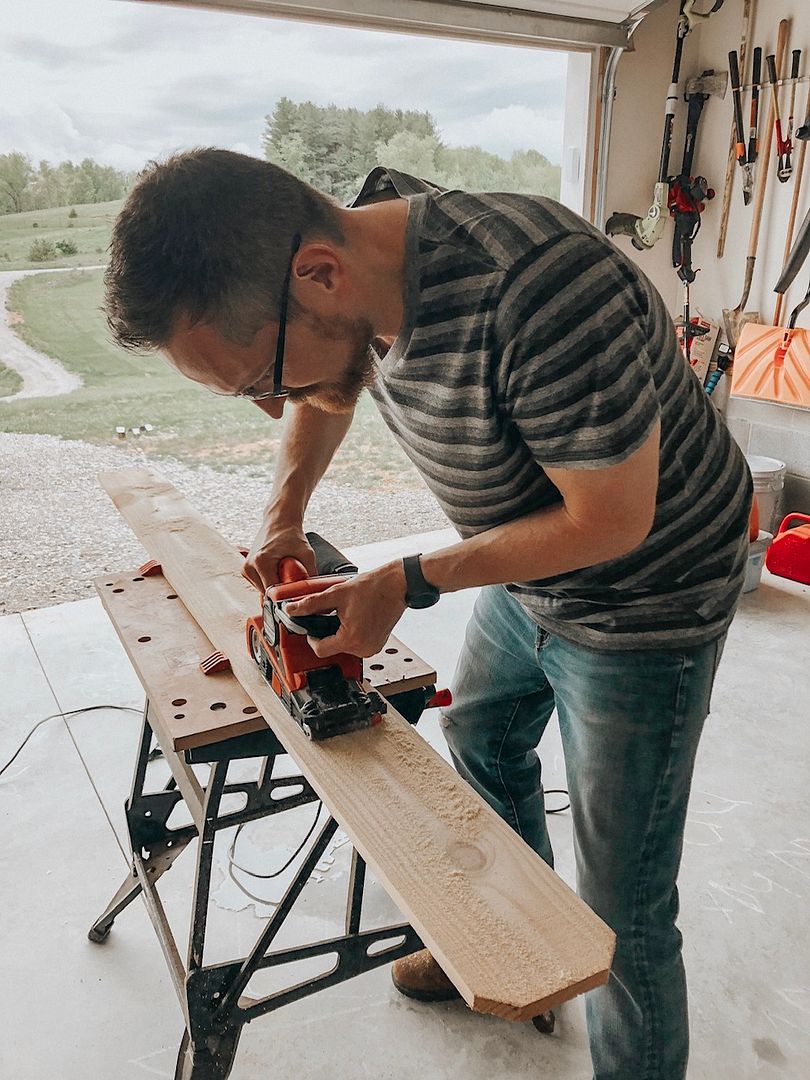 3.) Once everything was cut, we laid all seven pieces on the ground. Then we secured everything by mounting additional pieces of wood on the back, down both the right and left side. Tolar went through and screwed everything together. We also secured extra wood to the backside of the board where we planned to place each plant ring (see the photo below).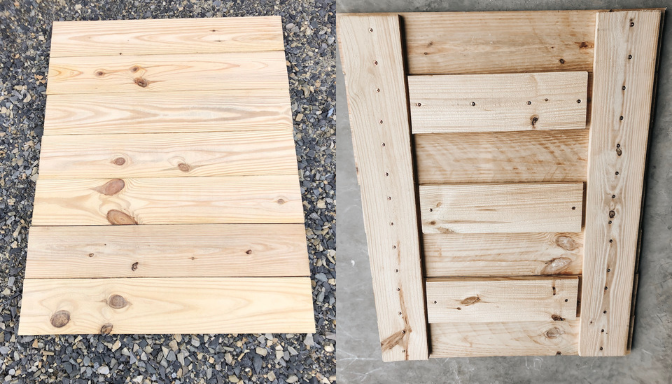 4.) After the seven pieces were secured and screwed together, we used a hand sander to make sure the front side was completely smooth.
5.) Next, we attached the flower pot rings. The
flower pot rings
we used were about $5 a piece and we bought 9. Since we had 7 boards, I decided to place the rings on every other board, 3 rows of 3 plants. We got extremely technical here and eyeballed everything to make sure they were even as we screwed them in place.
6.) To give the piece a finished look, we decided to frame it using a piece of trim. I saw some window and door casing while at Lowe's and quickly grabbed two pieces for us to paint white. The casing was $4.48 a piece. We cut the casing into 4 pieces like a picture frame and secured everything from the back.
7.) We decided to mount the succulent wall over our banister on the front porch. Since we live in Virginia and do experience lots of different weather, I wanted to be able to remove the wall if we needed to put it inside during the winter. We used a planter bracket kit, but we did have to cut the steel brackets. Tolar sawed the part off that would normally hold a trough planter then we secured them to the back of the planter.
8.) I really like white and bright decor, so I decided to paint the terracotta pots white. Spray paint is my best friend! I used spray paint on both the trim to frame the succulent wall and the terracotta pots. The terracotta definitely soaked up the spray paint, so it took about 3 coats to get them completely covered.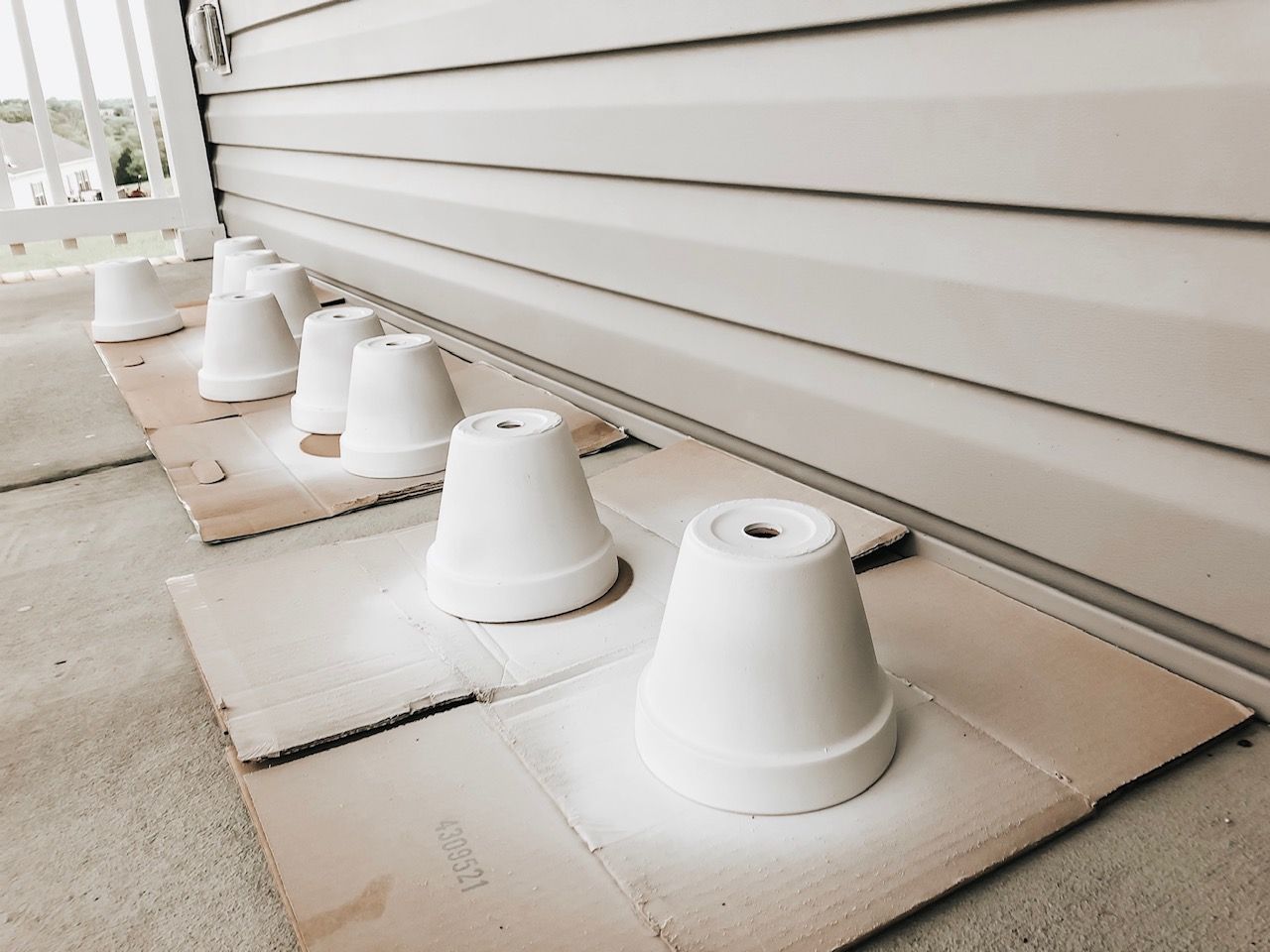 9.) When it was time to actually plant the succulents, I used a potting soil that was specifically made for cacti. You can find this at any home improvement store or nursery.
We purchased all of our supplies from Lowe's because it is closest to our house. But I actually purchased all of the succulents from Home Depot as they had a better selection. If you are interested in exactly what type of succulents I purchased, here are their names:
Elephant Bush Spekboom
Pachyphytum Moon Silver
Jade Plant
Graptoveria Bella
Golden Sedum
Pachyveria
Echeveria Perle von Nurnberg
Echeveria Blue Frills
Aloe Vera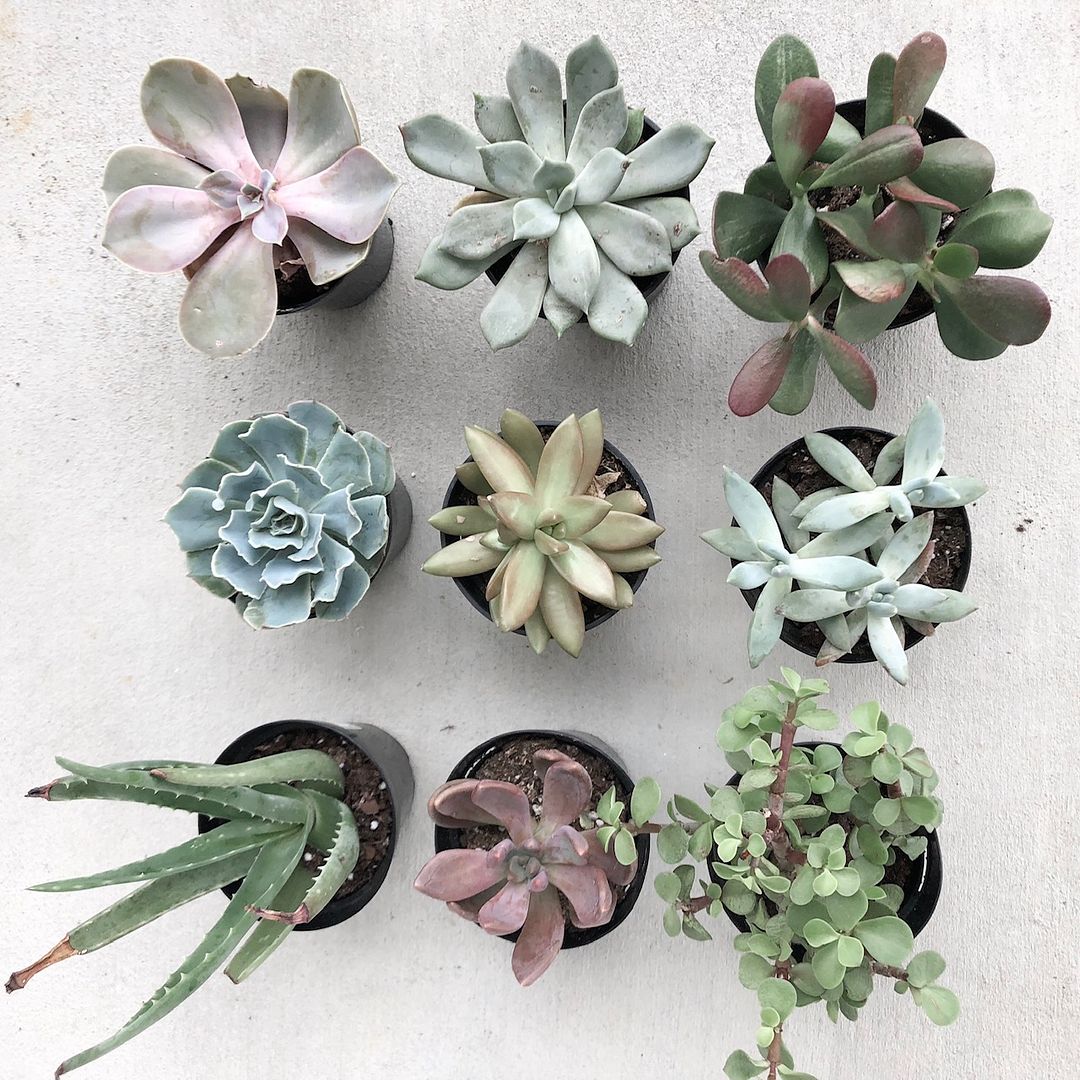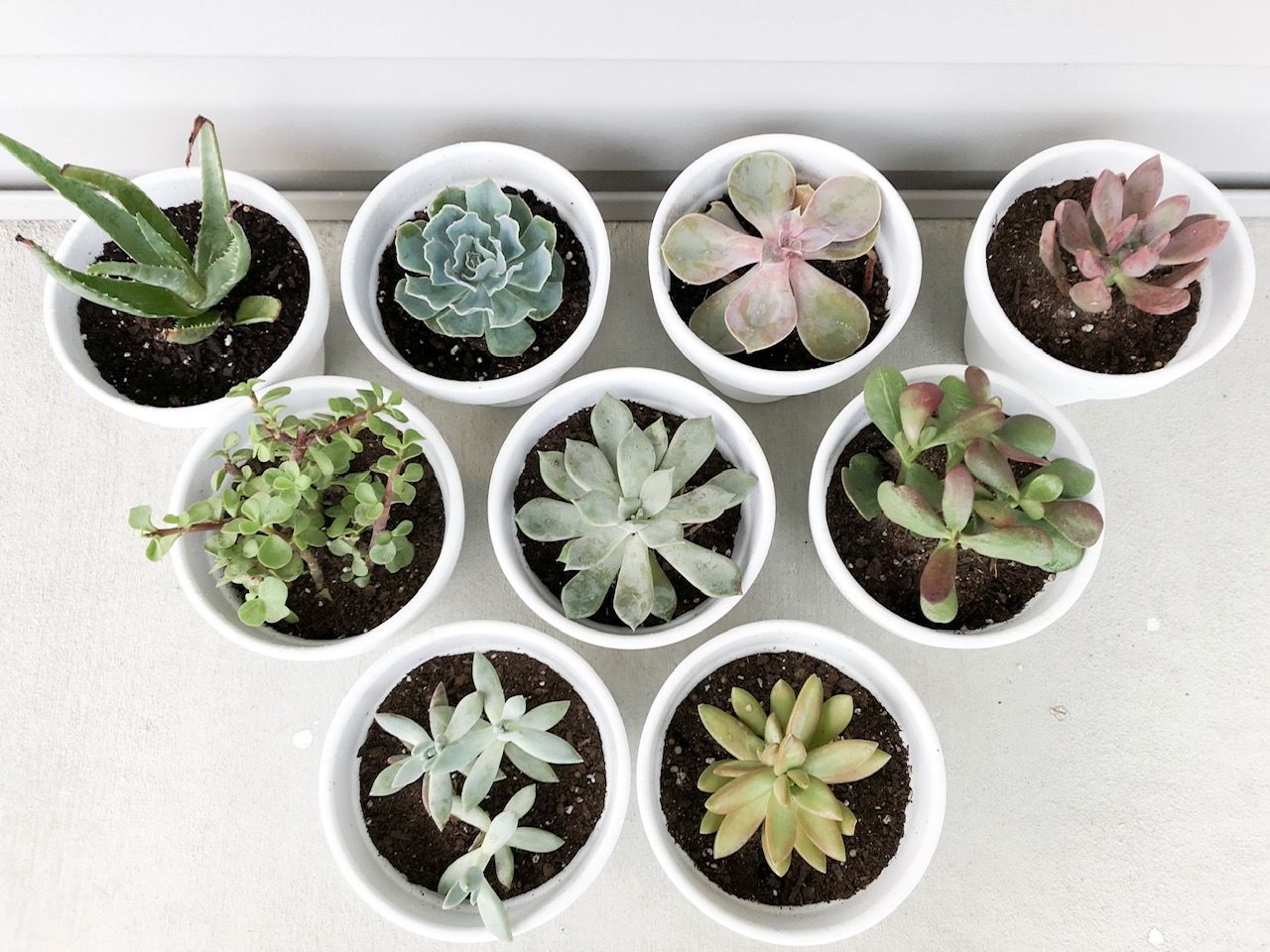 10.) The final step was to hang the planter over our banister and enjoy our hard work!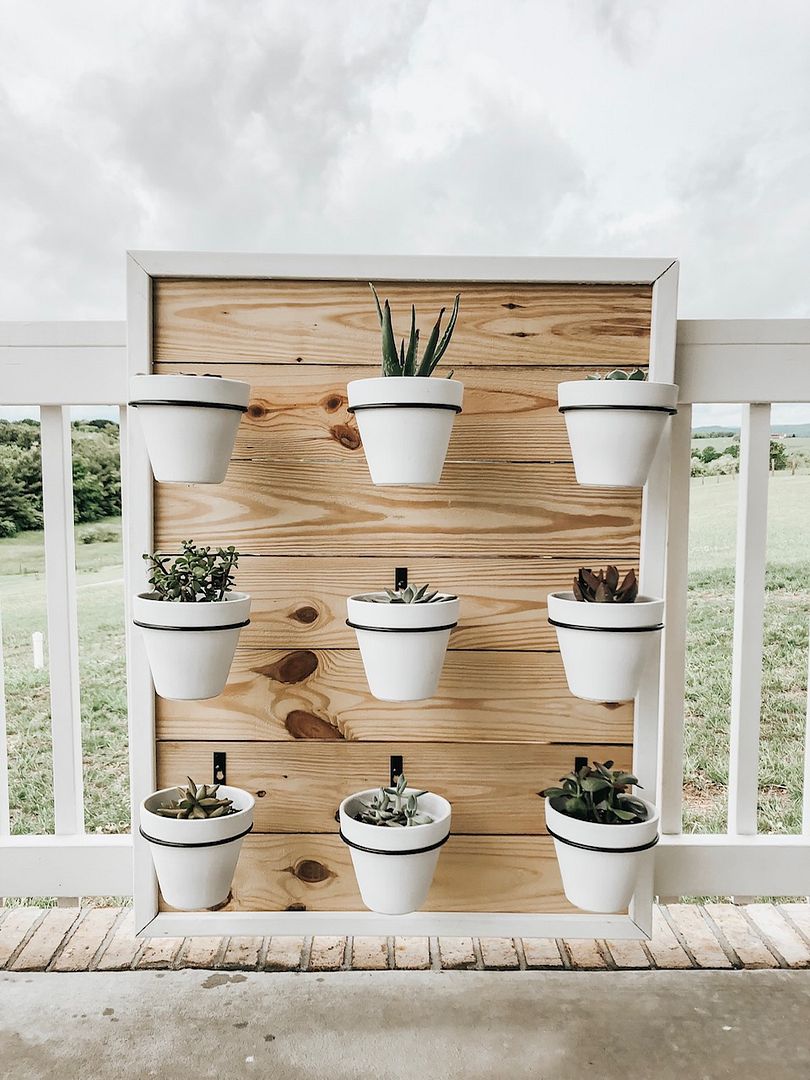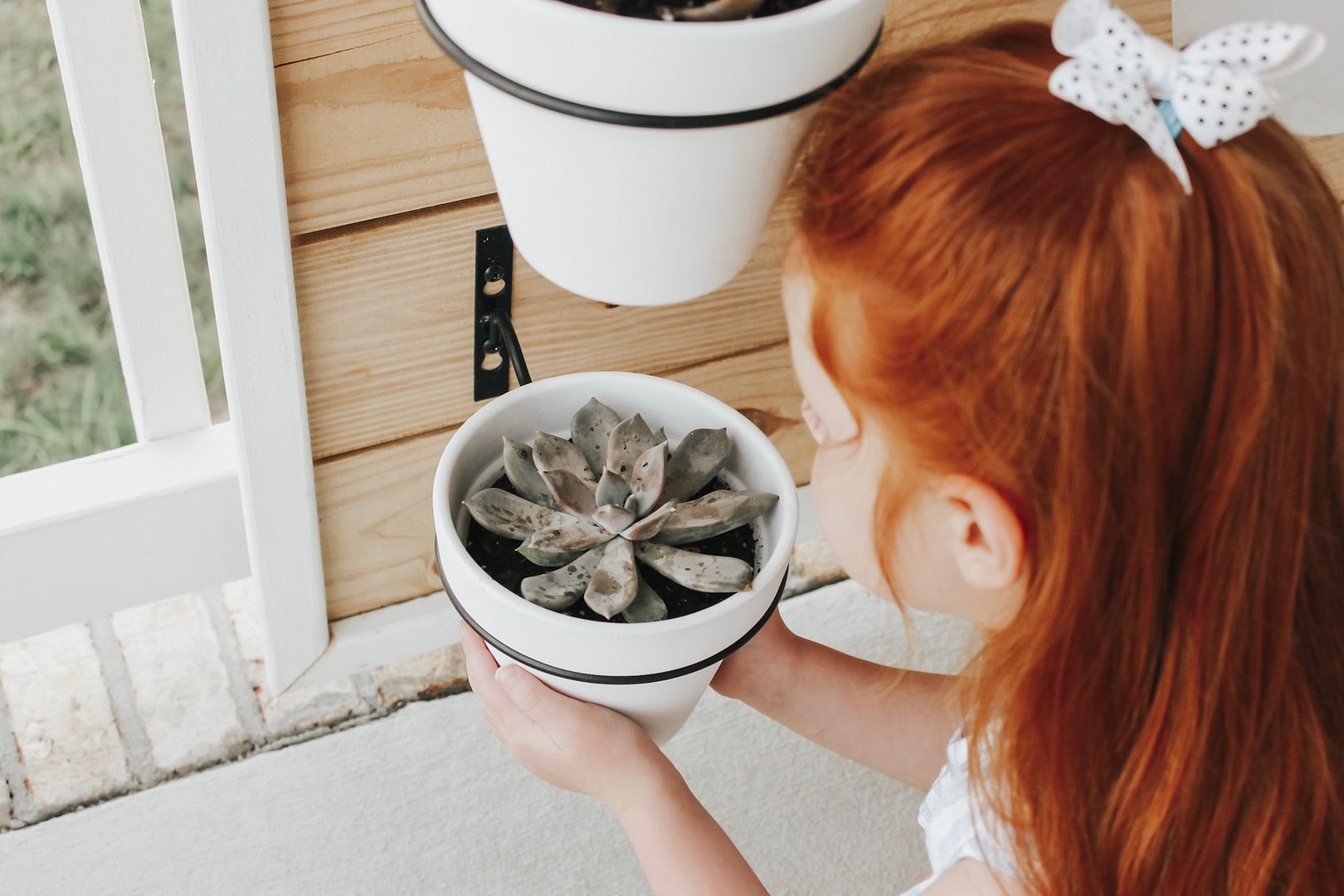 Pin this for later: