(Thank you to oNecklace for helping sponsor this post. All opinions are my own. This post may also contain affiliate links.)
The most wonderful time of the year is upon us! If you are anything like me, you might need a little inspiration when going shopping for the special people in your life. So today, I've pulled together a list of gift ideas for HER. A lot of these items I either personally own or have on my Christmas list for this year. You can shop these items direct from the numbered links below.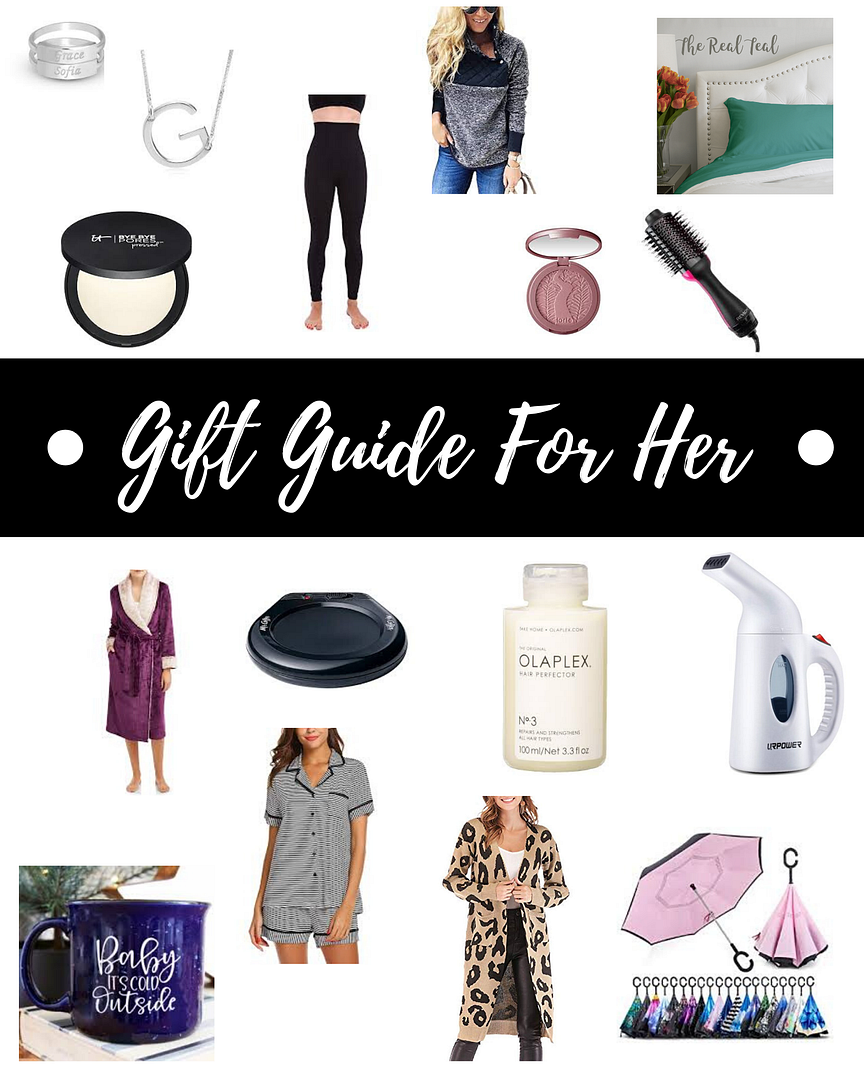 1.)
Personalized Jewelry
- I have several pieces from oNecklace and I love that everything is personalized for me. My most recent pieces are an
"L" letter necklace
and
Stackable name rings
with both names of my children. (See the pictures at the bottom of this post) Because of the personalization, I know that the pieces I am wearing are unique to me. ONecklace has so many beautiful options, you could spend hours on their site drooling over everything. They offer free shipping worldwide and free personalization on all products. Also, each item is custom designed to the clients request and hand finished. Check out
this blog post
I wrote last year about some other products that I love from oNecklace.
ONecklace has some great BLACK FRIDAY sales going on right now that I want you to know about as well:
15% off All Orders, use coupon code BLACK15
20% off Orders $75+, use coupon code BLACK20
30% off Orders $175+, use coupon code BLACK30
2.)
Inverted Umbrella
- Why has it taken me so long to add this to a gift list? An inverted umbrella is a genius idea because when you close it, all of the rain water gets trapped inside instead of dripping onto the floor. This specific one comes in so many colors and designs to choose from. I really like the pink and white striped one - this is most certainly on my wish list this year.
3.)
PJ set
- PJs are always a good gift idea, because I'm sure most women are like me and rarely spend their own money on a pretty set (I'm a tshirt and sweatpants kind of gal). I always think a good gift is something that is needed, but something that the person receiving the gift wouldn't normally spend money on. This set comes in multiple colors, has great ratings and is very reasonably priced.
4.)
Soft Robe
- A robe is often needed in those cooler months, although I wear a robe year round while I get ready each morning. I saw this in the store recently and got to feel it and I love how soft and luxurious it feels. At a terrific price, it is hard to say no to this. The robe also comes in multiple colors. I think I'm going to buy myself an early Christmas present and scoop this up!
(A note about the link -
it might come up and tell you that the site is having technical difficulties. Just click Try Again and it should open. If you have problems, let me know.
)
5.)
Leopard Cardigan
- I don't think I could personally create a gift guide and not include something leopard print! I'm a girl who loves cardigans and longer cardigans are so pretty and definitely needed in the cooler months. For ladies that love pockets, this cardigan is for them!
6.)
Compression Leggings
- Maybe you have heard of Spanx leggings? They are EVERYWHERE, but since I absolutely hate my legs I cannot bring myself to spend that kind of money. However, I found these and I've heard from multiple people that they are very comparable to Spanx leggings. When they say compression leggings, they really mean it! I love that they are thick and not see through and that they really do suck you in. This is a super affordable option - maybe buy one for a friend and one for yourself!
7.)
Soft Pullover
- I asked for this for Christmas last year and loved it so much I knew I had to add it to my gift guide this year. The material is so soft, I don't ever want to take it off. I have the coffee color and it is so pretty, but it does come in several other color options. Also, this item is a steal at under $11 plus shipping.
8.)
It Cosmetics Finishing Powder
- For my makeup obsessed girls, a good finishing powder is needed to set your makeup. I previously tried out several
different finishing powders
and this one is one of my favorites. In fact, since I wrote that post I have been using this one more frequently than any others.
9.)
Tarte Amazonian Clay 12-Hour Blush
- Hands down my favorite blushes are the Amazonian Clay blushes from Tarte. They are reasonably pried and a great size, meaning that the blush will last you a long time. I particularly love that the colors are so pigmented. It comes in lots of different colors, my favorite is the Dazzled color.
10.)
Mug Warmer
- If you have a mom with little ones on your list then get her this gift! Most moms live on coffee, but often have to reheat it because their children required attention and their coffee got cold. This mug warmer keeps mom from having to reheat her coffee. Genius!
11.)
Campfire Mugs
- One of my favorite places for cute mugs is Sweet Mint. Her designs are unique and oh so pretty. I particularly love the campfire mugs because they feel so cozy in your hands and hold a lot of coffee. Check out the site, I'm sure you can find a mug for almost anyone on your list.
12.)
Peach Skin Sheets
- These are my favorite sheets EVER. I've never slept on sheets that are so soft and cozy before. In fact, check out
this post
to see my thoughts the first time I tried them. You guys also seemed to love them as much as I did and you purchased several sets for yourself. I'm going to gift these to some special people this year. The color, the Real Teal, is the color of the month for November. Hurry and scoop this color up and score it for $65! Chocolate and Toasted Marshmallow are also featured as colors of the month if teal isn't your thing.
13.)
Steamer
- I've been meaning to buy a steamer for months now. I absolutely despise ironing and I've heard that steaming clothes is so much easier. The price point on this one seems to be a great "entry" steamer. I'm excited to get one and I'm sure the lady in your life would love the ease of steaming her clothes as well.
14.)
Olaplex Hair Treatment
- I've seen this hair treatment everywhere, in fact, the Today Show even covered it recently. In my world, if the Today Show covers it then you know it is good!!! I'm excited to try it and see how silky, shiny it makes my hair.
15.)
One Step Hair Dryer
- This was an Amazon Prime Day purchase for me and is something I use quite often. I love that the hair dryer helps add volume to my hair. It also cuts my get ready time in half since it not only dries my hair, but styles it at the same time. This is an internet favorite, so I'm sure the lady in your life already added this to her list!
So I've covered jewelry, bed time, clothing, makeup, coffee, home and hair. Did I miss a category that you want to see? Feel free to leave a comment below or message me on
instagram (@lindsaytolar)
and I will be happy to search for an item for you or even create another gift guide!