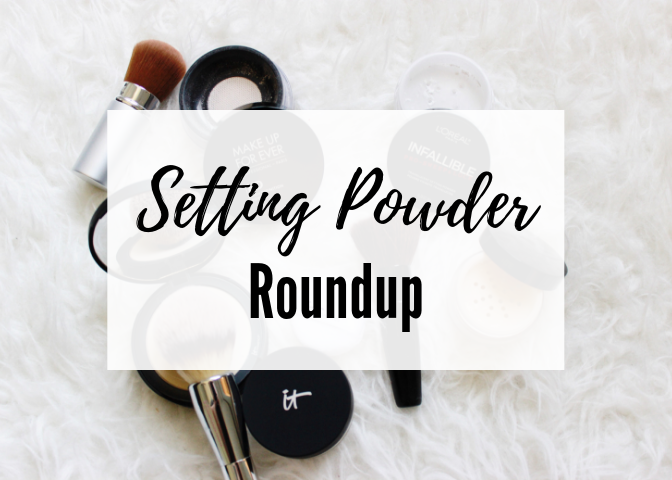 One of my favorite products to help stop makeup meltdown is a setting (or translucent) powder. Setting powders lock in your foundation and concealer and absorb oil to help keep your makeup where you applied it. As a person with very oily skin, I use a setting powder daily to help control the shine. Translucent powders do not change the color of your foundation, they are meant to be applied on top of your foundation to help give you an airbrushed look.
(Awhile back, I wrote a post on my four favorite products to stop makeup meltdown. To see what other products I recommend besides a setting powder,
click this link
to read.)
For this post, I tested out several different powders that I have seen makeup artists and beauty bloggers recommend. As always, my goal is to find the product that works for the everyday woman. I always prefer to spend my money on a product that really works and sometimes that does mean spending a bit more. Overall, I found that all of the setting powders I tested did their job. They all do last a long time (depending on how much you use) giving you many, many applications before you have to replenish. But there are some reasons I like certain products over others.
1.)
Laura Mercier Translucent Loose Setting Powder
- $39
This product comes in two colors (translucent and medium deep) to work on multiple skin tones.
I decided to test this powder out after seeing tons of beauty bloggers recommend it. While the product does help set your makeup, I was not blown away by the results. I expected a bit more of an airbrushed finish than I received. I do like that you can get this in two sizes: standard size or mini size. If you are on a budget or just want to test it out before you commit to a full size, grab the mini size for only $23.
2.)
L'Oreal Infallible Pro Sweep and Lock Loose Powder
- $9.99
For any budget conscious readers, this is the product you will want to try. For a drugstore brand, I was pretty impressed with the results. My makeup stayed in place all day and I felt like the results were just as good as a more expensive brand. The only reason this isn't my favorite is I felt like this one was a bit messier when applying than the others. The powder felt a bit thinner and fell off the brush onto the floor (and my clothes!) easier than the others. But for about $10, this is a definite must try if you are just getting into setting powders.
3.)
Make Up For Ever Ultra HD Microfinishing Loose Powder
- $36
This is the first setting powder I ever tried and it still tops my list of favorite makeup products ever. I absolutely LOVE the finish of this product. If gives me a very airbrushed finish, goes on super smooth and lasts all day! Besides the incredible results, there are other reasons I love this product. First, it lasts forever! I have had this powder for a very long time and I am still getting uses out of it. I definitely feel like I am getting my money's worth because of how many applications I've been able to get out of one jar. This one is probably cheaper per application than the drugstore brand above. Second, the application is not messy at all. This powder comes with a little screen to release the powder which I think helps control the mess. As I was testing out powders I kept coming back to using Make Up for Ever because I love it so much!
4.)
It Cosmetics Bye Bye Pores Silk HD Anti-Aging Micro Powder
- $29
Any product that says "bye bye pores" is something I need to try! It Cosmetics certainly delivers and the product lives up to its name. In addition to giving me an air brushed look almost as good as the Make Up For Ever powder, this product does help eliminate the look of your pores. The loose powder does get a bit messy when applying which is why this isn't my favorite. But at under $30, this is a really good powder to try...however...keep reading.
5.)
It Cosmetics Bye Bye Pores Pressed Anti-Aging Finishing Powder
- $29
Coming in at a VERY close second to be my favorite is the It Cosmetics Bye Bye Pores Pressed Powder. I was told to try the pressed powder by a sales associate at Ulta and even though I purchased it at her recommendation, I was still skeptical. She told me that she felt like the powder lasted longer since it was pressed instead of loose and that you could also get a more concentrated application. Well I found out she was right!!! I absolutely love how this powder looks with the air brushed look and no pores and the application is a breeze. If I had to choose between this powder and number 4, I would choose this one hands down. There is no mess and you get a nice coverage.