Back in May I shared with you the items I was buying on Amazon and you guys loved that! I get it - I want to know what people are buying too. I'll say it is very similar to wanting to peek inside people's houses to see how they decorate. It is so fun to get ideas from each other and I am happy to help. Because I got such great feedback from you guys, I decided to do another roundup of what we are ordering off of Amazon.
As my daughter is learning, Amazon has everything! Have a need for something, check Amazon first as I am sure they have it! I've made everything shoppable for you if you are interested in purchasing anything. Have questions? Leave a comment or send me an email (lindsay@pursuitofpink.com).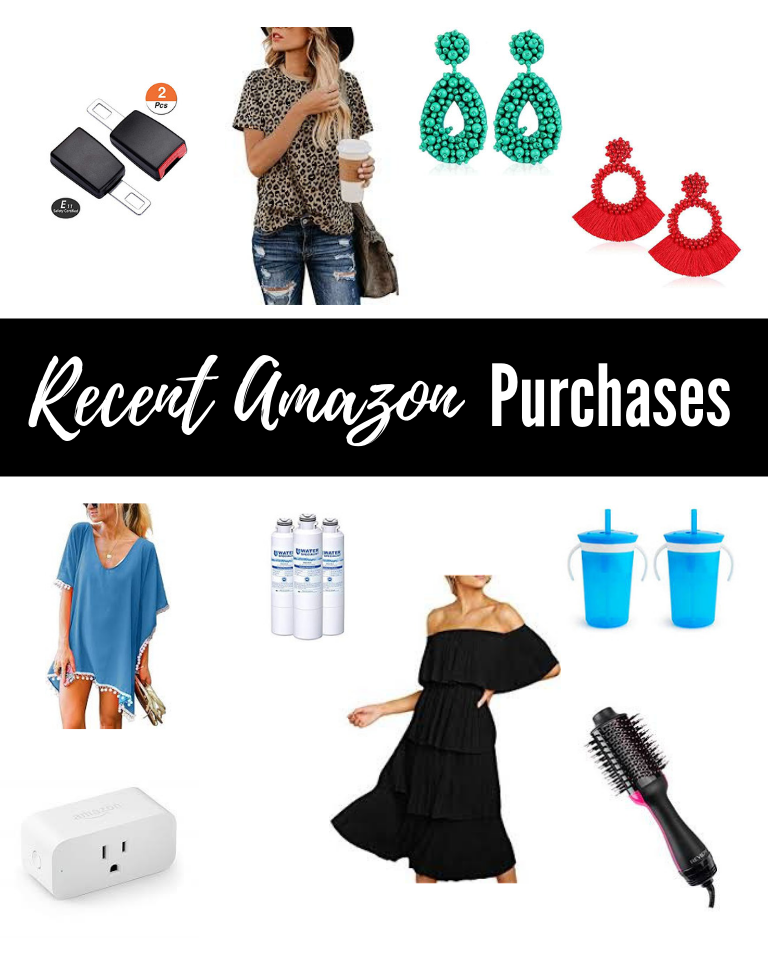 Personal Style
1.) Leopard Print Top
($17.99)
I'm a sucker for leopard print
anything
. In my book, leopard print is a neutral and can be worn so many different ways. I'm not much of a tshirt girl unless I'm working out or sleeping, but I often find myself looking for casual chic options. This leopard print top fits the bill. It is not dressy at all, but the print definitely helps me feel pulled together.
2.) Off The Shoulder Maxi Dress
($29.99)
This is a MUST BUY. If you have a wedding or a special occasion coming up, I highly recommend you check out this off the shoulder dress. I wore this to a wedding over the summer and got so many compliments. It is pretty lightweight so you won't get hot, fits true to size and is so comfortable and easy to wear. The dress comes in several color options. And at $29.99 the price can't be beat! Now who wants to get married so I can wear this dress again?
3.) Swim CoverUp
($14.99)
If you need a cute and fun swim coverup that doesn't break the bank, here you go! The coverup comes in lots of different colors and includes a cute pom pom detail around the edges. It is long enough to cover your bum and cute enough to have everyone asking you where you bought it.
Jewelry
1.) Tassel Earrings
($12.90)
I've been ALL about the statement earrings this summer. They are such a fun way to add a pop of color to your outfit without costing you a pretty penny. These tassel earrings are pretty large, but not heavy at all. They come in lots of different colors and styles.
2.) Beaded Earrings
($13.50)
Similar to the earrings above, these fun earrings are perfect to add some extra pizzazz to your outfit. I like the tear drop style of these and I love the color. These also are available in lots of different colors.
Kids
1.) Seat Belt Extender
(2 pack for $9.99)
When my daughter turned six this summer, we decided to finally switch her out of a five point harness and let her use a booster seat with the seat belt. The only problem is that my car has the seat belt clips installed into the seats, they are not movable at all, which made it difficult for my daughter to buckle herself up. So we bought this extender that buckles into our current belt clip and then she can buckle the seat belt into this.
2.) Sippy Cup with Snack Catcher
(2 pack for $14.99)
My son LOVES to drink out of cups with a straw, he much prefers those over his sippy cups. But so often cups with straws will leak if they get turned over. NOT THESE! These cups are spill proof, have handles for little hands to hold and they even have a snack cup on top! We honestly bought these cups just for the straw, but having the additional snack cup is a bonus. Now we only have to remember one item when packing the diaper bag, instead of two.

Hair
1.) Hair Dryer and Volumizer Heat Brush in One
($43.19)
I have seen this product on social media all over the place, but never took the plunge. I finally decided to get it during Prime Day when it was marked way down and so far I like it!
Hurry up and get this while you can because the price is actually two bucks cheaper now than when I bought it on Prime Day!
This definitely saves me a step when styling my hair and I did like the finished result (smooth hair). It was also very easy to style the back of my hair since I only had one product in my hand, instead of a brush and a hairdryer. My only complaint is that it does get pretty hot, but there is a cool setting if you need it.

Home
1.) Smart Plug
($24.99)
Our house is pretty smart as our doorbell, front door lock, lamps, thermostat and music are all controlled by our voice, with apps or Alexa. We have talked about installing a smart plug in the bathroom for those times when I just cannot remember if I unplugged my curling wand or flat iron. Luckily on Prime Day there was an incredible deal, so we snatched this up. However, my tech loving husband really likes these and recommends them even if not with a discount.
2.) Refrigerator Water Filter
(3 pack for $28.99)
Nothing fancy here, but I'm adding this purchase to remind you that you should check Amazon before going straight to the manufacturer. We have a water dispenser on the front of our fridge and Tolar shopped around to see where we could find a good deal. A 3 pack of water filters from Amazon cost us $28.99. The same 3 pack but branded with the manufacturers name on it would have cost us $129! This purchase was a no brainer.